Good morning everyone and welcome back to the Mirror Gallery here on Hipsters of the Coast. The weather has turned cold here in Maryland, and as we crash towards the end of one of the toughest years anyone can remember, we've been greeted with yet another new and exciting product from Magic: The Gathering and Wizards of the Coast.
Today's article goes in-depth on the just debuted Secret Lair: Artist Series featuring superstar artist Seb McKinnon. The limited edition set, which just launched this week and is only available until mid-December, includes four reprinted cards with brand new art by McKinnon. Once we hear the story behind these four images, then we'll have a brief look at what that means for one of my favorite formats: Vintage Artist Constructed, where Seb's deck is now unlocked with the printing of his Swamp.
So pull up a chair everyone. It's story time.
Secret Lair Artist Series: Seb McKinnon
Seb first told the tale of these four works on Twitter; for those of you who may have missed it or aren't on social media, I'd like to recount the things he shared and add a little additional commentary about these new artworks. Seb is a supreme storyteller in both illustration and film, so it's only fitting his four cards tell a story. You've heard it if you've seen the preview video, and seen it if you've read the cards.
It's written in the flavor text:
Moth to my light, cease resistance.
Hand over the reigns to your mind.

All deeds once committed, repaid now in kind.

Tempest ends and water stills
Gently reinventing the shape
Of all things.
Our tale begins with a Knight and a Swamp.
The Knight is looking for something, but we can't quite be sure what. Is he lost? On a quest? Running from something? The gnarled tree draws his attention, but the Knight simply looks on as he passes by. You can almost feel his uneasiness as he moves.
McKinnon gives us this wonderful dead tree as the focal point of this piece, and what's brilliant here is the sense of scale. It not only works well within the context of the full-art card frame, but is an allusion to the much larger story that's about to unfold. That otherwordly tree will be the most normal thing the Knight experiences.
As he goes deeper into the Swamp, our Knight meets a Fae, and hearing her voice, he goes to her. The moth has found the light. Was this what he was looking for? We know she had been waiting; by the time we've caught up with him, he his entirely under her control. Seb mentions in his thread that Swamps are often those places in folklore where travelers loose themselves, and that's exactly the fate of our forlorn subject.
This slideshow requires JavaScript.
Sower of Temptation Preliminary Digital Sketch, Sower of Temptation Acrylic Painting, Sower of Temptation Final Digital Sketch
McKinnon went through quite the process with what would become Sower of Temptation, working from sketch to painting to a card size render to digital final. This may seem normal, but it speaks to his care of legibility: the painting not only had to work at full size, but he wanted to make sure it functioned well both artistically and narratively at card size, where most would see it.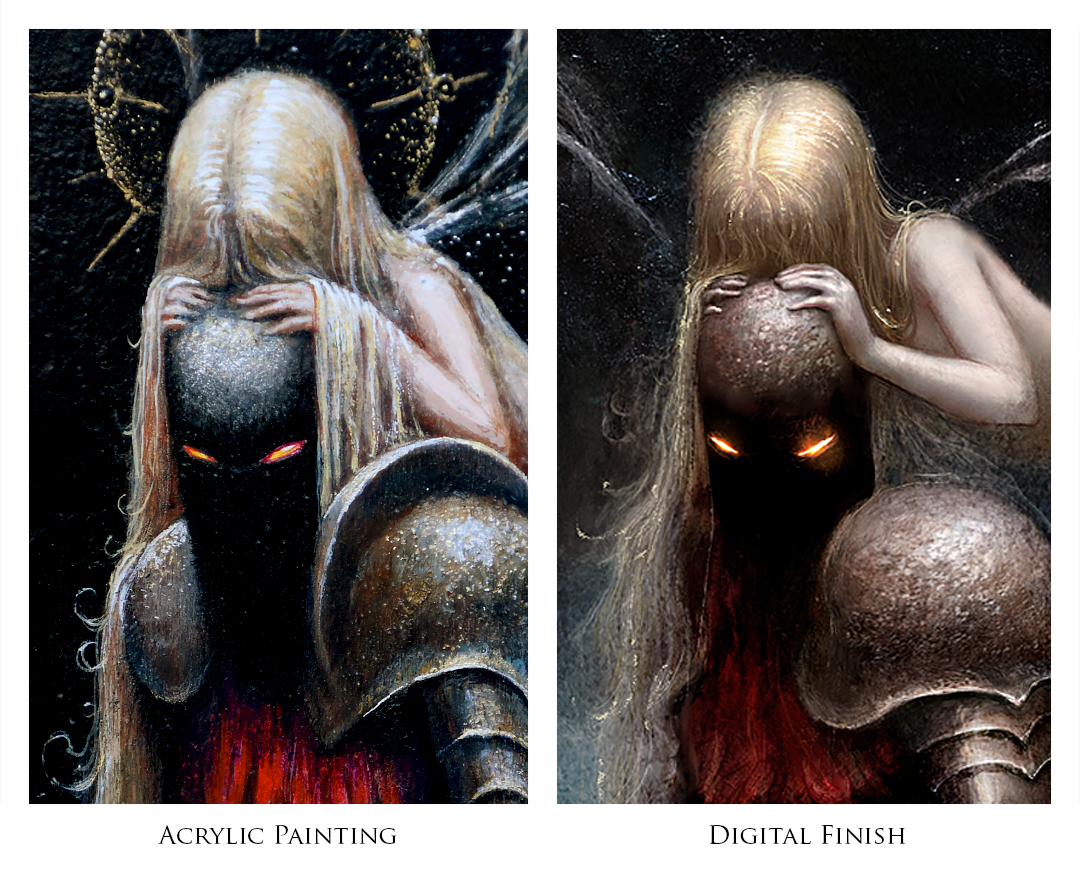 This was also the point where his brother Liam joined in and added the flavor text you see on the final printed cards, mentioned at the beginning of this section.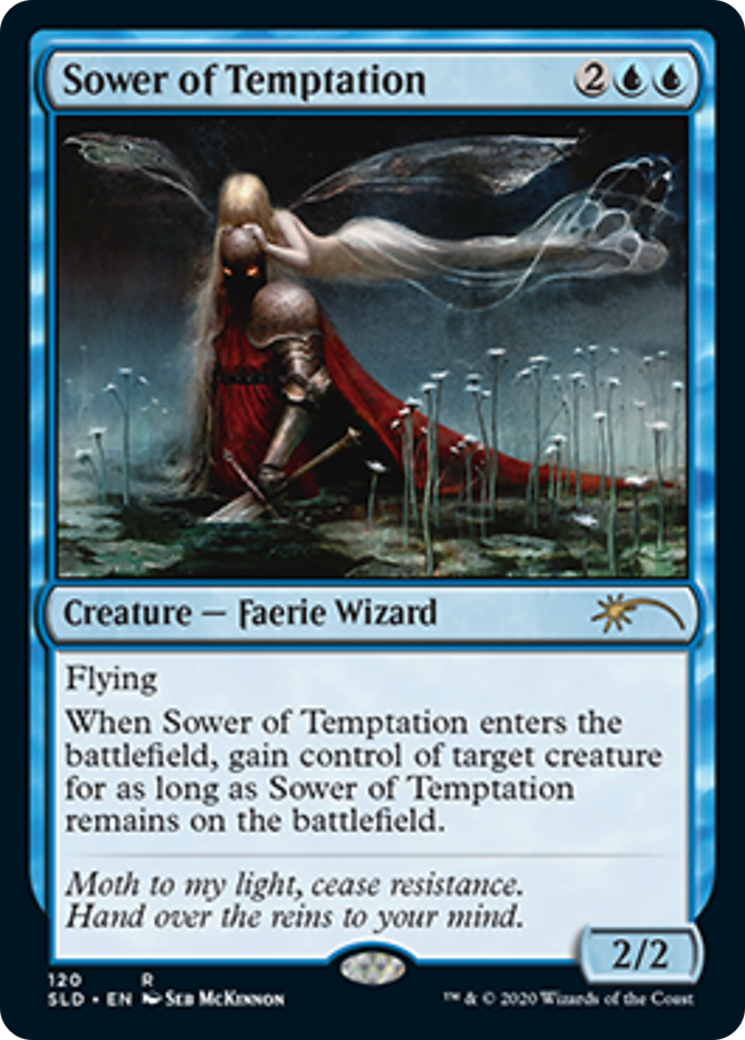 With the Knight now firmly under the control of the found faerie, she unhinges his mind. That brings to light all of errant deeds committed during his lifetime.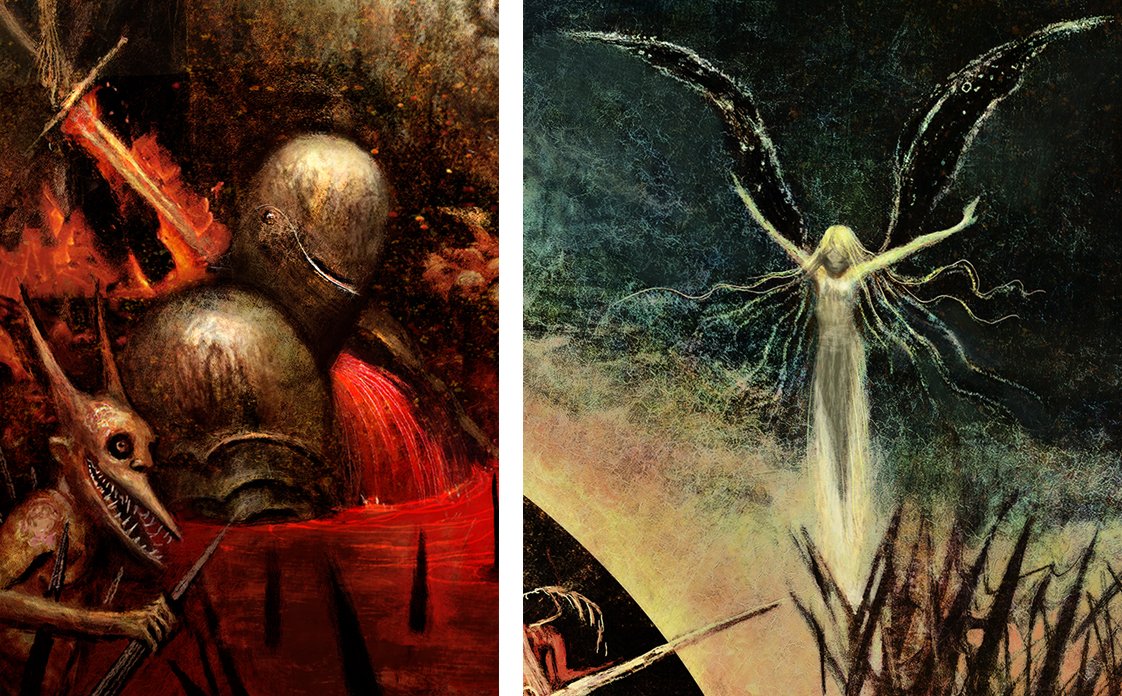 We arrive at the third piece. McKinnon's own reimaging of Damnation:
Hipster's own Rob Bockman wrote an excellent piece on the card and its artistic evolution over the last decade, looking at its three previous iteration's until arriving at this most recent depiction.

Compared to all versions that have come before it, this Damnation is incredibly busy, but that's intentional. This work is heavily inspired by Hieronymus Bosch, a medieval-era Dutch painter most known for his triptych The Garden of Earthly Delights (1490-1510) that you can see here. The more you look, the more you see, and the stronger the story becomes.
It's overwhelming. The death, destruction, and torment that McKinnon explodes in this painting are supposed to hit you square in the face and on a catastrophic level. In order to create like this, McKinnon said he had to give up control. He explained on Twitter: "To paint like this, I have to cease to think. I'm pushing/warping pixels on a digital canvas in a way that lets me to REACT to what I see, instead of consciously planning."
As an aside, this work was the first of these four to be sold. When I reached out to Seb for comment after the auction, he said he was simply speechless. That in itself speaks volumes, when a man who is a master of narrative has no words.
The final work of the four is Enchanted Evening, and concludes our chronicle of the tormented Knight. Here the Faerie offers him a solution, an end to the torturous pain cunvulsing his mind. She could break the chain he'd built, link by link, by his actions in life. But these things, as you know, do not come easily.
He is reborn, but his armor and sword are no more. He is now the tree you see before her, and must reflect on his past, trapped in her pond for eternity. Peace, but at great cost.
This slideshow requires JavaScript.
Enchanted Evening Digital Sketch, Enchanted Evening Acrylic Painting, Enchanted Evening Detail
This was another work in which McKinnon went from digital to traditional and back to digital for the final. In doing so, he has pulled the positive facets from both processes and incorporated them into the published piece. The final is a literal representation of the best of both worlds, and curiously enough, not unlike the fate of the Knight.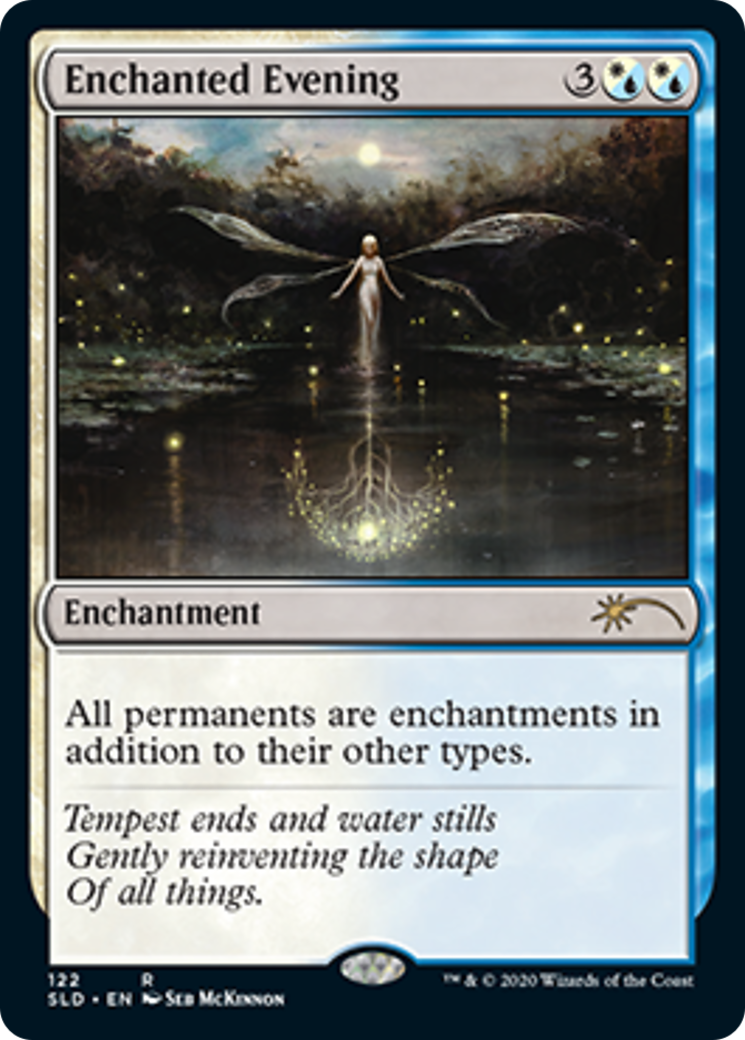 Bonus Vintage Artist Constructed: Mono-Black McKinnon
It's been quite some time since I wrote about Vintage Artist Constructed, but Magic Art Shows last year and an obvious absence of events this drew my attention elsewhere. It is a format where decks are built under the Vintage banned and restricted list, but all cards, including basic lands, must be illustrated by the same artist. This seemed the perfect timing to at least mention something, as the McKinnon deck is now fully online with his new Swamp. Currently there are 126 cards or so available—but remember, you only have a Swamp, Silent Clearing, and Unknown Shores to work with for your mana base—and Springleaf Drum. But calm down, Affinity is dead. I've had to move on too.
I haven't yet fully brewed a deck, but have included some of my favorite cards that will (almost) certainly make the cut, with this Swamp and Damnation chief among them.
This slideshow requires JavaScript.
As Seb does more cards, especially if he were to do other basic lands, more possibilities will be unlocked. That's the beauty of Vintage Artist Constructed: you start looking at Magic entirely different, and all of a sudden things like "who did this set's basic lands" becomes one of the most exciting parts of preview season. I'd love to hear what you direction you go with this deck, so please let me know on Twitter!
Wrapping Up
Our journey through the swamp has ended, and Storytime with Seb is now complete. When I asked him about his feelings about all this, his new cards, the artwork, and the overwhelming response to his creations, he had this to say: "My thanks go out to Art Director Tom Jenkot, for this incredible opportunity. I feel very honoured to kick-off the Secret Lair Artist Series, and I'm looking forward to see who the next MtG artist will be. I think we're going to see some truly incredible art through these artist-focused collections. It's a brilliant idea."
My feelings about the Artist Series echo Seb's exactly: I think it's a brilliant idea. It lets established MTG artist really flex outside the constraints of a style guide for a specific world, and at the same time it could provide the creative space for newcomers to Magic to try something completely different for the game but highlight their stylistic diversity. I'm sure we'll see some forthcoming big names get Series of their own, and perhaps one day we'll see folks from my Magic Artist Wishlist (Part 1 and Part 2) get one as well, and vault their career into the rest of the game.
Looking forward, we've only got two Mirror Gallery articles left this year—one Grand Tour-style look at some art from 2020 I've not yet gotten to talk about, and my annual Mirror Gallery Reflection that looks back on the year that was. Remember, to see original #mtgart and other #vorthos related things, follow me on Twitter. Feel free to ask questions or retweet to continue the conversation. Stay safe and warm out there folks, and see you next time.
Donny Caltrider has been playing Magic since 2002 and collecting original Magic art since 2017. He has an M.A. in Museum Studies from Johns Hopkins University and enjoys telling stories about art, objects, and the intersection of fantasy with real-life. You can find him on Twitter talking about #mtgart, museums, and other #vorthos related goodness. Follow along and continue the conversation!