The Command Zone has launched a Kickstarter for brand new Game Knights sleeves with art by Blake Meade. The Kickstarter—which went live for patrons yesterday evening before today's broader availability—is a very limited opportunity, running for just over 3 weeks or until all 1,700 sets of four sleeve packs (two of each style) are sold.
Each pledge comes with four packs of 100 Ultra Pro Chroma Fusion Games Knights sleeves, with two packs of each design, for $50 (plus $5 shipping in the US). That's enough for four Commander Decks, and one pack for everyone in your pod! As of the writing of this article, around 1,000 slots remain.
We've seen The Command Zone offer things like exclusive playmats and other neat swag via Kickstarters before, but this is their first time venturing into custom sleeves. I asked Command Zone Podcast Director, Editor, and CEO Josh Lee Kwai how they decided to make the jump to sleeves.
"Card sleeves are something that fans of Game Knights have been asking us to create for a long time," Josh said. "The issue that held us back was always two-fold: 1) Sleeves are complicated to produce and require you to order large numbers, and 2) we're obviously obsessed with quality here at The Command Zone and coming up with the perfect look for the sleeves was something we never really had the time to crack."
"Luckily, when Ashlen joined the team, we had someone super talented who could really spearhead the creative design part of the process," he concluded.
Josh, Ashlen, and the team brought back artist Blake Meade of Whipporwill Design Co, the man behind their Extra Turns logo, to create the art for these custom sleeves. I was able to catch up with Blake and talk about this new design.
Donny Caltrider: Hi Blake!  Tell me a bit about yourself—who are you, where are you from, and what do you do?
Blake Meade: I'm a freelance illustrator and graphic designer that has spent their entire life in Kentucky. Currently I live in Lexington, Kentucky with my wife Ivana and our two huskies, Oliver and Loki.
I know you've done the one logo for these folks before—tell me how it all began with the Command Zone.
My relationship with Josh and The Command Zone started in 2018. At the time they were looking for a designer to create the logo for the Extra Turns content. Someone tagged me in a tweet and Josh reached out! They have been amazing to work with and I'm a fan of their content since Commander is the only MTG format that I play. I've done a few other logos for the gaming community, as well as submitted my illustrations to Wizards in hopes of one day doing art for an actual Magic card. But so far that dream is still in waiting!
Oh that's exciting! Maybe we'll see you on a card one day too!
What was the inspiration behind these two designs?
For this project Josh had very few guidelines and gave me a lot of freedom with the design direction. That in itself was a challenge, knowing that the art would be used on sleeves by players from all over, I really wanted to deliver strong results. As with all of my projects I started with idea sketches using Procreate on my iPad, eventually moving over to Adobe Illustrator to finalize both designs.
Watch Blake sketch out the "Playing Card" version!
This is great stuff. Before we go, anything else you'd like to share about your work?
Graphic design and flat illustration isn't what I limit myself to. I also enjoy doing fantasy illustration, and you can see that here.
This slideshow requires JavaScript.
Digital artworks by Blake Meade
Awesome! Hopefully we see some of these translate onto a Magic card someday and congrats on these two excellent designs for Game Knights!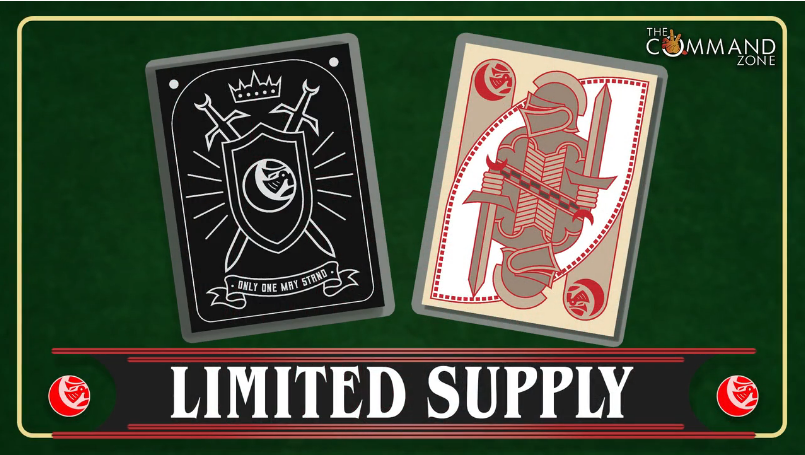 How cool are these?
I hope you enjoyed a bit of a behind the scenes look on this brand new and exclusive Game Knights product by artist Blake Meade. I think will prove quite popular both now and in the future, and I can say without looking there's probably been a few backers while you've been reading.
Again, that Kickstarter page to score some of your very own is here. I know it just launched, but remember there are a finite number of these sleeve sets available, so if you want some of your very own, you must become a backer ASAP.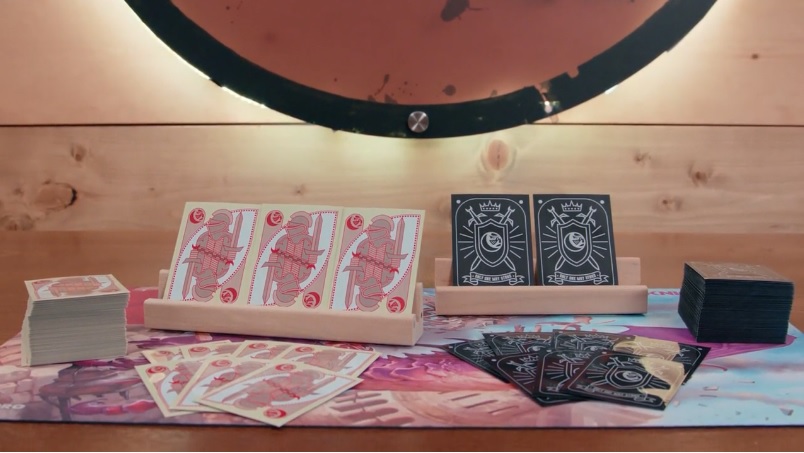 Special thanks to Craig Blanchette for the opportunity to write about this project, and the rest of the awesome folks at The Command Zone and artist Blake Meade for their help in putting this together.
To read more about Magic: the Gathering artwork and the stories behind the art on the cards, check out my columns, The Mirror Gallery and Art Market Minute, right here on Hipsters of the Coast. You can also follow me on Twitter; feel free to ask questions or retweet to continue the conversation.
Thanks for reading and remember: Only one may stand!