An estate of Magic art needs to be prepared for the open market. The #mtgart beacon is lit. So. What happens next?
Good morning everyone, and welcome to the Mirror Gallery here on Hipsters of the Coast. I hope you're all staying safe during these turbulent and unprecedented times. Today we're doing something a little different, and combining my regular bi-weekly exploratory art column with a bit of the Art Market Minute to delve into the recent estate collection of original Magic artwork that became available and was sold over the last two weeks.
This article will explore the pieces from this collection, the condition reporting and connoisseurship process, and provide insight into what has happened with the works thus far. We've a lot to cover; let's begin.
The Story
It's important to know where exactly these paintings have come from, and how they got to this point. For the purposes of this article, the estate name will remain anonymous; though for many of the folks within the circles of the collecting community, the origin of these pieces is well known. The original owner passed away several years ago, and these works passed to his wife. Her recent death has passed them to her next of kin, who has enlisted the help of an estate attorney to sell the collection to help cover the increasing costs of maintaining and liquidating the estate. The collection in its entirety resides in Washington, DC.
After some online research by the estate and the attorney, they got in contact with Magic art expert Vorthos Mike (as he is known to the community) to determine the best course of action for this collection. Mike reached out to me to join him on this adventure of authenticating and cataloguing works, and to write about what transpired.
It's time to see some art.
The Collection
I think the first thing we need to do is look at exactly what pieces of art we'll be talking about. A total of eighteen pieces of art, including thirteen final paintings, one color study, three sketches, and one non-Magic painting make up this estate grouping. There are several notable works, and a handful of other easily recognizable cards and artwork.
This slideshow requires JavaScript.
Two of the three "combo" pieces of the Mirage-era Prosperous Bloom deck that Mike Long used to win Pro Tour Paris 1997: the color study for Squandered Resources by Romas Kukalis and Cadaverous Bloom by Alan Rabinowitz.
This slideshow requires JavaScript.
Two works by Magic legend Kev Walker: the very playable Inferno Titan and iconic Jackal Pup.
This slideshow requires JavaScript.
A suite of works by Volkan Baga: three final paintings in Qarsi Sadist, Countryside Crusher, and Natural State, as well as the sketch for Natural State.
This slideshow requires JavaScript.
Three works from the Unglued and Unhinged parody sets: Goblin Bowling Team by Pete Venters, and the painting and sketch combination of Blast from the Past by Douglas Shuler.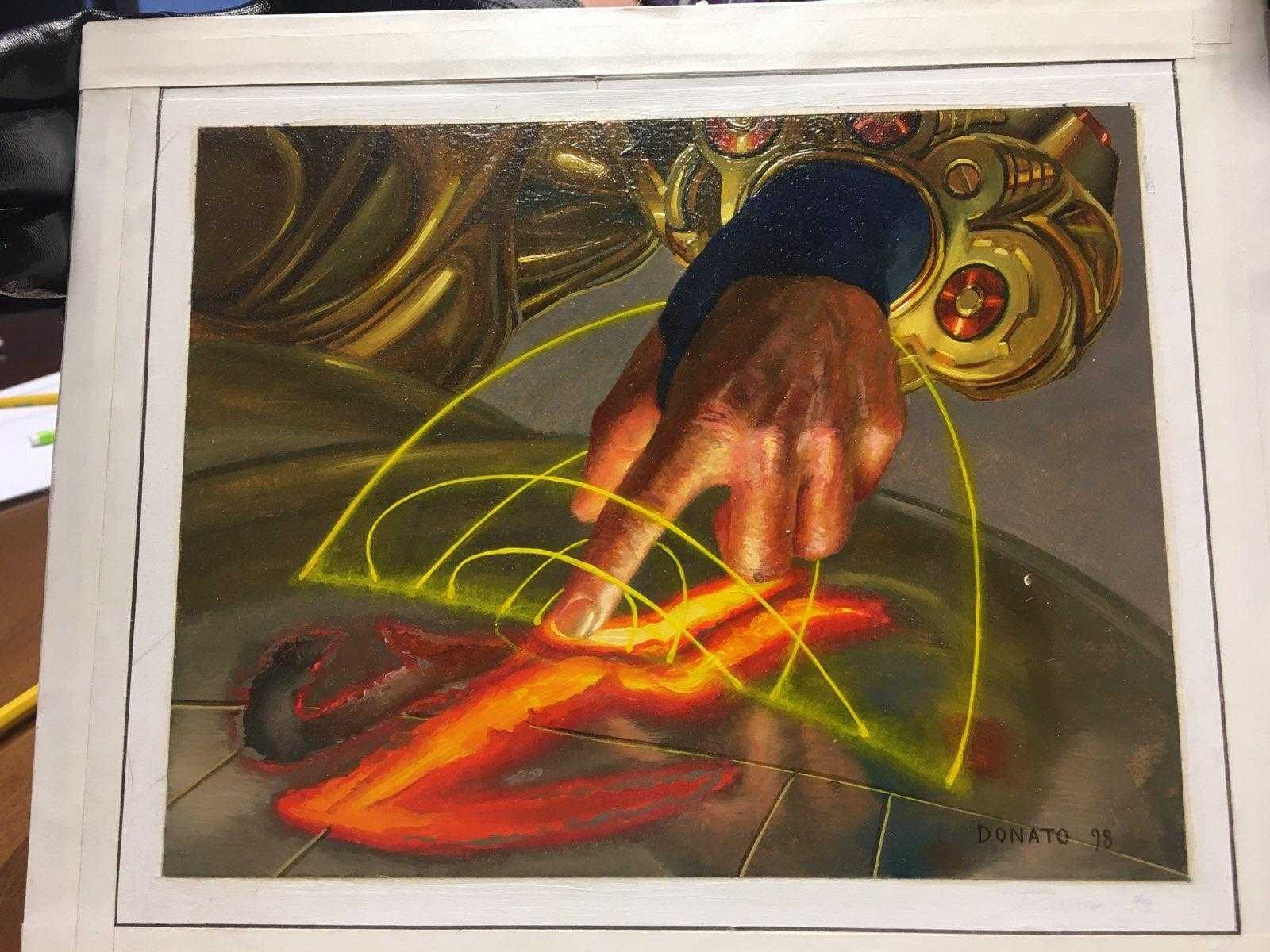 Brand by legendary Magic artist by Donato Giancola.
This slideshow requires JavaScript.
Another painting and sketch set, Nephalia Smuggler by Matt Stewart.
This slideshow requires JavaScript.
And several other pieces including Searing Spear by Chrstopher Moeller, Hidden Spider by Thomas Baxa, Stalking Stones by Stephen Daniele, and the aforementioned non-MTG Doomtown work by Michael Sutfin.
This is no average collection, thus it needed to be seen in person, recorded, inspected, authenticated, condition reported, photographed, evaluated, and researched. The only way to do that is in person, so Vorthos Mike hopped on a plane, I jumped in my car, and we headed to the Nation's Capital.
Condition Reporting & Authentication
Pictures are worth a thousand words, but nothing compares to holding something in your hands and a few inches away from your eyes in order to see exactly what you have. A group of artwork of this magnitude required an in-person consultation and condition report session, and that's exactly what happened.
After arriving in Washington, DC and armed with nitrile gloves, #2 pencils, and a condition report spreadsheet, we went to work. Mike spent time working as a registrar at the Frederick R. Weisman Museum of Art in Minneapolis, MN , and my Master's Degree is in Museum Studies from Johns Hopkins University. To say it frankly, we are well prepared for this job, and know what we are doing.
Each work needed to be inspected and authenticated, including both the work and the frame. While unlikely, there was a very real possibility that any number or all of these works were not original paintings. It happens. But that was certainly not the case with this collection.
Between Mike and myself, we went through each work individually, one by one. Frames were inspected from all angles to check for abrasions from storage or previous falls from the wall. Artworks were examined to make sure they were complete, free of damage, and in the same condition as when they were originally painted.
The majority of these works were, for all intents and purposes, flawless. The frames each showed varying degrees of minute wear from storage, switching positions on the wall, or material shrinkage, but this is to be expected.
Only two pieces of art displayed notable damage—the sketch of Natural State by Volkan Baga, and Brand by Donato Giancola. The sketch, which is currently unframed, was found having a crease running the height of the work. This is very minor, and will more than likely be unnoticable once framed.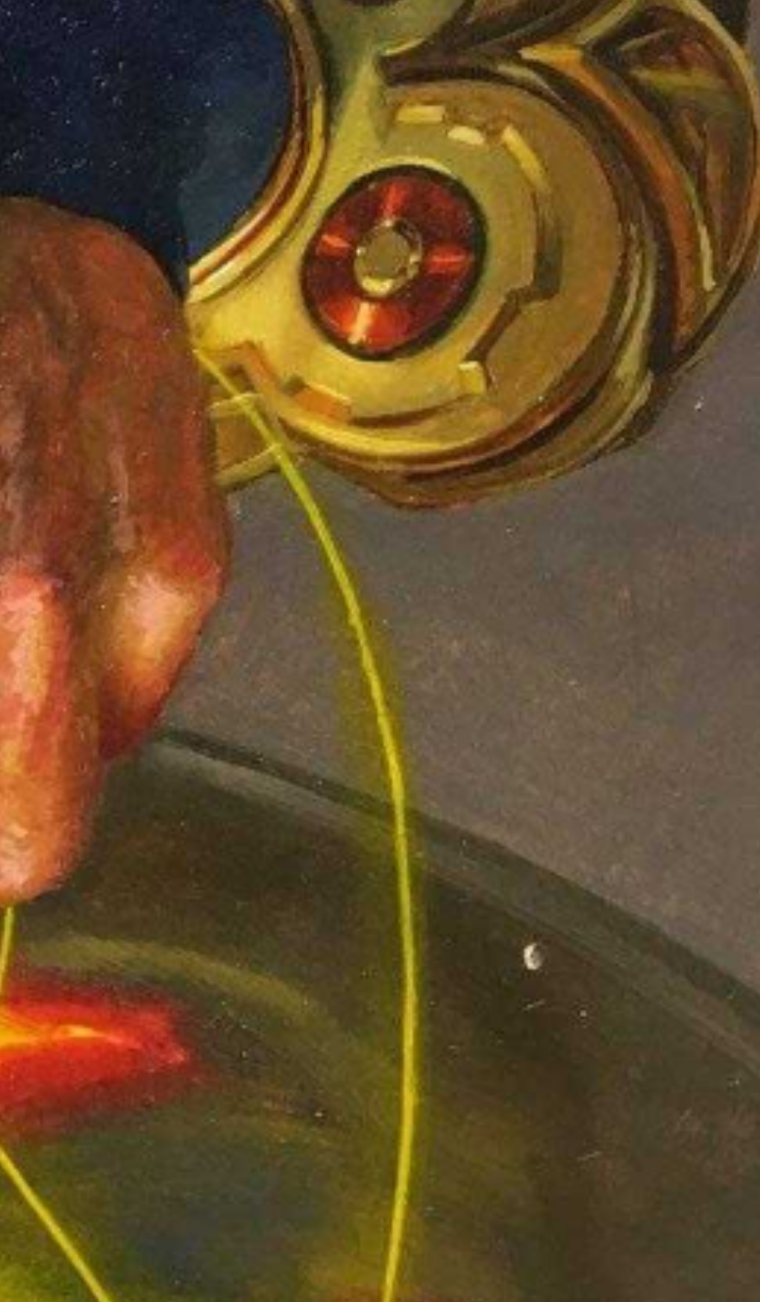 Brand by Donato Giancola had one minor chip abrasion in the bottom right quadrant of the work. This painting was also the only unframed final artwork of the group, and upon comparison with the card and verification by the artist, accrued this damage somewhere along its journey to the current owner. It is slated to be sent to Donato for repair, and will be sold once completed and stable.
It took a good half a day to work through these pieces, but at the end, all artwork was all determined to be authentic and in good condition. The question begs: now what?
Now, the work begins.
Connoisseurship
Connoisseurship, broadly defined, is a specifically visual knowledge gained from looking at works of art. It's the constant exercise of knowing how an artwork or object fits into the larger narrative. Knowing what these paintings are in the literal sense is one thing, but knowing what they mean to Magic and where they fit in the larger story of the game is much different. Add their importance to the niche genre of original Magic art collecting, and it's another expertise entirely. It's precisely the reason Vorthos Mike was called to handle this group, and why he called me to join him. The only way to know these things is to have had, and have kept, your finger on the pulse of Magic art.
There are several instances among these eighteen artworks where a very specific knowledge was crucial to their identification. For brevity, we'll look at just the most important example, though to a degree research went into each one of these works.
An integral part of a Pro Tour winning three card combo, Squandered Resources, was present alongside one of the other associated pieces within this collection. However, once we saw the piece in person, it was very small, and not particularly detailed.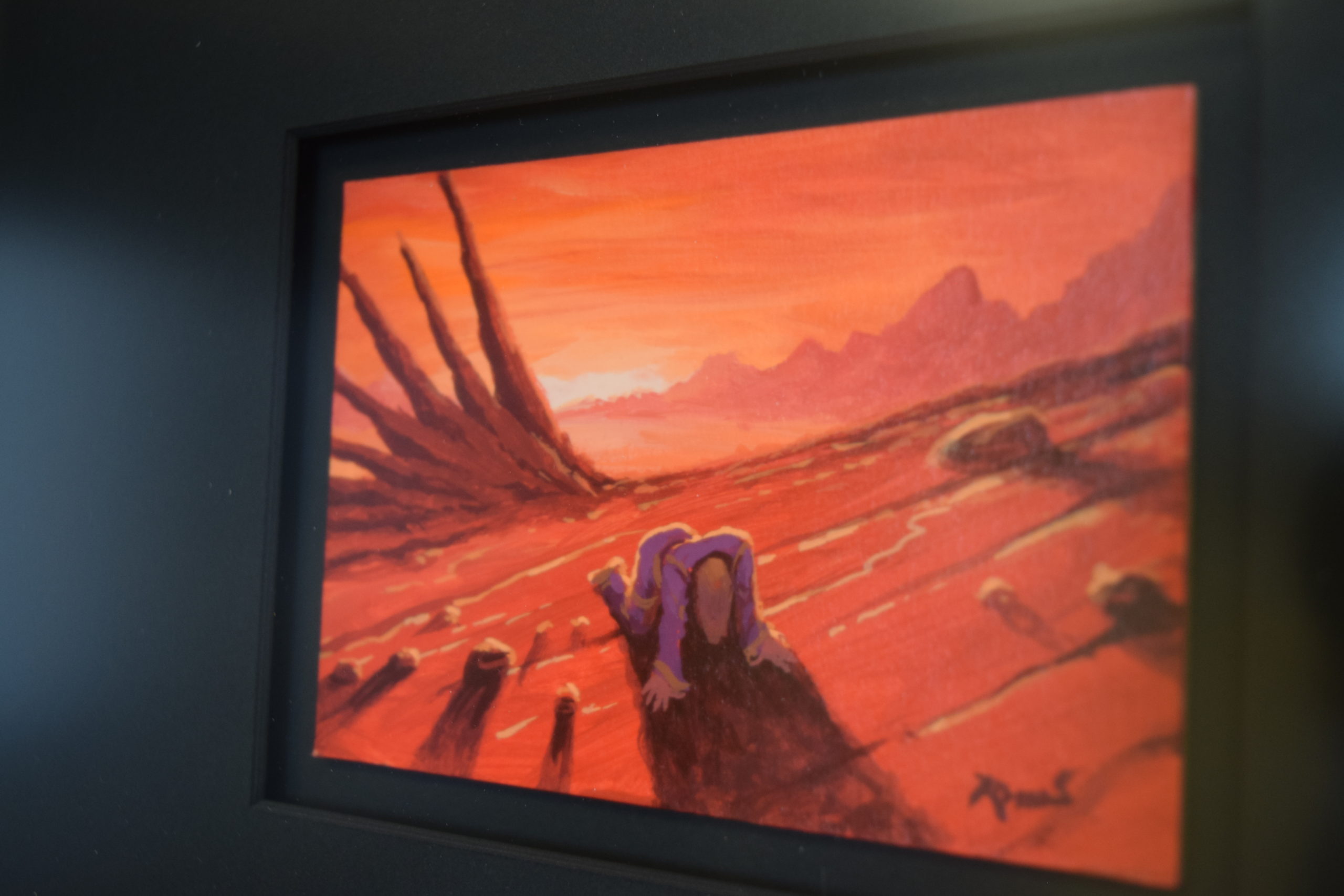 Early Magic art from the first half of the 1990s, more often than not, was very small. After all, it had to fit on Wizards of the Coast's scanner at the time—not very large in 1993. It often was also not very detailed, as the paintings were painted by the artists knowing they would be shrunk down; miniscule details weren't always necessary, or time effective. This work, however, was from Visions, most likely painted in 1996 and released in 1997, and smaller and less detailed than even the first paintings made for the game. Knowing all of this points to the fact that what was in our hands was a color study, a preliminary painting done to work out how colors and compositions work together, but on a much smaller scale and with far less precision.
This has a dramatic effect on the value, putting this still very notable piece of card art in the low single digit thousands as opposed to tens of thousands. If it would have been sold incorrectly, it could be disastrous for all involved, and is the perfect example of why strong connoisseurship is integral in these situations
So What's Next?
Beginning last Tuesday, March 11, 2020, the entirety of this collection was made publically available for offer on the largest marketplace for original Magic: The Gathering artwork, the MTG Art Market on Facebook in two different posts: here and here. Vorthos Mike fielded offers, answered questions, and made the determination which pieces had achieved a satisfactory offer to forego an auction, and which need to be put on the block to realize their highest potential.
Nine works were sold privately for amounts undisclosed, having received an offer high enough to forgo the risk of an auction. While auctions often maximize the price of an artwork, this is not always the case. There is always the risk that one falls flat, and to have a major piece from this collection underperform, the entire price ceiling could risk falling a few notches. Buyer, seller, and agent all found them to be acceptable, and they were hammered to the highest offer a few days later.
Outside of these nine, the other paintings and sketches save for one were sent to the auction block:
The only painting still to be sold is Brand by Donato Giancola, which will be made available once restored by the artist.
If it seems like work moved quickly on these artworks, that's because it did. There are ideal, and less than ideal, times to sell Magic artworks based on the release of new sets (full of new art) and current things happening within the game. Even above this, the looming threat of the COVID-19 coronavirus accelerated the offering and sale of these paintings, with several of them sold to buyers outside the US but being held until Europe reopens from quarantine. I asked Mike for the quick hit about how this all works:
"I think of it like a sound wave, where the top of the crest is a new set and the bottom of the crest is the low point between sets where art has the best chance of emerging. This is not the low point of the curve, but with the virus taking place and a new set coming next month, it necessitates the sale now."
You've heard me talk about the right and wrong times and places to sell Magic art before, and I'll cover this curve and its implications fully in a future article.
Wrapping Up
I hope this was an insightful look into the story of this collection over the past few weeks. This is one of, if not the first time, a group of original Magic paintings have been in this situation. It will set an important precedent about how estate collections are best handled, and by whom. At the risk of being macabre, these will become more frequent over time; having examples such as this in place will make the situation easier for all those that will be involved. And it took place on the precipice of one one of the strangest times in recent history.
It was a privilege to get to work with this group of artwork, to see it up close, and explore the stories behind the pieces. This column has always been about telling stories, and there are thousands of words that could be said about each of these paintings. Their being part of this estate, and where they go from here, will forever remain a part of their provenance, and this particular story will follow the paintings forever.
Looking forward, I've got a Mirror Gallery exclusive coming next Wednesday, and it's something you're not going to want to miss. That's all I can say for now, so make sure you check back with me next week. Stay safe friends, be well, and I'll see you then.
Donny Caltrider has been playing Magic since 2002 and collecting original Magic art since 2017. He has an M.A. in Museum Studies from Johns Hopkins University and enjoys telling stories about art, objects, and the intersection of fantasy with real-life. You can find him on Twitter talking about #mtgart, museums, and other #vorthos related goodness. Follow along and continue the conversation!