On January 3rd, 2020, TokyoMTG in Tokyo, Japan will open its doors as the TokyoMTG Art Show, featuring more than 20 original pieces of Magic: The Gathering art, a pair of visiting Magic artists, as well as an opening and closing reception, painting experience and card alteration workshop. It will remain open through January 5th, 2020, and is a ticketed event. More information about ticket options and prices can be found here and below.
The Show at a Glance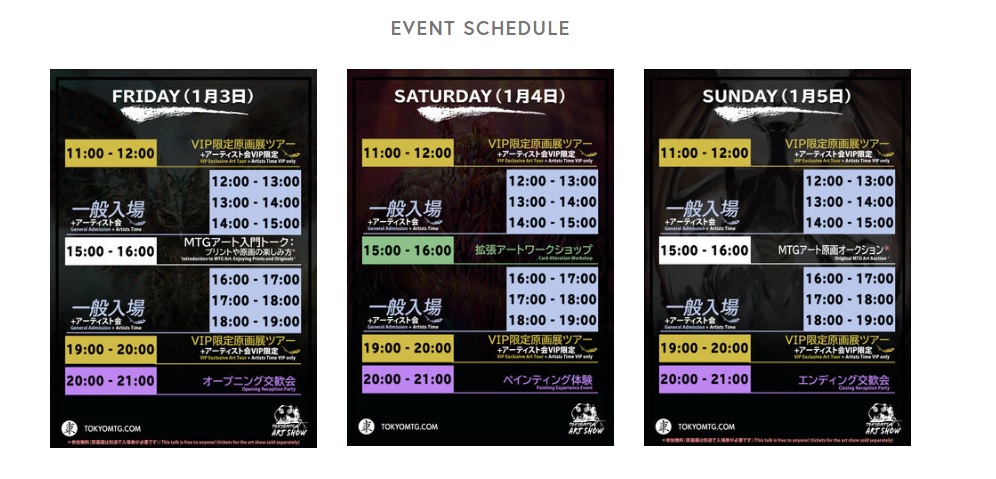 What: TokyoMTG Art Show
When: January 3-5, 2020
Where: TokyoMTG, Misakicho 3-4-10, Chiyoda, Tokyo, Japan
Tickets:
1 Hour Exhibition Admission (20 tickets per time slot): 1,800¥ (approx. $16.50)
Opening Reception: 6000¥ (approx. $55.00)
Closing Reception: 6000¥ (approx. $55.00)
Painting Experience: 5000¥ (approx. $45.50)
Alter Workshop: 2800¥ (approx. $25.50)
VIP Experience (Includes tour and artist experience): 4000¥ (approx. $36.50)
The Art
Courtesy of TokyoMTG shop owner and show curator Heiko Schmidt, this morning I have an exclusive exhibition preview to show a handful of the collection of original Magic artwork that will be on display. Let's see what there is to see:
The cornerstone piece of the exhibition, Nils Hamm's huge traditional rendering of the once digital-only Baleful Strix will be on display. It has only been shown at a handful of events by the artist previously, and has become the anchor of this art show.
Chris Seaman's brand new and newly released Path to Exile is another exclusive at the art show before it travels to its final home in a private collection.
Phyrexian Scuta is one of the earliest paintings in the show, dating all the way back to 2000-2001. It was created by one of Magic's longtime artists, Scott M. Fischer.
The other "early" piece of art is Jeff Laubenstein's Miscalculation, originally painted in 1998 for the Uza's Legacy expansion. It is one of the few pieces that will be available within the exhibition.
This Serra four-inch by four-inch painting was acquired from The Magic Art Show's 4x4s for a Cause to benefit the Imaginative Realism Foundation back in October of this year. It is an incredibly rare example of Magali Villeneuve's traditional work.
One of five Throne of Eldraine storybook artworks that will be on display, this painting marked Omar Rayyan's return to Magic earlier this year.
A larger-than-life reimagining of the wildly popular card by fan-favorite  artist Rebecca Guay, "Bitterblossom XXOX" has traveled all the way from New York City to Tokyo for this exhibition.
One of four Eternal Weekend Oversize Painting Cards, Ancestral Recall by Raoul Vitale is a painting framed as a giant Magic card. This will be one of the only times more than two of these are in a room together at the same time.
This is the first public exhibition for the recently sold Throne of Eldraine Mountain by Mark Poole, and the one chance to see it before it heads into private hands.
This show is also the first public exhibition of Jenn Ravenna's Thornwood Falls color study as well. And speaking of Jenn . . .
The Artists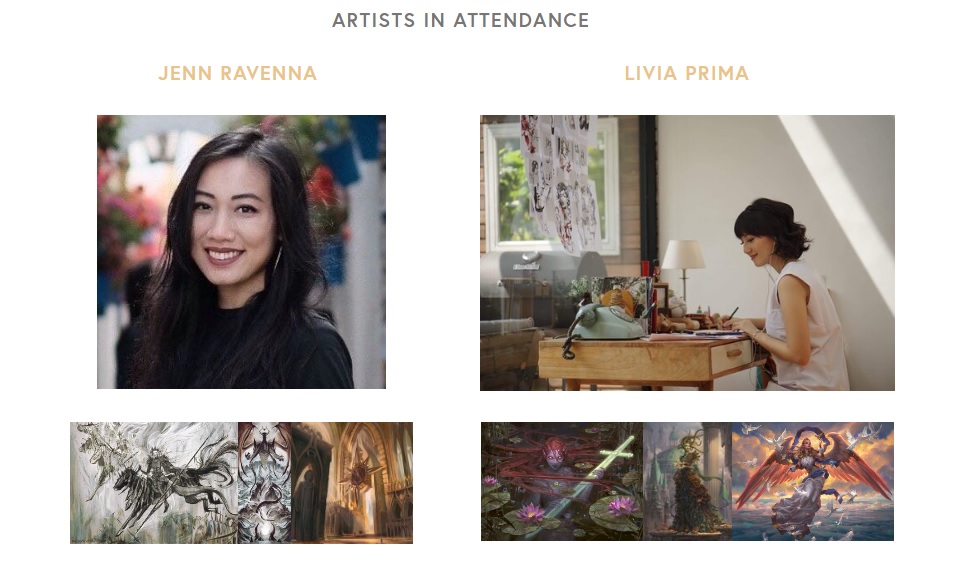 The TokyoMTG Art Show will play host to two incredible artists, Jenn Ravenna and Livia Prima. This is the first event each artist is attending in Japan, and an exclusive chance to meet and greet, get cards signed—and with a VIP Ticket, you have an opportunity for both alters and artist-proof sketches.
These two women have made a serious splash entrance into Magic illustration, and their attendance is very much the highlight of the show. Do not miss a chance to meet them.
Wrapping Up
What we saw above is only half of the works of art that will be on display. If you are anywhere even near Tokyo the first weekend of January, or looking for that exclusive getaway to start off 2020, turn your eyes to the TokyoMTG Art Show. Exhibitions of original Magic artwork are always once in a lifetime opportunities and this collection of work will never again be together under the same roof.
For questions or more information, visit the TokyoMTG Art Show website or you can ping TokyoMTG or owner Heiko Schmidt on Twitter.