Good morning everyone, and welcome as always to the Mirror Gallery. Today I'm looking back on what I worked on for the better part of 2019. That work culminated in Whimsy, Wonder, & War: A Magic Art Show, held at IX 12 for four days last month in Reading, PA.
We'll explore IlluxCon, the exhibition itself, check in on the results of the first annual 4x4s for a Cause fundraiser, and have a couple sidebar tangents of the other fun that comes along with IX every year. I have countless photos I'd like to show you, and will share as many as I can.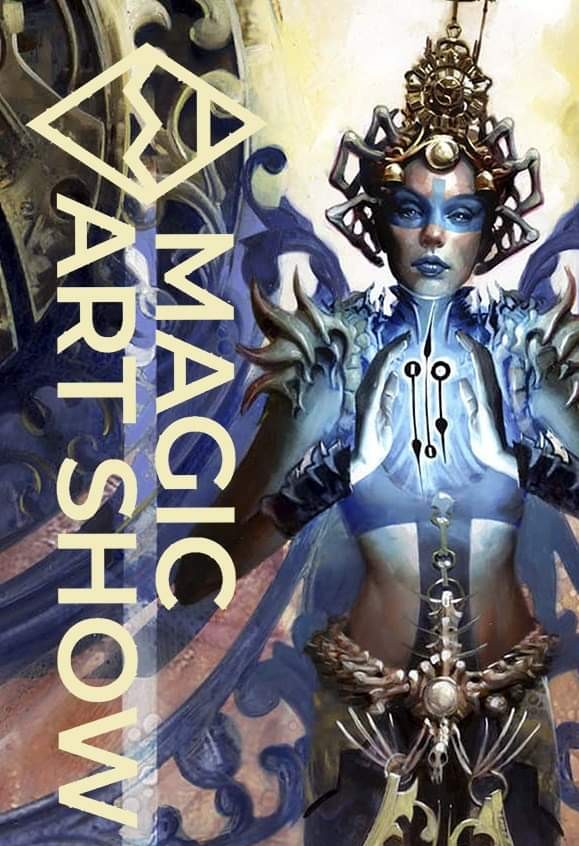 Before I go too far, the Magic Art Show team of Vorthos Mike, Brian Walters, and I have several thank yous in order. First, thank you to Pat and Jeannie Wilshire, the founders and pilots of IX Arts, for the opportunity to add the Magic Art show to IX 12 and for their unending support in making the event a success. Thank you too Jason and Tina Rak, who drove us a crate of artwork to exhibit 15 hours all the way from St. Louis, MO; the show wouldn't have been what it was without you.
Thank you also to Sidney Blumenthal; I have no doubt that without his help the art would never have gotten onto the walls before opening. A hearty thank you to all the artists that lent work for exhibition and participated in the 4x4s for a Cause; we could not have done this without your trust and support. And last but not least, thank you to everyone who visited over the weekend. We had over 700 people explore our exhibition space, and everyone we talked to seemed to very much enjoy it.
IX 12, Reading, PA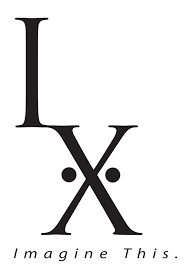 First things first, a bit about Illuxcon. Vorthos Mike wrote a great primer on what IX is, how they function, and what can be seen over the multi-day show. To reiterate and in short, it's the largest gathering of imaginative realism art and artists in the country. It's an event where curators, collectors, writers, influencers, fans and the wider community meet every year, a family reunion of those that care deeply for the genre. We descend on Reading every October to catch up, and most importantly, keep moving the art forward.
This was my third year at IX; it's less than two hours from my house, and each time has been the most unbelievable experience. Three dozen Magic artists are among the exhibiting attendees for both the Main Show and the Showcase, and this is one of the only events where it's not a line to get a card signed, but a chair where you can sit and have a conversation. There is no other event or opportunity like Illuxcon. You can read about last year's adventures here.
Whimsy, Wonder & War: A Magic Art Show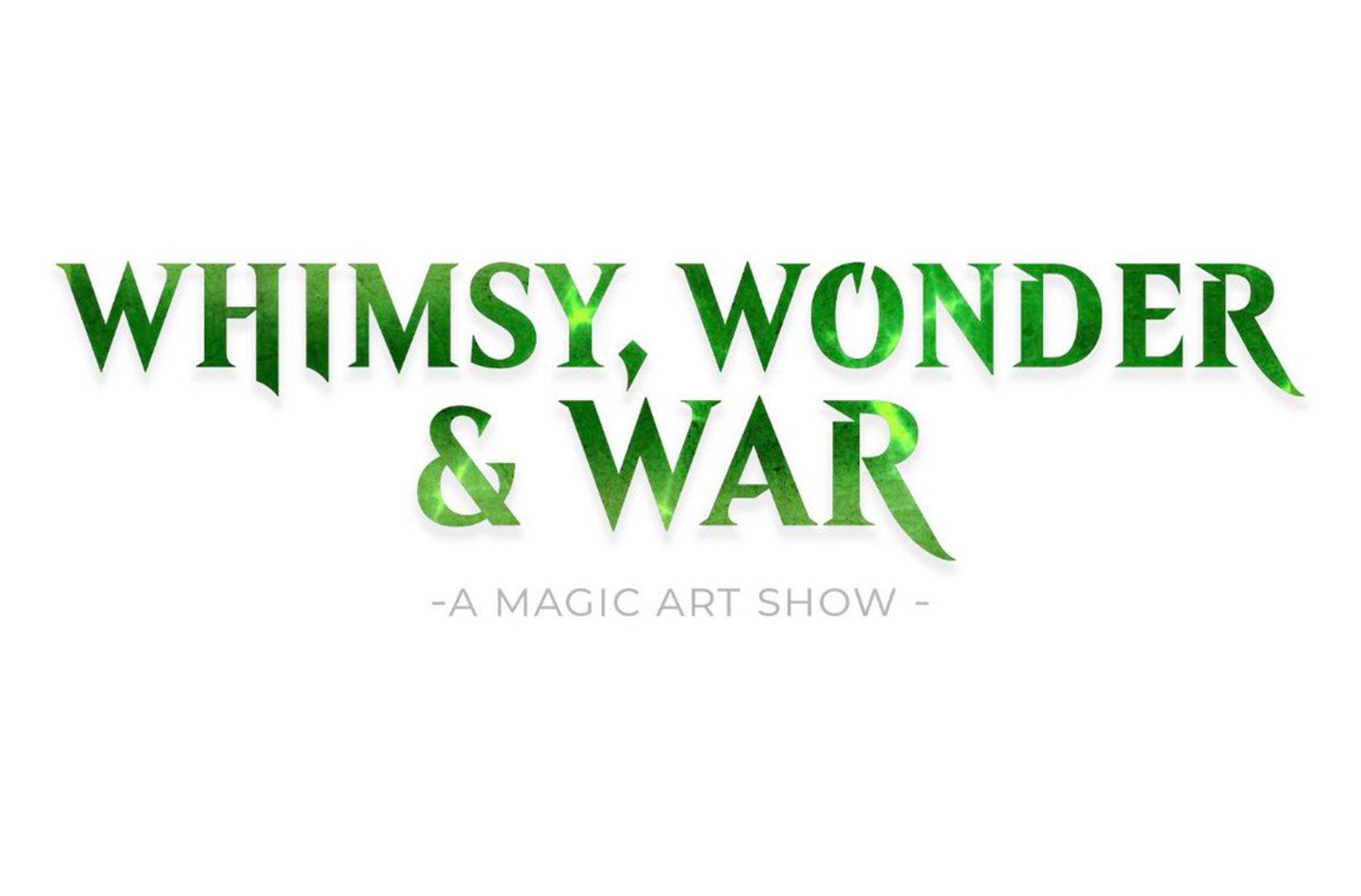 I curated an exhibition of original Magic art.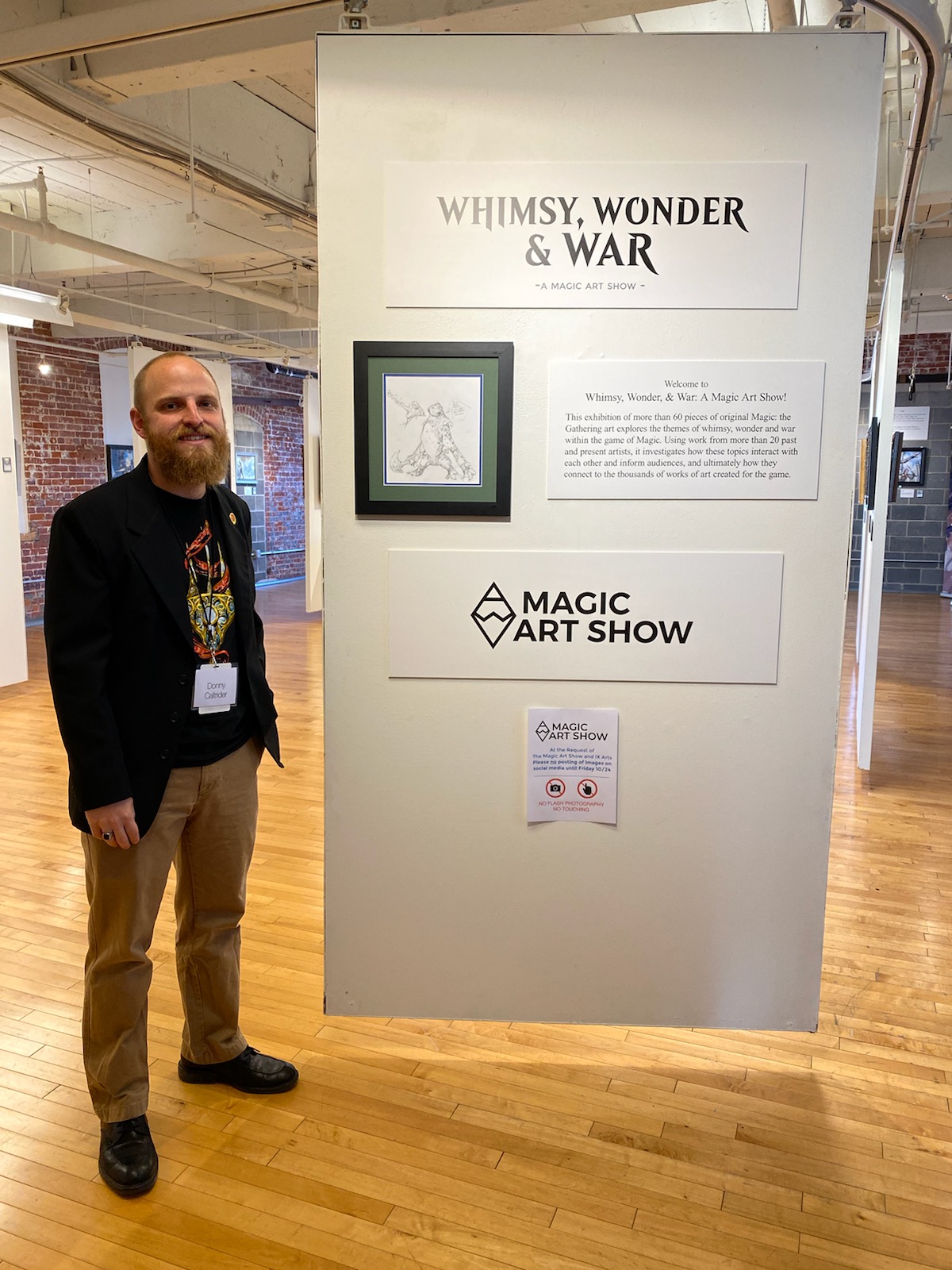 That phrase still hasn't entirely sunk in yet, but to be the main curator on this show and work alongside Vorthos Mike and Brian Walters was an absolute privilege and a dream realized. There's a lot to talk about, but I think I'll leave the museum and interpretation-heavy stuff for later and just show you all some photos. Have a scroll, and welcome to Whimsy, Wonder & War: A Magic Art Show: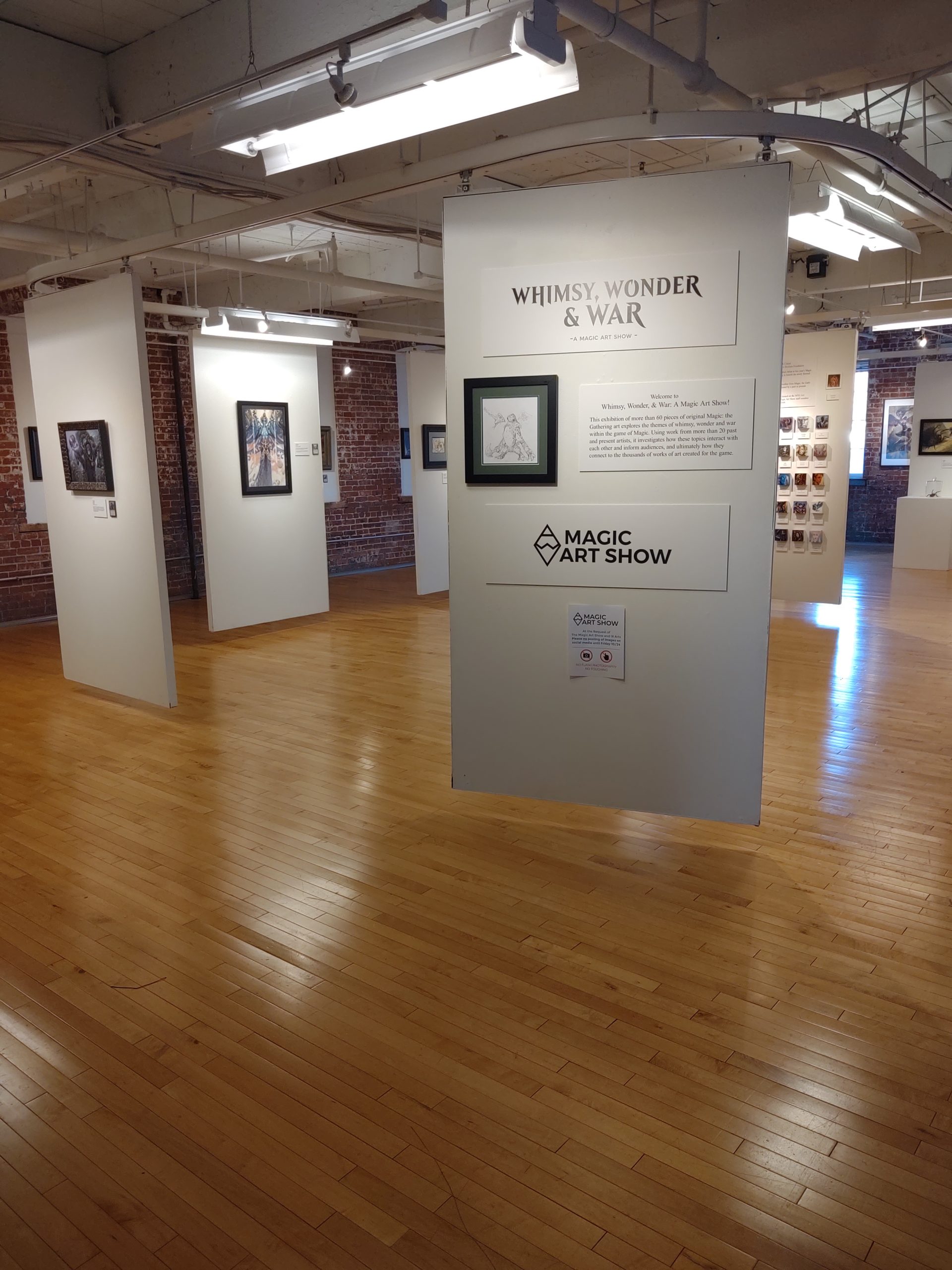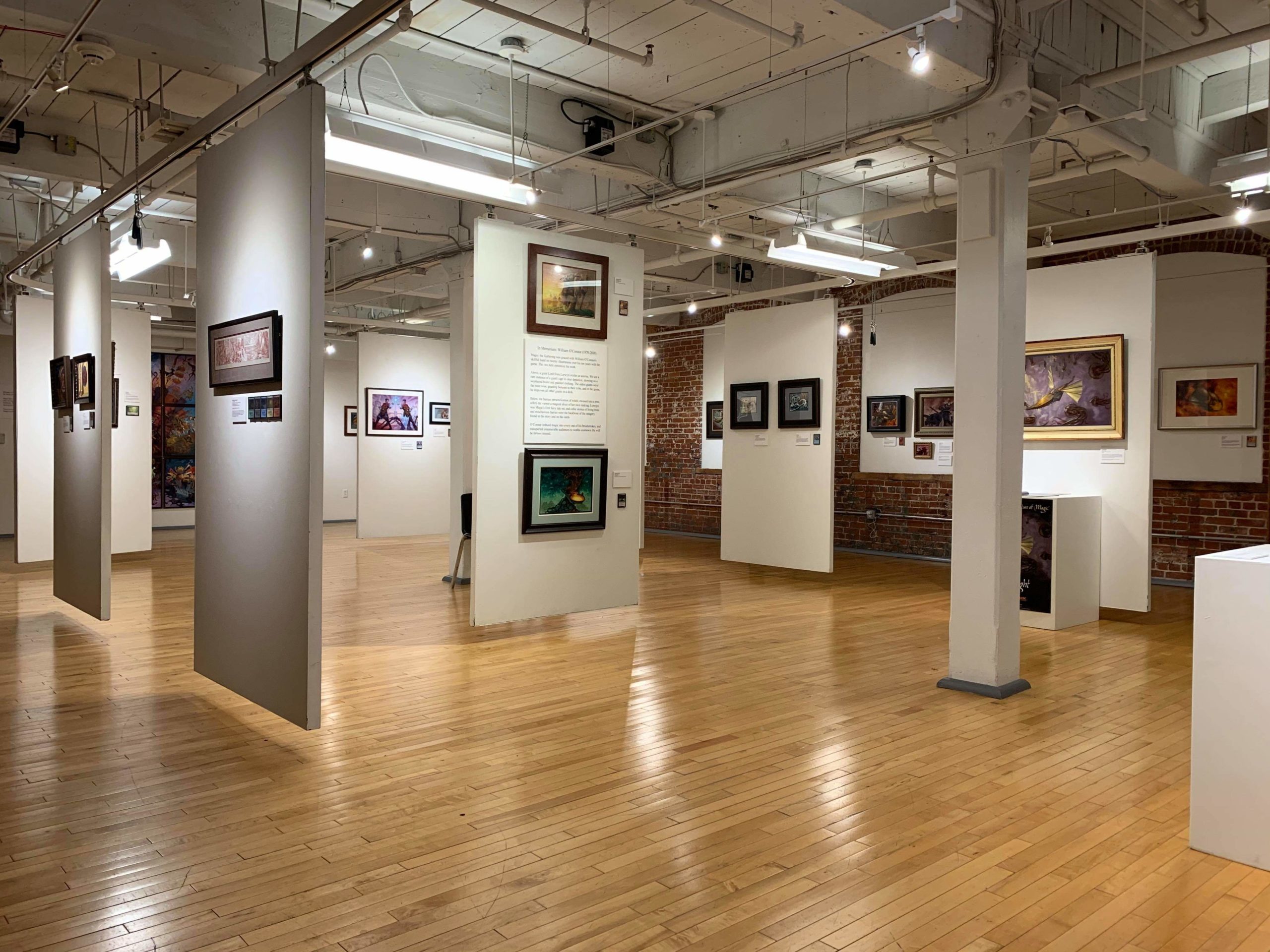 We have a website in the works where we will have an image of every photo and every label, so stay tuned for that in the near future. Until there, here's a short video walkthrough so you can see the majority of it, even quickly.
Video courtesy of Sidney Blumenthal.
A Reflection
What began as this: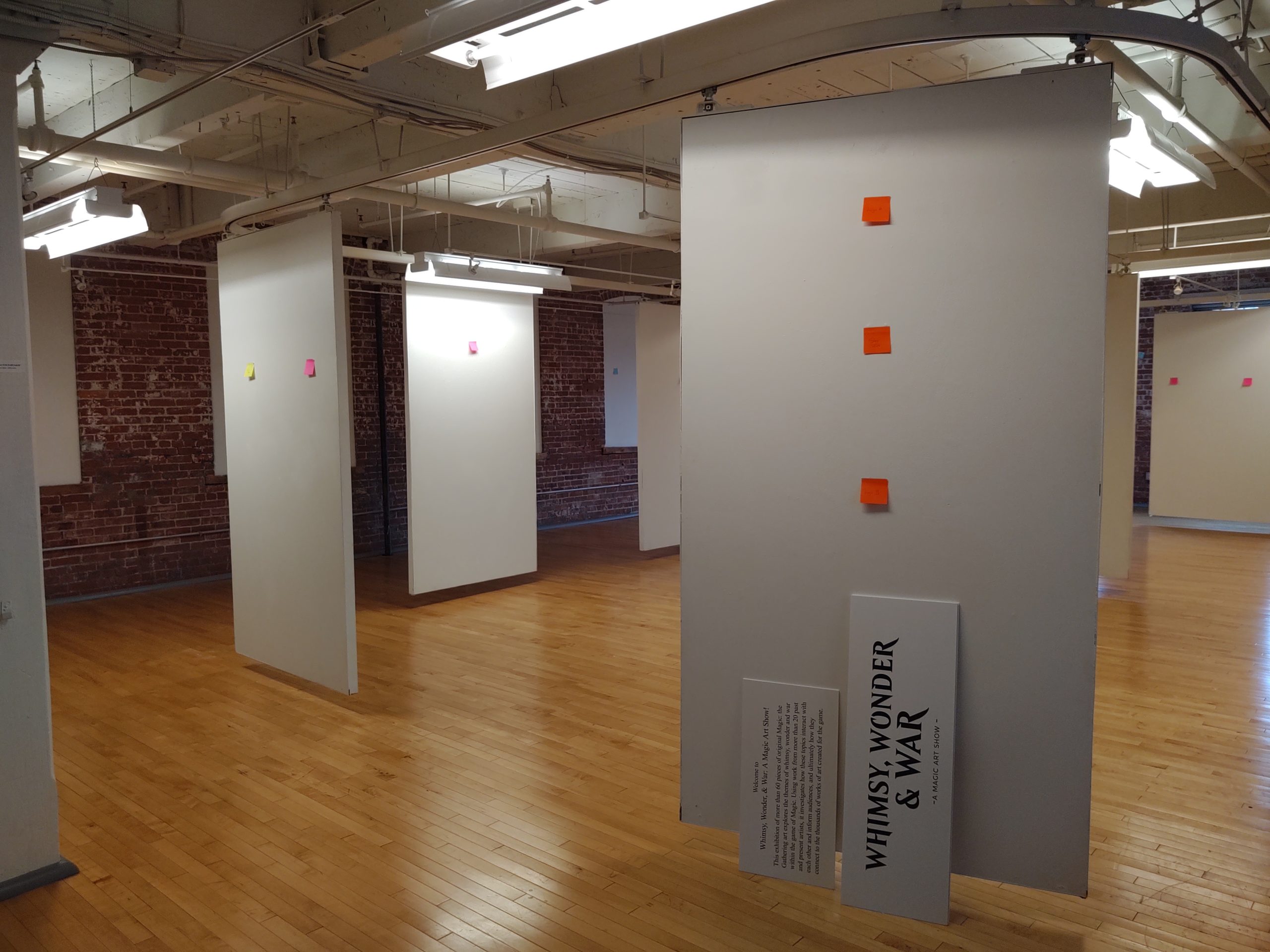 Became this:

An exhibition unlike any other, with over 70 pieces of original Magic: The Gathering artwork, each with its associated card and a label of layered interpretation. The show facilitated the sale of four paintings and countless cases of curiousity, validating my mantra that interpretation does indeed build value in every definition of the word.
As I was working through my graduate degree at Johns Hopkins in museum studies, my focus quickly became exhibition development and meaning-making interpretation through the vehicle of informal education. This exhibition was the first full flex of what I could do, what I could bring to the Magic Art Show team, and it truly was meaning-making-magic.
I will eventually write another article about what went into creating this show, but for now we've more to see!
The 4x4s for a Cause
First, some additional background: this project was born from the team's ongoing group chat and an old blog post by Greg Manchess on Muddy Colors. The goal was to find past and present Magic artists willing to paint a four inch by four inch canvas of a Planeswalker of their choosing, and to then sell those canvases at IX to benefit the current and future artists of the industry.
It worked.
Below, they are displayed at the Magic Art Show: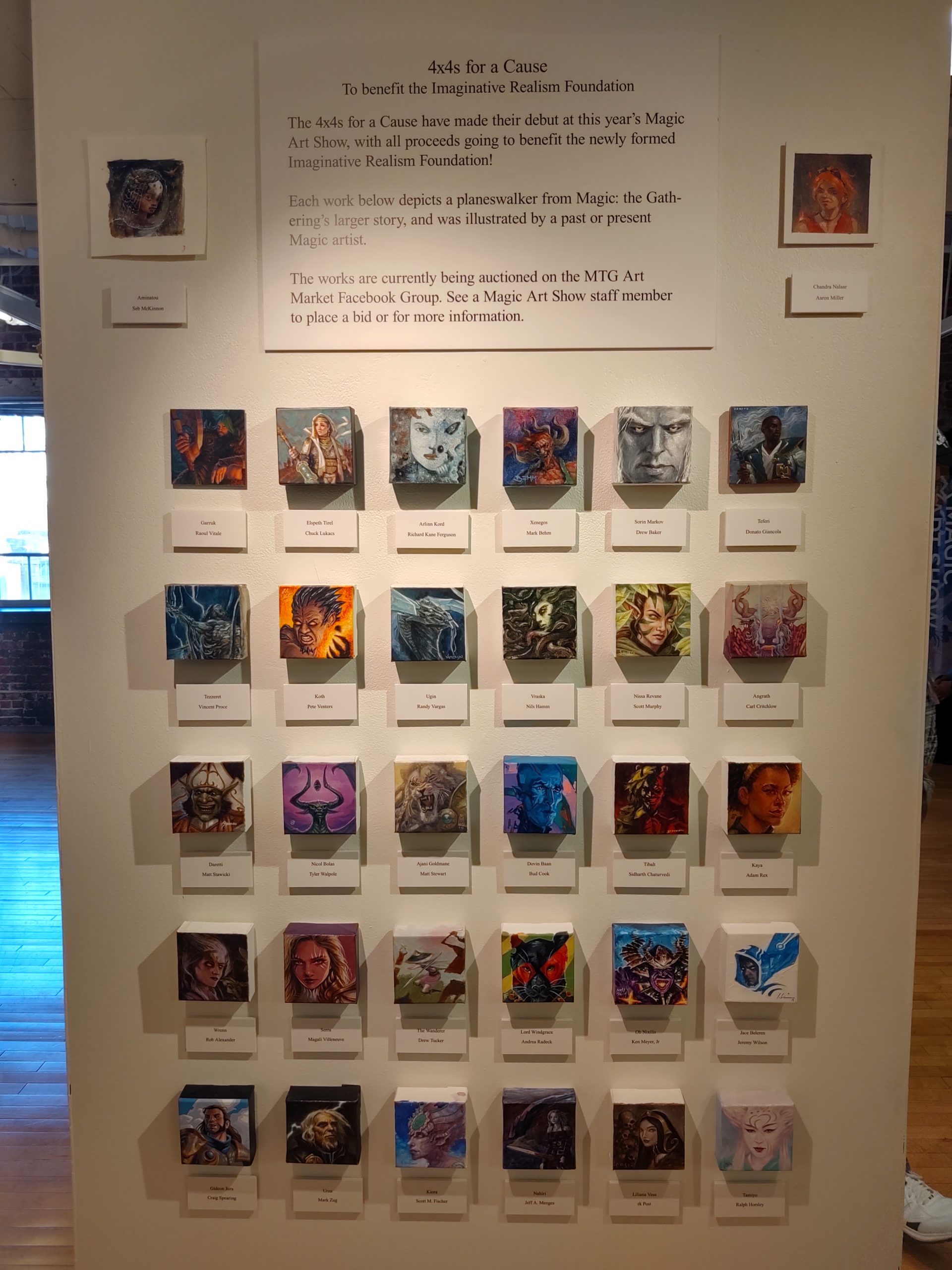 We had 32 past and present Magic artists answer the call this year, with many more wishing to participate but having already filled their schedule. We raised over $10,000 for the Imaginative Realism Foundation's Big Wizzard project. Mike ran all 32 auctions on the MTG Art Market, and they all closed seamlessly within around three hours or so. The canvases are beginning to arrive at their new homes as we speak.
The money raised will begin being dispersed in 2020 in the form of scholarships and stipends that aim to close the artist accessibility gap. It will go towards costs like workshops, Atelier entry, Gumroad, and other online subscriptions for artist's who otherwise could not participate. There are a lot of awesome opportunities this new foundation hopes to unlock for current and future artists, so stay tuned to see what they're up to.
Whew. This was the Magic Art Show at IX 12.
But before I sign off, two quick IX sidebars:
Sidebar: An MTG Art First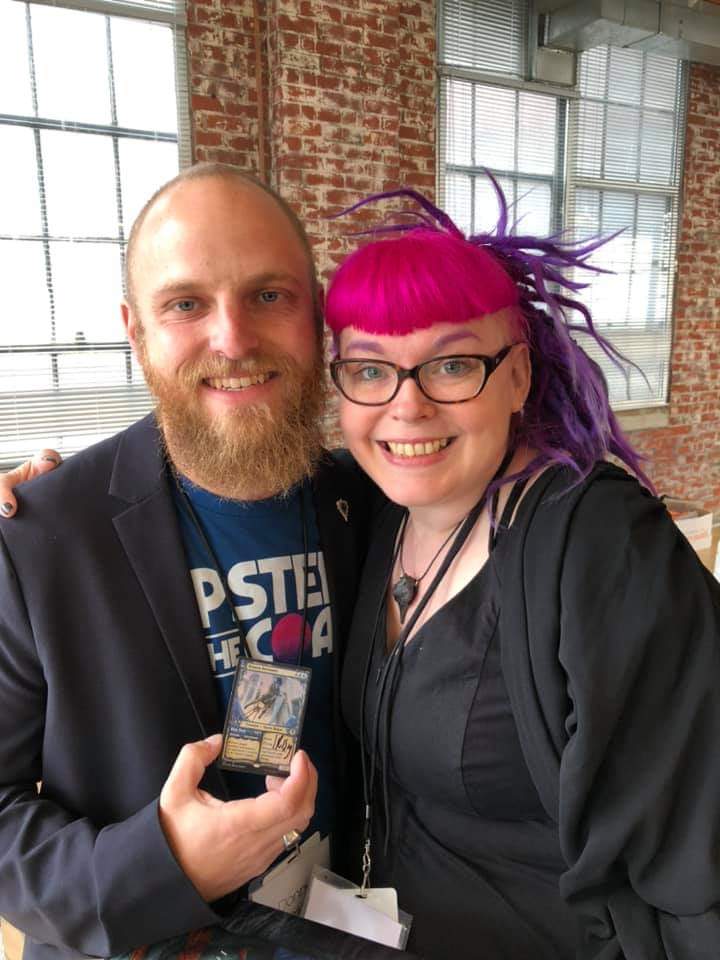 Iris Compiet is a regular exhibiting artist at IX, but this year was different for her, as she joined the roster of artists illustrating for Magic! I was able to track down a foil version of her very first Magic card, Brazen Borrower, and be the first to have it signed. She said she was nervous, but it came out perfectly and she wanted a photo of her very first card and signature. These moments are irreplaceable and really make me love Magic. This is the first of what I'm sure will be many fabulous pieces of her art we get to enjoy on cards in the future.
Sidebar- Vintage Artist Constructed: Art vs. Artist
Early last year, I built a Ryan Pancoast Vintage Artist Constructed deck, where every card, even the basic lands, are illustrated by one Ryan Pancoast. Turns out that Ryan also built a Ryan Pancoast Vintage Artist Constructed deck. Mine is foiled and signed; his is made of white-backed artist proofs. Last year we played them against each other, and he was able to Windborne Charge his Outland Colossus to victory.
This year was my redemption.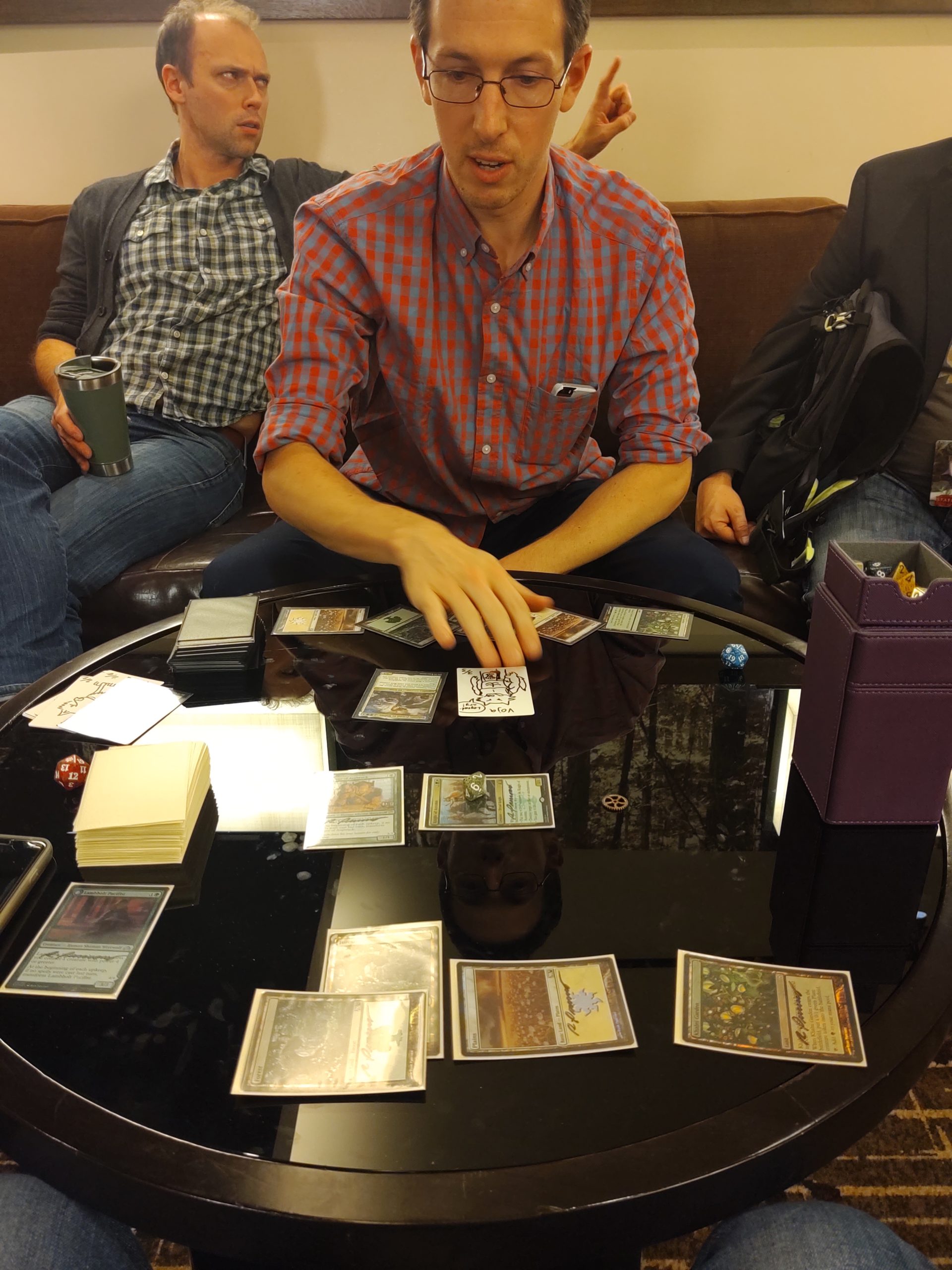 On the back of some of his newest cards in Tolsimir, Friend to Wolves and Arlinn, Voice of the Pack, I won our Vintage Artist Constructed match 2-1 and evened the overall series to 1-1.
We are playing again at Commandfest DC in December. I'll be bringing the same GW Wolves deck, and Ryan is working on something a little spicier, to the tune of 4 Color Super Friends, from what he's saying. I can't wait. If you'll be there, stop by his table and watch another match of Art vs. Artist.
Wrapping Up
Whimsy, Wonder & War: A Magic Art Show and the 4x4s for a Cause were a whirlwind, but one of the most fulfilling experiences I have ever been a part of. One of my graduate school professors from Johns Hopkins, Dr. Sarah Chicone, wrote me in an email before the show:
"There are few things in life as satisfying as seeing a vision come together in such a tangible way as through an exhibition"
She wasn't wrong.
And before I sign off, a special thank you goes out to Phyllis Hecht and Dr. Sarah Chicone, directors of the M.A. in Museum Studies and M.A. in Cultural Heritage Management, respectively, at Johns Hopkins University. They, alongside all my professors during my time at JHU, were instrumental in my graduate education, and I couldn't have done this without their collective guidance as I shaped my museum education.
This show was a passion project and marriage of all the things I hold dear; Magic, storytelling, writing, and exhibitions, all fused into one. It was the "Gathering" part of Magic, and a group effort between the lot of us who have become dear friends over the last few years. And while we're not exactly sure what's coming in 2020, this show was a shot in the arm, and further proof that these exploratory exhibitions are wanted in both the Magic and art communities.
Speaking of what's next, the newest Magic Art Show opened this week in Milwaukee, WI at the Milwaukee Institute of Art and Design (MIAD) and is entitled Story and Craft- A Magic: the Gathering Exhibition. This show was curated by Vorthos Mike, and it runs from November 11, 2019 – January 11, 2020. It explores the evolution of art and art direction in Magic, from concepts and initial sketches to finished works. It also features sections on card design, game play, and gaming culture in general. It is the first of its kind in the Midwest, and includes some exceptional programming and lectures from past and present Magic artists. If you're nearby or visiting Wisconsin over the holidays, you must check it out.
Looking forward, next week on Thanksgiving Ryan Sainio and I revisit our art discussion articles, continuing along the trail of basic lands and this time looking at our favorite Islands. You can check out our Plains articles here and here. From there it's my Magic Artist Wishlist and the annual Mirror Gallery Reflection to end out 2019.
It's been a wild ride this year, and I hope you all will finish it out with me. Stay tuned, and see you next time.
Donny Caltrider has been playing Magic since 2002 and collecting original Magic art since 2017. He has an M.A. in Museum Studies from Johns Hopkins University and enjoys telling stories about art, objects, and the intersection of fantasy with real-life. You can find him on Twitter talking about #mtgart, museums, and other #vorthos related goodness. Follow along and continue the conversation!