Chandra, Torch of Defiance, the third of the five San Diego Comic Con promotional planeswalker paintings by Terese Nielsen, has sold for $35,000. The final bid all but doubled in the closing minutes of the auction that ended on eBay Sunday evening.
The Facts
Chandra, Torch of Defiance is a traditional painting created with acrylic, oil, and colored pencils measuring 14.75" x 20" (image) on 17" x 22" Arches Oil Paper. Each SDCC planeswalker painting by Nielsen that we have seen so far has been created at the same size and using more or less the same set of materials.
The Hammer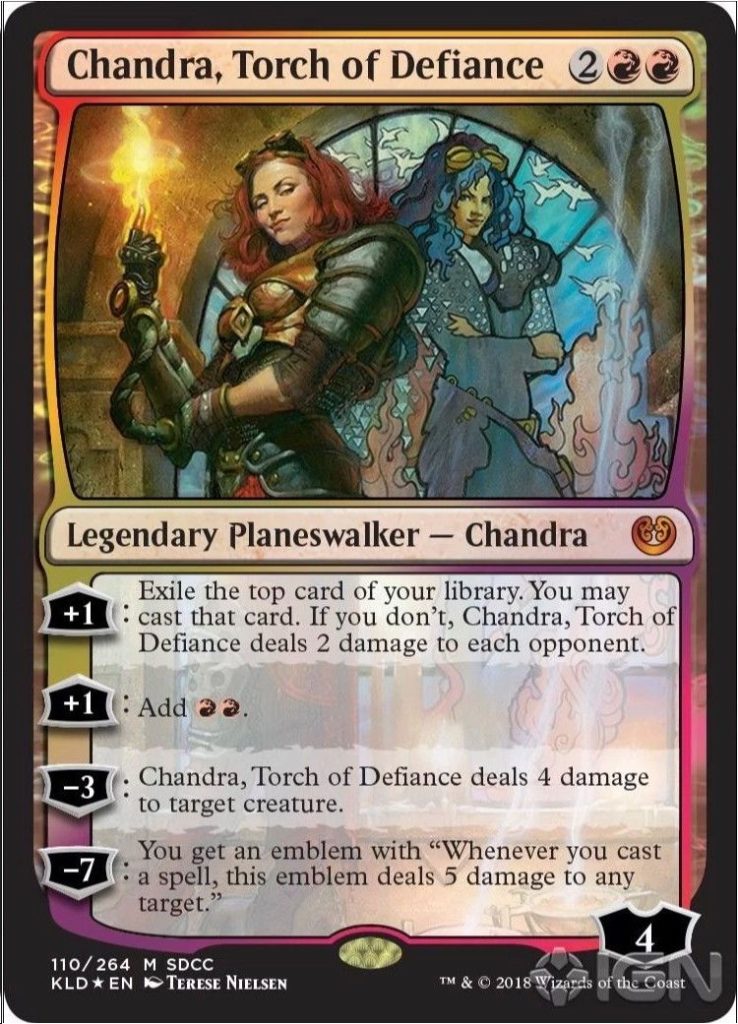 Chandra, Torch of Defiance blew past the final prices of Liliana, Untouched by Death ($22,950) and Nissa, Vital Force ($25,600), eclipsing the highest total by almost $10,000. I did not expect Chandra to surpass these two, and I'm not sure that anyone, even Terese herself, might have guessed she would either.
Looking again at the bidders, it would appear that the winner of Liliana, Untouched by Death was also the successful final bidder here. And yes, that's the same bidder that lost the auction for Nissa, Vital Force in the closing seconds. For now it appears that the set is in fact broken up, but could this mystery buyer be using different usernames? Maybe they purchased Nissa from the auction winner for a higher dollar amount? Or maybe they aren't concerned with trying to buy the entire set, simply buying who they really want..
I'm not going to predict whether Jace or Gideon will bring more than the preceding planeswalkers, because honestly I don't know. After these results, no one does. The past three auctions have proven that for these works, the sky is indeed the limit.
The Art
With such an amazing work, I would be remiss to not talk about the art, even if only for a moment.
Mood: A freewheeling fire-mage emulates her personal hero, a smug and destructive pyromancer.

Chandra stands shoulder-to-shoulder with the stained glass image of her mentor, Jaya Ballard. Theirs is easily the friendliest relationship, as they know each other personally. There's nothing but loving companionship in Chandra's stance in this piece.

(From the eBay auction description)
The emotion and visual storytelling that Terese is able to create within her work is just unparalleled. Look closely at Chandra and Jaya. Their stance is mirrored and their expressions matched. Chandra has the air of confidence knowing she has done her mentor proud, and Jaya is no doubt impressed with her student. This piece exudes a smugness turned spirit that epitomizes the relationship of these two planeswalkers.
We also see model and former Magic cosplayer Christine Sprankle more clearly here than in any other of the paintings. For anyone familiar with her Magic cosplay work, she is undeniably Chandra here. Perhaps one day we will see her return to the game and reprise this role she exemplifies so well.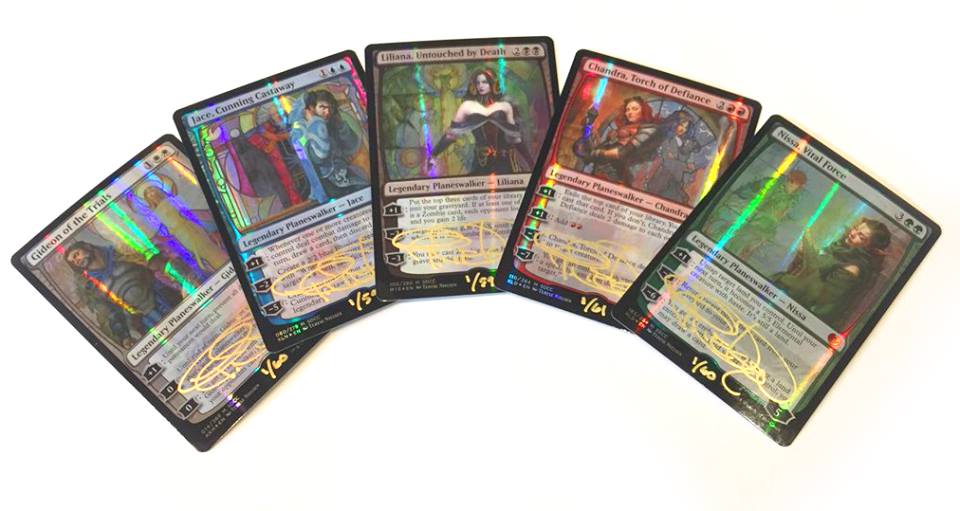 If you are still looking for a way to collect these works, Terese has just added their white-backed Artist Proof counterparts to her online web store. Usually an artist receives 50 non-foil and 30 foil versions of each card, but due to the promotional nature of these cards, it appears those quantities are different (see her numbering on the bottom of each card). As with all of Terese's Artist Proofs, the price varies based on the card and as availability decreases, prices will go up. There is currently no option to add a sketch to the white backs.
With Chandra, Torch of Defiance sold, that leaves just two final paintings. After speaking with Terese via email on Sunday, the auction for Jace should start soon, with Gideon following one week later. The sketches will then be listed one per week in the same order the final paintings were sold: Liliana, Nissa, Chandra, Jace, & Gideon.