UPDATE: Wizards of the Coast ended its relationship with Terese Nielsen in June 2020 after controversy over Nielsen's Twitter follows and likes of conspiracy-driven and trans-exclusionary accounts and tweets, as well as a donation of artwork she made to a racist, QAnon, and conspiracy-focused YouTube channel.
Welcome to a new feature here on Hipsters of the Coast called Art Market Minute. These will be short snapshots of something fun and exciting that has just happened in the ever-changing market for original Magic: the Gathering art. For each piece, we will look at the specific sale information and the current market (The Facts), the card it was printed on (The Card), the art itself (The Art), and finish up with trying to explain what happened (The Hammer). Our first piece is the recently revealed SDCC Promo for Liliana, Untouched by Death by Terese Nielsen that sold this past Friday night.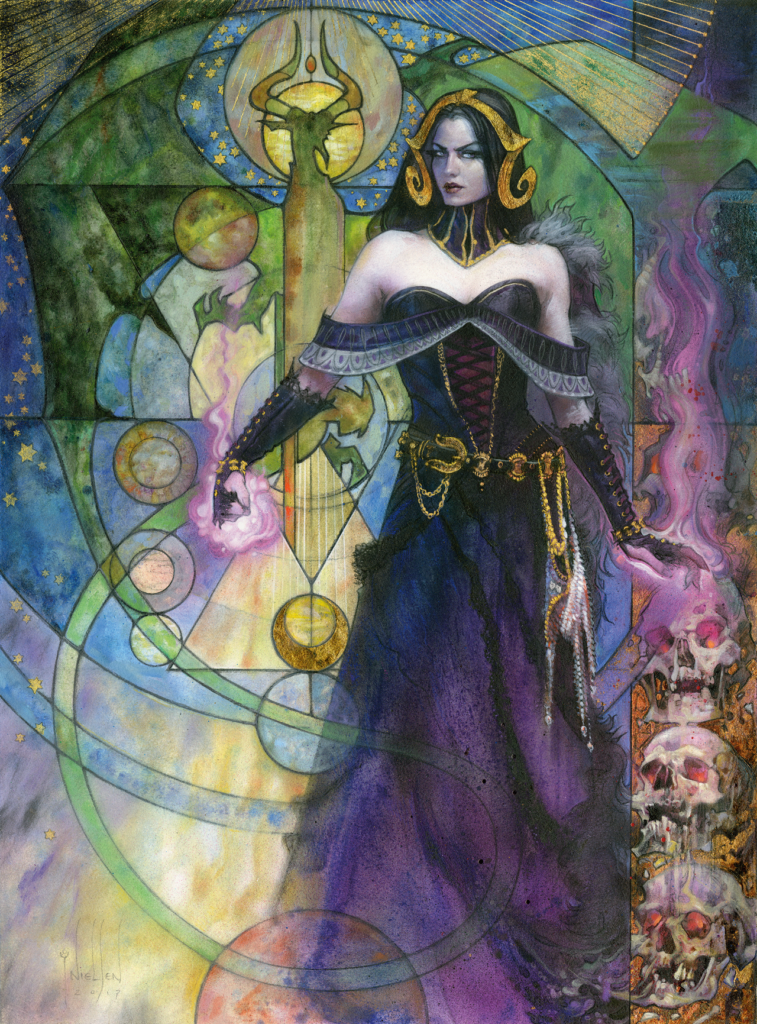 The Facts
Title: Liliana, Untouched by Death
Artist: Terese Nielsen
Set: SDCC Promotional 2018, 3 of 5
Year: 2017
Medium: Acrylic, oil, colored pencils, & 24 karat gold leaf
Size: 14.75" x 20" (Image) on 17" x 22" Arches Oil Paper
Venue: eBay Auction
SOLD:  $22,950
The Card
Since 2013, Hasbro ToyShop and Magic: the Gathering has commissioned an artist to do a set of new alternate artworks for the most recent set of Planeswalkers, and these highly anticipated cards are released at San Diego Comic Con each year. While the black/black theme carried for a while, each set is now seems to play off a theme of the last major expansion. Check out all the sets below:
This slideshow requires JavaScript.
The Art
This year, longtime Magic artist and fan favorite Terese Nielsen was chosen as the artist, and gave us this:
Again featuring the five most recent planeswalkers, each figure is staged in front of a stained glass window featuring a pre-Mending planeswalker relevant to their own personal history; Gideon to Serra, Jace to Urza, Liliana to Nicol Bolas, Chandra to Jaya, and Nissa to Freyalise. The overarching creative theme of the last major expansion Dominaria was history, and stained glass was used to reinforce this theme across the set. These pieces of art are an incredible extension of that ethos.
Let's also look through an art historical lens for a moment. The infusion of influence from Alphonse Mucha and Fibonacci's Golden Spiral are apparent here, as they are with much of Terese Nielsen's work. We see in this inspiration in each of the 2018 SDCC Planeswalkers, and we will put the other pieces alongside similar images as they are sold to visually compare them as well.
We can also go behind the scenes into some of the creation of this art, as Terese has been sharing some great in-process photos of her work on these over on her Twitter.
This slideshow requires JavaScript.
She has also shared the "mood" for each piece of art; the one for Liliana can found on the auction page and is copied below:
"A ruthless heroine strives to free herself from the machinations of the ultimate mastermind, but his influence looms large.
"Liliana stands in front of Nicol Bolas. She is a ruthless heroine, and though his influence looms large, her hands are alight with her own power. Liliana desires the control his overlapping figure refuses to secede."
We see exactly this in the final painting. Liliana is at the fore, fierce as we have come to know her, but not without the shadow of Bolas in the background. He is imminent, almost impending, and stars around his head to reinforce his god-like position. The struggle between Liliana Vess and Nicol Bolas is perfectly encapsulated in this one premier piece of artistic storytelling.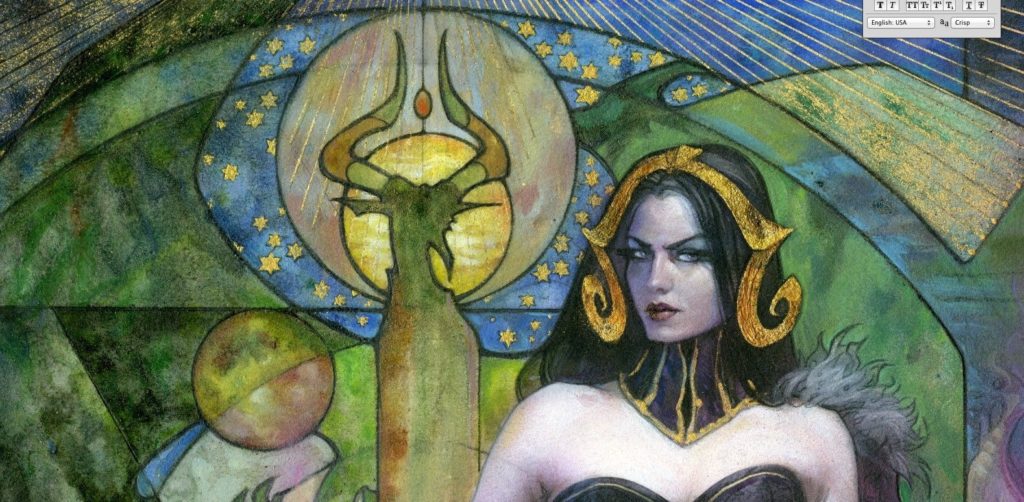 The Hammer
In a traditional live auction, for a piece to be sold the auctioneer not only says "SOLD!" but also hits a gavel or similar instrument upon their podium, and this has become to be known as "the hammer." You can also think of this section as "The Hype," as we try and figure out exactly why this piece of art sold for what it did in the current market.
The market for original Magic art has exploded again in recent months, from the hype and excitement surrounding Dominaria's release to the auctioning of several marquee pieces of art, from format staples to Elder Dragons. When these pieces were revealed, it was expected they would rise to this level, and predictions in the online community were almost all in five figures ($10,000+). But why? Let's inventory what we know to be true:
An incredible piece of art, regardless card, set, etc.
Depicting two of the game's most popular planeswalkers
Done by one of Magic's most well-known artists
Printed on an extremely limited and exclusive promotional card
Knowing all this, it may not be as surprising to see Nielsen's Liliana, Untouched by Death achieving the final sale price of $22,950. But yes, it is still a lot of money. In my opinion I think this one will set the pace and potentially be the highest sale of the five. But as with most auctions, you never know where the market will drive the final sale price. Any one of the others could smash this total and I wouldn't be overly surprised, and as of the writing of this article the original art for Nielsen's Nissa, Vital Force was up to almost $12,000 in the first two hours. We just don't know.
What we do know is that a traditional painting and traditional pencil sketch exist for each of these five planeswalkers, for ten pieces of art in total. Based on this initial sale and some quick math, this is a potential $100,000 pay day for Terese, every penny of it justified for these incredible works of art.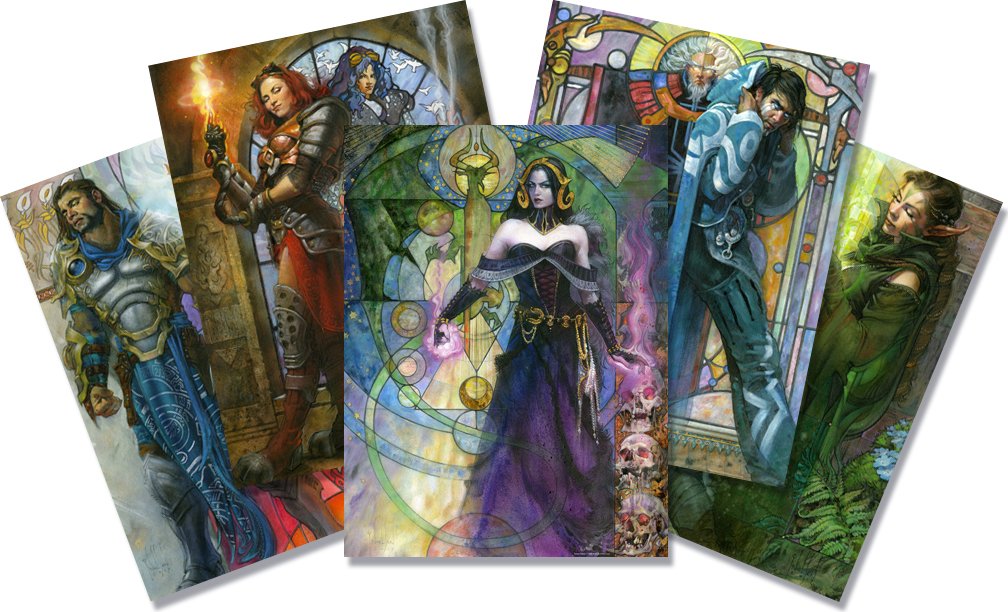 If you are interested in getting these Planeswalkers to your own wall for a bit less, prints are available from Nielsen's website and the SDCC Planeswalker set hits the Hasbro Toy Shop in limited quantities on August 13, 2018.
I hope you enjoyed this Art Market Minute, and if it's something you would like to see more of let us know on Twitter. There are several important pieces of original Magic art on or coming to the market right now, so there will be no shortage of interesting works of art to talk about. Thanks and see you next time!