This past weekend Magic art enthusiasts and collectors alike got to watch a bit of history being made, as the original art for Shahrazad was sold at Heritage Auction for $72,000.
The Facts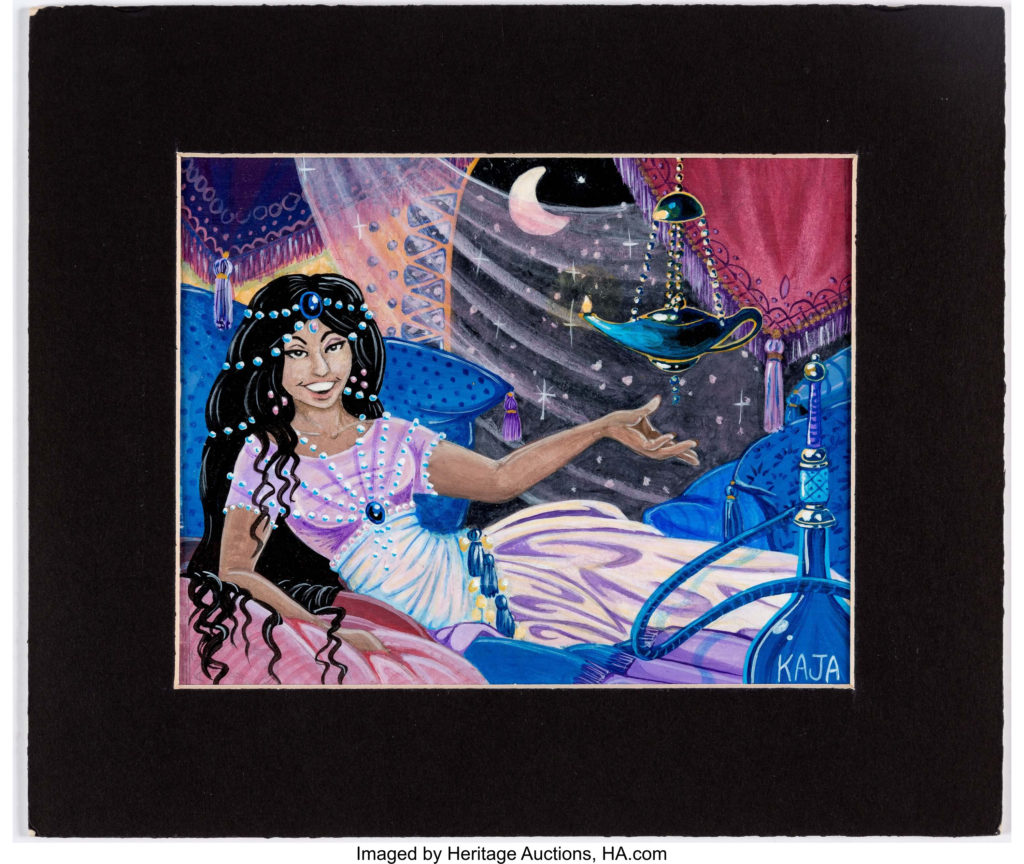 Shahrazad by Kaja Foglio originally appeared in Magic's first expansion, Arabian Nights in 1993. It is oil on illustration board, and measures 5.5" by 7". Small by today's paintings, this was almost a standard size for the time period because it fit on the scanners Wizards of the Coast had at the time. The piece was sold through Heritage Auction as a part of the Ethan Roberts Estate Collection during their July 22nd Comics, Animation, & Art Auction #121829. It sold for a lofty $72,000 (including 20% Buyer's Premium).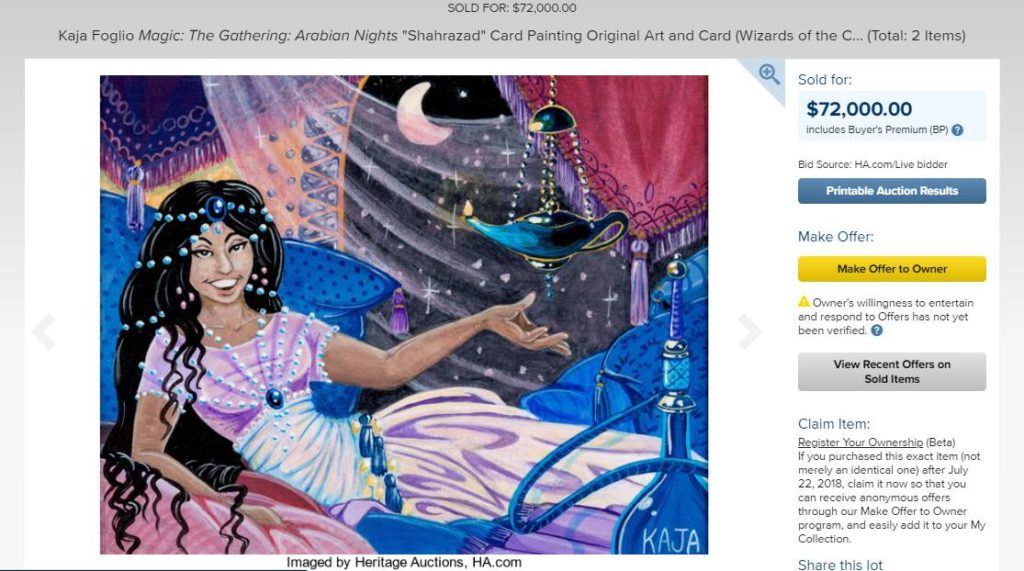 The Market
This amount is one of the highest public auction totals achieved for an original Magic illustration, and the first time we have seen the venue of a major auction house make a considerable difference in the final price. Not all Magic art commands this kind of money, but there have been several recently sold examples of important card artwork that have continued to push the market upward:
Rishadan Port
In Late 2015, the original art for Rishadan Port by Jerry Tiritilli was acquired by VintageMagic.com for an anonymous buyer for a reported total of $75,000. It has been said this amount most likely included a mixture or cash and trade, so the actual "hammer" price of the artwork itself is unknown, though there were offers of $50K+ bid during the auction. For more information regarding the sale check out Pat Scalisi's article.
Arcbound Ravager
Fast forward two years, and an announcement came from Josh Krause of Original Magic Art that the original art for Arcbound Ravager by Carl Critchlow was headed to the block. On 6/3/2018 after a fevered bidding war on the MTG Art Market, it ended at $45,200 to an anonymous buyer. For more information on this sale and what it meant for the larger market, check out Mike Linnemann's article.
Arcades Sabboth
Shortly thereafter, the original art for the elder dragon Arcades Sabboth by Ed Beard, Jr. also turned up on Facebook, and was sold via online auction for $30,000 on 6/16/2018. Last night, another announcement came that by no fault of the buyer or seller, the transaction could not be completed and this artwork was available once again. Whether it will be offered to the underbidder (second bidder) or reoffered entirely is still unknown.
The Hammer
In each of these cases, and with much of original Magic art, the value of a piece of art is determined by the power or history of the card itself, and not solely on the strength of the artwork.
There have been several Magic illustrations that have sold well into five figures, but what were the contributing factors to Shahrazad achieving $72,000? Was it the historical factor; being the only black-bordered sub-game card, one of the first that players were able to "break," and one of the game's earliest bannings? Was it the nostalgia of the whimsical style of Kaja Foglio that many players associate with early Magic? Or was it the venue, being sold by a major auction house that was able to put it in front of the right buyer, who may not even be solely a Magic art collector? I believe it to be a combination of all three, creating the perfect storm that launched this work into the upper deck of the Magic art record books.
Over the next few weeks, more important pieces of art will be offered for sale, such as Terese Nielsen's SDCC planeswalkers, Commander 2018, and more. Stay tuned for what kinds of prices those pieces fetch!
Donny Caltrider has been playing Magic since 2002 and collecting original Magic art since 2017. He has an M.A. in Museum Studies from Johns Hopkins University and enjoys telling stories about art, objects, and the intersection of fantasy with real-life. You can find him on Twitter talking about #mtgart, museums, and other #vorthos related goodness. Follow along and continue the conversation!