Good morning everyone, and welcome back to the first article covering the 2022 Unbound set here in Masterpiece Theater, only on Hipsters of the Coast! It's been since May of last year since we talked about Unbound, but my 2021-2022 four part mini-series covered the initial series of Marvel cards by artistic duo fred.ian. I'm back to do it again. The now seminal series returns with 52 new base cards, all new quarterly and year-end achievements, and an entire new run of hand-painted Sketch Cards!
This set is once again an Upper-Deck ePack exclusive, illustrated entirely by French artist and illustrator Fred Roy and his studio assistant, Ian. Working traditionally in oils in the comic industry for nearly a decade, you can find their sketch cards in various Upper Deck sets as far back as 2017. They've reprised their role in trading cards with that unmistakable hyper-realistic style for this new 2022 Unbound.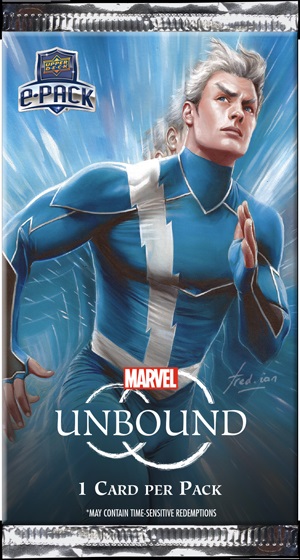 Unbound 2022 is a bit different than its predecessor, in both blueprint and breadth. The time is the same: at 9am PST every week on Upper Deck's ePack trading platform the cards are released, but this time it's 1999 packs. Collectors may purchase a maximum of two packs per transaction, and could open any of the following:
Base Card, numbered to 999

Canvas Parallel numbers to 299

Unnumbered Rainbow Foil (estimated at approximately 646 each week)

Gold Autograph Parallel hand signed by fred.ian and numbered to only 50

One of four different 1/1 CMYK printing plates

1/1 hand-drawn sketch card, often corresponding to that week's character!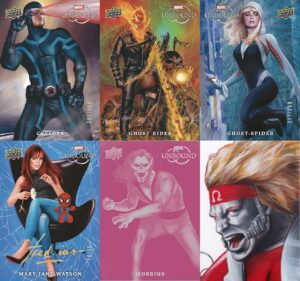 Complete sets of each parallel can be redeemed each quarter for Quarterly Achievement Cards. Those four Quarterly Achievements within a parallel series can be redeemed at the end of the year for even more scarce and exclusive cards.
Last year my coverage cadence was quarterly, with each article looking at 13 pieces of art and the quarterly achievement card. This year I'm going to talk about the set by the month, with this first article being a double dose due to a late start with the holidays. This should make for shorter and easier to digest articles overall, and allow me to add in some interesting things along the way.
This is Weeks 1-8 of 2022 Unbound, and cards #53-60.
Unbound Year 2: Cards #53-60 & Weekly Sketch Cards
#53 Cyclops
The 2022 Unbound begins with a fan favorite hero depicted as the artists love to, triumphant on the field of battle. Scott Summers, otherwise known to us as Cyclops, is seen activating his optic blast as it streams across the card. It's a traditional hero in a classic pose, the perfect catalyst to begin this year's lineup of Marvel characters.
#54 Omega Red
A fairly new villain by X-Men standards, the Soviet serial killer Omega Red comes exploding through the card frame. Carbonadium tentacles swirling as a giant Omega symbol, blurred with sheer anger, hang at his back. His rage is relentless, and was the first element the artists painted; the expression was the Alpha, and without it there would be no Omega.
#55 Quicksilver
Reminiscent in style to last year's first card Ant-Man, fred.ian has done something spectacular to showcase the sense of superhuman speed. He's painted Quicksilver emerging from his vortex, arms and figure quadrupled, in oils. That's not a digital effect, and there is no blur button with burches.You can watch him come to life on the artist's Facebook page, and it's no surprise why this card is the pack image for this set. 
#56 Rhino
The first of what is hopefully lots of Spider-related characters, the super-skinned and super-strong Rhino charges forth! His destruction is so volatile we can't even see what he's crashed through, only that he's headed right this way. Note the challenge of painting two sets of eyes and not detracting from the face of the central figure, on top of complicated skin textures against a neutral background. There are a lot of complicated techniques happening here, and much more than meets the eye.
#57 Rogue
Rogue was a surprise omission from the first set, but she's made up for it with her entrance here. Standing confident and conquering atop an annihilated Sentinel, the marvelous maven dons her classic 1990s costume, complete with thight-high boots and leather jacket. It's how so many collectors remember her, and knowing she's a favorite of the artists, I'm glad to see her finally appear.
#58 Crossbones
The adversary of Captain America makes his first appearance in Marvel cards in a short while, and there is nothing quite like a worm's eye view to make a villain feel especially ominous. Coupled with a shadow that's all business (look close, he's not carrying an umbrella) against a blood red solid background, we know immediately that Crossbones is not here to play. 
#59 Carnage
I knew it couldn't be too long until there was a majorly-collected character making an appearance, and the first for this series is none other than the symbiote Carnage! We see all the black sinews swirling about his figure, the moment before Carnage strikes at his unseen prey in the foreground. This week really turned up the notch on the demand for Unbound, not unlike Spider-Man did last year.
As an aside, Carnage has officially passed Venom as my 3 year old nephew's favorite Marvel character. He calls him "Coranges," and it's the best.
#60 Blackheart
This was a character I had to go to the Google-machine for, but it didn't take long to discover the immortal demon son of Mephisto is a pretty rad guy! A being of pure evil fueled by transgression, on an unending quest to corrupt the forces of good. He's probably someone to keep your eye on. As far as I know, this is the first notable card inclusion since the last Marvel Weekly set in 2020. You can watch him go bad on fred.ian's Facebook page, right before your eyes.
Weekly Sketch Cards Inserts
Instead of a massive chase with all sketch cards being available via redemption at the end of the year, a single sketch card (outside of Week 1 when there were two) is released at random amongst the 1999 packs each week. They are showcased each Saturday with the Base Card for that week, and so far have corresponded to the character that appears on the card. Here are the first 8 sketch cards that have been released thus far:
This slideshow requires JavaScript.
Week 1: Cyclops

Week 1 (Bonus): Blink

Week 2: Omega Red

Week 3: Quicksilver

Week 4: Rhino

Week 5: Rogue

Week 6: Crossbones

Week 7: Carnage

Week 8: Blackheart
Their approach (outside of Week 1) leaves a white background this year. It provides a stark contrast for some characters, and in other cases lets the Unbound logo partially show through. In both cases it's something different than what we've seen before. Of these first eight I think the Blink and Rogue are particularly astounding; Fred and Ian are simply the best in the business at painting superhero ladies at this size.
Ask Fred
Because this will be a more regular spot, each Unbound article will also have a thought-provoking question from the creator's themselves, Fred and Ian! My question this month for them was:
"Now that this year is well underway, how did you approach this set, either similar or different, to make the cards cohesive but also unique"
Fred sent me back an incredibly thoughtful response.
"We wanted above all to remain true to ourselves, without denying anything of our peculiarities, but we listened to the comments of the fans regarding Marvel Unbound Year 1. So we tried to vary more our poses and our situations: much more full-length portraits, and less mid-thigh poses; more large-format artworks (16″ x 20″), which allow us to work in more detail.
As for the first Marvel Unbound album, we worked on our faces to give each one character and a certain uniqueness. We don't like to make standardized faces (to which Ian added later "We are above all and forever portraitists, that is why we bring so much care to the faces of the characters."). I take this opportunity to repeat (again) that we do not use famous faces as reference for Marvel Unbound: if you think you recognize someone famous, it is a coincidence, but it is not the reality of the facts. By contract and for copyright reasons, we are forbidden to use celebrities as references.
So our only real reference is the characters, and the documents submitted by Upper Deck that give all the information about the character's costume and look. For example, when we were asked to paint a Rogue era 90's, obviously our reference was Jim Lee's drawings. That's why we lengthened the legs of our heroine to give her this elongated silhouette typical of this great artist at that time."
Wrapping Up
I hope you enjoyed this new format of Unbound Report with sketches and artist commentary; I've been actively participating in collecting this set and appreciate the additional parallels and quantity of packs. It's just the right amount of extra to make the cards available and accessible, with different tiers of challenge for collectors of every level. And if you're lucky, you can open a real treasure. Moving forward this column will be on Wednesday mornings, but I'll see you back here in a month! And as always, thanks for reading!
Donny Caltrider (he/him) is a Senior Writer at Hipsters of Coast writing about all things related to the art of Magic: The Gathering and the larger imaginative realism genre. He has an M.A. in Museum Studies from Johns Hopkins University and enjoys telling stories about art, objects, and the intersection of fantasy with real-life. When he's not writing for Hipsters, you can find him traveling with his wife, petting his two cats, and watching the Baltimore Orioles.