A Kickstarter for a monograph art book by French illustrator, concept artist, and Magic: The Gathering legend Aleksi Briclot has reached its funding goal. It will produce a volume of artwork covering the artist's career in entertainment and games. The campaign runs until February 10, 2023.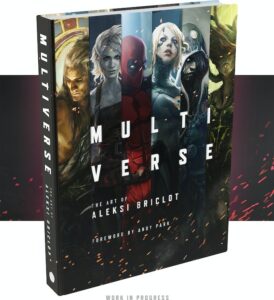 The book will be published by Huginn & Muninn, a French publisher specializing in coffee-table books about pop culture. Multiverse will cover the artist's collected works, from companies like Wizards of the Coast to Marvel Studios, and will be at least 272 pages (stretch goals notwithstanding). It will be printed bilingual in both English and French.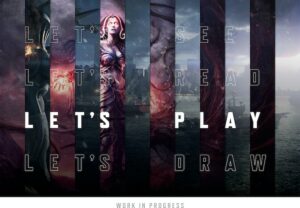 The book is divided into four sub themes: Let's See, Let's Read, Let's Play, and Let's Draw, with each covering a different focus of Birclot's career. Magic: The Gathering fans will take particular interest in the penultimate chapter that covers his 100+ card career with the game and Wizards of the Coast.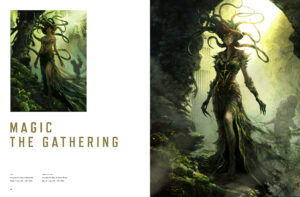 This is Briclot's second Kickstarter in as many years, completing a successful playmat Kickstarter early last year. I had the opportunity to again ask the artist about how this came to be, and what it means to have a volume of his work thus far:
DC: Hi Aleksi! It feels like just yesterday we were talking about your Magic playmats. Can you tell me about the inspiration behind this new project? Have you always wanted to do an artbook?
Thanks Donny, and yes the last months were really busy with a lot of new projects! And I'm really excited (and proud) about this new one. This is an artbook with the best of the images I've done so far. 272 pages and maybe more depending on the stretch goals that are still waiting to be unlocked. With illustrations, concept arts, sketches, paintings. Mostly about all the major projects I've worked on for  video games, movies, games, comics, books…

Kind of weird but for me it's also some emotional retrospective. All those projects…  It's a good way to have some fresh view about my style and how I evolved and graphically adapted through the years. More than only the images it's a lot of memories and different periods of my life that come back to my mind when I'm working on the content of this book. What I've done so far and how I grew up, not only professionally but also as a person. Obviously you won't have this aspect too much in the book – it's first about images – but I've written some notes, anecdotes and personal thoughts too. I hope that some will be interesting and funny to read. I'm currently sharing a few of them as news on the kickstarter page.

And as an artist it's always a big pride of having a book featuring my work this way!

Oh, and there are some exclusive contents coming with this kickstarter : a really nice slipcase as well as prints and more!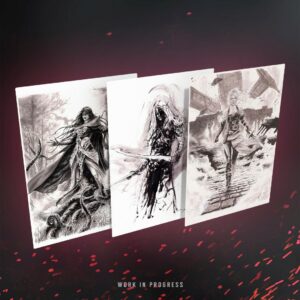 This sounds amazing! I of course have to ask: how does your work on Magic: The Gathering fit into this volume, and your career in general? Was there a particular MTG work that shaped your career?
Magic: The Gathering is certainly one of the favorite projects I've worked on through the years. Not only cards or boxes illustrations: I've produced a lot of concept art for the brand , I've helped develop some conceptual things (for example how the Planeswalkers are moving from one plan to one other….). I've had a lot of fun joining several concept push sessions there in their offices. I've made some friends too. So yeah it's a long story and I'm more than happy and proud to be able to show some of the works done for the game in the book, thanks to Wizards of the Coast which kindly gave the authorisation to feature the illustrations.

And you know in my previous Kickstarter campaign I've produced some new versions of my Planeswalkers, the Lorwyn 5 with extended art. So it's the perfect opportunity to share them!

I was really lucky to be commissioned to create these iconic characters. So many years later they're still so famous and fan-favorite! So those guys certainly shaped a part of my career!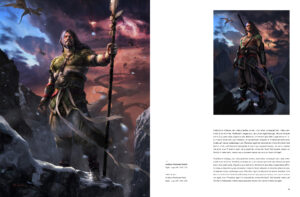 And not only card illustrations, we'll add sketches, concepts and also some more recent illustrations like B&W tokens and the last project released for Magic : the Secret Lair : Artist series for which I've produced a huge panorama of four specific cards. Full color and sketch versions. (You know it's the set with the hidden message on the flavor texts that nobody found so far :).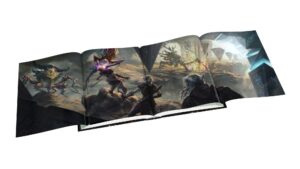 An EXCLUSIVE look at the Secret Lair Artist Series Panorama as a fold-out in the book

So yeah there will be a lot of Magic: The Gathering artworks in the book. So cool!
Before I go, if you could sum up your artistic career thus far in just a few words in a sentence, what would that be?
I could go for "A multiverse of thrilling and exciting experiences and projects!" Thanks!!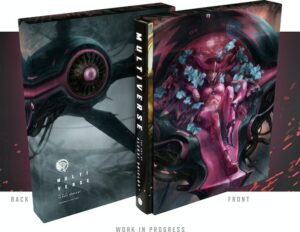 A big thanks to Aleksi for taking us behind the scenes of this new book; it looks to be incredibly compelling, and is sure to be chock full of excitement surrounding his art career. The campaign for Multiverse has only a short time remaining on Kickstarter, and there are still stretch goals that can be unlocked to make the book even more amazing. Follow the link and become a backer today!
Donny Caltrider (he/him) is a Senior Writer at Hipsters of Coast writing about all things related to the art of Magic: The Gathering and the larger imaginative realism genre. He has an M.A. in Museum Studies from Johns Hopkins University and enjoys telling stories about art, objects, and the intersection of fantasy with real-life. When he's not writing for Hipsters or working with artists, you can find him traveling with his wife, petting his two cats, and watching the Baltimore Orioles.