Good morning, and welcome back to the very first Masterpiece Theater and Sketch Card Showcase of 2023, as always only here on Hipsters of the Coast. Over the last two and a half years I've been chasing the trading-card sized original works of art known as sketch cards, beginning in the world of Marvel sketch cards as a part of my Marvel Masterpieces 2020 collecting journey. Many articles later, these Perna Studios sets have become a mainstay of this column, and now comes the time to feature their latest set that arrived at the end of last year- Hallow-Ink 2!
Perna Studios is run by artists Tony & Elaine Perna from their homebase in Canada. Tony has been a freelance and sketch card artist since 2006, working on a variety of comics and sketch card sets over the last 15 years. Together with his wife Elaine, they commission and create independent trading card sets, each of which includes an original sketch card commissioned from some of the top artists in the field. There is a fair bit of crowd crossover between Marvel sketch card collectors and Perna Studios collectors, and I was turned to their work by fellow collector Matt Parks. Announcements come from the Perna Studios Facebook page:
"Perna Studios is very excited to announce our 18th trading card set entitled Hallow-Ink 2 (for release in October 2022). This set will include everything from traditional trick-or-treaters and jack-o-lanterns to black cats, witches, monsters, ghosts and ghouls that come out on Hallowe'en."
This set would be a little different than the most recent Perna sets, as the "ink" in Hallow-Ink is taken seriously; these are purely ink works on sketch cards, and no color would be found within this set. Hallow Ink 2 was available in the Complete Base Set format, containing all 10 base cards, 1 of 4 canvas chase cards and 1 original hand drawn inked art card, with limited edition metal cards randomly inserted in some sets. As my regular readers may have guessed, these once again sold out instantaneously as the clock struck 1 pm Eastern on October 8, 2022. I was only able to grab four sets this go around, but that worked out perfectly in my 2×2 binder, and I'm absolutely thrilled with my pulls this go around especially.
Let's take a closer look at these four pieces and the artists behind them!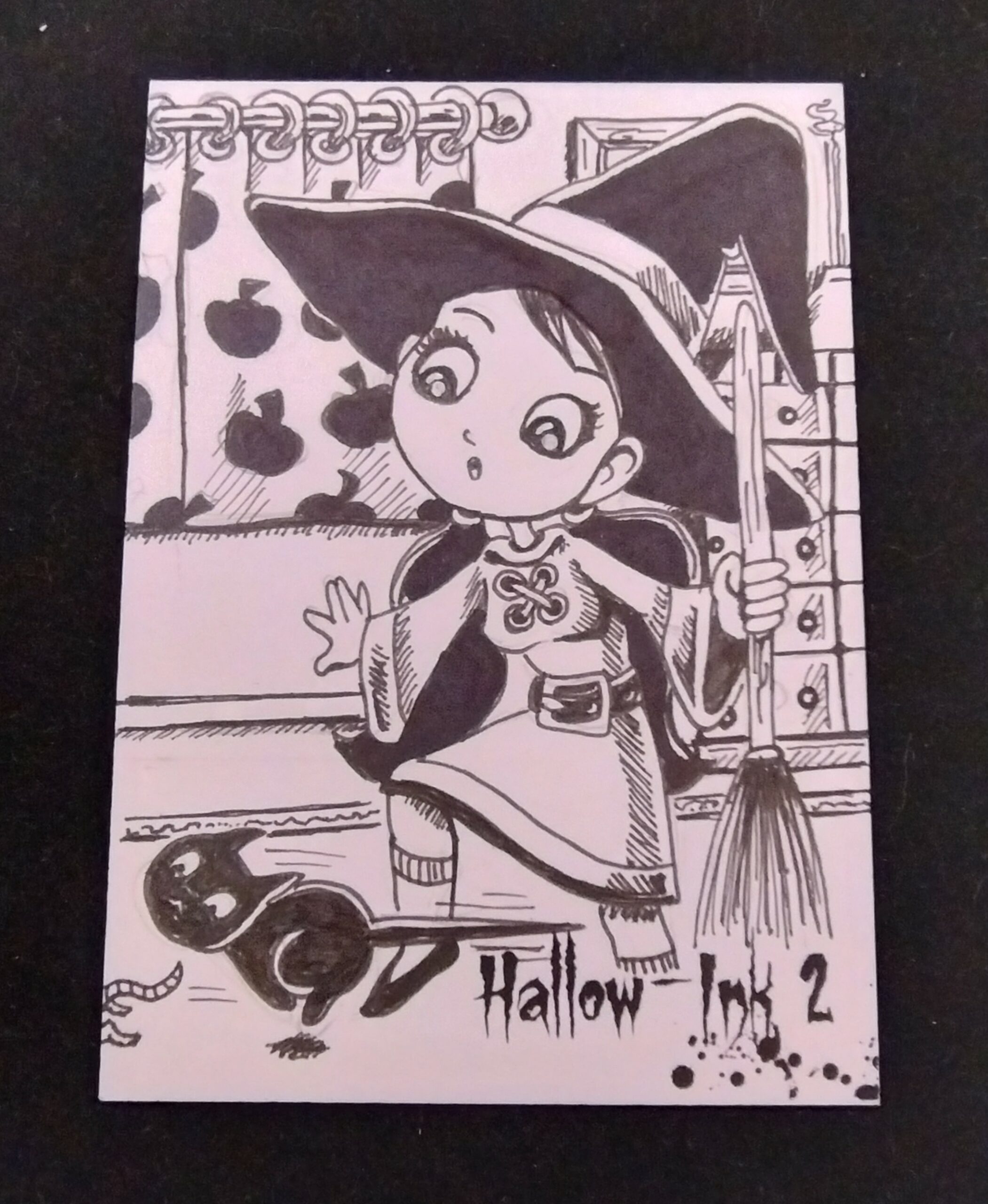 This is my very first piece by Lindsey across all of my collections, and you can only imagine my excitement when this was the first sketch I opened as a part of my Hallow-Ink 2 packs. Her cartoon-inspired style is so much fun, and so much is happening in a seemingly simple sketch, from the tail end of a mouse exiting stage left to the pumpkin decorated curtains hanging in the background. There is even a black cat, an element after my own heart as my own black furball Thorin never leaves my side at home. Lindsey is a bit hard to find in a single place online, but if you Google hard enough you can find her art dispersed across the interwebs to enjoy.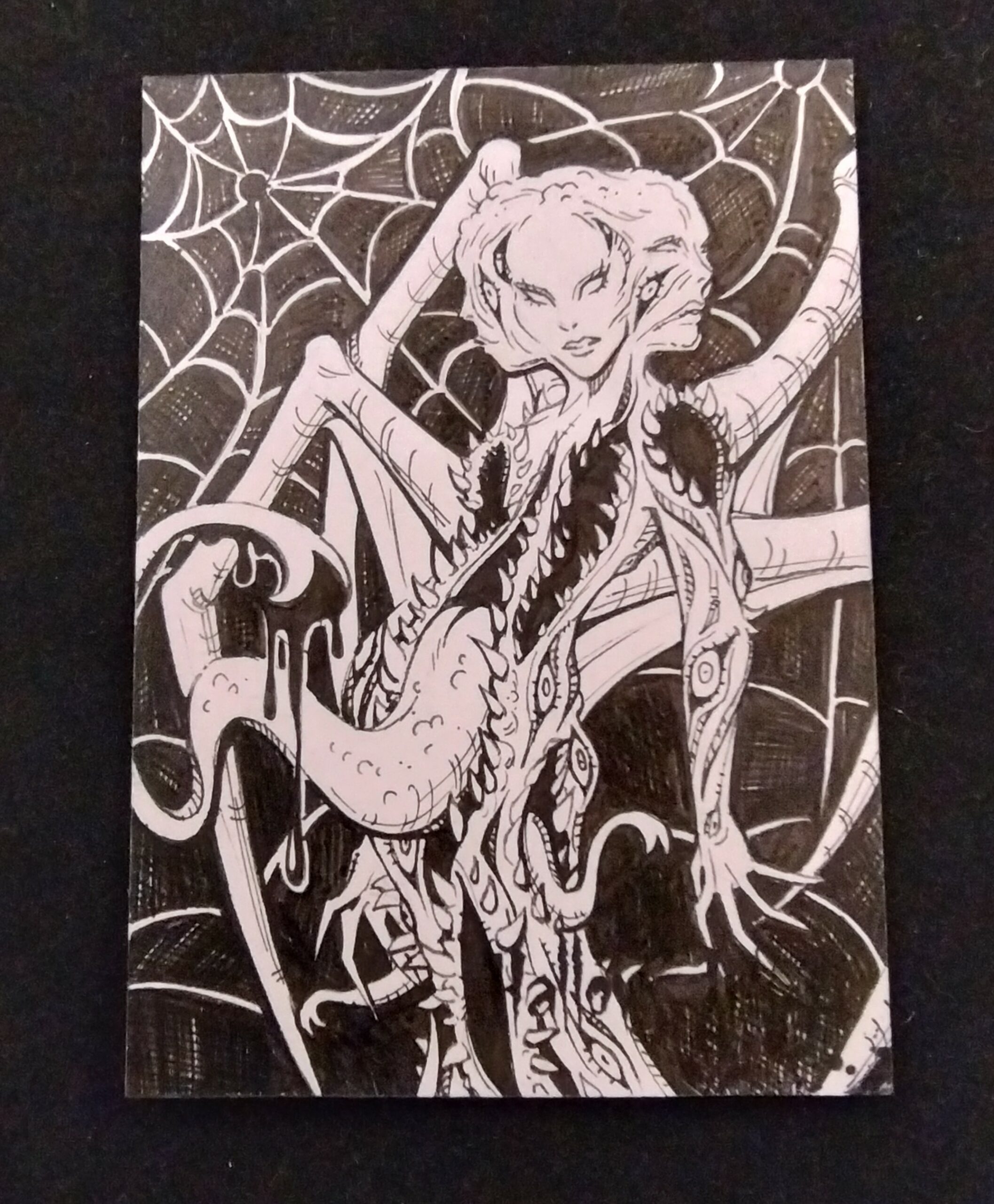 There was bound to be something ultra-creepy out of these four packs, and that comes by way of a spider-woman by John Monserrat. With multiple faces emerging out of a single head, zipper-like teeth exposing a gruesome tongue, and legs intertwined into a webbed background, this is so frighteningly cool. The artist has mixed superb line work and negative space to highlight the scariest parts of the figure, and at the same time kept the scene legible; every time I look I find something new.
Have a peek at his portfolio here.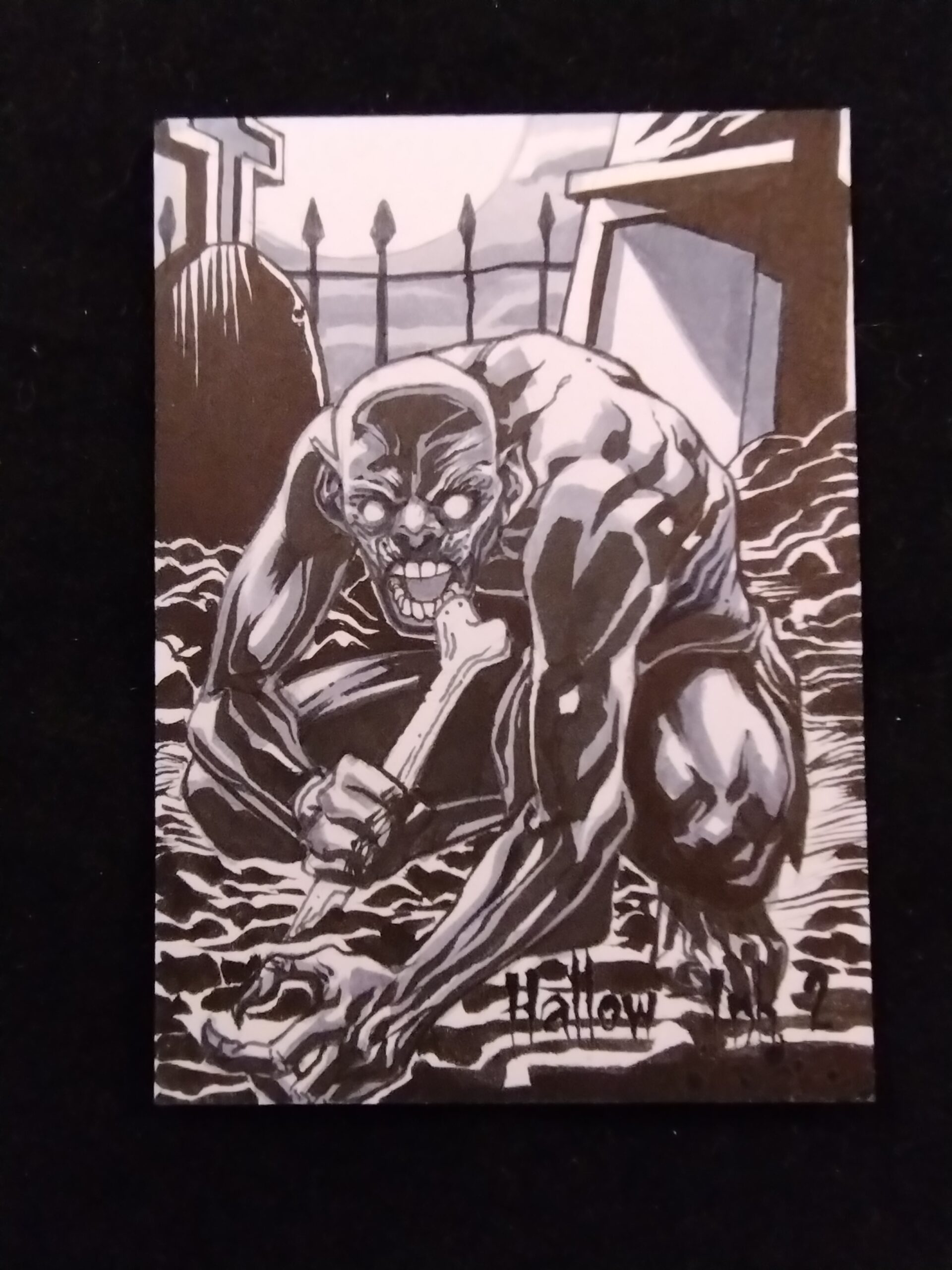 Leon Braojos is a Perna Studios regular, and this is the second time I've opened one of his sketches. This bone-banging graveyard dweller has been inked in such a way to highlight shadow by moonlight, creating a dynamic scene in monochrome and marker, spooky and strong and strange all at the same time. Braojos is one of the most consistent artists working in sketch cards, and you can keep up with all of his work on upcoming sets on Facebook.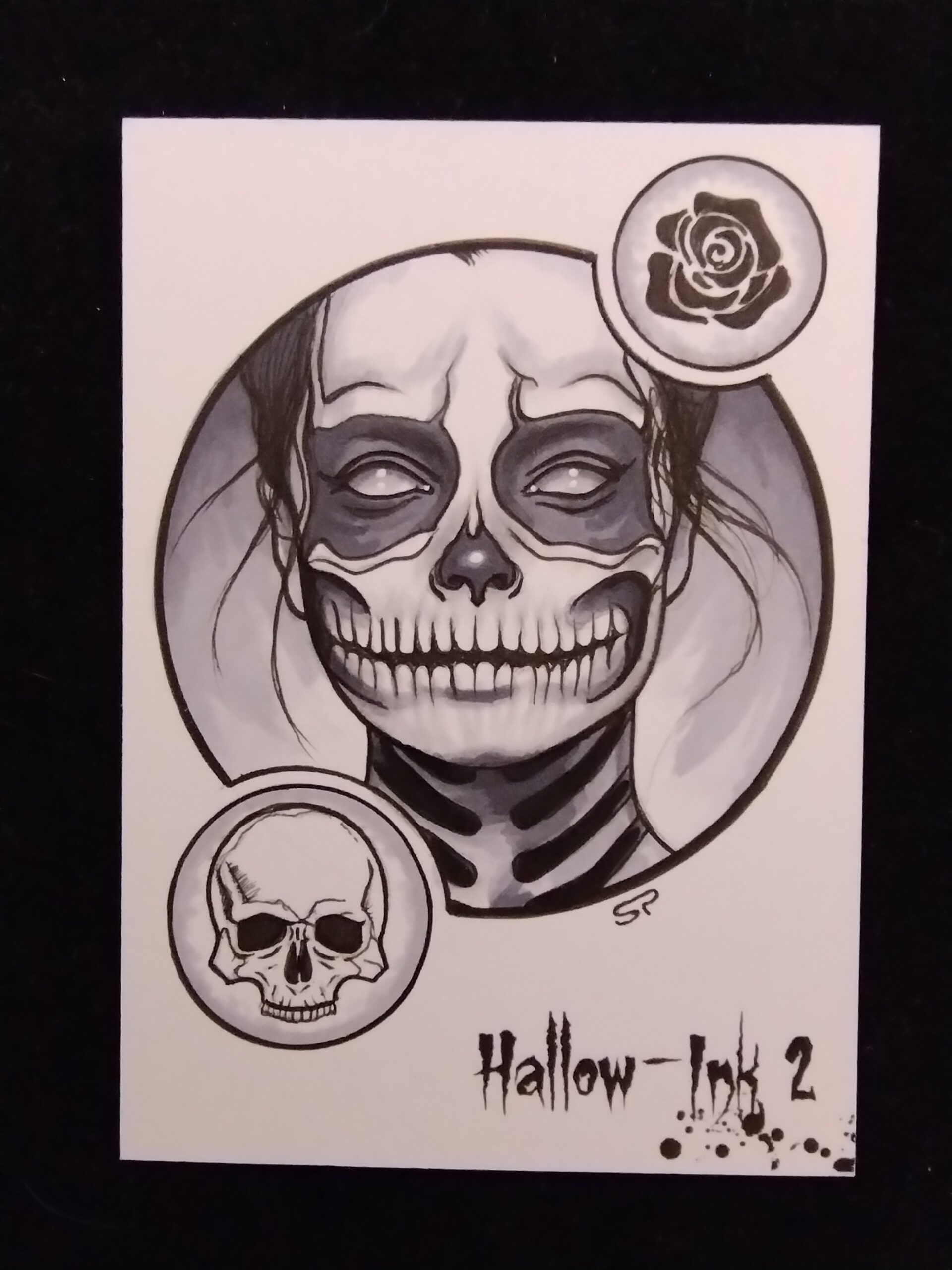 I'll bring this article home with my very first Sean Pence sketch! I've seen his work since I started tuning into the Perna Studios sets; his style is instantly recognizable, mesmerizing and the cleanest of anyone working at this size and on these sets. His penchant for realism paired with geometry is unparalleled, and I'm just stoked to finally have one. It's not often I get rendered speechless, but this is one of those time folks.
Even though his socials say he is exceptionally ordinary, I assure you his work is anything but. Be sure to follow along on his Instagram.
Wrapping Up
You can follow Perna Studios on Facebook (https://www.facebook.com/PernaStudiosTradingCards) for updates on upcoming sets, and on Deviant Art (https://www.deviantart.com/pernastudios) to see all the sketch cards and original artwork done for past releases. They haven't yet announced their next set, but all signs point that it isn't too far away, and will almost certainly be another knockout group of artists uniting under one thematic banner.
These sets are just a joy to open, and Tony and Elaine are continuing doing the good work and getting incredible art out into the world and into the hands and binders of collectors who can enjoy it the most. I'll be back in a few months with their next set, whatever that may be, but until then folks, take care and talk soon.
Donny Caltrider (he/him) is a Senior Writer at Hipsters of Coast writing about all things related to the art of Magic: The Gathering and the larger imaginative realism genre. He has an M.A. in Museum Studies from Johns Hopkins University and enjoys telling stories about art, objects, and the intersection of fantasy with real-life. When he's not writing for Hipsters or working with artists, you can find him traveling with his wife, petting his two cats, and watching the Baltimore Orioles.