Good morning, and welcome back to another special edition of the Sketch Cards Showcase in Masterpiece Theater here on Hipsters of the Coast! Over the last two years I've found myself ensconced in the trading-card sized original works of art known as sketch cards, after diving headfirst into the world of Marvel sketch cards as a part of my Marvel Masterpieces 2020 collecting journey.
I've written quite a few articles on sketch cards over the last few years, from Marvel releases to the ever popular Perna Studios sets, and will now once again expand this column to include the results of a recently fulfilled Kickstarter by Pabkins, aka Tabitha Jensen, The NIght Parade!
From the campaign, The NIght Parade is "the third volume in a collaborative series of art books with artists from all over the world. This volume focuses on creatures of the night, yokai, and Halloween themes. With a wide variety of styles from spooky to kooky and gothic horror to creepy cute—there is no doubt it will delight art lovers of all kinds."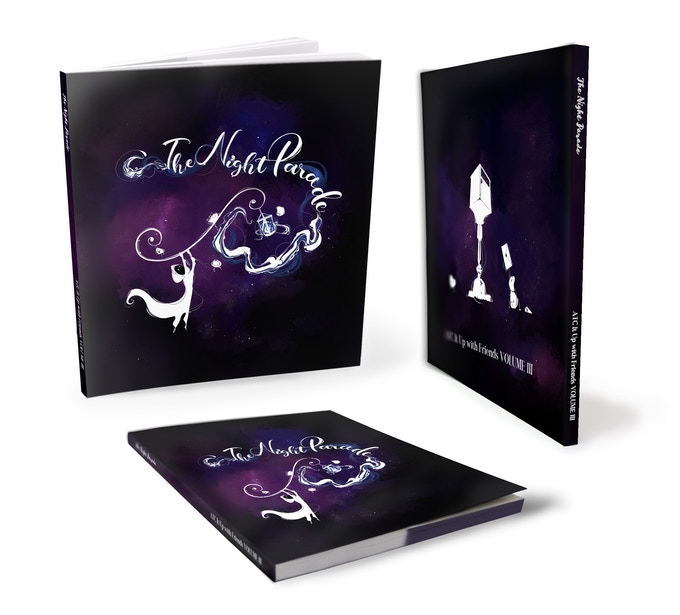 The campaign, which was funded in September 2021 and finished fulfillment in 2022, included not only the book, but all matters of fun themed add-ons and bonuses. From stickers to pins to prints, and literally everything in between, it was a collaborative effort with many of the artists whose work is found inside. But for many, the real allure came from the opportunity to collect the original, hand-drawn sketch cards included as a part of the top two tiers.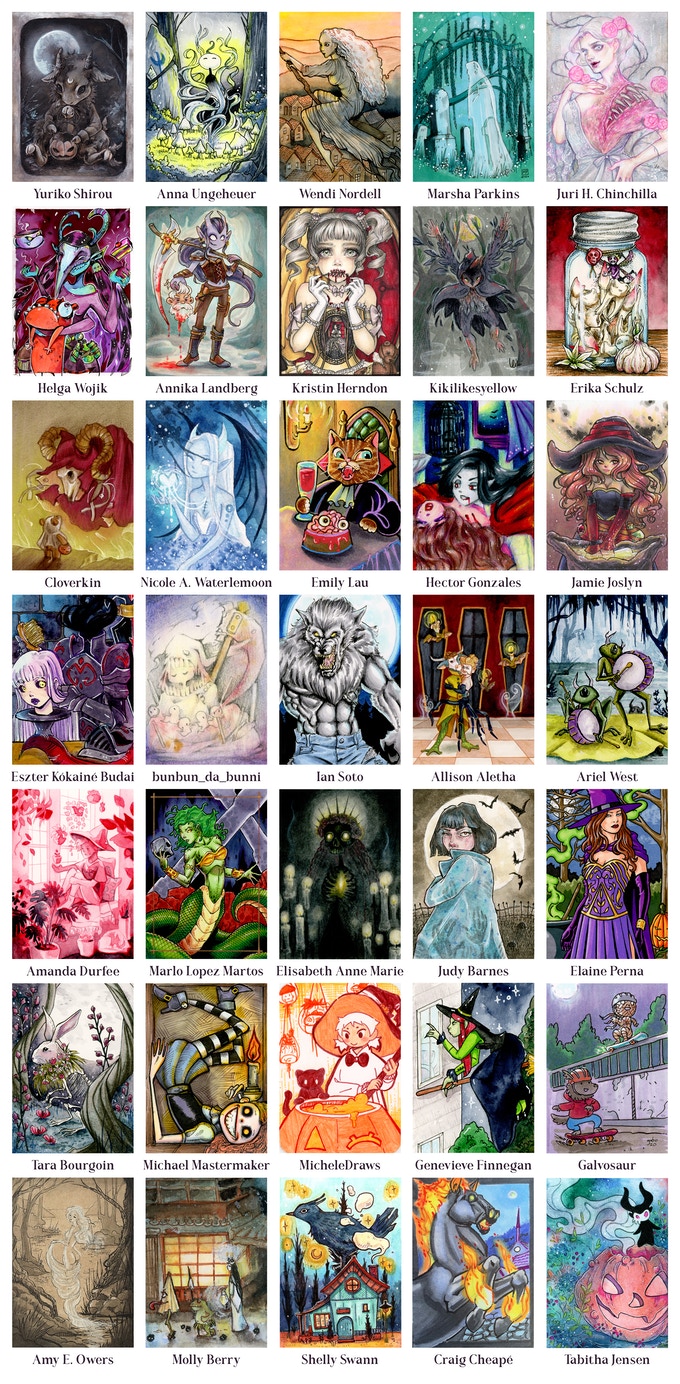 Each artist did between two and eight sketches cards, and backers could collect one at random, or for a bit more, provide a list of their favorite artists to try and acquire one that's a perfect fit for their collection.
My original pledge was for the Collector Tier, which included one sketch card from my own shortlist alongside the book and bonuses. Then I added two extra sketch cards to go along, to complete a third row in my binder. I've since switched to a 2×2 binder, so naturally when the option came to grab a fourth this year during the backer survey, I was all over it! Above are my four Night Parade sketches, and below a little bit about the folks behind them and why I think they're special. Let's take a look!
Elisabeth Ann Marie was the artist on my Top 5 shortlist; I was immediately drawn to her work during the preview, and her ability to create something hauntingly and arrestingly beautiful at such a small size. She's carried the candlelight you see on the borders through the image, into the heart and eyes of the figure, resulting in both a dynamic and cohesive illustration in miniature. All four of her sketches followed this pattern, and for those other collectors that found one, you should count yourself lucky!
You can see some of her previous illustration work on Instagram.
This is my second sketch by Jaime Joslyn, and how exciting to get another work by her just by chance! I love her artistic take on these fantastical characters, from the big eyes and oversized hat to all the fun little details, like the pumpkin in the corner and the small spider friend we see dropping down from her brim. Joslyn has worked for both Marvel and Perna, and to be able to collect this artist across subthemes and properties is a real joy.
You can find and follow Jaime on Instagram as well.
What would a Halloween themed set be without the damsel in distress, fleeing that which goes bump in the night? We get exactly this story in this sketch by Wendi Nordell. Entitled "Lost in the Forest," a young woman moves across this card and away from the glowing eyes and grasping hands of the bamboo forest in the background. Holding this in hand allows one to look close: excellent linework, a bit of watercolor(?), and a wonderfully expressive face bring this figure to life.
Nordell has done an exceptional job telling this tale. She is currently a student at Alberta University of the Arts, and you can follow her artistic journey on Instagram. I can't wait to see where she goes.
Owers mentions online that she loves a good ghost story, and that's exactly what she's given us here. We do not know whether the sepia-toned figure, eyes wide and white, has just arrived or prepares for departure. But what is certain is that we'll not be the same now that she's here. It's a folk tale in the making, with so much storytelling potential, and I just want to see and hear more. Owers hails from Melbourne, Australia, and you can find her work on Instagram.
Author's Note: When I photographed these cards for the article, I removed them from their sleeves and took out the artist credit card that had obscured the back. On the reverse of this piece, I found a poem.
The Faerie Circle
"Beware…
They dance
&
Call to you
& Then Gone Gone Gone
No Gone Gone
Trace of You…"
How delightfully spooky, to close out my time with this set!
Wrapping Up
There is so much art in these pages, and I've only just begun to fill my eyeballs. Campaigns like these are the perfect place to start when finding some new artists to follow, and for me personally, will be an excellent source in scouting for my annual Magic Artist Wishlist article I write every year. I'll be watching for what comes next from a lot of these folks, and whether it's more ATC campaigns, other sketch cards sets, or something even bigger, I'm rooting for you all.
If you're interested in grabbing a Night Parade book for yourself, a limited quantity is available directly from Tabitha Jensen, and you can reach out (as well as follow her work) on Facebook or on her website.
Also be sure to check out the ATC It Up with Friends Instagram page where all these sketches were previewed. Jensen has some exciting things in the works, including her next Kickstarter project that I'm personally even more excited about, so make sure you follow along if something like this tickles your fancy. Until next time folks, be well, take care and talk soon.
Donny Caltrider (he/him) is a Senior Writer at Hipsters of Coast writing about all things related to the art of Magic: The Gathering and the larger imaginative realism genre. He has an M.A. in Museum Studies from Johns Hopkins University and enjoys telling stories about art, objects, and the intersection of fantasy with real-life. When he's not writing for Hipsters, you can find him traveling with his wife, petting his two cats, and watching the Baltimore Orioles.