Cover image: Ivy, Gleeful Spellthief by Evyn Fong
Magic30 is now upon us, and as I've done for previous conventions, I like to run through a short preview of what artists are attending, and why you must make sure to visit their table while out in Las Vegas. Magic30 is host to five Sponsored Artists and fifteen or so other artists that make up the Art of Magic section of the event. Today we'll look at the five sponsored folks you can find at Magic30. Introducing:
Ryan Pancoast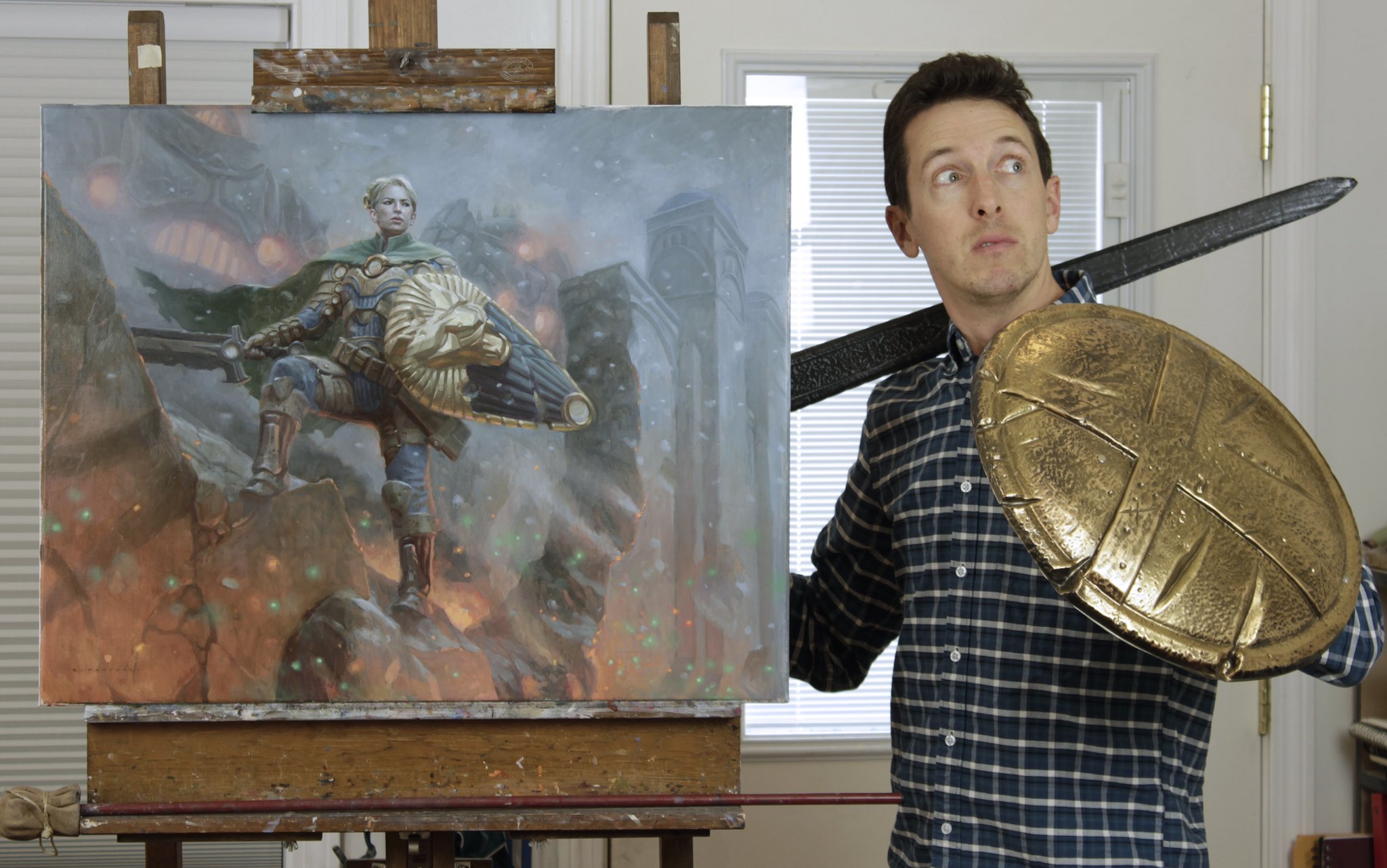 Ryan Pancoast comes to Las Vegas all the way from the Right Coast of Rhode Island, and brings with him a catalog of artwork that stretches across the Multiverse.
Pancoast began illustrating for Magic: The Gathering in 2009, and over the last dozen years has accumulated more than 125 cards in his illustrative portfolio. His commissions have evolved from the "common" creatures and spells of Magic 2010 and Zendikar to being one of the foremost artists responsible for legendary creatures and planeswalkers, from Ugin, the Spirit Dragon:
And the wizard Mordenkainen of the Forgotten Realms:
To his most recent task of depicting Urza in his two forms, alongside The Mightstone and Weakstone
This slideshow requires JavaScript.
Pancoast is one of the game's most important visual storytellers, and Magic: The Gathering has been the vessel to watch his artistic career unfold for more than a decade.
His artistic awakening in Kaladesh skyrocketed his skillset forward to the perpetual masterwork-making machine we see now in each newly released set.
Mark Poole
Mark Poole is one of the original 25 artists of Magic: The Gathering, beginning his career with the game thirty years in 1993 with two dozen cards in Limited Edition Alpha.
Poole's work was ever present in the Magic: The Gathering expansions of the 1990s. After a short break in the early 2000s and 2010s with only a smattering of cards, he rejoined Magic as the game turned twenty five, and never left again. His artworks in the game now number more than 150.
This slideshow requires JavaScript.
He has since retaken his mantle as a master of basic land, from the fairytale world of Eldraine: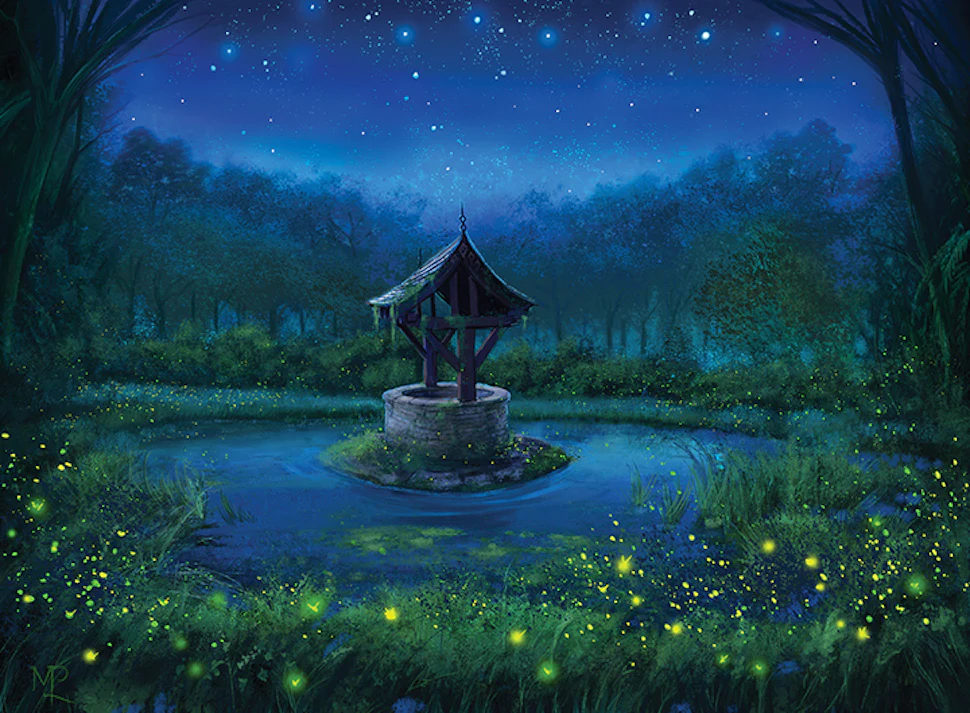 To the place where it all began on Dominaria
Poole's current commission categories seem to be an even split between landscapes of the Multiverse, whether basic or a bit more important:
Or borderless and extended art versions of some of the game's most important and widely played cards.
Mark Tedin
Mark Tedin is another of the original 25 artists of Magic: The Gathering, illustrating sixteen cards in Limited Edition Alpha, including Timetwister, a piece of the seminal Power 9.
Now numbering over 200 Magic illustrations, Tedin painted some of the most powerful cards of the game's earliest days, from Timetwister seen above to the flippant Chaos Orb:
After a short absence, he made his reappearance with a Saga in 2018's Dominaria entitled The Antiquities War, and since has become a regular choice for those special set and subseries befitting of his style, from Double Masters:
To the Strixhaven Mystical Archive that released last year in 2021:
Mark is also one of only a few artists who have been given the chance to re-illustrate the same card, in the Commander staple Sol Ring:
This slideshow requires JavaScript.
Victor Adame Minguez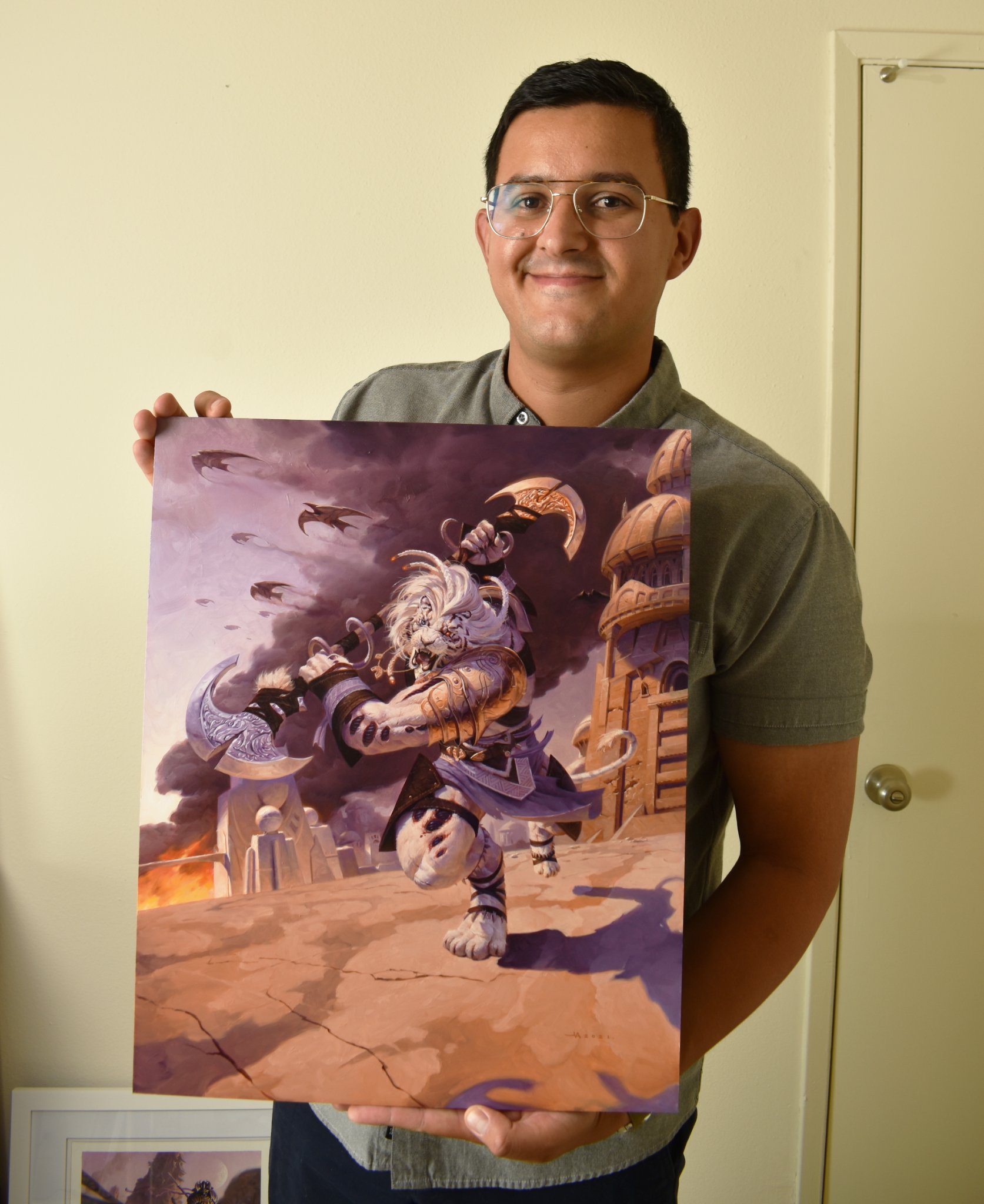 Victor Adame Minguez's first Magic illustration debuted in 2015 within Battle for Zendikar, and little did he know that in just seven short years he'd eclipse 125 cards for the game of MTG.
Victor has illustrated all matter of Magic: The Gathering cards, from Legendary Creatures and Planeswalkers to Spells and Sagas, Artifacts, Basic Lands, and literally everything in between. His range is wide, his technical skill immense, and his future as bright as anyone working today.
This slideshow requires JavaScript.
His meteoric rise over the last several years is all but unparalleled, his contributions unmistakable masterwork to the game we all love. The future is incredibly bright, and I think we'll see his prowess continue to grow as he marches on to become one of the most prolific artists in Magic history.
Evyn Fong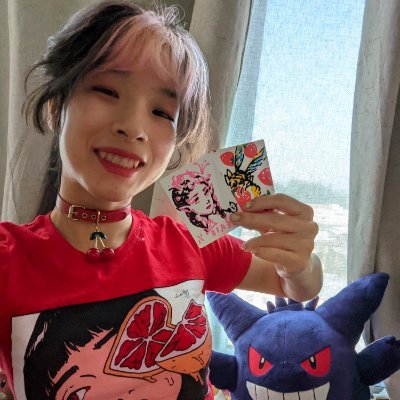 Evyn Fong is the newest Magic: The Gathering artist of the five invited guests at the event, with her work debuting in the game, card by card, beginning in 2020.
Of her two dozen cards over the last three years, we've seen her particular penchant for figurework and flourish, with a pronounced inspiration from the Golden Age of Illustration in both composition and character.
She is creating some absolutely gorgeous artwork for Magic in addition to her regular concept art duties outside the game, and is an avid Commander player.
I'd imagine you may see her jamming some games outside the event hall, and I think there is a lot of exciting things yet to come from her as she continues on illustrating for MTG.
Wrapping Up
If you're headed out to Las Vegas for Magic30, make sure you leave time to explore the Art of Magic and interact with the illustrators that make Magic special. They'll be signing cards, selling prints and artist proofs, and there to talk to fans and tell stories; these events are some of the only opportunities to interact with these folks outside the studio, so don't miss out.
I'll see you all in Vegas at the Art of Magic!
Donny Caltrider (he/him) is a Senior Writer at Hipsters of Coast writing about all things related to the art of Magic: The Gathering and the larger imaginative realism genre. He has an M.A. in Museum Studies from Johns Hopkins University and enjoys telling stories about art, objects, and the intersection of fantasy with real-life. When he's not writing for Hipsters, you can find him traveling with his wife, petting his two cats, and watching the Baltimore Orioles.