On Tuesday April 5th, the original artwork for the new Magic: The Gathering card Sisay, Weatherlight Captain by Volkan Baga sold for $20,000 on the MTG Art Market on Facebook.
Sisay, Weatherlight Captain is a work of oil on board by Volkan Baga, measuring just under 14 inches by 18 inches. It was commissioned for Magic's April Fool's Day Secret Lair set, "Finally! Left-Handed Magic Cards" that's a part of the larger Secret Lair April Super Drop, available now through May 9, 2022. The artwork features Sisay, captain of the legendary Weatherlight skyship, locked in an arm wrestling competition with crewmate Mirri as the rest of the crew watches on.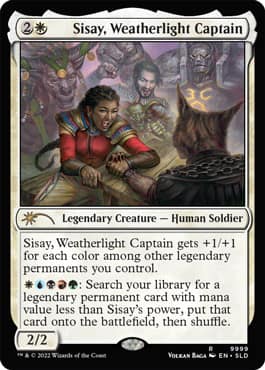 The auction was run on the MTG Art Market by the artist's agent Mark Aronowitz, and began in search of a $4,000 opening bid. Bidding began immediately, and climbed to $5,500 the first afternoon. The next bid however, just minutes after the $5,500 raise, took the painting to $10,000.
A small bid to $10,169.99 was met with a $15,000 raise, and that same $169.99 increment again drew out the $20,000 increase from what would be the winning private bidder. Though the auction ran for four days, all of the bidding was done in the first six hours of the auction.
As an aside, the associated sketch for this painting, a work of graphite on toned paper of the same size, sold 90 minutes prior for $1800.
There are an extremely limited number of opportunities to own original art featuring the characters you see here, and almost none where multiple crew members are shown in the same artwork. These characters were a part of Magic's earliest and most nostalgic storyline, and the price realized cements how important they are to the game's history.