On Tuesday February 15th, 2022, the original painting for Sarah Finnigan's Mossfire Valley sold on the MTG Art Market for $16,500. It is the highest public price realized for one of Finnigan's Magic: the Gathering artworks to date.
Mossfire Valley is a work of acrylic on wood and measures 18 inches by 24 inches. It can be found within the Kamigawa: Neon Dynasty Commander Decks, a classic Odyssey "filterland" reimagined for this current setting and these new decks.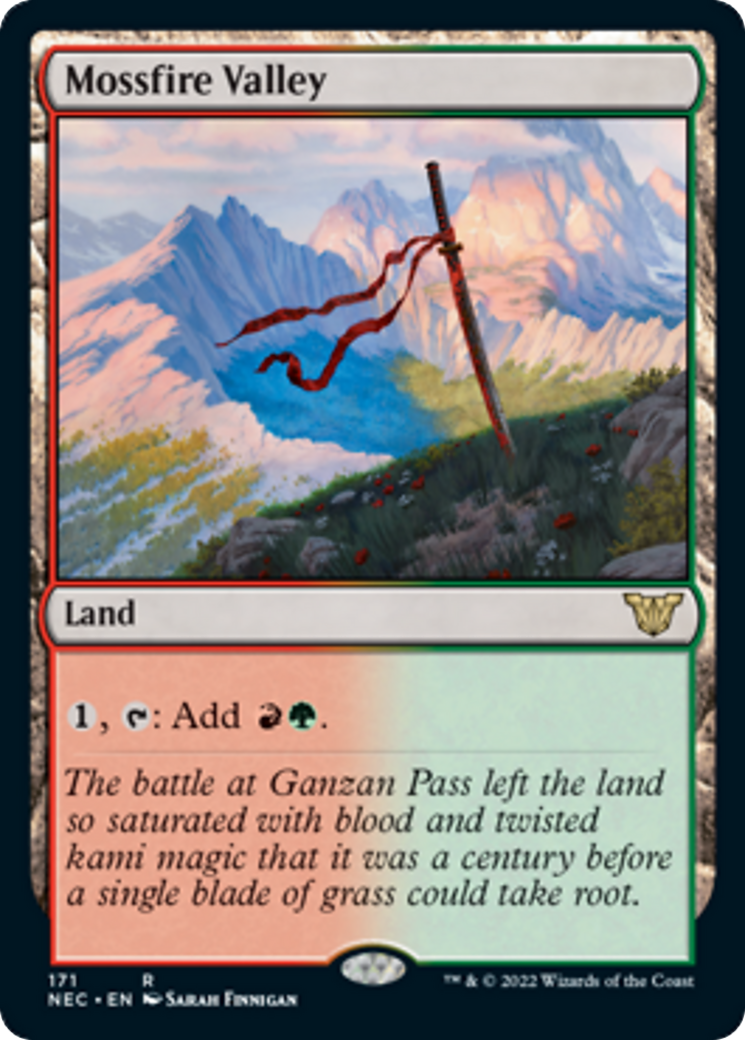 The auction was run by Phil Li acting as agent for the artist, and began with an opening bid of only $2,500. By the end of the first day it had climbed all the way to $8,000, and then to $10,000 before heading into the weekend of the sale.
As the auction wound down the action began again, with a private bidder going toe to toe with a bidder in the comments who had been involved since Day 1. However it would ultimately be a new challenger and a single bid placed at the close, that would win the day at $16,500.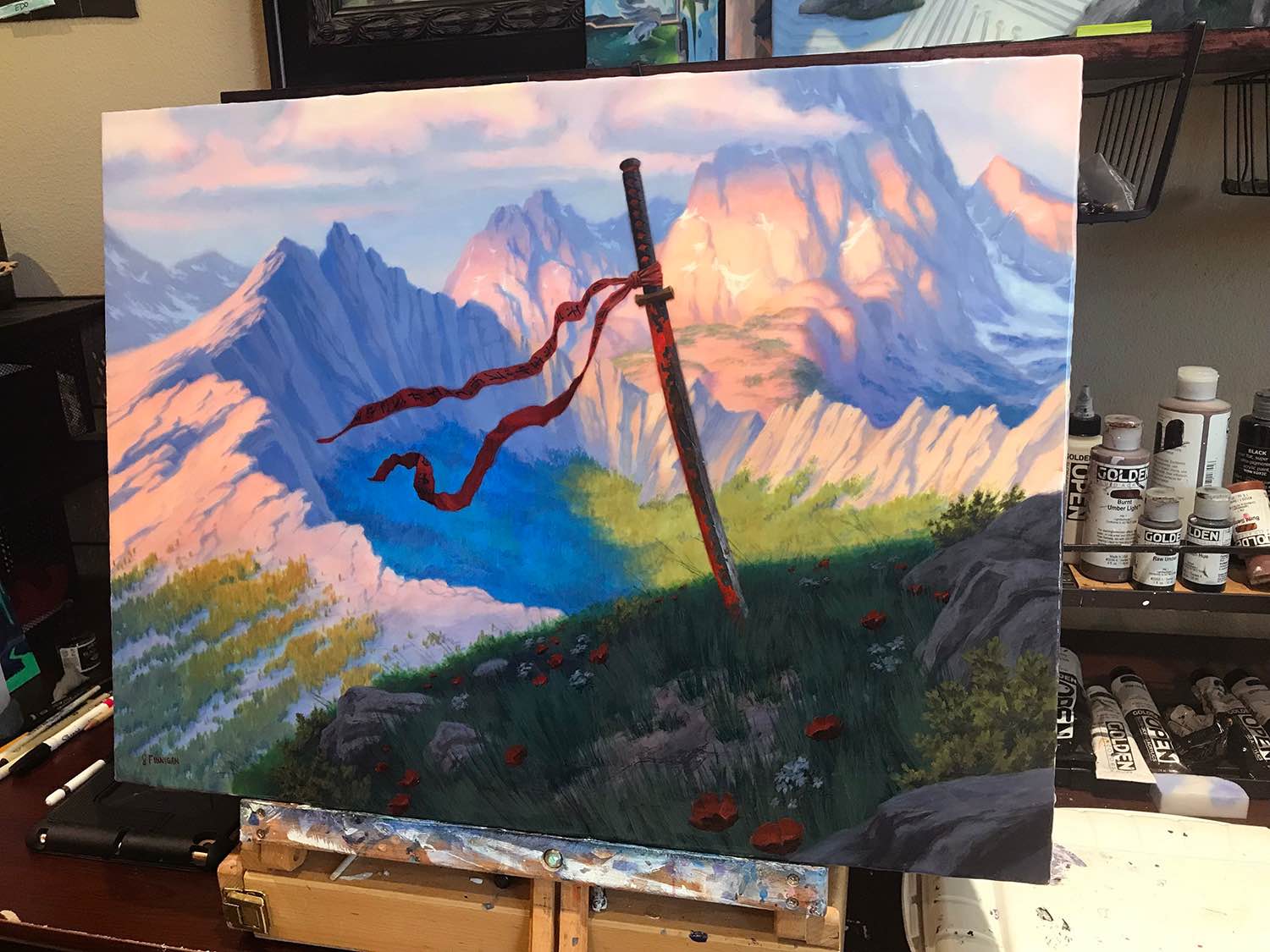 I caught up with Sarah following the sale to get her thoughts on the assignment and how this sale finished up:
I'm always happy to get a mountain assignment from Magic. This one called for a forest-filled crater that was a thousand-year-old battle scar, but also for one or more swords, perhaps with a helmet mounted to one. It was a new challenge to balance the huge, distant feature with a small, very near sword without allowing one to overpower the other. A helmet threw off that balance, so I swapped it for a ribbon of cloth, which I feel lends it a similarly wistful mood without the bulky silhouette.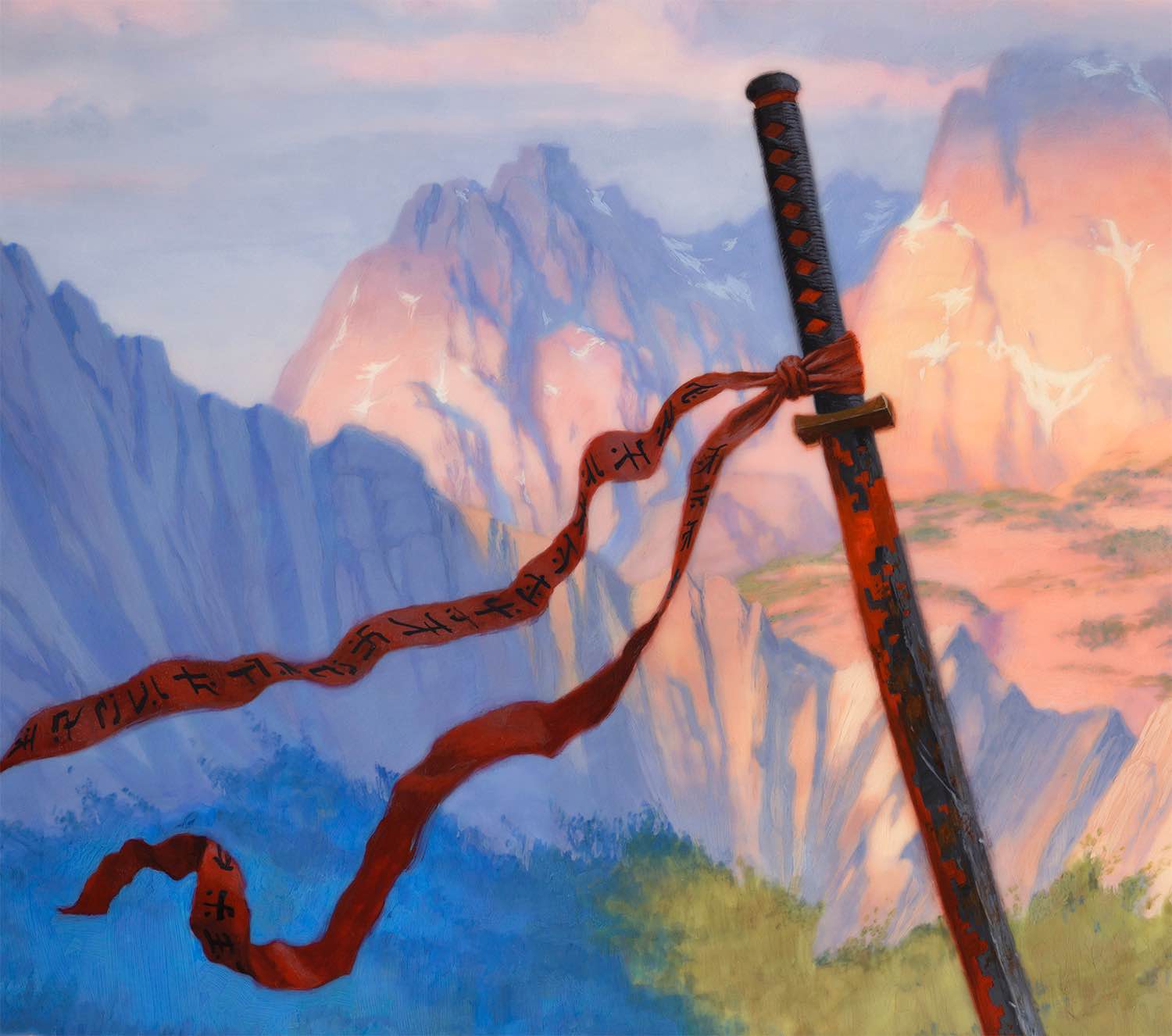 Kamigawa has been absolutely filled with fantastic and exciting artwork, many of which have been in traditional media, so I feel very fortunate that mine had a good reception. There is something so delightful in sending a painting to a loving home, and I'm looking forward to sending this one out!
Finnigan has been one of the most astounding new artists in Magic since her debut in Kaldheim, creating nine landscapes in 2021 and beginning this year right where she left off.
She's at the top and here to stay folks, and I can't wait to see what's next.