Good morning folks and, if you can believe it, it's time for another Grand Art Tour here in the Mirror Gallery on Hipsters of the Coast! This time we'll be going on an adventure to the Forgotten Realms, and exploring some of the newly released artwork for the upcoming Dungeons & Dragons: Adventures in the Forgotten Realms expansion that releases in just a few weeks.
I thought my Modern Horizons 2 Grand Art Tour was difficult to whittle down, but between the base set, alternate Showcase artworks, and Commander decks of Adventures in the Forgotten Realms, there were more than 400 new pieces of artwork released over the last three weeks or so. That's a staggering number and, as is often the case, I could talk about enough work to fill a dozen articles. But with this in mind (and not having a particularly deep knowledge of Dungeons & Dragon lore), I'm actually going to narrow my pool even further to really hone in on those paintings I feel strongest about.
As with each of my Grand Art Tours, this series was inspired by New York Magazine art critic Jerry Saltz and his 2010 article A Grand Tour. A dozen years ago Saltz wrote about his favorite works on view in New York City during a summer not unlike this one. He spoke of why he went to see them, and the powerful narratives buried within their frames. This article is written with the same purpose, to unlock some of the artistic secrets situated within the card frame. These following artworks are extraordinary at card size and at full resolution, and ultimately transcend the game in which they were commissioned. I've split this sojourn into two sections: four veterans who have been illustrating for Magic for years, and four newcomers, all who make their debut with astounding new pieces of art.
So light your torch and grab your gear: this is the Adventures in the Forgotten Realms Grand Art Tour!
Every so often an artwork comes along that takes your breath away, and for me, Chris Rahn's Adult Gold Dragon is that artwork for this set.
For my regular readers of both this column and the Art Market Minute, you see Rahn's name come up a lot—he knows what he's good at and does it extremely well, and in doing so has created some of the most iconic illustrations in Magic's history. This painting is a crescendo of those skills we see highlighted across his body of work. A masterful handling of gold and the reflections it creates. A deeply entrenched sense of motion, emphasized by the skimming wingtip and curve of the spray it produces. And both of these are set against a Hudson River School backdrop that's the epitome of the imaginative realism landscape.
Saltz uses the phrase "artwork that knocks you off the (expletive) track." This is that kind of artwork.
It's always a privilege to write about Donato's work; any time you can interact with a painting by a literal living Master is a treat, but one of such an important character to the world in which it exists is even more special.
Giancola has captured the wizard Mordenkainen, startled in his study as we enter the room. Surrounded by the accoutrements of a sorcerer, no detail has been left unaccounted for and the result is a piece of narrative storytelling so rich and so full, you see something new every time you look at this painting. Note that the dog was added digitally for the card as to not interfere with the nature of the portrait, and in doing so kept this composition clean and classic.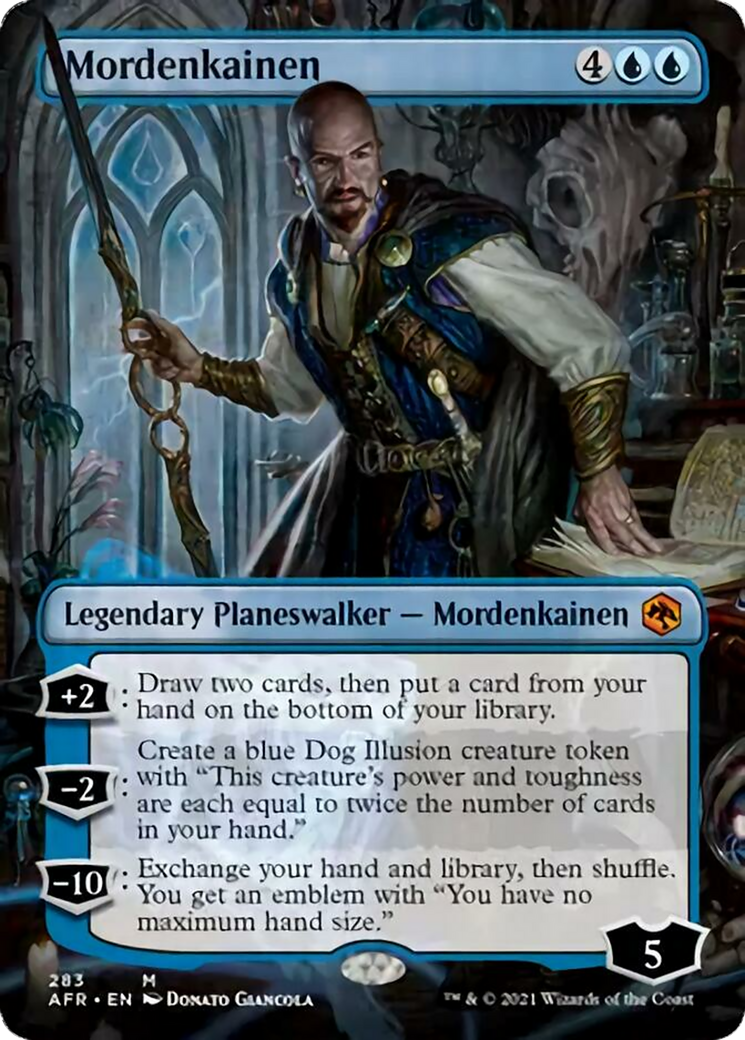 I think this work will stand forever as a highlight of Donato's career, and one that will be remembered for a lifetime.
Oswald Fiddlebender is a gnome airship pilot from Icewind Dale who not only turns up briefly in the Forgotten Realms lore, but has flown into this set by way of Belledin brilliance.
The artist mentioned on Facebook that "there was a straight line leading from this painting to Chadds Ford." Chadds Ford, PA was the home of N.C. (and Andrew) Wyeth, and is where the Brandywine River Art Museum of Art, the homebase for Golden Age Illustration, is located. It's a sort of Mecca for illustrators to visit because of the rich traditions and inspirations that began there, and Belledin has imbued so much of that ethos into this painting. It's subtle but ripe with adventure, well executed but not over the top, and both tells the story of this character we see while asking a hundred more questions about where he's come from and where he's headed. A straight line to Chadds Ford, indeed.
Adam Rex makes his return to Magic after more than a decade, and what a re-entrance he's made with the Temple of the Dragon Queen (Showcase Module) for this brand new set!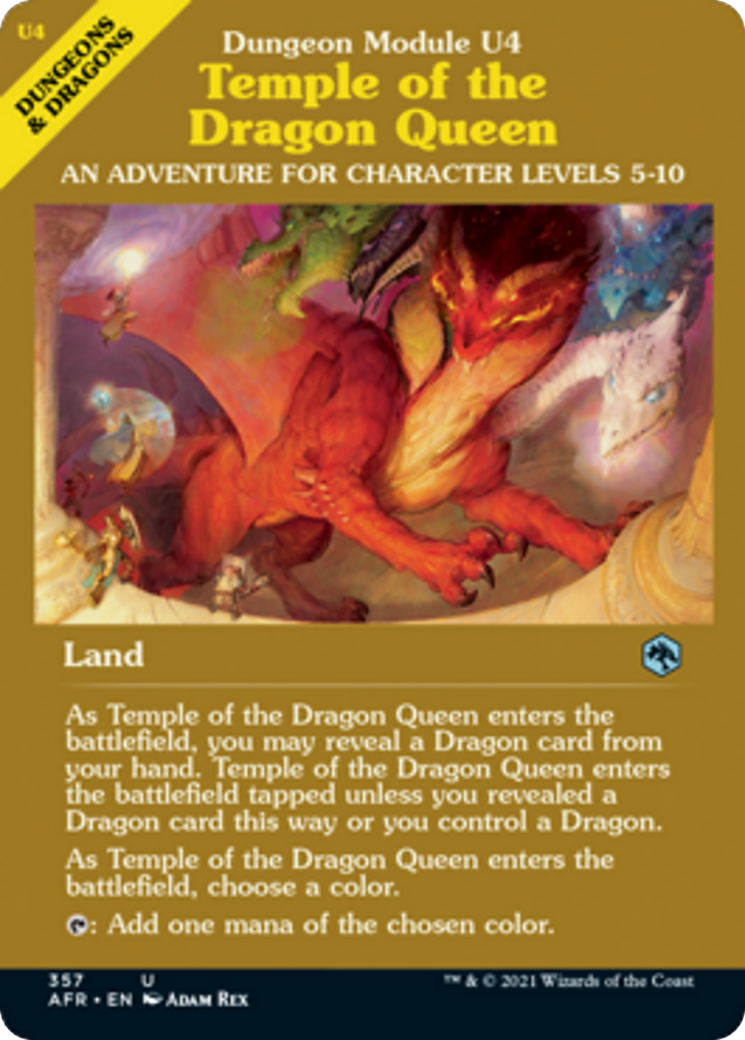 Rex is now primarily an author and illustrator of children's books, but once upon a time illustrated more than 100 cards for Magic. He's taken back up that mantle for this new card art featuring the queen of dragons, and his storybook style is a perfect fit. He shared some close-ups on Twitter, and they're more powerful than any words I can type. Take a second to stew on the details you can't see at card size, and bask in the glory of both legendary illustrator and illuminating illustration:
This slideshow requires JavaScript.
From here we'll pivot to the new folks, all coming to Magic for the very first time, and arriving in fantastic fashion:
I've been following Alex Stone's work for quite some time on Everyday Original, watching and waiting for the day when we would make his Magic debut. He was on last year's Magic Artist Wishlist as well, and now that day has finally come!
His first Magic card comes by way of another Showcase Module, this time for Hall of Storm Giants, and what a job he's done giving a classic feel to this contemporary work. This is a complete storytelling package, exactly as a "cover" should be, and Alex has just filled this work with emotion. From the expression on the sailor's face, to his mate's body language, to the look in the Storm Giant's eye by way of lightning bolt, every reaction we see has purpose and furthers the narrative.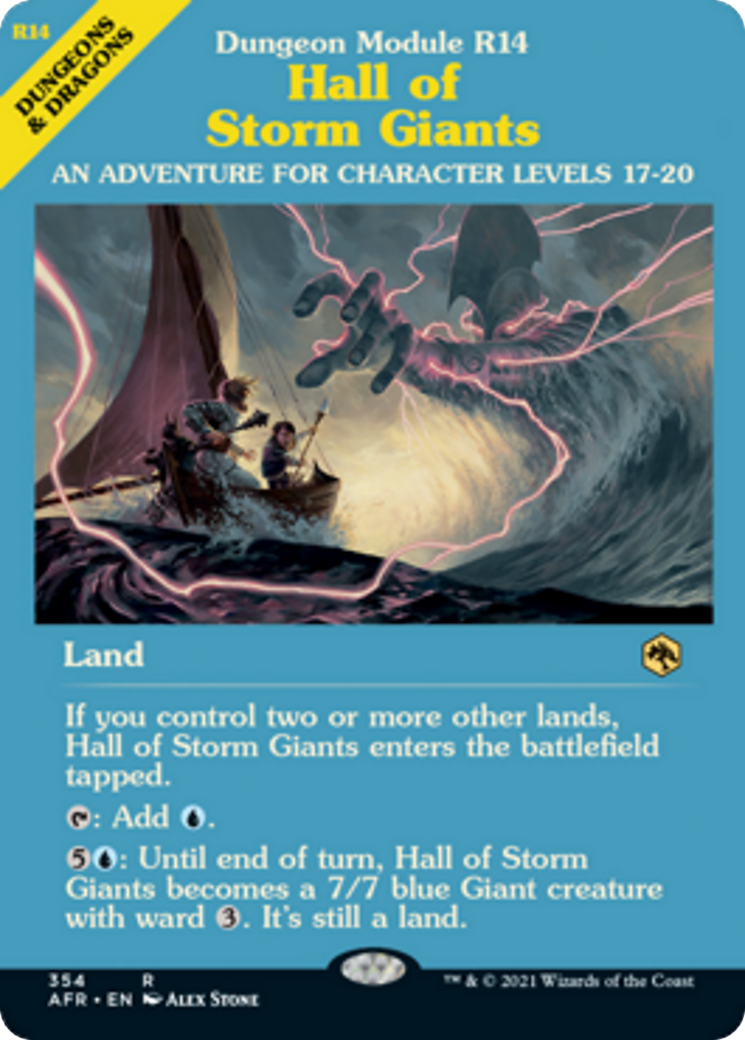 I hope Alex is here to stay in working for Magic, and if we would be so lucky, I hope there's one of his infamous dragons on the horizon.
Marcela brings another bit of Brazillian talent to the game as she joins Magic with her very first card, Ranger's Longbow!
She's done a brilliant job of bringing the bow into focus and making all the details pop, even at what will be card size. This painting is all about texture and drama: the curve and carving of the bow, the tooling of the leather bracer, folds of cloth, a collar of fur and even feathers for the fletchings. A bit of blur to the background to show motion and the right lighting as this warrior steps through the trees completes the story, and creates a strong narrative even for the most subtle of cards. Bravo Marcela, and welcome to Magic!
Marie Magny comes to Magic all the way from Paris. France, and this legendary dark Elf Warlock was Magny's first project as a full time freelance artist.
I want you to pay special attention to where you find your eye: it's her face right? This is intentional, as every element leads you to the face of Shessra, Death's Whisper, and specifically her mouth (death's whisper, get it?). Follow the lines of the architecture, her hair, the swirls of her cloak, the bend of her body, and even the spell emanating from the skull. It all leads back to the focal point, and it's here we experience that most powerful interaction with the painting.
I think we'll be seeing big things from Marie in the future.
Sam White is known for his dark art, images of the macabre and things that show up in your worst nightmares. And yet for his first Magic cards we get a softer side, and in Skycloud Expanse especially, a serene landscape reminiscent of the 19thC romanticism I've always had a soft spot for.
I try not to compare new works to that of the dead masters, but I'd be lying if I didn't say I thought of Casper David Freidrich's Wanderer above the Sea of Fog right away. This painting is full of details you might not be able to see at card size, but ultimately that's why it works so well. The beaming light carries your eye through the work, and the scale birds across the center lend to the feeling of vastness. And the wisps of clouds are the cherry on top, setting this work in motion, as if it's rolling across the frame.
I really hope we'll be seeing more of Sam's work in the future; paintings that are a little creepy, and those very much like this.
Wrapping Up
I hope you enjoyed this albeit brief snippet of the new and fantastical works found in the Forgotten Realms. This set illustrates a beautiful breadth of artist skill and style, from the legendary fantasy artists who have returned to Magic just for this very special occasion to the cacophony of new artists and rising stars who will shape the future of Magic. The Art Directors have constructed an encapsulation of Magic's past and future, all wrapped into one neat art-infused package, and this set another high water mark of the 2021 Summer of Legend.
Looking ahead, I've got several things bouncing around in the hopper for the rest of the summer, and as set releases take a bit of a break, we'll look at some older art and revisit some columns from years past, so stay tuned for that.
Remember, to see original #mtgart and other #vorthos related things, follow me on Twitter. Feel free to ask questions or retweet to continue the conversation. Thanks and see you next time!
Donny Caltrider has been playing Magic since 2002 and collecting original Magic art since 2017. He has an M.A. in Museum Studies from Johns Hopkins University and enjoys telling stories about art, objects, and the intersection of fantasy with real-life. You can find him on Twitter talking about #mtgart, museums, and other #vorthos related goodness. Follow along and continue the conversation!