Good morning everyone, and welcome back to the Mirror Gallery for the first article of 2021! We're up to our knees in snow-related previews for Magic's upcoming set Kaldheim, with lots of new cards, some crazy debut mechanics, and a ton of brand new artwork.
I noticed early on during previews, as has happened with the recent addition of showcase cards, there are a lot of new artists that now join the game with this new set. I wanted to make sure I had enough space this month to introduce at least some of them, and this article is going to look at as many of the artists illustrating the game for their first time as I can fit in my word count. It'll be a mix of full art and card images from both the main set and the showcase subset, and I'll do my best to include that full artwork where I can. We'll go quick, so strap in. Let's meet some new art friends.
Andrew Mar
I want to start today with a guy I've gotten to know over the last year who debuts on non-Showcase cards, and that's Andrew Mar. I've been waiting in anticipation when Wizards would finally put him on a card, and here they are. These three cards (so far) for Kaldheim are his first published-in-paper for Magic. I couldn't be more excited.
His first to come out was Fire Giant's Fury seen above, followed shortly thereafter by the sure-to-be EDH powerhouse Goldspan Dragon. The lighting and color in these two paintings is just out of this world, and I think because of it Mar is someone we'll be seeing in the MTG stable for years to come. His rendering of fire and fury, mixed with that regality of the dragon, is some of the best I've seen in a good while. And just yesterday came another new one from him, Burning-Rune Demon. Just look at those details:
This slideshow requires JavaScript.
Burning-Rune Demon by Andrew Mar. Digital.
My only hope is that we'll get to experience some of his ink work (you can find on his Artstation) on cardboard as well, because it is truly next level. Follow his social and bookmark his name. Big things coming.
WolfSkullJack
We'll start our new Showcase artist exploration with WolfSkullJack, a.k.a. Michelle Harvey, a UK artist who comes to Magic fresh off working with Metallica! She brings a very metal style to this series, and her first work previewed, Esika's Chariot, is delightfully on brand (get it?). Her art fits the Showcase frame perfectly, and makes a pretty fantastic package of art and card working together. We've only seen three cards so far, but she mentioned on Twitter that there is more coming, as well as possibly having prints and doodled artist proofs of her Kaldheim work available soon.
Just yesterday we got the full art for Kaldring the Rimestaff to accompany her Jord, God of Winter, and I think that Staff might be one of my favorites of the whole set.
Check out some of her past client work on her website, and keep your eyes peeled for what might be next.
Richard Luong
Richard Luong was a name I was not familiar with, but having some pretty important legendary showcase cards, Vorinclex, Monstrous Raider especially, made me hit Google quite early on in our little preview sphere. He has worked as a concept artist and designer for some major clients in collectibles and film, from Sideshow Collectibles to Marvel Studios and everyone in between and now brings his imagination to Magic.
Take a moment to browse his site: it's full of creature design, narrative art, and brilliant sketch work—three of my favorite things. It's an awesome visual overload. I really hope he continues on with Magic for the foreseeable future and gets the opportunity to flex his artistic muscles in all three of the styles in which he works. So far we've seen humans in the legendary Alrund and Tegrid, a bird in Hakka, Whispering Raven seen below, and even the magical and otherworldly inanimate object of Tegrid's Lantern. I'm very excited to see what else he can do on a trading card.
Andy Brase
Andy Brase enters Magic on the back of Toski, Bearer of Secrets, a fun legendary squirrel with a runic tail that he's done in a lovely ink style with digital color, a technique we see highlighted and repeated by and across the Showcase artists of Kaldheim. We've only seen this little guy from him so far, but he's also mentioned he has more cards coming.
Check out his other work here; his comic background greatly influences his style, and makes the jump seamlessly into trading cards, not unlike what we saw in the Ikoria showcases. It'll be a treat to see him tackle a variety of subjects in future work.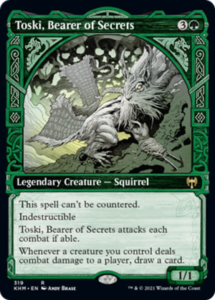 Dibujante Nocturno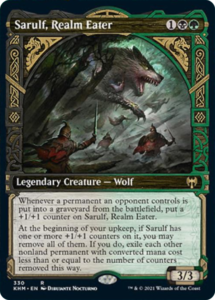 Hailing from Spain, Dibujante Nocturno is a concept artist and creature creator that now adds his rendering talents to Magic also for the Kaldheim showcase. Kaldheim kicked off with his Sarulf artwork early on, and since we've seen three cards and four illustrations by him so far, and all a bit different: humans, beasts, and once again legendary artifacts. After looking at his website, I really want to see the full art outside of the frame.
Look at Kolvori and Sigrid especially; he blends the two distinct styles we see in Kaldheim, of hyper realism and classic linework, and has created some really fabulous artwork in the process. The only downside to writing about art early on in previews is artists often haven't had the chance to upload the full image yet, but you can bet I'll be checking his site on the regular until they're posted.
This slideshow requires JavaScript.
Nico Delort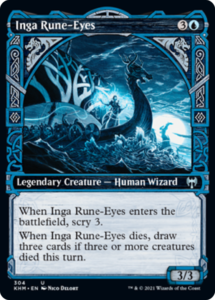 I love when artists that work in unique style get the call for Magic, and that's exactly what we have with Nico Delort joining the roster. They are a French Canadian artist working in Paris, France, and primarily with scratchboard, where the artist removes the medium to create the artwork in highlight below: check out his work on his website to see exactly what I mean.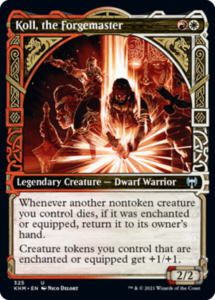 I'm not sure whether Delort used the scratchboard method for these two Magic cards, the legendary Inga Rune-Eyes and Koll, the Forgemaster, and then colored them digitally; but even if not you can see the influence of the method with the wonderful contrast of light and dark. It allows him to emphasize the brightest of whites and control the darkest of darks, and that recipe makes for some really striking presentations, even in miniature. I hope they share the process behind these two; it would make for a really exciting story.
Daniel Zrom
We'll finish up back with the main set, with two artists that are not new to the genre but new to the game. The first is Daniel Zrom, and that work you see above, Warchanter Skald, is traditional. Yes it blew my mind too, because my goodness what an oil painting full of life and detail. Magic artist turned art director Zack Stella was the AD for this particular piece; what a find he's had in Zrom and what a way for Zrom to start his journey with Magic. He mentioned he has more Magic coming, and if it's anything like his first, the crowds is just gonna go wild.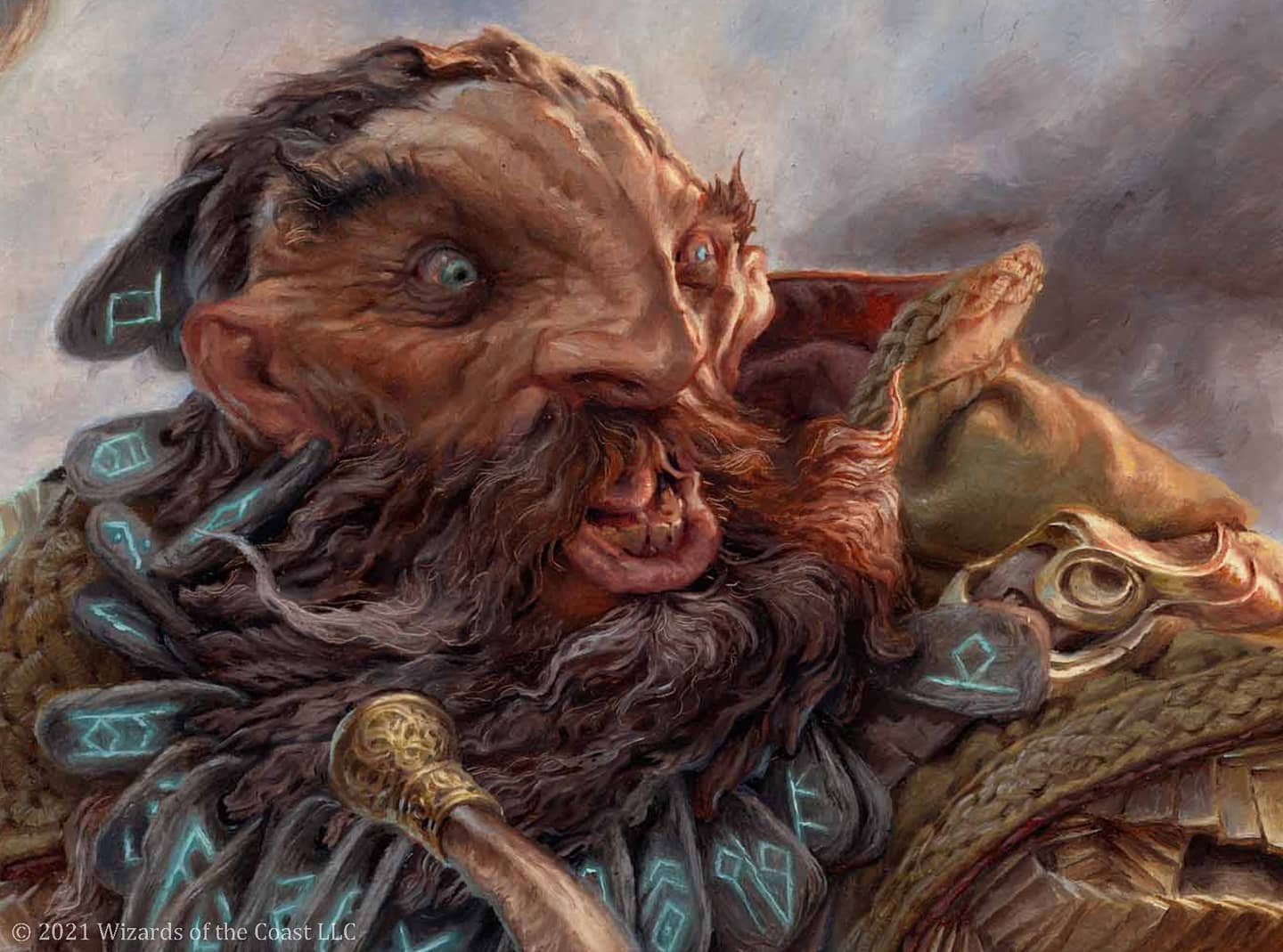 Sarah Finnigan
Sarah Finnigan is the other non-showcase artist I wanted to finish with today. She's an acrylic painter based on Houston, TX, and I've been quietly following her work for a few years, mostly from her striking offerings on Everyday Original. After not being able to fit her into last year's Magic Artist Wishlist, I'm thrilled she's finally gotten the call for Magic.
Beautiful and luminous, paintings are her modus operandi, as if you've woken up in a dream and been whisked off to Valhalla. Her landscapes are an absolute perfect fit for Kaldheim, and she's had two card previewed so far: a basic land in her Snow-Covered Plains and a non-basic land in Glacial Floodplain. Both original works sold instantaneously, and the associated color studies seem to be getting quite the interest too. She's one to watch, folks, make a note.
Wrapping Up
Now I know that was really quick, and only bite-size blips of a lot of new folks and a lot of new art. We've still a week of previews yet, and there are at least half dozen more new artists we've already seen that I couldn't fit into this one article. There is an incredible breadth of style and range in subject that these new folks have tackled, and will make for a challenging and exciting synthesis of the set overall moving forward. It may be Magic's most artistically diverse set yet, following in the footsteps of 2019's Throne of Eldraine, which is personally one of my favorite Magic sets to date.
Now more than ever for you art-loving readers, as Kaldheim unfolds, find your favorite new person and take five minutes to explore their site. One of my favorite things to do, discovered after writing about art for these past few years, is scout for new folks and explore art I've never seen. I promise you'll find something that knocks your socks off. It happens every time.
Looking ahead, we have the Kaldheim Grand Art Tour coming once the entire set is released, and a bit of a retrospective on some of the artwork we see in this set. This year I want to focus on making connections not just within a set but across sets, and that goes for artist's work too, looking not at just what their working on now, but their oeuvre (body of work) and how it's changed or stayed the same.
Remember, to see original #mtgart and other #vorthos related things, follow me on Twitter. Feel free to ask questions or retweet to continue the conversation. Thanks and see you next time!
Donny Caltrider has been playing Magic since 2002 and collecting original Magic art since 2017. He has an M.A. in Museum Studies from Johns Hopkins University and enjoys telling stories about art, objects, and the intersection of fantasy with real-life. You can find him on Twitter talking about #mtgart, museums, and other #vorthos related goodness. Follow along and continue the conversation!