When Saturion Deshane, a farmer's son in the breadlands of Nirgrend, is rejected from the Guild of Court Mages, he refuses to take it lying down. He heads straight to the capital to demand a meeting with the High Mage herself.
But when she tricks him into joining the Jester's Society instead of the Guild of Court Mages, he finds himself destined for a life of low humor and lower company. That is until he meets General Vicar, whose conquest across the realm of Arcania will awaken the dragons of old, uncover the secrets of the Dragon Shields, and transform Saturion from failed mage into the most powerful dark wizard in history.
Welcome to Dragon Shield Kingdoms Season One: Vicar's Conquest!
On August 31, 2020, Dragon Shield, premier manufacturer of card sleeves, gaming accessories, and vivid stories, launched their first podcast about the worlds depicted on their products. Entitled Dragon Shield Kingdoms, Season One: Vicar's Conquest, the ten episode season will begin to tell the backstory of one of their most important characters, Saturion Deshane, and set the stage for the events that would later shape the world of Arcania.
Before this podcast, the stories of Arcania and the Dragon Shields have been told quietly, almost in secret, on the back of boxes of sleeves and the other products they produce. Moost of these can be seen on their website. For example, their Clear Red Sleeves are home to Ignicip, the Woken Elemental:
Their stories are no longer limited to their packaging! In tandem with an artbook that delves into these realms and regents, this podcast is the first in a series of fully produced tales in spoken narrative with glorious details for all to see and hear.
I was able to catch up with podcast author and Dragon Shield Narrative Designer/Art Director Ian Spiegel-Blum to see how he felt after completing this monumental story arc. I asked how excited he was to finally have this out and into the world:
"How excited am I—I'm nervous! But thrilled. We've been slowly adding to the world of Dragon Shield lore for over four years, and this is the first time we're having a wide release for a larger-scale project. Saturion is a fan-favorite character from his appearances across our products and in our Choose Your Own Adventure stories earlier this summer, so getting to show how he went from a harmless jester into the most powerful dark mage in all of Arcanian history is super exciting.
"The best thing about the podcast is that it was written with brand new listeners in mind. A few lore aficionados may exist out in the wild, but until now it has been very difficult to immerse yourself in the Dragon Shield world even if you wanted to. With the release of the Dragon Shield: Kingdoms art and storybook on our website and now this podcast, Dragon Shield fans who know nothing about the lore can dive in fresh.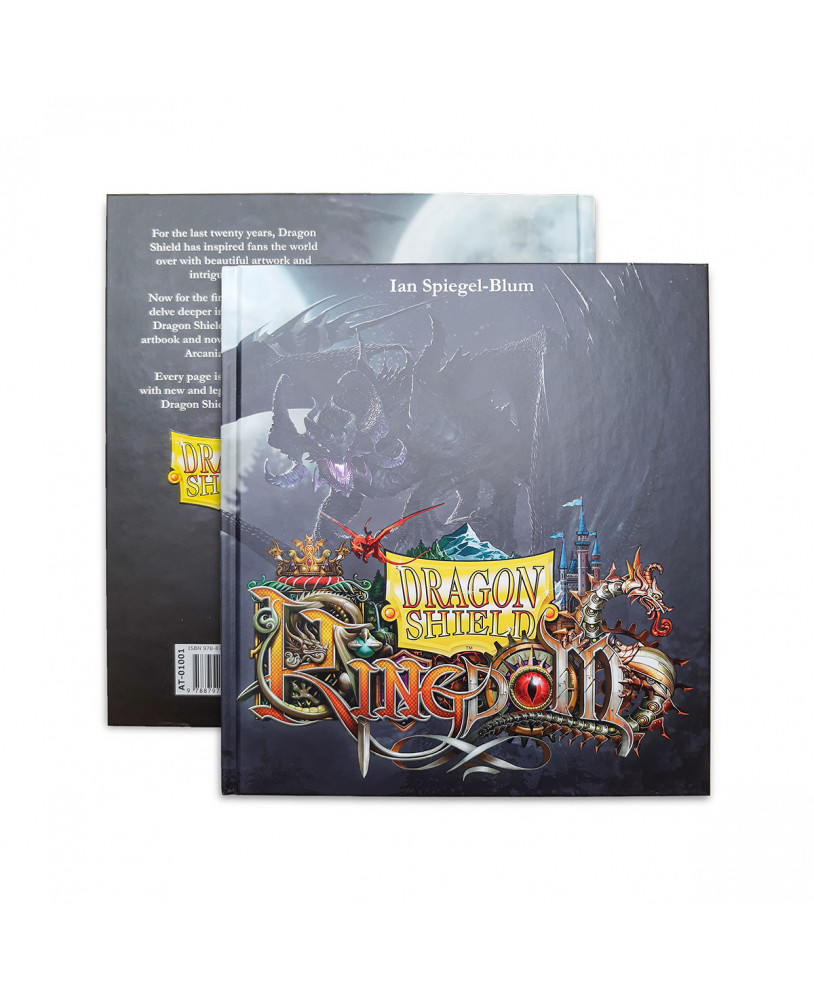 "Last thing: I want to make sure I thank all of the Alpha Readers who helped shape the story and provided feedback throughout the drafting process. So many people had a hand in making this the best it could be and I think we created an awesomely fun product."
Ian has given us all the dates and the first half of the episode summaries for those upcoming tales to be released. A new episode releases every two week from now through the end of the year, and you can find all the information down below.
Podcast Episodes
All podcast episodes can be launched from your preferred podcast listener from the Dragon Shield Kingdoms page.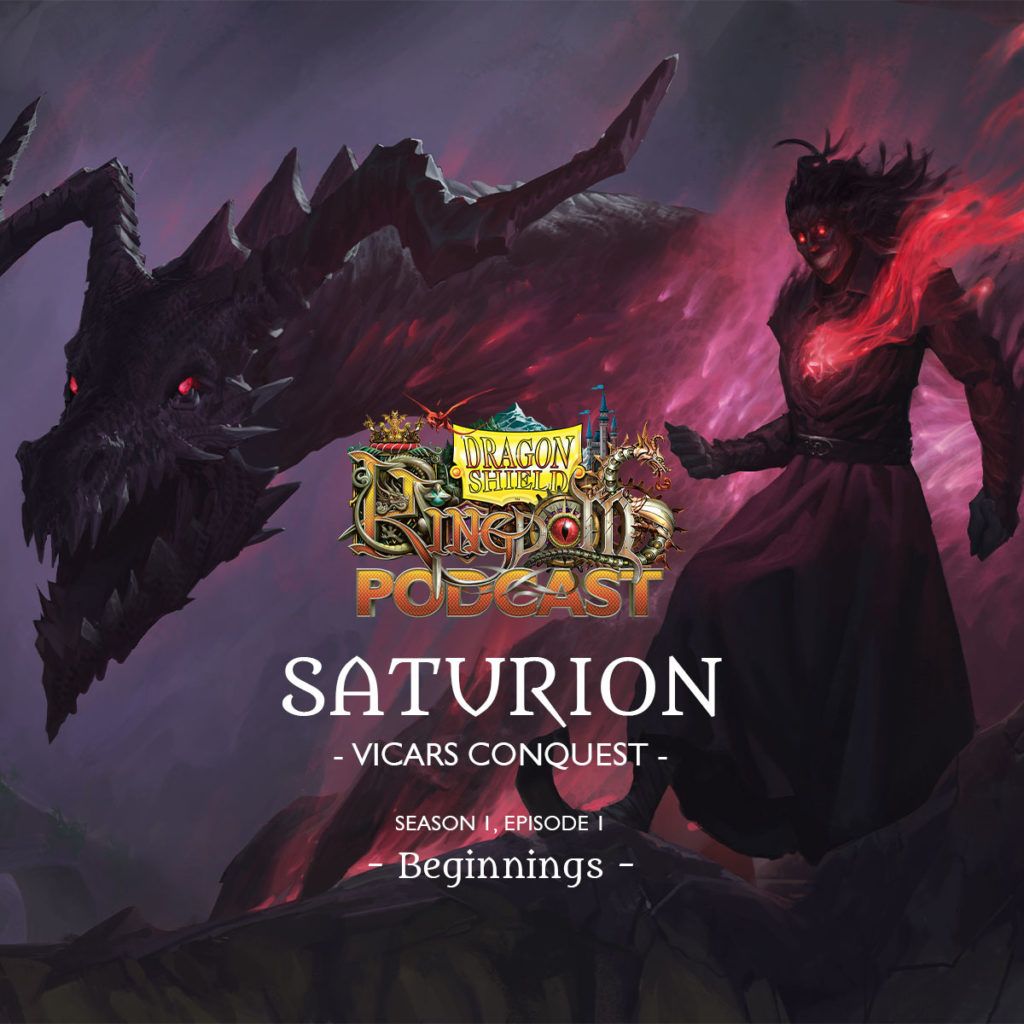 Episode 1: Beginnings 8/31/2020
Saturion. His name is enough to bring dragons to their knees. But once, he was a no-name farmer's son who wanted nothing more than to learn the magic of Dustcraft. This is his story.
Episode 2: The Jesters' Society 9/7/2020
Saturion meets face-to-face with the leader of the Guild of Court Mages, one of the most powerful organizations in all of Arcania, to try to convince her to accept him into the guild. But she knows a secret about him that will shake the foundation of Arcania to its core.
Episode 3: Wyvern 9/21/2020
Having been rejected by the Guild of Court Mages, Saturion begrudgingly joins the Jesters' Society and is assigned to serve as a "morale booster" for a warlord named Vicar. Meanwhile, a mob of murderous cultists march toward Saturion's friends.
Episode 4: The Show Begins 10/5/2020
Murder in the streets! With General Vicar's help, Saturion and his new friends narrowly escape the Cult of Gaial. But to stay safe, they must join Vicar on his journey to the countryside to investigate a mysterious madness sweeping Arcania.
Episode 5: Alone Together 10/19/2020
Saturion and Citrine have joined Vicar's company on a journey to discover the source of a mysterious madness spreading across the countryside. Saturion convinces Citrine to begin teaching him Dustcraft.
Future Episodes:
Episode 6: Blackriders 11/2/2020
Episode 7: Slumber 11/6/2020
Episode 8: The Age of Wakening 11/30/2020
Episode 9: The Wyrm Gate 12/14/2020
Episode 10: What Came First, the Dragon of The Egg? 12/28/2020
Stay tuned as the story unfolds through the rest of 2020!
About Dragon Shield:
Dragon Shield produces some of the most recognizable card sleeves and supplies in the world. Based in Denmark, their products are known throughout the TCG community for their strength, durability, and fantastic value. Narrative Designer Ian Spiegel-Blum writes the lore and art directs for all Dragon Shield products. He would love to hear from you at [email protected].