Over April and May 2020, three pencil sketches by legendary Magic artist John Avon were sold for a total of $5,725. The three were from his work in 2019's Throne of Eldraine expansion. The Castle Vantress Sketch sold for $2,200, Witching Well for $1,125, and the Basic Island for $2,400.
This slideshow requires JavaScript.
Castle Vantress, Witching Well, and Basic Island are each a work of propelling pencil on sized A3 tracing paper, approximately 13.7 inches by 10 inches. These works were completed digitally for publication, and this is often the process—propelling pencil on tracing paper into digital final—that Avon uses for his Magic illustrations. These three cards were commissioned for last year's major Magic set Throne of Eldraine, and represent Avon's entire contribution to the catalog.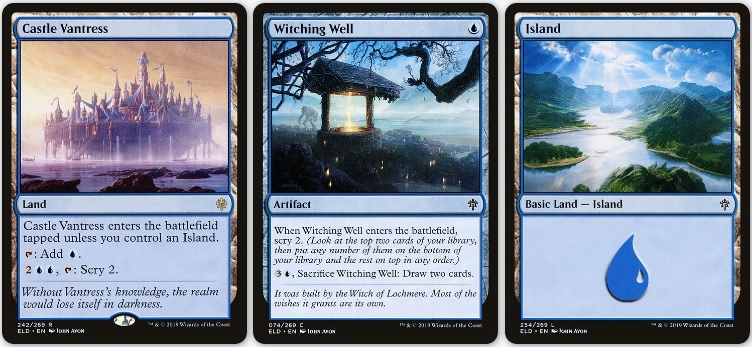 The three pieces were sold on the MTG Art Market by Guy Coulson, John Avon's longtime agent and friend. Each included not only the sketch but one of each available, very rare, and blank-backed artist proof for the card being sold. An artist only receives 30 foil and 50 non-foil versions of each card, making them incredibly scarce.
The first work to be sold was the sketch for Castle Vantress, which climbed incrementally over the three day auction but took off like a rocket at the fifteen minute warning. It ended on April 26, 2020; after a half hour of auction overtime the final price stood at $2,200, sold to a private bidder.
Next on the block was Witching Well, beginning shortly after Castle Vantress ended and following much the same pattern. After an incremental journey upwards and another half hour of overtime on the final night of May 2, 2020, this work was sold for $1,125, also to a private bidder.
The final sketch to be sold was for the Basic Island, and it again drew considerable interest. The sale looked as if it was going to be the bottom lot, sitting at only $700 until the final ten minutes. The private bidders then put Agent Coulson (sorry Guy, I had to) to work: more than two dozen bids came in over the next half hour and more than tripled the price! The Island would go to realize a final price of $2,400, and again sold to a collector bidding anonymously.
Avon's work for Magic is rarely publically available and highly sought after. The auctioning of these sketches were an absolute treat for collectors and, as you well saw, a ton of fun to watch. In many cases the best time to sell a piece of Magic art is when the card is newly released, but in the case of these three, they may have actually performed better with near a year of distance between card release and artwork sale.
It would seem as some of Avon's traditional Magic work is making it out into the world, as a collector displayed the Unstable Mountain by Avon that was recently bought off-market privately. Avon's last two major traditional paintings auctions were blockbusters, with his Unstable Island sold at public auction in 2018 for $20,000 and Lotus Field for a record $40,000 in July of 2019.
Coulson has acknowledged the next work on the block will be the sketch for Avon's Squirrel Island from the Unsanctioned set, and we are awaiting the start of that sale as of the writing of this article. Stay tuned.