On Sunday August 4th, John Avon's full-art Island from the Unstable set sold on the MTG Art Market on Facebook for $20,000 after a bidding war broke out in the final minutes. It is the first new traditional panting from John in 15 years.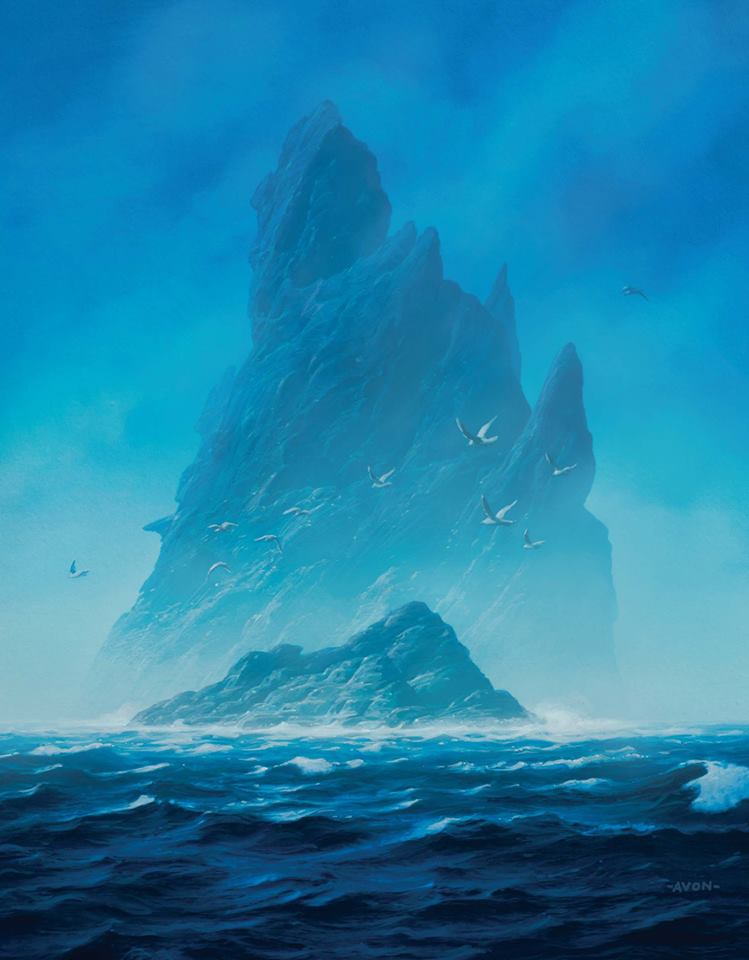 The Facts
John Avon's Unstable Island is a work of acrylic and airbrush measuring 9" x 11.7" on watercolor board measuring 11.5" x 14." The Unstable lands are John Avon's first traditional paintings in 15 years, and his only traditional paintings since their completion due in part to his suffering from Chronic Fatigue Syndrome. All of John Avon's recent work for Magic has been created digitally from start to finish, so the fact that five original final paintings with pencil preliminaries exist is a privilege for Magic art collectors.
The Hammer
This auction began as many original Magic art auctions do: a big initial push, silence, and then a firefight at the end. This auction also included a temporary speed bump in the form of a bid retraction. These are quite rare, but emergency and extenuating circumstances required a respected collector and bidder to retract their bid around the halfway point of the auction. He had legitimate cause and reason, and the retraction ultimately had no effect on the final sale price as the bidding continued past that amount as the auction neared close. A final jump from $16,000 to $20,000 dropped the proverbial hammer and took the piece home for the currently unknown winner.
Because John has not worked traditionally in near 15 years, finding a traditional painting by him on the open market is no easy task. These lands are a unique and possibly last opportunity to acquire an original, traditionally rendered Avon from the artist himself. Almost the entirety of his work passes the MTG Art "Sofa Test." In short, landscapes like these can easily hang in a public area in one's house, like over a sofa. These works are this more desirable, and passing the "Sofa Test" does impact the final price of original Magic Art.
The Art
John Avon has created 315 unique illustrations for Magic over 217 cards. The disparity comes from his land illustrations, as he has illustrated 20 Plains, 19 Islands, 16 Swamps, 28 Mountains, 20 Forests, including most notably the cycles of full art lands for the Unhinged and Unstable expansions. He has also illustrated 67 non-basic lands, for a grand total of 170 landscape illustrations and an unquestioned status as a master of imaginative realist landscapes.
The Unstable lands are stunning fantasy landscapes, and stand to be some of the most popular lands for as long as Magic exists. They are currently my go-to lands for Limited, and have found permanent homes in player's deck since their printing, from Pauper to Cube.
Per John's agent, the original sketches for this Island are slated to be offered later this year, also via auction within the same venue of the Facebook group MTG Art Market.
The availability of the other Unstable lands is currently unknown, and most likely predicated on the result of this auction. Based on its conclusion, I feel there is a chance we could see another of them in the near future. Stay tuned.
Donny Caltrider has been playing Magic since 2002 and collecting original Magic art since 2017. He has an M.A. in Museum Studies from Johns Hopkins University and enjoys telling stories about art, objects, and the intersection of fantasy with real-life. You can find him on Twitter talking about #mtgart, museums, and other #vorthos related goodness. Follow along and continue the conversation!