Over the first two weeks of April 2020, fantasy artist, filmmaker and Magic: the Gathering illustrator Seb McKinnon sold all six of his traditional artworks for Magic's newest set, Ikoria: Lair of Behemoths. His five Mythos Cave paintings sold for a combined $61,000 and his traditionally rendered and finished digitally work for Essence Scatter sold for $8,000.
The Mythos Cave Paintings by Seb McKinnon are a series of five works, each done in acrylic and pumice on birch wood panel and measuring an incredibly large 30 inches by 40 inches. Each painting depicts one of the five legendary apex monsters of Ikoria in a style reminiscent of the famed cave paintings of Lascaux, something we've not seen before in a modern Magic set.
The first to be sold was on April 8, 2020, and was the painting McKinnon previewed himself on Twitter, his Mythos of Nethroi:
This slideshow requires JavaScript.
After an intense bidding battle, the cave dust settled at $11,000, hammered to a private bidder. At this point there was no indication of when or how the others would be offered.
The following Friday, April 10, 2020, McKinnon posted that he had accepted a private offer for Mythos of Illuna, and would be accepting private offers for the remainder of the series until they were all collected. Later that afternoon, he would share the prices realized when three of the four were announced as sold. The first was Mythos of Illuna, selling for $16,000 to a private, anonymous offer: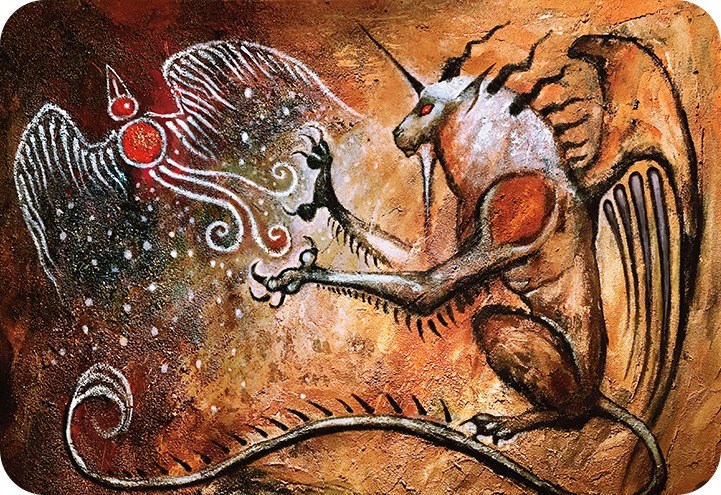 And shortly following the report of the Mythos of Illuna sale were the sales of both Mythos of Brokkos and Mythos of Snapdex, each selling for $13,000. The new owners of these works (and whether or not they are the same person) are also unknown at this time:
This slideshow requires JavaScript.
[Authors Note: Those are Seb's actual handprints used in the creation of Mythos of Brokkos]
This slideshow requires JavaScript.
That left the Mythos of Vadrok, which McKinnon made available for $10,000 in a separate post shortly thereafter. It was announced as sold later that evening with an accepted offer price of $8,000.
This slideshow requires JavaScript.
While that concludes the sale of the Mythos Cave Paintings, it would be an oversight not to mention Seb's other contribution to this set, a new artwork for the ever-playable Essence Scatter:
This piece was sold via six day auction on the MTG Art Market. After a serious public/private bidding battle in the closing hour, it was sold for $8,000 to a public collector bidding in the comments.
All money realized from the sale of these paintings goes to fund McKinnon's soon to be feature film KIN Fables: The Stolen Child. Seb has been building the world of KIN Fables for years, and these auction sales bring this film one step closer to reality. Take a few minutes and watch the teaser for the movie, shot in 2018:
Additionally, if you'd like to contribute to making this cinematic work of art a reality, his third Kickstarter to help fund the film is underway for just a few more days, and each of these Mythos Cave Paintings are unlocked as an artwork you can choose. To learn more about the artist and his work, check out the Mirror Gallery's 2019 Behind the Brush interview.
Seb McKinnon has made yet another astounding contribution to the visual history of Magic illustration in these six works, and these Mythos Cave Paintings will hold a special place in player's memory for years to come.