Good morning everyone, and welcome back to the Mirror Gallery here on Hipsters of the Coast; today is the long-awaited and penultimate day before the paper set release of Ikoria: Lair of Behemoths. I hope this article finds you well, and that wherever you are, you'll be able to dive headfirst into this brand new set tomorrow if you haven't already. Its Grand Art Tour time here again and today will be an image-packed journey to the far corners of this whole new world we've been traversing the past few weeks. This expedition will show us a bit of everything, from displays of primeval power, depictions of bonders and their relationship with the bonded, as well as several of the exciting alternate artworks that make up the whole of Ikoria.
For those new to the Grand Art Tour series, these articles highlight my favorite works from a newly-released set. As you'll see the illustrations found here have an extra something special, whether it is strong storytelling, or maybe a detail you might miss at card size. They run the gamut of all colors, rarities, and in this case sub-series of showcase and alternate artworks as well. We are a bit overloaded in this edition, featuring ten selections from the main set, but also including three from the new art in Ikoria Commander, three from the Showcase alternates, and even one from the Godzilla series.
We've no time to waste so let's get to looking: in no particular order, these are my favorite works from Ikoria: Lair of Behemoths.
Triome Cycle by Robbie Trevino
This slideshow requires JavaScript.
Just look at these lands, and say it with me.
"Wow."
I've been following Trevino's work since the printing of Firemind's Research, but this is the first time he's had the opportunity to adapt his signature artistic style to his Magic commissions. The final product gives us five distinctly designed landscapes that have made an incredible impression since the day we first saw them. They are wholly unique both within this set and within the larger scope of Magic art, and one of my absolute favorite things to come out of this entire expansion. Bravo Robbie, you've really given us something special here.
Zirda, the Dawnwaker by Jesper Ejsing
We learned in A Walk in Fantasyland: Jesper Ejsing's Ikoria that Zirda, the Dawnwaker was painted as not just as a fantasy creature, but also in its right environment, as if a BBC nature documentary had captured the animal in the wild. Similar to Ejsing's Slippery Bogle, Zirda is a shining example of imaginative realism exemplified within Magic, being as real as possible while still fitting in perfectly within a made up space.
Slippery Bogbonder by Mila Pesic
Speaking of Ejsing's Slippery Bogle, we get a beautiful cameo of the adorable creature in Mila Pesic's Ikoria Commander Contribution Slippery Bogbonder. The idea of bonders as cosplayers was also something gleaned from the Ejsing article, and it's on full display here. From her red eye shadow to her slime-symbolic hanging jewelry down to her half perched pose, this painting is intentionally Ikorian with a little Ejsing Easter Egg on the side.
Gavi, Nest Warden by Randy Vargas
This was another painting that came up in casual conversation when I was talking about Ikoria with Jesper Ejsing; Gavi, Nest Warden is one of his favorites in the entire set too. At first glance you would think it to be a classical painting from 300 years ago; upon closer inspection the subject, lighting, and color is out of this world—literally! Vargas's range of color is at full spectrum—we see a whole range of reds, blues, and purple—with just a touch of that Ikorian green to pull everything together. From the sunbeam highlight of her face, to the folds in her clothing, this is one incredible illustration.
Genesis Ultimatum by Jason Rainville
Another work rooted in classical composition is Rainville's Genesis Ultimatum, which turns the traditional Hudson River School into the Tal River school on Ikoria. I was talking with friend of mine late one night, and he pointed out the likeness to one of his favorite 19th century paintings, Albert Bierstadt's "Among the Sierra Nevada, California" from 1868, and the relationship is unmistakable. I love these classical takes on fantasy, and Rainville has seamlessly interwoven the magic of Magic into this serene mountainous landscape
Cloudpiercer by Steve Ellis
Longtime fantasy artist Steve Ellis did a handful of Magic cards back in the era of Time Spiral/Planar Chaos and Lorwyn/Morningtide. He has returned to Magic but this time in his signature comic-book style. He had five cards in this set, and Cloudpiercer is my favorite among them. It 100% evokes that ideas of 1950s movie posters/sci-fi pulp covers in both color and composition. Turns out you can get this on a shirt, and before you ask, yes I'll be getting one!
Of One Mind by Matt Stewart
This painting took my breath away. Of One Mind embodies everything about the bonder/bonded relationship of Ikorian culture. The human and creature are again matched in costume and color, yes; but Stewart has added a literal connection that bristles with emotion, and really makes you feel something when looking at this painting. It's a stunning illustration, and an absolute standout from this set.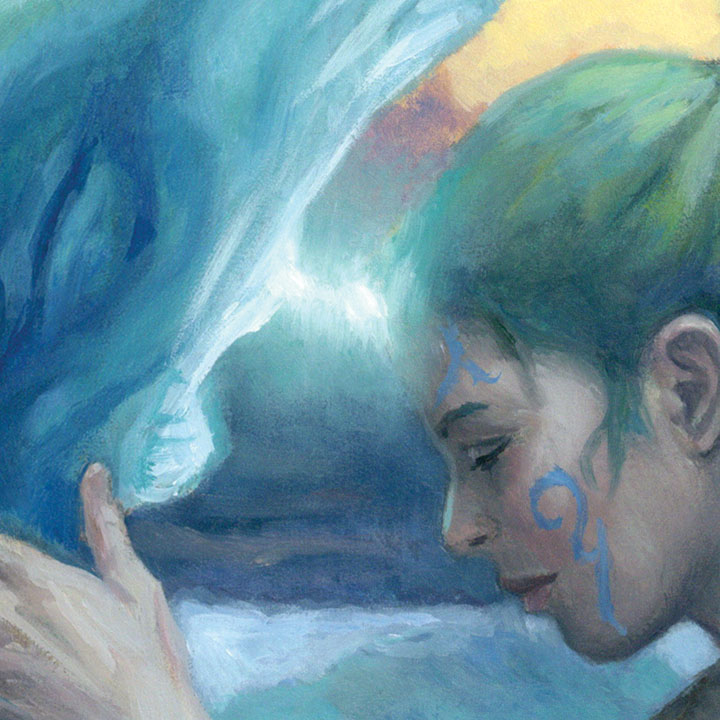 Swiftwater Cliffs by Adam Paquette
Scale birds are one thing, but this landscape by Adam Paquette gives us scale hot-air balloons to exacerbate just how high this waterfall and these crystals tower into the sky. The crystals have been colored to represent the mana this land creates, making it instantly recognizable in both artistic form and gameplay function. I have a feeling this is going to be the go-to version of this land for a lot of blue-red players.
Emergent Ultimatum by Zack Stella
Let's move from scale hot air balloons to scale people and scale lily pads! The addition of tiny people make these beasts extra enormous; as an added layer, the gigantic lily pads show that it's not just creatures of Ikoria that are larger than life. We're talking megafauna and megaflora too! Amongst the dozens of shades of green, these embedded size comparisons are an exceptionally strong element of storytelling, and help give meaning to this new world. They show us exactly where everyone and everything stands in a larger scope, and even hints to how they might be interconnected.
Cunning Nightbonder by Ekaterina Burmak
The details in this work are simply stunning. Cunning Nightbonder is one of the best close-ups we get of a bonder and is a cosplayer's dream, with every button, clasp, stitch, and strap so sharply rendered you'd think it was an outfit that existed in the real world—imaginative realism, indeed.
Note the blurred background and direct light. Not only does it force the viewer to focus on the front and center subject, it also reinforces the idea that she and her companion are emerging from the shadows. I could probably write an entire article on this one painting, and I implore you to spend just a minute to take it in.
Keensight Mentor by Yongjae Choi
There's a fair bit of whimsy woven into Ikoria, and Keensight Mentor is my favorite unassuming depiction of a little bit of fun. We see the bonder at first glance; then we glimpse her fuzzy friend right there in the corner, as if he's grabbed the camera mid-selfie! The idea of bonders as cosplayers is such an inventive Ikorian component, and we see it again here: they match in hair, eyes, wardrobe, even down to the facial expression.
Mothra, Supersonic Queen by Nick Southam
Nick Southam's only published card for Ikoria was for the alternate art Godzilla series, and most encapsulates the idea of 1950s classic movie monster poster transposed into the card frame. It's my favorite of the Godzilla versions of the cards, and you must check out Jay Annelli's article that touches on all the larger than life Toho monsters.
Southam was also a member of the Ikoria Concept Art team, and appears to be responsible for much of the landscape design of the new world. You can see all his publically released Ikoria concept art on his Artstation.
Cubwarden by Kekai Kotaki
We don't get a ton from Kotaki for Magic anymore, so every new card is always a treat. We know Ikoria is all about crystals, and that's been adapted here to the nth degree: the animal's mane, horns, and even hide and fur all seem to mimic the myriad of crystals surrounding its home den. Cubwarden a crystalline cat that can only be found on this plane, and a beautiful blending of lore, landscape, and lion.
Glademuse by Ilse Gort
Brand new to Magic is Dutch artist Ilse Gort, who has five cards to start her career with the game. I wanted to highlight Glademuse. We're again transported inside the nature documentary, as the artist has captured a "from the bushes" peek of the Glademuse in its natural habitat, sprinkled about with crystal, all in utter tranquility. The sun is breaking through the trees to highlight the face of the beast at just the right time—a *chef's kiss* depiction. I really hope we see more of her work in Magic, and you can find her on Twitter here to follow along!
Brokkos, Apex of Forever by Daniel Warren Johnson
Another of the more than a dozen new Magic artists that have joined the ranks as a part of Ikoria is Daniel Warren Johnson. He gives the game three cards in his debut, including this comic-style imagining of one of the title legends in this set. With coloring reminiscent of Justine Jones's Kaleidoscope Killers Secret Lair, Brokkos is front and center, mid-bellow and full-on psychedelic. This artwork is going to look super sweet in foil, and I can't wait to see it in person.
Plummet by Sidharth Chaturvedi
The colors Sid Chaturvedi is able to conjure in his Magic illustration is simply striking. Add in some chunky brushstrokes showcasing a dynamic concerto of figures, and you have a fabulous fifth version of Plummet, a card that is certain to see play. Pay special attention to the detailed but muted background that makes you interact with a very expressive falling-cassowary; it's simple and yet such a compelling piece of art. I should've bought the original painting, and it's going to be "the one that got away" for quite a while.
Mythos Cycle by Seb McKinnon
This slideshow requires JavaScript.
Something completely different within this set and yet not alternate art is Seb McKinnon's Mythos cycle of cave paintings. Not only are these phenomenal, they play a critical role in the narrative of the set. They mark where the human-creature relationships in Ikoria started, and harkens back to the earliest of primeval days on the plane. Representing the only remnants of the world's history, hopefully these five set the stage for more future information on this fantastic plane.
Wrapping Up
Whew! That was a lot all at once, but I hope you enjoyed the cross-section of artwork and styles that so captivated me while I was combing through these cards. I could have surely down a second volume, and honestly talked about most every work in the set given the time and chance. If I left your favorite piece out, grab an image and let me know on Twitter so we can talk about it there.
Ikoria seems to have given us a little bit of everything, with something for every player, collector and fan in terms of cards, collecting opportunities, and of course, art styles. This plurality is something I'm going to explore in my next article, which is turning into a think-piece about what Ikoria and the last six months of artistic innovation and inclusion means for Magic in a broader sense and moving forward. It's something I've been working on the better part of this year, and I'm very excited to share it in just two short weeks.
Donny Caltrider has been playing Magic since 2002 and collecting original Magic art since 2017. He has an M.A. in Museum Studies from Johns Hopkins University and enjoys telling stories about art, objects, and the intersection of fantasy with real-life. You can find him on Twitter talking about #mtgart, museums, and other #vorthos related goodness. Follow along and continue the conversation!