This morning, just under a year since his last Kickstarter, Magic: the Gathering artist Seb McKinnon launched his Limited Edition Magic Kickstarter #3. The project is the third opportunity for players and collectors to acquire his art as exclusive playmats and prints, as well as white-backed artist proofs, and raised over $75,000 USD in its first hour. Each of his three Kickstarters have been raising funds for the creation of his first feature length film, KIN Fables: The Stolen Child, which is currently in development.
Extremely Successful Kickstarters
McKinnon's new Kickstarter continues the momentum of both of his smash-hit first and second campaigns.
Two years ago, in May 2018, his first offering on the platform launched raised $298,971 USD from 3,450 backers. It made 14 of his most popular past Magic artworks available as either prints or playmats, with the caveat being that this would be the only time these works would ever be available and printed as such.
Following on this success came Limited Edition Kickstarter #2 last February, which raised an unheard of $726,417 USD from 7,246 backers, more than double the first go around. This project unlocked yet another 14 pieces of art, again to be printed that one time only.
Limited Edition Kickstarter 3 began with the option of four different artworks available as playmats or prints: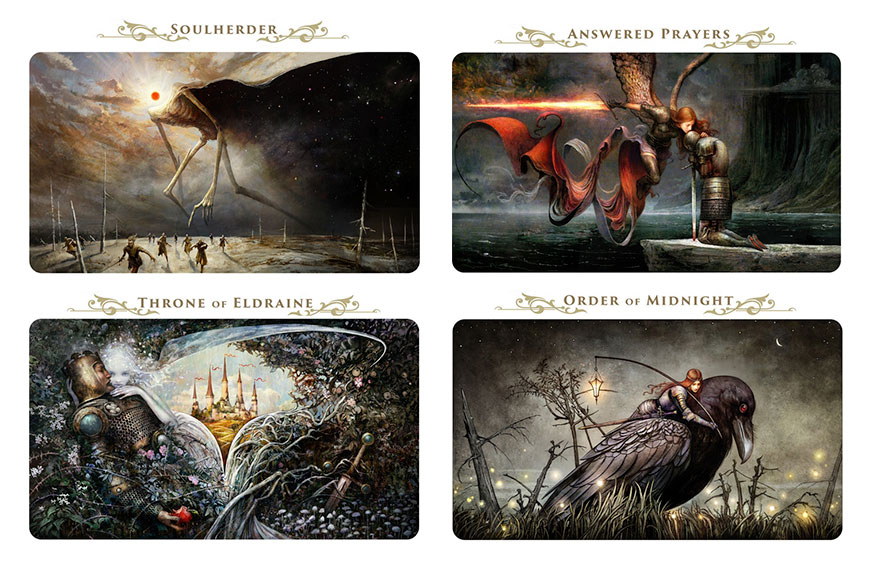 And once again the first 1000 backers will have artist proofs of Seb's catalog of work included with their order.
About KIN Fables
Outside of Magic and away from the easel, Seb McKinnon is a creator in both music and film. Just as with his first and second Kickstarters, all proceeds from this campaign are going to fund his first feature length film, KIN Fables: The Stolen Child. Seb has been building the world of KIN Fables for several years now, and is so very close to being able to fund a full feature-length film. In fact, the today's Kickstarter reveals that if this project surpasses $1 million then the film will be fully funded. But even if it doesn't, each backer brings this endeavor closer to reality.
In case you haven't seen it, take a few minutes and watch the teaser for the movie, shot in 2018:
Wrapping Up
Seb McKinnon is one of the most recognizable artists in Magic's history, and each of his new illustrations is heralded and met with much-deserved fanfare. His first two campaigns have raised a combined $1 million USD in Kickstarter funding, and I've no doubt this venture will match the others in activity and popularity. I was fortunate to be able to spend some time with him last fall, and can say first hand is one of the nicest, most genuine people I've ever met. He deeply believes in his work, and as both fan and friend, I can't wait to see this dream of his realized.
If you'd like to learn more about the artist and his work, check out the Mirror Gallery's 2019 Behind the Brush interview with Seb McKinnon.
As with any project, the Allure of the Unknown is great, but all signs indicate that this Kickstarter will follow in the footsteps of those that came before it.