Good morning everyone! We've made it to 2019, and boy do I have an exciting article to kick off the New Year. Today we are going Behind the Brush with artist, filmmaker, and Magic illustrator Seb McKinnon. You've no doubt seen his art on the cards, and his illustrations for Magic are unmistakable and one of a kind. I highly recommend checking out Sam's Rhystic Studies video about the artist and his work. It's a wonderful deep dive into Seb McKinnon's career, and an entrancing look at his history with Magic: the Gathering.
This is a rare opportunity to peek behind the artistic veil and find out not only what Seb is doing with Magic and on Ravnica, but the awesome things he is doing outside the game. You all know we waste no time here, so let's get to it!
Donny: Hi there Seb, and welcome to the Mirror Gallery here on Hipsters of the Coast! I always like to start with an introduction: Who are you, where are you from, and what do you do?
Seb: Thanks for the interview! I'm an illustrator and filmmaker from Montreal, Canada.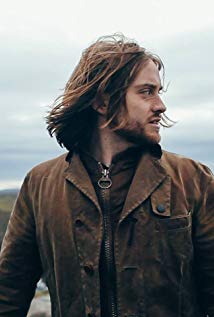 Donny: You've just hit the 100 card mark during this preview season, and have been illustrating for the game since 2012. Can you tell us how you got started with Magic?
Seb: After graduating from college I submitted my portfolio to Wizards' Art Drop email. I didn't expect to hear back. I took on a job at Ubisoft as a concept artist, working on the Rainbox Six franchise, and a few months later received an email from Jeremy Jarvis, who was Senior Art Director at Wizards at the time. He asked me if I was interested in taking on a commission for Magic the Gathering, and that changed the course of my life. I owe so much to him for giving me a chance. The first card I illustrated was Attended Knight for M13
[It's always fun to see an artist's first card, his entire card gallery is here.]
Donny: What has been your favorite illustration for the game so far? Any reason why?
Seb: I really like my vampire trio I painted for the Ixalan plane: Duskborne Skymarcher, Sadistic Skymarcher, and Twilight Prophet.
I just thought the concept of vampire conquistadors simply brilliant. But if I had to pick only one, it would have to be Stasis.
I really put my heart into that piece, one that encompasses the themes and emotions I'm most interested in as an artist: childhood, innocence, decay, time, rebirth, eerie beauty, melancholy.
Donny: Your work on Stasis really shines through, it's an incredible piece. Are there any other works that were extraordinarily challenging or particularly fun, etc.?
Seb: It's always a challenge (though a welcomed one!) when I receive an art description from an Art Director that basically says: "here's one idea, but we're open to your suggestions." That's what happened for Vengeful Rebirth:
Challenging at the conceptual level, but then super fun at the execution stage, especially when the piece calls for a certain abstraction. It's an opportunity to try new things with art.
[For those that might not have seen it: Kelly Digges, former Senior Creative Designer at Wizards, wrote the art description for this piece, and went into some details via a Twitter thread about how the process unfolded. In short, his art description was "Here's the big idea, do your thing," and when Art Director Cynthia Sheppard sent it to Seb, we got this in incredible piece of art. Now back to the interview!]
Donny: You illustrated Assassin's Trophy for Guilds of Ravnica, and the card looks like it will see considerable play for some time. Is there anything special you can tell us about this work?
Seb: Dawn Murin was my art director for that one, and I'm happy she gave it to me because I enjoyed painting the forests growing on turned-to-stone Isperia. The card itself being a good one was a nice surprise.
Donny: You also got your first Planeswalker this year—was there anything unique or different about illustrating one of Magic's premier character types?
Seb: Probably feeling more pressure than usual to do a good job, especially when it's up to you to come up with the design! I gave Aminatou her mudcloth-inspired dress, the net-like headpiece, her driftwood staff/stick:
The first sketch I submitted to AD Mark Winters was too dark and creepy and made her look too wild and primitive. Thanks to Mark's notes, the direction steered towards the final depiction of Aminatou we have now:
I'm really proud of that piece, and grateful to have had the opportunity to bring this character to life in Magic lore.
[To learn more about Aminatou, you can check out Alison Luhrs' article all about her.]
Donny: And your work we've seen so far for Ravnica Allegiance has just been out of this world. What was it like illustrating such distinct Guilds?
Seb: Always a blast illustrating for Ravnica. I personally like illustrating for Orzhov the best. I respond to the visual/symbolic contrasts Orzhov seems to offer. I always loved playing black/white decks too as a kid, so maybe that's why.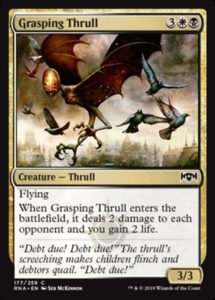 Donny: Speaking of Ozhov, Mike Linnemann just previewed your latest for Ravnica, Bankrupt in Blood, last week. Can you tell me more about this piece?
Seb: This was commissioned by Art Director Dawn Murin, and here was the art description:
Setting: RAVNICA
Guild: Orzhov
Color: Black spell
Location: Unimportant/abstract

Intention: This spell sacrifices two creatures so its caster can gain knowledge. We'd like to show this as an abstract take on a lethal Orzhov ritual.

Action: Two humans, one male and one female, sit back to back. Their mouths are open, screaming. The tops of their heads are dissolving into a mixture of coins and blood mist, that drifts upwards and out of frame from the dissolving heads. The coins and blood mist coming from the two heads should mix.

Focus: The magical transformation of their bodies into coins.

Mood: Unsettling, powerless

Notes: Although this calls for blood and for bodies coming apart, we don't want gore or body horror here—we're looking for a sense of being literally transformed.
I proposed to add an Orzhov skeleton priest to collect the coins . . . felt like it sold the idea of "the caster gaining knowledge."
Here are the sketches I sent in:
Donny: This seems like another great example of using the art description as a framework that is open to artist's interpretation as opposed to instructions, just like in the case of Vengeful Rebirth. The Orzhov Priest you added really completes this work.
Is there anything you still want to illustrate for Magic? For example, basic lands, another Planeswalker, or even something like being on a concept push?
Seb: I actually did my first concept push last October, which was a truly rewarding experience. To peek behind the curtain and have the privilege to work alongside the industry's top creatives . . . can't beat that!
As for dream commissions, absolutely a set of basic lands. And my hope is that one day, we'll return to Lorwyn, my favourite plane.
Donny: My readers know I really like foil basic lands, and Seb McKinnon Lorwyn/ Shadowmoor Basic Lands sound incredible. Here's hoping that dream comes to fruition one day!
You also just had a wildly successful Kickstarter raising over $395,648 CAD ($294,156 USD): for those that may have missed it, can you tell us more about it, and if there are plans for another?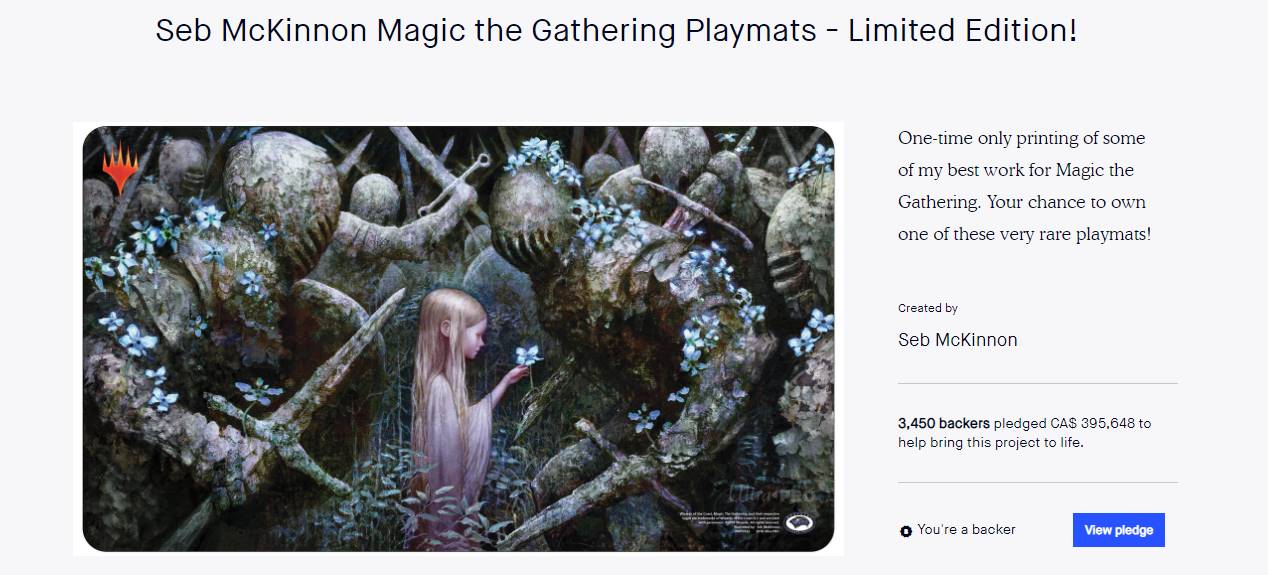 Seb: I decided to launch a campaign in order to raise funds for my directorial debut—a fantasy film called The Stolen Child, taking place in the world of KIN Fables, an original IP I've been developing for over five years. I was not having any luck with finding the budget as a first time filmmaker, so as a last resort turned to crowdfunding. I offered limited edition playmats and prints, featuring unique MtG extended artwork, chosen by popular vote by those who pledged.
I could not believe the overwhelmingly positive response from the MtG community, and I find it difficult to put into words how thankful I am for their support. Before the Kickstarter, I was lost and felt stuck in mud; but thanks to the backers, the film has new life and can finally start moving forward. While I don't have enough money to shoot the entire film yet, the ball is rolling. The film is in pre-production and I'm aiming to shoot a few scenes by summer 2019. All thanks to the Magic community. The love for Magic art is funding a fantasy film—how cool is that?
Donny: It's really, really cool, and I know I speak for myself and many others when I say we were happy to be a part of it.
Seb: And I'll think about a new Kickstarter campaign once all backers have received their rewards ☺
Donny: You mentioned your feature film The Stolen Child from your KIN Fables world. Can you tell us more about what it is and how someone can support the project?
Seb: KIN Fables is a fairytale world that began with a trilogy of short films: KIN, SALVAGE and REQUIEM. The story was told through visuals and music alone—no dialogue. A poetic cinematic journey that is open to the viewer's interpretation. With The Stolen Child, however, I'm delving deeper—expanding the themes and developing the characters seen in the short films. It's a fantasy epic, a coming of age story about the loss of innocence and the passage from childhood into adulthood. I'm interested in questions about the duality of one's soul and physical existence, and about the pursuit of unreachable ideals. What does it mean to be good? Can innocence ever be protected? Must it eventually end? How can one find redemption? Peace?
I invite your readers to take a look at the official website here.
And this was shot last year, as a teaser:
As for support, I'm planning a new KIN Fables crowdfunding campaign soon, to help raise the rest of the funds I need to complete the budget, so look out for that if interested in supporting!
Donny: It's wonderful to see this project well underway; I remember watching the video last year and being simply awestruck. Readers: take 12 minutes and watch. You will not be disappointed.
And so we want to know—are we going to be seeing more Magic illustrations from you down the road?
Seb: Yes of course! Some of my best work will come out in 2019.
Donny: Your best is yet to come?! Well ok then! And any plans for traditional pieces for Magic in the future?
Seb: I hope so, if I can find the time.
Donny: Where can people find you on the web if they want to talk, buy stuff, or see what you're working on?
Seb: Find me online below:
Donny: From The Mirror Gallery and Hipsters of the Coast, thank you so much Seb. We look forward to seeing your upcoming Magic work and the further unfolding of your KIN Fables world.
Wrapping Up
I hope you all enjoyed going behind the scenes with one of Magic's fan favorite artists. Please stay tuned to his social media if you're interested in his upcoming Magic work, future Kickstarter and crowdfunding initiatives, and ultimately the release of his feature film The Stolen Child. Seb is both a master and a pioneer in his field, and I'm very excited to see his artistic journey continue to evolve over the coming years.
Thanks for stopping by The Mirror Gallery, and we'll see you next time here on Hipsters of the Coast.
Donny Caltrider has been playing Magic since 2002 and collecting original Magic art since 2017. He has an M.A. in Museum Studies from Johns Hopkins University and enjoys telling stories about art, objects, and the intersection of fantasy with real-life. You can find him on Twitter talking about #mtgart, museums, and other #vorthos related goodness. Follow along and continue the conversation!