On Tuesday, January 7th 2019, the original painting and sketch for Raoul Vitale's Nyx Lotus from Theros Beyond Death was sold on the MTG Art Market for prices realized of $22,500 and $5,555 respectively. These incredible sums continue the tradition of Lotus-related original artwork commanding a significant premium, which owes of course to the primacy of Black Lotus in Magic's history.
Nyx Lotus by Raoul Vitale is a work of oil on Masonite measuring 9 inches by 12.5 inches, the standard size used by the artist for almost all his Magic illustrations regardless of subject. It was commissioned for Magic's newest set, Theros Beyond Death, and is the first lotus-related artwork to be included on the plane of Theros. The sketch of graphite on paper is a bit smaller measuring 6.5 inches by 8.5 inches, and is slightly different as it was completed prior to the Art Director and artist making final changes.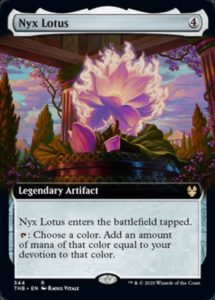 The auction was run on the MTG Art Market by the artist's agent Mark Aronowitz, who began the seven day auction with an opening bid ask of $2,500 for the painting and $600 for the sketch. Bids began to bloom immediately. About eight minutes into the auction, as if someone was yelling from the back of the room, came a $15,000 bid on the painting and $2,000 bid on the sketch.
That would very often be enough to stall an auction, but not for this Lotus artwork. The last new Magic illustration that involved Lotuses was John Avon's Lotus Field, and it sold for $40,000. Multi-thousand-dollar increases came for the painting up and into the final half hour, and the $22,500 bid placed fifteen minutes before close would win the day. The sketch involved a multi-bidder battle between two public and at least one private bidder, what the auctioneer called "a battle of titans" and would go into a single overtime where it finished at $5,555.
It's worth mentioning this is not Raoul's first rodeo with important Magic illustrations. He's illustrated a cycle of Moxen, two Dual Lands, and Ancestral Recall for the Legacy and Vintage Championships. And now we've seen at least a version of what his Lotus could be.
This slideshow requires JavaScript.
There is no question: he is a master of his craft.