On Sunday, December 29, 2019, the original painting for Steven Belledin's The Akroan War saga began the original art sales for Theros Beyond Death, selling for an incredible $15,000.
The Akroan War by Steven Belledin is a traditional work of oil and acrylic on gessoed hardboard measuring 11 inches wide by 18 inches tall, appropriate for the Saga card format. It was the first original painting to be sold on the secondary market from Theros Beyond Death.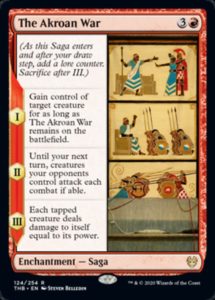 The nine-day auction was run on the MTG Art Market with Vorthos Mike acting as agent for the artist. The opening bid of $1,500 was met immediately, and by the end of the first day had climbed to $4,500. At the end of the next week, two new challengers entered the fray and ignited an Akroan Bidding War of their own. A private collector bidding via email versus a public collector bidding in the comments exchanged paddle raises until the dust settled at $15,000 on the final day. The collector bidding privately via email was the eventual winner.
The Akroan War follows in the footsteps of Belledin's last Saga illustration, The First Eruption for 2017's Dominaria. Belledin created a full tapestry in oil paint for that commission, and that masterwork no doubt prompted this subsequent commission and similar aesthetic to tell this story of the Akroan War on Theros.
This slideshow requires JavaScript.
Look through the eight zoom shots above. It's a breathtaking work of art that is a perfect encapsulation of the term "imaginative realism," firmly in fantasy yet inspired by and referential to the world in which we live. His reference work on this painting is something I plan to cover extensively in a future article, and he also has a full Muddy Colors blog post in the works as well.
This is a masterpiece, and nothing less.
About the Artist
Steven Belledin has illustrated more than 150 cards for Magic over his thirteen-year career with the game since his 2006 debut during Coldsnap. Whether it is a planeswalker, basic land cycle, Masterpiece sword, staple playable card, or just a regular commission; Belledin puts 110% into his illustrations, and it shows. He is quietly one of the very best in the game, and his work is something we all should be looking at and talking about more.