Good morning all, and thanks for joining us in the Mirror Gallery here on Hipsters of the Coast for Volume II of the Throne of Eldraine Grand Art Tour! Last time around I took a look at some of my favorite new land arts, both basic and non-basic, from the set; today we'll be doing something similar. In this, the second installment, we're moving onto one of the most exciting parts of Eldraine, the storybook alternate arts found within the brand new Showcase frame:
These frames and the exceptionally unique artwork found within them are a first for Magic. The artistic direction has brought back veteran illustrators to flex a different creative muscle, as well as creating a space for artists brand new to the game to introduce their particular styles to the world. I mean it when I say I could have honestly written something about each and every one of these storybook illustrations; they are all that good, and together as a set, are monumentally incredible. The following near dozen artworks are those I most like. As is custom with my Grand Art Tours are exemplars in narrative storytelling, and create an extra-special connection between artist and viewer.
With that, it's time to begin our story. What follows, in no particular order, are my favorite works from the Throne of Eldraine Storybook Alternate Art & Showcase Frames:
Throne of Eldraine Key Art by Seb McKinnon
The first work is not a card at all. This illustration was the true catalyst of excitement for the set, following its reveal at SDCC over the summer. It embodies the entirety of what Throne of Eldraine is and sought to be from the very beginning.
I know it's not a card, but this painting set the stage for the entire look-and-feel storybook setting of this sub-set, so I thought it more than merited inclusion, especially at the beginning of our tour. Seb posted an incredible process thread of the evolution of this artwork that you really should check out. It's a masterwork that accomplishes everything a key art should, and is a large part of what made Eldraine astonishing from Day 1.
Embereth Shieldbreaker by Jeremy Wilson
This painting is one of my favorites across the entirety of Eldraine illustration, and really is like nothing Magic has seen before. Jeremy Wilson has illustrated two cards previously, a Kor Token and Unquenchable Thirst, and while you can tell they are by his hand after looking closer, Embereth Shieldbreaker is unmistakably Wilson from a mile away.
There are several artists with whom Art Director Cynthia Sheppard must've used the old Mark Winters adage: "Here's some key things, now give me the most you thing you can do." From that comes pieces like this one. The red and white of the painting combined with the red and black of the frame reinforce the sense of chaos captured in the illustration, and it works incredibly well. Wilson's signature use of negative space and stark color has finally come to Magic, and I couldn't be happier to see this on a card.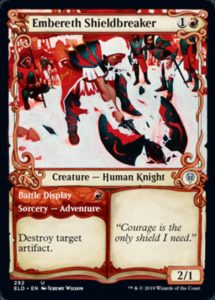 Murderous Rider & Hypnotic Sprite by Jenn Ravenna
Speaking of artists getting license to really lean into things, Jenn Ravenna has brought her exceptional ink work back to Magic as well! Inspired by Yoshitaka Amano but in a style uniquely her own, Jenn has again shown us her mastery of the medium, creating contrasting works of darkness and light, of happiness and death. These artworks are entirely different from everything else in the set and yet fit perfectly within the style of Throne of Eldraine fairytale motifs. This is a testament to the artist's ability to take something very specific, make it entirely their own, while seamlessly integrating it into the larger catalog.
Murderous Rider is a triumph of composition and detail, and her depiction of Hypnotic Sprite will be a long-time faerie favorite for years to come.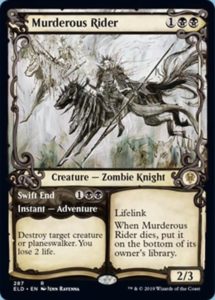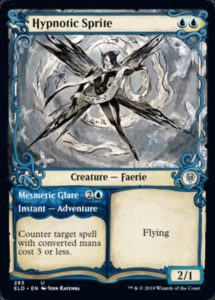 Tuinvale Treefolk by James Arnold
If this artwork looks like it fits perfectly within this storybook frame, that's because it should—its creator is the man behind this brand new adventure frame. James Arnold is a Senior Graphic Designer for Magic R&D at Wizards of the Coast, largely responsible for the different frames and set symbols you see on the cards. This is his second illustration for Magic, after 2017's The Mirari Conjecture, which also debuted in the then new Saga frame. Tuinvale Treefolk perfectly combines line work and digital application; the pastel border palette creates a beautiful blend of frame and fable.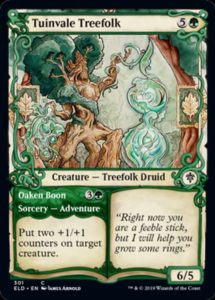 Brazen Borrower by Iris Compiet
This is Iris Compiet's very first Magic card! A master watercolorist, seen especially in her Faeries of the Faultlines personal project, she has brought those beautiful brushstrokes to the Multiverse in one heck of a debut. The mischievous nature of this sticky-fingered sprite is evident, and Compiet has packed an unreal amount of character into this little guy, visible even at card size. I'm so glad to see her working on Magic, and this is only the beginning for her in terms of card illustration. Keep on the lookout folks. I see big things ahead.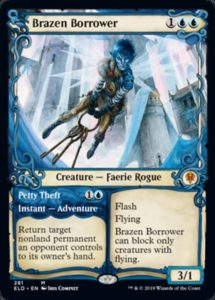 Curious Pair, Rimrock Knight, and Silverflame Squire by Josu Hernaiz
Josu Hernaiz did more of these storybook illustrations than any other artist, the only person working within this Showcase frame to receive three commissions. They are entirely different from what we've seen from him before; each work is a moment frozen in time as if you've just turned the page. The artwork is uniquely framed by relevant elements appearing as if torn straight out of a 19th Century children's book.
There's so much to see in each of these paintings, so take a few minutes to look closer: start at the outside edge, work your way around, and see every bit of narrative Josu has managed to include in these fabulous fantasies.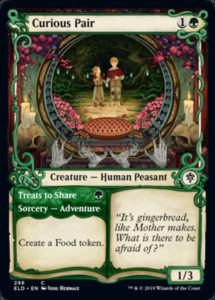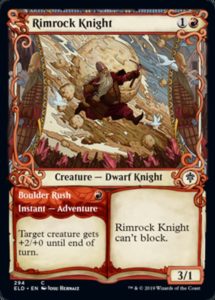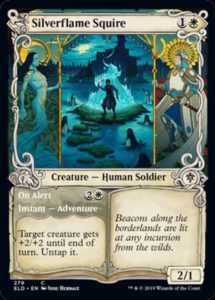 Flaxen Intruder & Oakhame Ranger by Omar Rayyan
Omar Rayyan has returned to Magic, and it's wonderful to see his work back on a Magic card. Rayyan was instrumental in concepting the worlds of Lorwyn and Shadowmoor, and all of his previous Magic work existed within those blocks, save for a few Planechase cards illustrating locations from those worlds. His Flaxen Intruder, showing an unusually armed and dangerous Goldilocks, is breathtakingly good.
I hope to be able to see his other card, Oakhame Ranger on view at IlluxCon next week. If you zoom in, that's the Curious Pair he's saved from the Gingerbread Cabin of the Tempting Witch! For this and more card by card fairytale breakdowns, see Jay Annelli's Throne of Eldraine Flavor Gems article.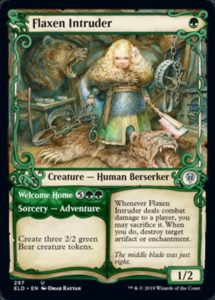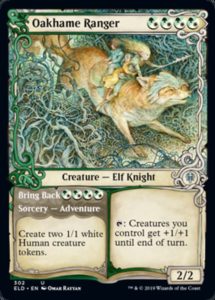 Giant Killer and Smitten Swordmaster by Shawn Wood
Shawn Wood is a concept artist for Wizards of the Coast and Dungeons and Dragons, and these two Showcase cards mark his very first printed illustrations for Magic. What I love about these two is this: the longer you look, the more things begin to materialize. Giant Killer zooms in on Jack: we see his smirk, then the chopped beanstalk, which leads us around to a giant hand, and then a giant grimaced face! The same is true of Smitten Swordmaster: moving up and to the right reveals Castle Locthwain, and following the sword being cleaned the other way shows us the reason for its cleaning.
These are quietly rendered, as if a whisper, and yet tell a big, frightening story. Welcome Shawn, and what a way to start for Magic!
Lovestruck Beast by Tyler Walpole
Here we see a different side of an artist who has made his name painting fire and dragons with a magnificent painting he's added to Throne of Eldraine. The fairytale beast is framed perfectly within his castle of stone and vine and no detail is spared, from the carven wolves that surround the opening to the beast in relief that hangs overhead. I love seeing artists show us an entirely different side to their works, and this painting speaks to Walpole's wide breadth of skills as an illustrator. I sure hope we get to see more Walpole Watercolors in the future.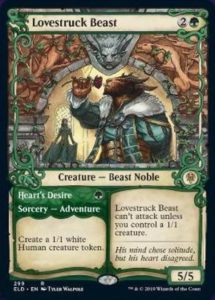 Ardenvale Tactician by Aaron Miller
Reminiscent of a medieval tapestry in both size and style, we get to see a rare piece of line work from the artist, and he's knocked it clear over the fence. On his ArtStation Miller notes Arthur Rackham as a major inspiration behind this work, and in doing some research that really rings true. Take some time to explore Rackham's work, and you'll see that Miller's larger than life execution is both a fitting homage to his hero and at the same time happily at home within this contemporary set.
And no, those dimensions are not a typo—I sure hope this is hanging in his booth at IlluxCon next week so I can see it in real life.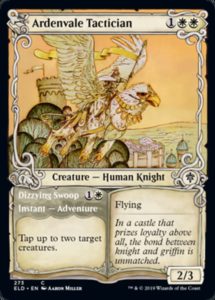 Fae of Wishes & Rosethorn Acolyte by Wylie Beckert
Wylie Beckert is another artist brand new to Magic, and these two Showcase cards, her very first commissions, could not come in a more fitting set. Longtime art fans of the game have been waiting for her to make her debut, and she has finally brought her personal style to Magic to finally now be seen by millions.
She has certain softness to her renderings that suspend them somewhere between real-life and make-believe, and her color palette blends with the unique frame completely and harmoniously to make art and card one. I can't wait to see her next cards coming out; she is another brilliant addition to Magic.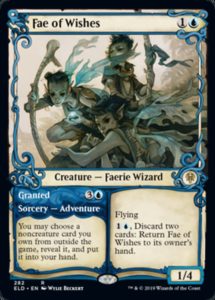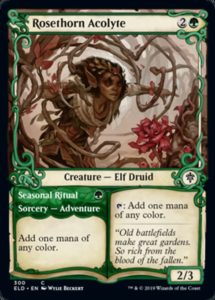 Wrapping Up
We've made it to the end of Volume II of our Throne of Eldraine Grand Art Tour. These storybook cards are some of the most unique illustrations we've seen in some time, Masterpieces in their own right and so incredibly fitting to the set and story that is Eldraine. Art Director Cynthia Sheppard did a fabulous job bringing in all matter of artists, from the seasoned veterans in Omar Rayyan to the brand new in Iris Compiet to the triumphant return of Jeremy Wilson; each artist brought their absolute everything and it really, really shows.
I'm sure I missed one of these alternate arts that had particular resonance with you, so please give me a yell on Twitter to tell me about your favorite and why you love it so much! Like I said before, I could have written something special about every single one of these; they are my favorite thing Magic has done in quite some time.
A final reminder that Whimsy, Wonder, & War: A Magic Art Show opens in EXACTLY ONE WEEK (holy crap) at IX 12. Peruse my preview article, and keep your eyes open online for the 4x4s for a Cause charity auction. Again, this will be an event to remember, and I'd love for you to be a part of it.
I'll be back in two more weeks with the final article of this three volume set. Until then, may you open and enjoy all the fabulous artwork Throne of Eldraine has to offer.
Donny Caltrider has been playing Magic since 2002 and collecting original Magic art since 2017. He has an M.A. in Museum Studies from Johns Hopkins University and enjoys telling stories about art, objects, and the intersection of fantasy with real-life. You can find him on Twitter talking about #mtgart, museums, and other #vorthos related goodness. Follow along and continue the conversation!