On Friday August 16th, 2019, the set of four preliminary ink sketches related to The Eldest Reborn by Jenn Ravenna were sold via Buy It Now option on the MTG Art Market. The grouping, which also included a custom ink commission and purchasing interest in future works for one year, sold for $3000.
These four studies were the building block Ravenna used to concept the Dominaria saga, all rendered in her Moleskine sketchbook and only removed for the purposes of this sale. Each was unique in its own way, and she borrowed elements from all four sketches along the path to creating the final work.
This slideshow requires JavaScript.
This slideshow requires JavaScript.
This slideshow requires JavaScript.
This slideshow requires JavaScript.
From the traditional sketches came these digital compilations: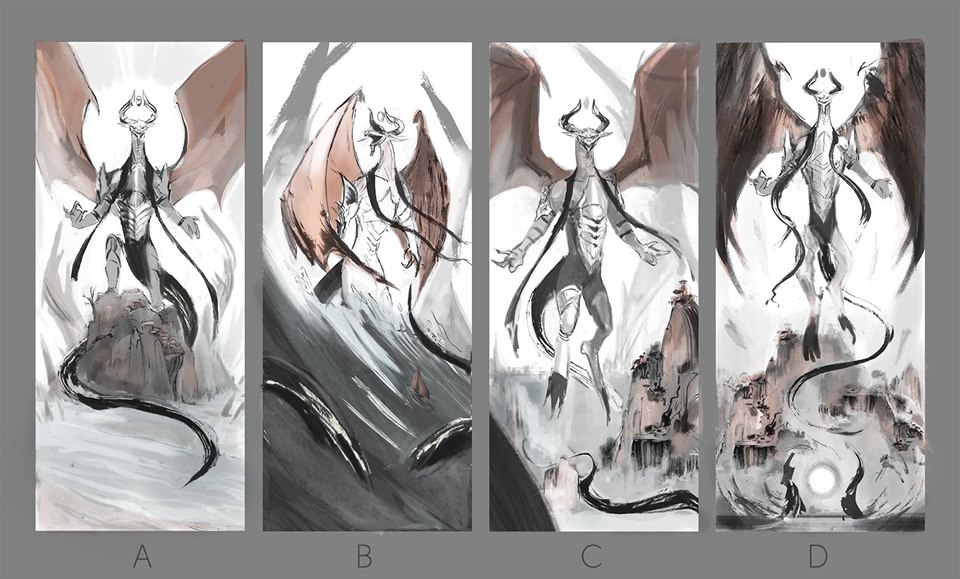 From which Jenn created the traditional original ink work:
That was then furthered digitally to appear as it does on the card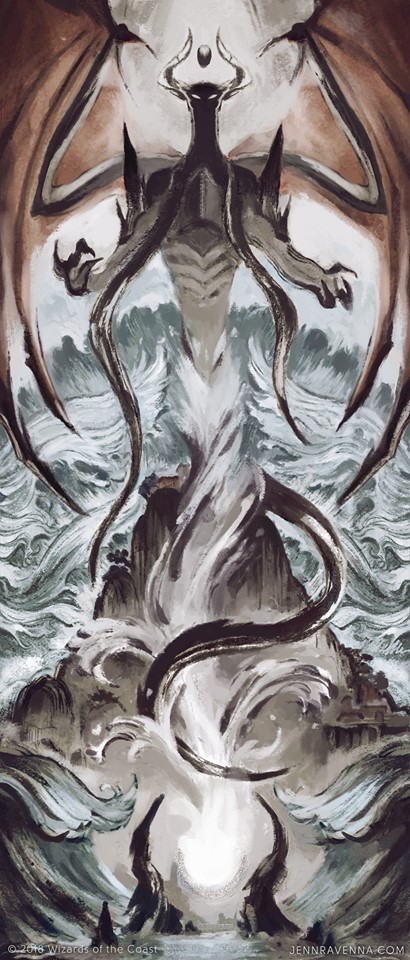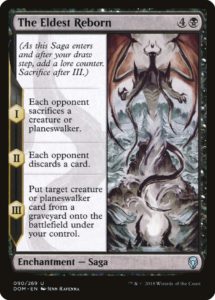 The auction was facilitated by Vorthos Mike on the MTG Art Market, and there were two modes of sale for this group of work. Each of the four sketches began at $1 with no reserve, but there was also a Buy It Now option for $3000 active until the second to last day of the auction. For that amount, the buyer would win all four sketches, as well as a custom ink commission from the artist to be created at a later date. The buyer would also be granted the first shot at her upcoming Magic work for one year from the date of auction; it would not be discounted, but they would have the first opportunity for purchase.
Bids came in immediately, as well as folks looking to put together a "team" to purchase the lot Buy It Now, splitting up the sketches and other opportunities amongst themselves. It appeared that several groups got close, missing but one or two interested parties (my group included); but on Friday morning notification came in that the Buy It Now had been utilized, and the auctions were all concluded, regardless of current bid price.
This sale was a resounding success for the artist, and testament to her incredible work on this card.
Jenn Ravenna has only illustrated eight cards for Magic thus far, but among them are this dragon-centric saga, two Ravnica guild basic lands, and two Ravnica Allegiance Shocklands, to name a few. She is an incredible illustrator and photographer, and is currently studying cinematography to further expand her already vast skillset.
For more information and insight into her artistic career, check out the Mirror Gallery's Behind the Brush interview from earlier this year, and keep an eye at the bottom of the card. I expect we'll see even bigger things from her in the future.