Hi everyone, and welcome back to the Mirror Gallery for my 50th article here on Hipsters of the Coast! Today we've got a special one: another exciting and exclusive Behind the Brush interview with one of Magic's newest artists, the multi-talented Jenn Ravenna. Jenn has done six cards for Magic, with her debut card, The Eldest Reborn, coming out in Dominaria to well-deserved fanfare. Then came Ever-Watching Threshold for Commander, and she's followed that up with an exceptional suite of basic and "shock" lands for Ravnica Allegiance. Let's head inside to meet her and say hello:
Hi there Jenn, and welcome to the Mirror Gallery here on Hipsters of the Coast. Just in case some of my readers aren't familiar: Who are you, where are you from, and what do you do?
My name is Jenn Ravenna, and I am an illustrator and concept artist based in Seattle. I've done work in games, publishing, galleries, and recently, comics. You can learn a bit more about me here.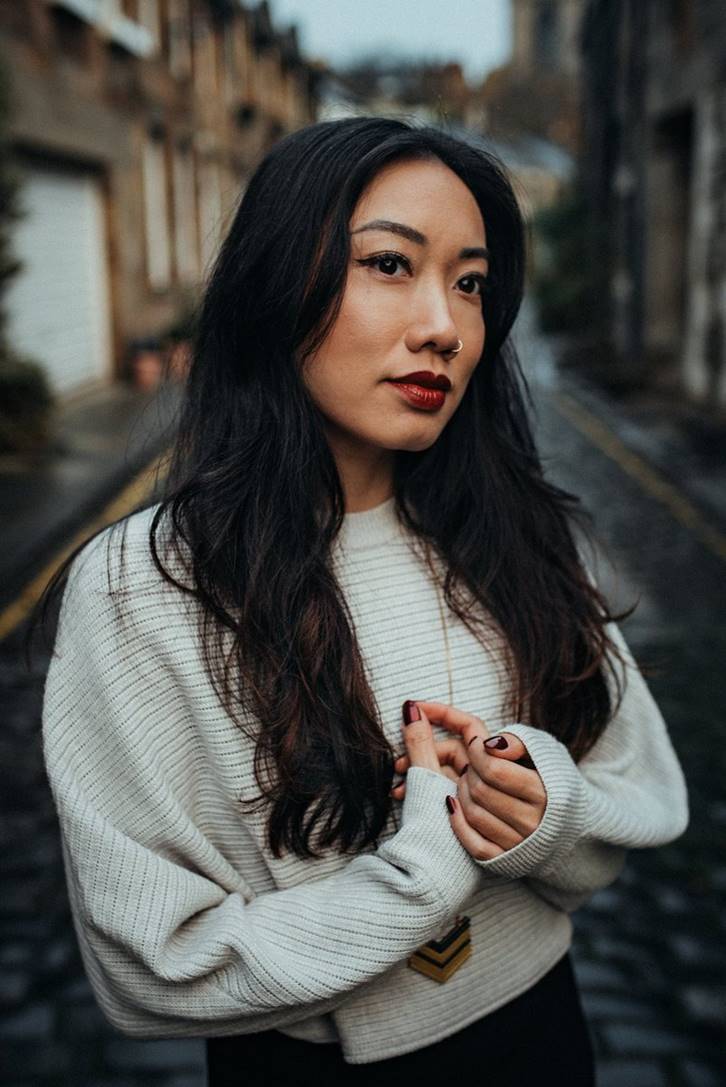 You are one of Magic's newest artists—how did you get started?
It's kind of a long story. I didn't get started in this field until a bit later in life. My parents were very stereotypically first generation Asian and wanted me to be a doctor or a lawyer. So I spent much of my college experience trying to balance their happiness and mine. I felt like I owed a lot to them, and because I was the first child in the extended family to attend a university. They would often tell me about how poor they were in Vietnam and during their early life in the U.S. and the struggle of being a non-English speaking immigrant. So I understand they only had the best intentions. When I was young we couldn't afford to keep the heating on, so I remember what that was like and didn't want to worry them.
I eventually graduated from the University of Washington studying political science and humanitarian rights. I worked for the Seattle City Attorney's office and at a personal injury firm. At the same time I had a part time job as a web production assistant at a book store doing all sorts of creative activities, photography, graphic design, etc. So while I was dying at these dry legal jobs, I was having a good time at my creative job. Eventually decided to go back to school for digital art and animation. I attended for a couple years and eventually got an internship at Harebrained Schemes. I decided to drop out of art school to save money and focus on the job. They eventually hired me full time as a production/concept artist and that's how I got started!
Thank you so much for sharing that, Jenn. It's certainly inspiring to watch someone follow their dreams.
I know you've worked on a lot of cool and interesting projects, and are also an avid photographer; have any of those past or present endeavors impacted or influenced your Magic pieces?
I definitely feel like photography has helped with my Magic work! It's really helped me improve my composition: like using a prime lens as opposed to a zoom lens really forces you to think about a composition before you take a shot. It also helps me pay more attention to lighting and the subtle value shifts in an environment, which I then try to apply to my paintings. And because I have my camera with me all the time and have been to different places and experienced different lighting situations, I can stop and take a reference photo to save for later, or just appreciate how a certain type of building/color can change at different times of the day. Believable and dramatic lighting gives an environment so much character on its own, and can tell a story without figures.
Your first Magic illustration was to depict the one and only Nicol Bolas in The Eldest Reborn, and it was one of my absolute favorites from Dominaria. Can you tell the readers more about this work?
My prompt was to depict Bolas in reference to him emerging from the Talon Gates, and to recreate this image to mimic Japanese sumi-e or woodblock paintings. It was definitely a change to get right and took some practice with my brushpen.
The composition was also challenging as it was so vertical, and I was racking my brain on what kind of story I could tell in this format that I had never worked in before. I was using three different brushpens at the time with varying dryness to complete the painting. It was so much fun to do my first card in ink, and was definitely one of my favorite assignments.
Your talent and dedication to your craft really shine through on this piece, and I think Art Director Mark Winters found the perfect fit in having you illustrate this signature scene.
Let's jump forward to Ravnica: I'm just curious, but have you taken the Guild quiz? Which Guild do you align with?
The Simic Combine!
Well that certainly seems fitting, and takes us right to the next question! Illustrating lands for Magic is a big deal, and you have a total of four lands in Ravnica Allegiance: an 'Orzhov' Plains, 'Orzhov' Swamp, Godless Shrine, and Breeding Pool. Can you share some about these commissions: challenges and triumphs, inspirations, or things we can't see at card size?
Orzhov Plains & Swamp:
For the Plains and Swamp I looked to Richard Wright as inspiration. He is such a master at environments. These were my first basic lands, and when I realized they were lands based on architecture I knew it was going to be a challenge. Architecture is so hard! And I never thought to depict architecture specifically as visual categories such as plains/swamps/islands/mountains/etc. so that was another hard layer. To problem solve this I thought about how to push the atmosphere and elevation levels to communicate these categories. I'm happy with the way they turned out!
Godless Shrine
There are tiny people in the illustration! I heard some people missed it at the card size, but the statue and whole environment itself is actually ginormous.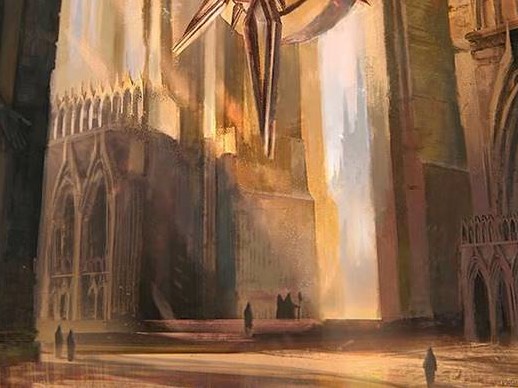 Look at those tiny people!
Breeding Pool
The Simic environments are definitely weird in general so when I got this assignment I was like "Oh gosh this is going to be hard, how the heck can I make this look believable, true to the guild aesthetics, and appealing?!" I'm so glad it's been well received so far because it was definitely a hard one.
Well you absolutely knocked them all out of the park! Are there any plans for special prints or playmats of these new pieces for Ravnica? Your Limited Edition Eldest Reborn prints were quite popular!
There are prints for all the Ravnica pieces. There are no limited edition prints this time, but there are archival options with the deckled edge!
I also want to talk about your artist proofs for a minute, because they're just phenomenal. Where are your inspirations drawn from, and will you keep doing them in this style and medium as new cards are released?
I guess the closest inspirations I have are the tarot cards from Dragon Age inquisition. I loved that game, and I have four play-throughs on it. I will absolutely keep doing my APs in this black/red/gold ink style; I don't plan on doing them differently anytime soon, other than maybe some graphite in the future.
That's fantastic news. I absolutely love my two, and still for sure plan to get one for each of your cards as new ones are released. They're just so great, and I can't wait to see what you do on the back of your lands!
**Authors Note: Artist Proofs are given to each artist by Wizards, and are typically comprised of 50 non-foil and 30 foil versions of the card they illustrated. Each has a blank white back for sketching or painting, and can be sold or used by the artist to promote both their work and the game**
So we have to know: are we going to be seeing more Magic illustrations from you down the road?
Yes!
And of course, where can people find you on the web if they want to talk, buy stuff, or see what you're up to?
To talk (if I am able to keep up with responding)
To buy stuff
To follow my art on Instagram
To follow my art on Facebook
To follow my photography
Jenn, thank you so much for taking the time to talk about your work and shed some light on your inspirations and process. I wish you nothing but the utmost success in the future, and hope you come back again to visit the Mirror Gallery on Hipsters of the Coast.
Wrapping Up
I hope everyone enjoyed getting to know Jenn a bit better and seeing her incredible work up close. It's especially no easy task to do lands for Magic. They're the most played cards in all the game, and in the cases of Godless Shrine and Breeding Pool especially, they will see top tier play for years and years to come. I'm very excited to see what else Jenn has coming for Magic, she has come to the game and made her hand known, and I know she will continue to crush her commissions. Make sure to follow those social media links above to keep up with her work, and swing by her store to grab some prints or an Artist Proof! Her store is only open through *checks calendar* tomorrow so do not wait! You will not be disappointed.
You've all heard me say it before, but we are so very lucky to have artists like Jenn illustrating for Magic; her vision and flair have already shaped the game and will continue to influence its look and feel for years to come. Her work is yet another spark that has ignited this Golden Age of Magic art we see today.
Looking forward into March, we'll take a brief respite from Ravnica-related content as we look at some Magic art that's made it into Spectrum, the annual best of the best art volume for the genre, as well as having a past Magic artist walk us through exactly what goes into concepting and creating a fantastic beast. There are a lot of exciting things coming up in the next few months, so make sure you stay tuned: same Mirror Gallery time every other Thursday and same Mirror Gallery place here on Hipsters of the Coast.
Remember, to see original #mtgart and other #vorthos related things, follow me on Twitter. Feel free to ask questions or retweet to continue the conversation. Thanks and see you next time!
Donny Caltrider has been playing Magic since 2002 and collecting original Magic art since 2017. He has an M.A. in Museum Studies from Johns Hopkins University and enjoys telling stories about art, objects, and the intersection of fantasy with real-life. You can find him on Twitter talking about #mtgart, museums, and other #vorthos related goodness. Follow along and continue the conversation!