On February 22, 2019, the original painting for Arcades Sabboth by Ed Beard, Jr., from Magic's 1994 Legends expansion, sold at Heritage Auctions for $16,800, including buyer's premium.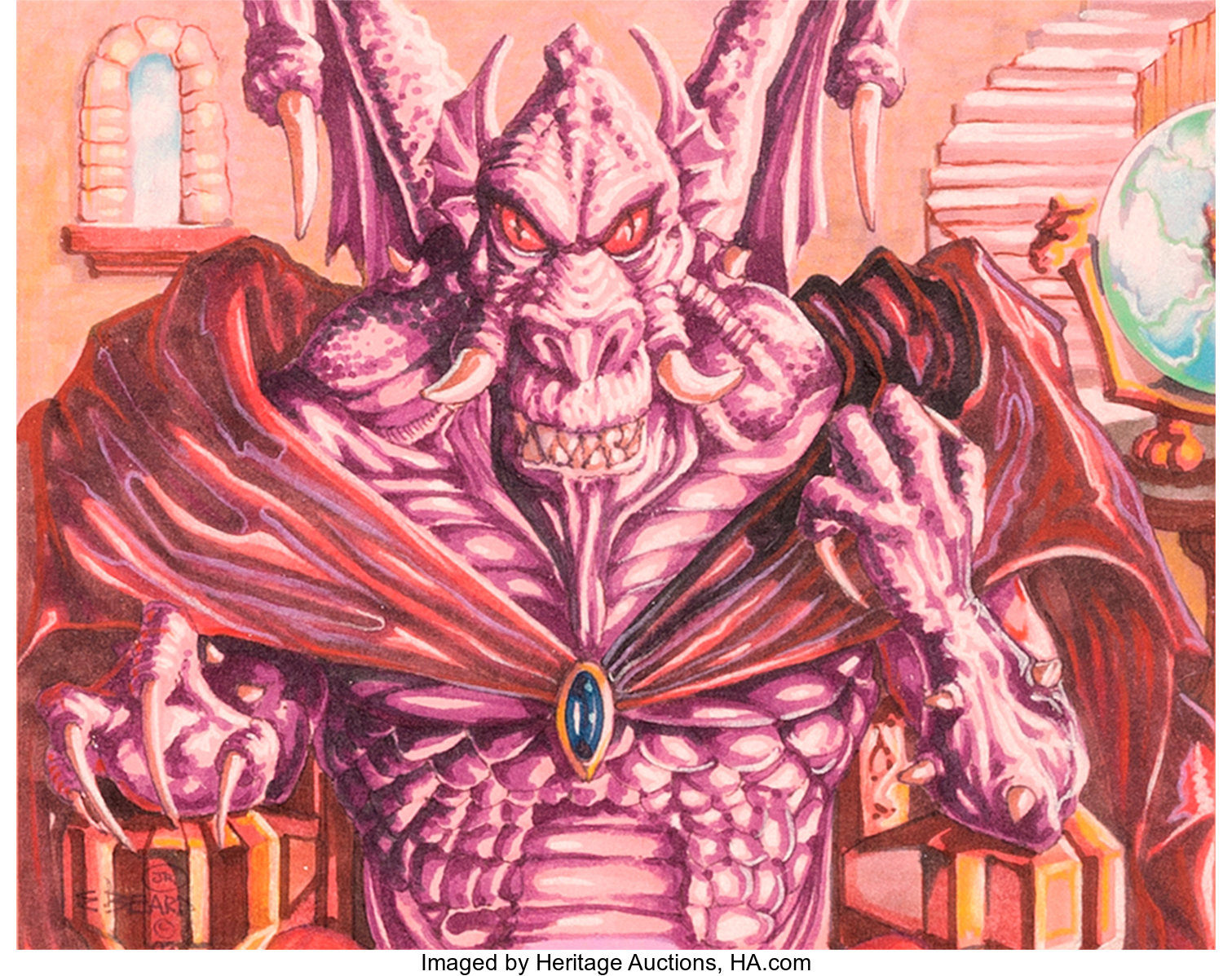 The Facts
Arcades Sabboth (1994) is a work of ink, color marker, and color pencil measuring 7″ x 5.5″ and has been framed to a size of 17.5" x 21.5." It is framed and matted with the card, and signed on the matte by Beard as was tradition when selling his original art. It was sold by Heritage Auctions, who accepted proxy bids for approximately thirty days before continuing the sale live during their February Comics & Comic Art Sale, Signature Floor Session 3 on February 22, 2019. It realized a final price of $16,800—a $14,000 hammer price plus 20% buyer's premium.
The Hammer
There is quite the tale behind this painting. Story time:
Discovery—March 2018
The original art for Arcades Sabboth first turned up in March of 2018, when the original owner posted two pieces of Ed Beard, Jr. original Magic art on the MTG Art Market. Now it's certainly not every day that original art for an Elder Dragon Legend turns up, so as one can imagine it created quite the stir within the community. Estimates of five figure sale prices were tossed around, and after the initial flurry of  discussion the piece went quiet for a short time.
MTG Art Market Auction—June 2018
In June of 2018, albeit after some technical difficulties, the auction began for the original painting on the MTG Art Market, and was run by the current owner of the work. The opening bid was $10,000, and there was an undisclosed reserve. Bids rolled in, and at $15K bidders began to ask about the reserve. All that was said is that it was not met. Another round of bidding ensued, and at $20K, bidders asked again. It still was not met. Bidding pushed again in search of the reserve, and at $26K it was still not at the owner's desired threshold. Frustration from the active bidders grew, wanting to know whether or not their considerable five-figure bids would be successful or futile.
At this point the owner disclosed the reserve was set at $30,000, and a bid in that amount was placed shortly after, meeting the reserve. That bid would stand for the final few days and become the final selling price of this auction.
The Bidding Continues—July 2018
About a month later, a post was made on the MTG Art Market that the transaction for the winning bid could not be completed. The seller and painting were based in the United States, and the high bidder and potential new owner lived in Argentina. The post from the original owner cited that the Central Bank of the buyer's home country had instituted transfer restrictions that would not allow the transaction to be completed successfully. As a result, the sale was mutually cancelled by both buyer and seller.
Normally in these cases, the piece would be offered to the under-bidder, the person who had bid the next highest amount. But because the bid pushed from $26K, an unsatisfactory amount per the reserve, right to the $30K reserve, there was no direct under-bidder and the painting was not re-offered to any of the initial bidders, at least not publicly.
eBay Auction—October 2018
Arcades Sabboth then made its way to eBay in October of 2018, being listed auction style with an opening bid of $31,500, essentially the previous $30K reserve plus a small premium to cover some of the eBay fees. It went unsold without a bid, and there was no Best Offer function to field any additional interest.
Heritage Auction—February 2019
After almost a year from its initial unveiling and post-MTG Art Market and eBay auctions, the original painting for Arcades Sabboth found its way to the auction block at Heritage Auctions. In recent months Heritage has been making push to delve into the world of high-end Magic collectibles, from original artwork to graded cards, and based on this piece's previous exposure it was consigned for sale.
Unlike previous offerings, it was being sold with no reserve, and would sell to the highest bidder regardless of final price. Proxy bidding began approximately thirty days before the live session, and the bidding climbed slowly but surely to $9,500. Both the current owner and soliciting agent for Heritage posted its availability in the MTG Art Market, and provided updates as the proxy bidding continued, but the painting remained at $9,500 up until the live session. At the conclusion of the live session, the painting was sold for $14,000 plus 20% buyer's premium for a total price of $16,800, just over half what it realized during its first offering.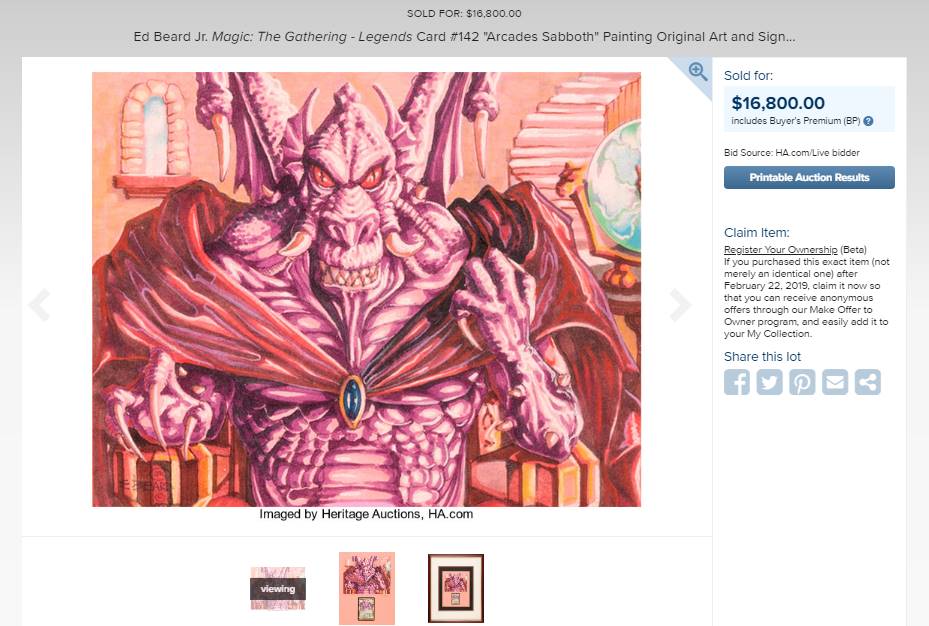 What This Means
A few takeaways:
This is the fourth piece of original Magic art sold by Heritage since July of 2018. There were definite highs, at least based on that time and current market, as well as some borderline disappointments. As with Volkan Baga's Realms Uncharted, it would seem that both inconsistent promotion and an inability to motivate bidders were at the heart of the lackluster results seen here.
After the sale, several prominent collectors in the MTG Art Market made it known they were unable to bid, with reasons varying from family sickness at the end of the auction to having stretched collecting budgets from recently acquiring other pieces. Now there was an exceptionally long lead time—essentially a month—for this auction, but there are still many that prefer to bid in the closing minutes. All that aside, it's apparent that even some collectors—who knew about the auction and had seen it in progress—still were not motivated enough to bid.
A final note: while this piece did once achieve a $30,000 final price, because that transaction could not be completed it's difficult to use it as a benchmark. Even though neither buyer nor seller defaulted, a large majority of the time a painting's first auction is its best chance to realize a premium price. Think of the strong prices seen for a newly previewed painting from a new set, often selling for more than it would six months or a year later because of the newness and initial hype.
The painting's roller coaster ride will forever be a part of its provenance, and I'll be looking forward to hopefully seeing it publicly resurface on someone's wall or at an upcoming Magic Art Show exhibition. The buyer is still publicly unknown.