On November 16, 2018, the original artwork for Realms Uncharted by master artist Volkan Baga was sold at Heritage Auctions for $3,600, including buyer's premium.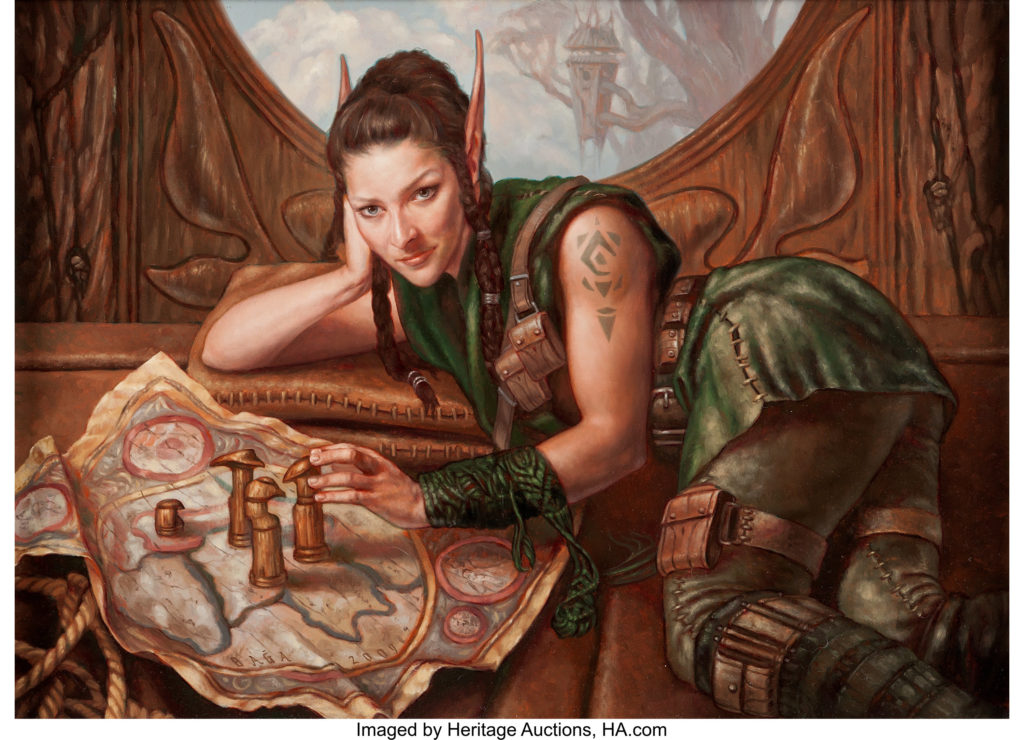 The Facts
Realms Uncharted by Volkan Baga is a work of oil on board measuring 13" x 17.75." It was originally created in 2009 for the Rise of the Eldrazi expansion of the original Zendikar block. It was included as a part of Heritage Auctions Comics, Comic Art & Animation Art Sale #7192 that spanned from November 15th to November 17th, with absentee bidding having begun on or about October 23rd, 2018. The work was sold framed for $3,600, including buyer's premium, and the buyer is currently not publicly known.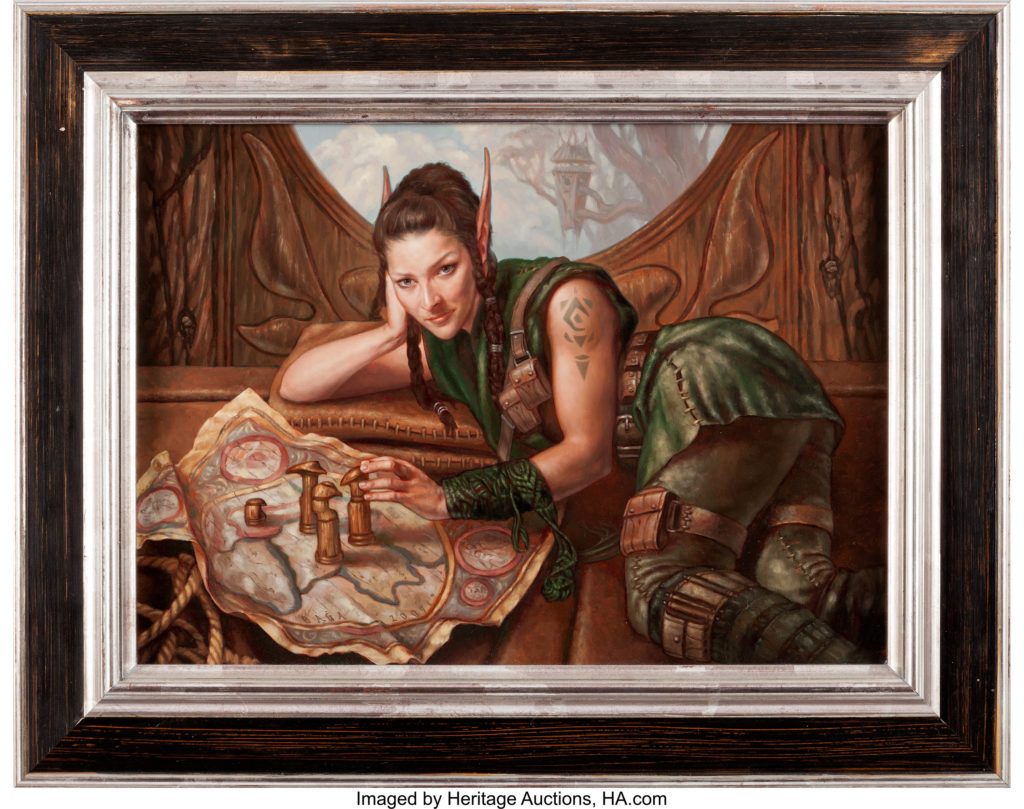 The Hammer
While Realms Uncharted has seen some play in multiple formats over its lifespan, the motivation behind tracking its sale is more a matter of venue and the results realized. This is the third piece of Magic: the Gathering art to be sold by Heritage Auction this year, following the sale of Shahrazad by Kaja Foglio that achieved $72,000 including premium and Conch Horn by Phil Foglio that realized $10,200 including premium.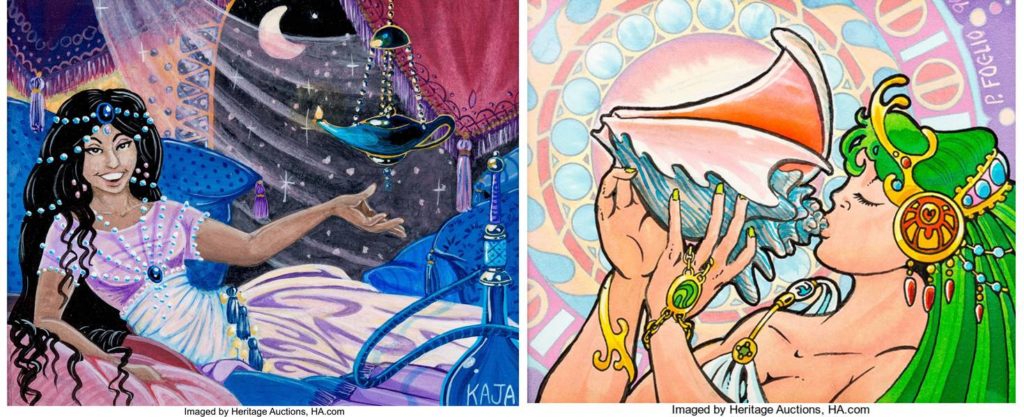 This painting was never going to sell for what the others brought simply because the age and nostalgia factor is not present. But it sold for considerably less than many predicted, and well under the price threshold collectors expect to pay for a piece from this artist, of this size and of reasonable game importance.
So what does this mean, and why did it happen?
Heritage Auction is rising as a very viable option for selling high-end Magic: the Gathering artwork and a globally viewed auction house like Heritage opens the piece to the eyes of the world across collecting genres. This piece should have found plenty of interest because it is both a card illustration and because it's a strong piece of imaginative realist art.
But it fell short because it wasn't promoted to those that are most likely to bid on it. Groups like the MTG Art Market are where the pool of potential bidders are located, and with only a single post of notice from a community member in October, this painting never made it off the back burner. Having near a month of absentee bidding is very long, and with no sale end reminder or interaction from Heritage, it's likely people just plain forgot it was available. Even I forgot it was selling this weekend until I saw Mike Linnemann's Twitter post yesterday afternoon, having written the outline for this Art Market Minute over two weeks ago.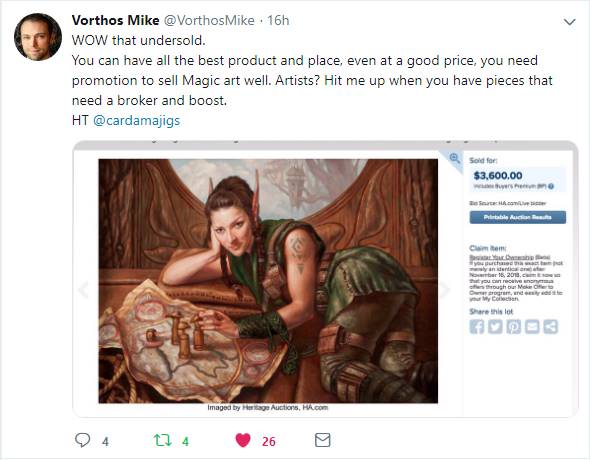 Mike has sold several pieces on the MTG Art Market, and is now working with a half dozen artists to auction their past and present works. He has had excellent success in realizing above average prices, and it's the promotion component that makes the difference. Whether it's anecdotal stories from the artist or simply posting reminder in the Facebook thread to keep the sale at the top of the page, proper promotion is essential to a successful sale.
If Heritage intends to continue to sell original Magic art at a high level, they are going to have to find the appropriate buyers, and bring the information to where they are, even if that's a Facebook group.
The Art
I'd be remiss if I didn't talk at least briefly about this painting. Let's look again at the full art: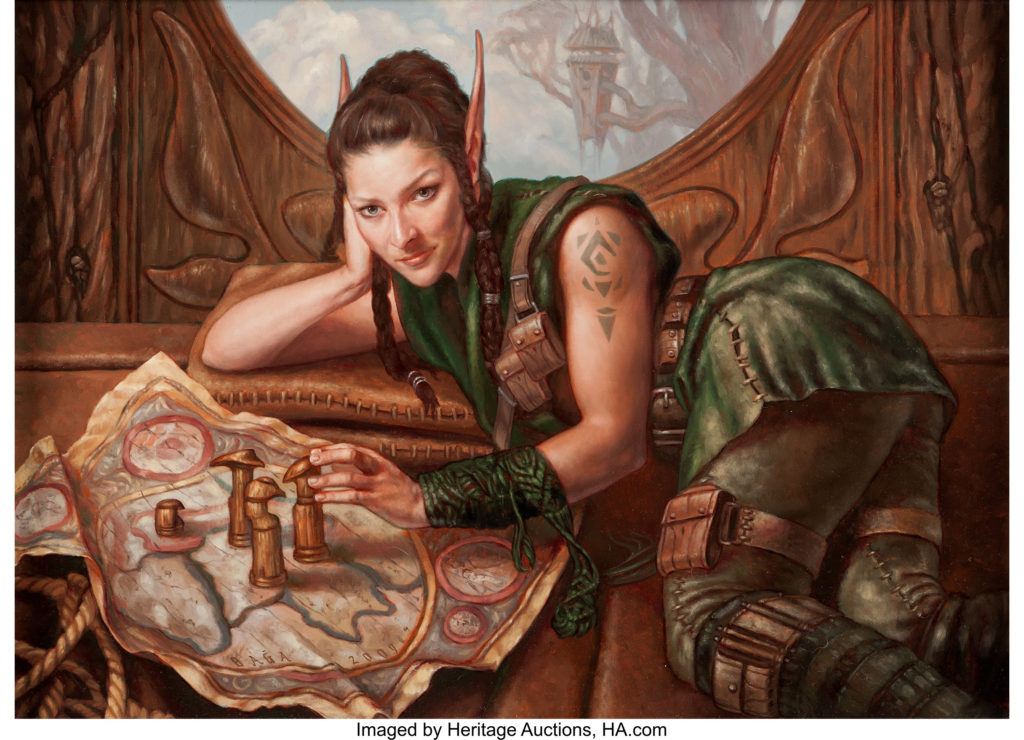 Does it remind you of something? Something similar you've seen before?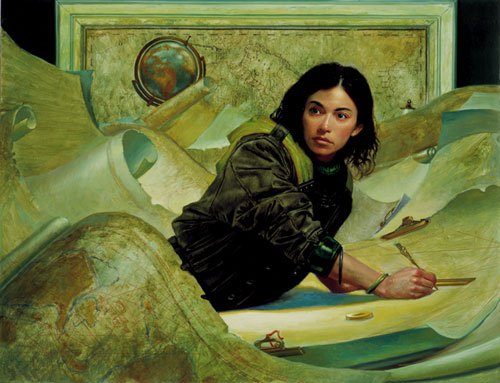 Volkan Baga was one student and studio assistant to Donato Giancola, the artist whose work you see above. Cartographer is considered by many to be the best work in all of Magic: the Gathering art and we see many of the same elements in Baga's later work Realms Uncharted.

Look at the pose of the figure. Her face. The maps. The composition in general. Individually at card size these similarities are hidden, and these cards would almost never have seen play on the same board. But placing the works side by side reveals the age-old relationship between master and apprentice and the influence of teacher to student.