On Friday, team MetaGame Gurus parted ways with Travis Woo. At the time this decision sat uneasily with me—not because I felt Woo was innocent of anything he had been accused of, nor because I was upset over some kind of socially progressive agenda being pushed as some people would have you believe. No, I was at unease about the whole thing because it all seemed so easy.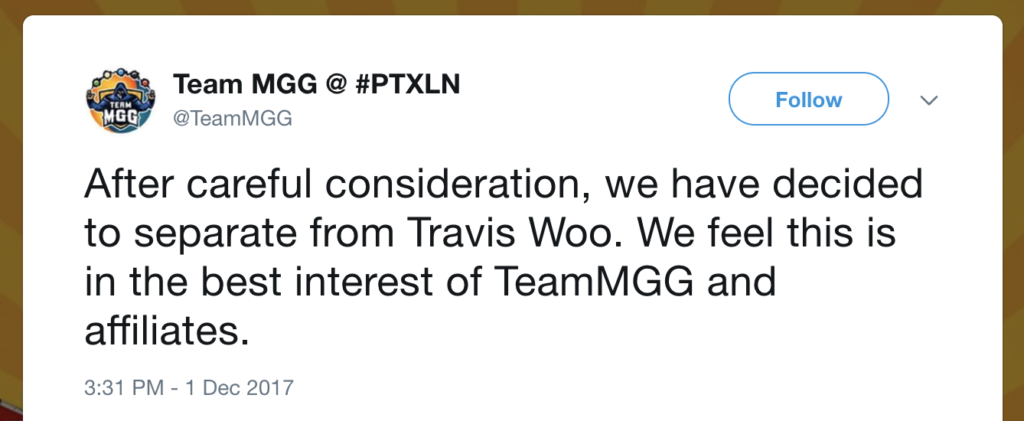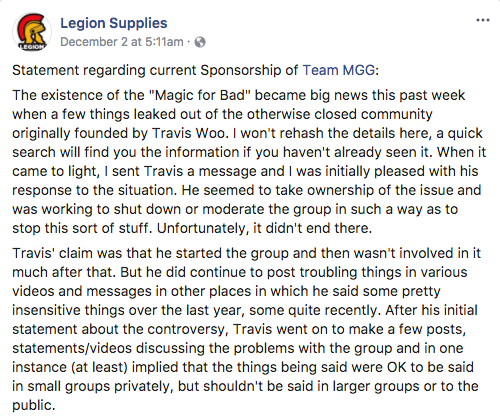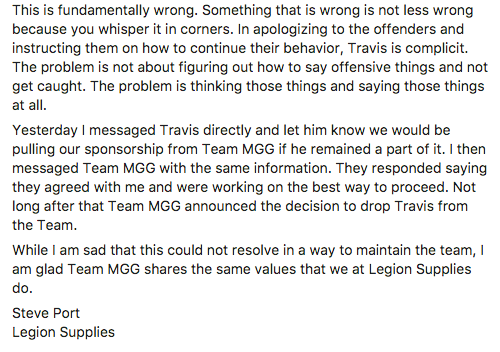 There are a lot of angles to look at this story from, and to be frank I don't know where to begin. Everything happened so quickly last week, beginning with the publication of posts from the Magic for Bad group on Tuesday and culminating in the statements above being made on Friday and Saturday respectively. After such a long week of controversy in the community, it's easy to be happy with the results. Travis Woo makes an easy target, given his history, but the story shouldn't end here.
Here's a quick rundown of threads still hanging from this story:
Hundreds if not thousands of members of the Magic community were members of the Magic for Bad group and an unknown number of them were regular participants in the offensive discussions that the group facilitated. These are people who go to your local game store. They play in your Friday Night Magic. They said so in the posts on the group. I'm not saying this to instill fear (as some people might twist these words) but just to reiterate what was said on the private group.
The main takeaway from people like Travis Woo wasn't that they had done something wrong but that they had been caught doing it. This was abundantly clear in the reactions before the group was archived and in the fact that several new private groups have been formed already to create a new safe space for these members of the community.
With team MGG parting ways with Travis Woo, something unprecedented for the Pro Tour Team Series, we await word from Wizards of the Coast as to whether or not the team will be allowed to replace Woo for Pro Tour Rivals of Ixalan.
Along those lines, there has been no comment from Wizards of the Coast on the situation, or on whether or not they intend to suspend Woo's DCI standing ahead of the upcoming Pro Tour. There is precedent of course for players being suspended for incidents that take place outside of playing in tournaments including Sidney Blair, Alex Bertoncini, and Zach Jesse.
Lastly, where was the line drawn for Legion Supplies, who originally considered not breaking ties with Travis Woo until more information had been revealed; and for Team MetaGame Gurus, who, it is implied, were coerced by their sponsor to ultimately part ways with Woo.
Update (Dec-8-2017):
Steven Port, owner of Legion Supplies, contact us to clarify that Team Metagame Gurus was already in the process of removing Travis Woo from the team when Legion threatened to pull its sponsorship. The article has been updated accordingly.
That's a lot of open threads that, to be honest, we could be talking about for months. It's important to keep these discussions going because the story shouldn't end with Woo being dropped from his pro team. This doesn't really make a large difference in the community. Sure, a lot of folks will see this and get the message that Legion Supplies is sending, but it also continues to push the members of groups like Magic for Bad deeper into the shadows.
If the community continues to become fractured along these lines, everyone will suffer. Players will suffer. Game stores will suffer. Tournaments will suffer. And the community will suffer. Pro Players like Travis Woo have an opportunity and responsibility to be ambassadors for the game of Magic, something that Woo certainly has the work ethic and charisma to be. The challenge going forwards, especially for organizations like Wizards of the Coast who sponsor the Pro Tour Team Series and Legion Supplies and MetaGame Gurus who sponsor the teams, is how to use those ambassadors to build bridges within the community.
Around the League (Top 8 Edition)
Genesis – Corey Baumeister isn't just good at Standard but also knows how to assemble the most off-putting 'tron pieces in North Dakota, carrying him to a fifth State Championship title.
ChannelFireball – Paulo and the rest of the Brazilian national team weren't able to live up to their expectations at the World Magic Cup, but they did get a sweet piece on coverage and Paulo has a ton of European chocolate to bring back home.
Ultra PRO – It was a good weekend for team Ultra PRO as Ivan Floch led team Slovakia to the top 8 of the World Magic Cup where they lost in the Quarterfinals to Germany and back in North America, Sam Black finished in 2nd place at the Star City Games Invitational.
Ultimate Guard – Reid Duke alongside Oliver Tomajko and Gerry Thompson were unable to bring team USA back to the top tables of the World Magic Cup but did finish respectably in the top 16 and also had a sweet coverage segment.
Massdrop West – Some of you might not know that the members of team Massdrop (East and West) are regularly contributing articles to Massdrop's site now. If you're into Standard then you should Check out this Sultai Energy sideboarding guide from Canadian pro Jon Stern.
MetaGame Gurus Moon – Mattia Rizzi and team Italy made it to the semifinals of the World Magic Cup this weekend before losing to eventual champions Japan. Some positive news for TeamMGG after an otherwise challenging weekend.
Tower Games – We still don't have an invitation list for Pro Tour Rivals of Ixalan so it's hard to piece together how much support Sam Ihlenfeldt will have from his teammates in Bilbao, but hopefully that picture will become clearer this week.
Revelation – Joel Larsson and team Sweden didn't make it to the second day of the World Magic Cup but Larsson did pick up a sponsorship from Mana Traders so if you enjoy watching him play on the Pro Tour check out his Twitch stream.
Signing Off
The World Magic Cup is in the books and it's sad to think that the marquee team event of the season features so few players from the Pro Tour Team Series. In fact, the World Magic Cup has very little integration with the Pro Tour at all, other than to award a few Pro Tour invitations as well as a handful of Pro Points to the top teams.
Is there a way to fix this for next year? I hope so, because it's difficult to continue to build the narrative between the fall and winter Pro Tour events with the World Magic Cup sticking out like a bit of a sore thumb in the middle of the off-season. I'm not sure what the resolution should be, but it likely won't be anything we'll see anytime soon. One day, we hope.
Rich Stein is a retired Magic player, an amateur content creator, and a Level 2 Social Justice Sorcerer. He hopes to eventually become a professional content creator and a Level 20 dual class Social Justice Sorcerer/Bard but he's more than content to remain a retired Magic player. You can follow his musings on Twitter @RichStein13.