Last week, Hipsters of the Coast previewed the newest Secret Lair Artist Series, featuring four brand new artworks by the legendary John Avon: Emrakul, the Promised End, Progenitus, Brainstorm, and Serra Angel.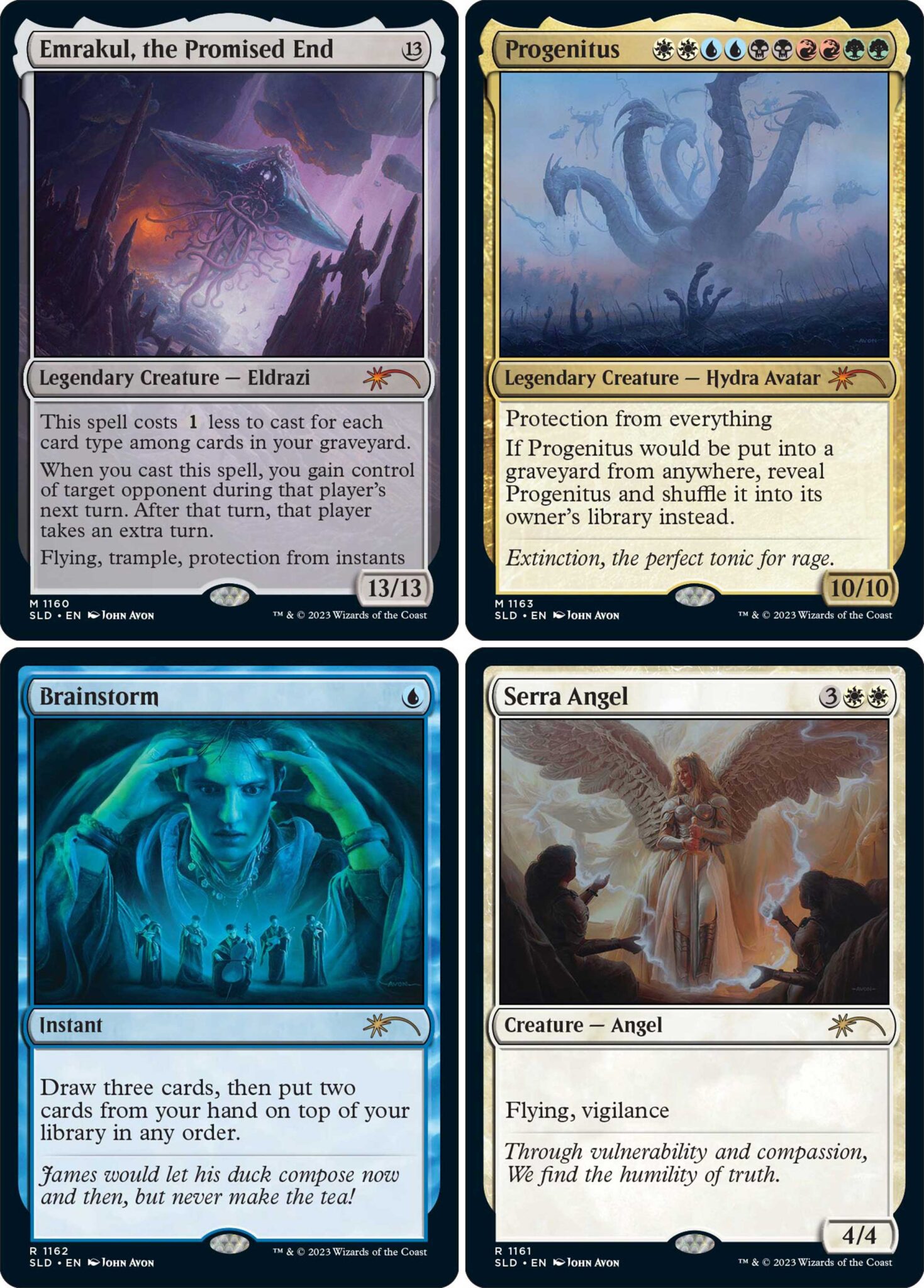 While Avon often works digitally for Magic: The Gathering, he will sometimes choose to paint traditionally those pieces most important to him. And on this occasion, that is all four Secret Lair artworks! They have now all been made available to the open market, and Avon's agent is currently listening to offers for the following artworks and packages.
The suite for Emrakul includes the final painting, Avon's palette, the airbrush masks, and the thumbnail sketch.
This slideshow requires JavaScript.
This sale includes both the final painting and the palettes used in its creation.
This slideshow requires JavaScript.
This sale also is a combination of final painting and palettes.
This slideshow requires JavaScript.
This sale will include the palette as well as the final painting. A separate color study, shown atop the easel below, will be made available at a later date.
This slideshow requires JavaScript.
Wrapping Up
The last public auction of a newly released, traditionally painted John Avon work was for his Lotus Field, which realized $40,000 in 2019. And before that, his Unhinged Island in 2018 for $20,000. Opportunities to own Avon's traditional work are few and far between, and his paintings are held in the highest esteem by collectors. This is a chance not to be missed.
The offer period is open until Tuesday, September 26, 2023, the last day Avon and his team are in the United States for the MagicCon Las Vegas event. For more information or to make an offer on one or more of these works, please reach out to Guy Coulson, Director of John Avon Art Ltd, at [email protected] or on Facebook Messenger.
Donny Caltrider (he/him) is a Senior Writer at Hipsters of the Coast, writing about all things related to the art of Magic: The Gathering and the larger imaginative realism genre. He has an M.A. in Museum Studies from Johns Hopkins University and enjoys telling stories about art, objects, and the intersection of fantasy with real life. When he's not writing for Hipsters or working with artists, you can find him traveling with his wife, petting his two cats, and watching the Baltimore Orioles.