Hello friends, and welcome to the Mirror Gallery here on Hipsters of the Coast. Courtesy of Wizards of the Coast, I'm very excited to showcase your exclusive first look at the brand new Secret Lair Artist Series featuring John Avon! The drop will include four cards—Emrakul, the Promised End, Progenitus, Brainstorm, and Serra Angel—for $29.99 (Non-Foil) and $39.99 (Foil) and will be released on October 2 alongside a larger Secret Lair Superdrop.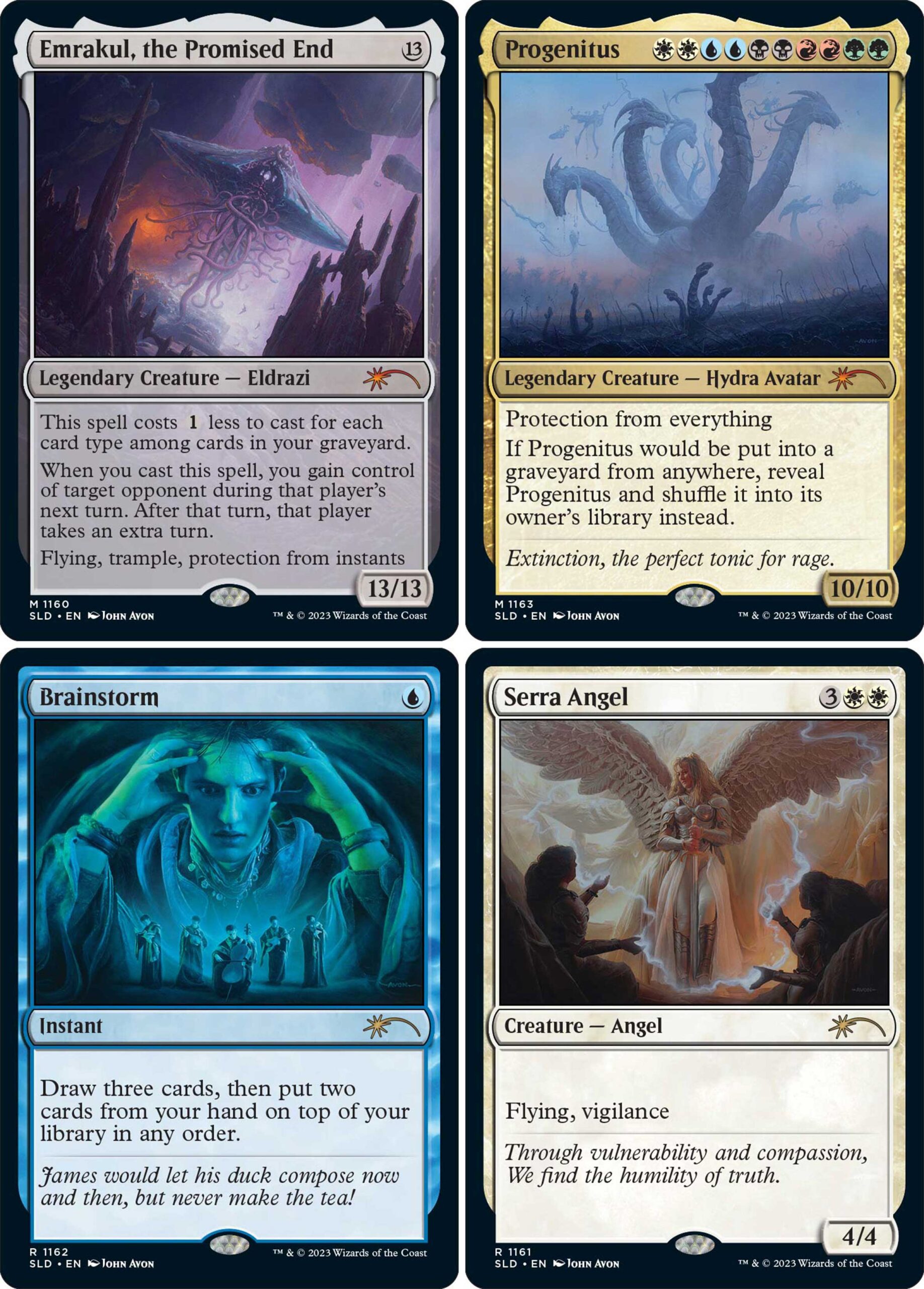 Begun in late 2020, the Secret Lair Artist Series invites artists from Magic's roster to create a unique, curated collection of very special cards. Together, the artist and creative team collaborate on each piece of the puzzle, from card selection to art description to flavor text, and the result is something truly extraordinary. This latest iteration, which will be on full showcase at the upcoming MagicCon Las Vegas, features four new cards by one of Magic's most prolific artists: John Avon.
Avon has reimagined these four powerhouse pieces of Magic's history in traditional media, specially for this drop, weaving unbelievable narrative and personalized storytelling into each and every one of them. I was able to catch up with the artist for a look behind the curtain ahead of his MagicCon Las Vegas panel, where he'll give folks the full experience of these new artworks.
Let's waste no time. Behold! Artist Series: John Avon, and the stories behind the cards!
Donny Caltrider: John, you are a man that needs no introduction to Magic fans, but just in case there are folks seeing your work for the first time, give us a quick intro- Who are you, where are you from, and what do you do?
John Avon: Hello! It's exciting to finally be able to share my Secret Lair artwork. I am an illustrator with literally 40 years of work behind me. I began my career mostly painting book covers, and I made a name for myself by doing the art for Stephen King's 'The Dark Tower' Vol 2 & 3. After that, I did covers for Arthur C. Clarke, Terry Pratchett, and many other authors. I did a short period in advertising, but my longest clients are the dear folks at Wizards of the Coast and MTG. They have been my business family for what feels like a wonderful eternity.
I was born in Cardiff, South Wales, in 1961 but have lived near Brighton in England since 1980. I am married to Patricia (Pat MacCarthy, the illustrator) and we have two grown up sons, Laurie and James. My main passion is music, and though I originally played in bands since the late '70s as a guitarist, in the last decade I have been quietly recording musical soundscapes while simultaneously working on a self-healing project relating to my physical and mental health.
All my life, I have suffered from fatigue and was diagnosed with CFS/ME, and this led to much physical pain, anxiety, and other psychological trauma. However, I am a fighter, I don't give up. This has led to not only an intention to grow as a human being but to also help others who might suffer the trauma of chronic illness so that they may literally keep going and maybe also to use this as a fire to ignite creativity.
DC: Amazing stuff John, what you're fighting through. You mention igniting creativity, and I'm always curious—do you have any art heroes or artistic influences?
JA: I feel drawn to say, though I am an artist by trade, I have never felt like an artist in terms of lifestyle and personality. What I mean is yes, I do have artistic heroes like Anthony Waters, Todd Lockwood, Donato, Kev Walker, and some of the newer MTG artists, plus I love and admire many classical artists. But outside of as a kid looking at Salvador Dali, I don't feel I have an artist influence. Excuse me if this is blunt, but my real heroes are the self-help authors who inspire me to keep going and the musical genius folks who write music that lifts my soul.
DC: Absolutely nothing wrong with that; sounds like a very steadfast inspiration.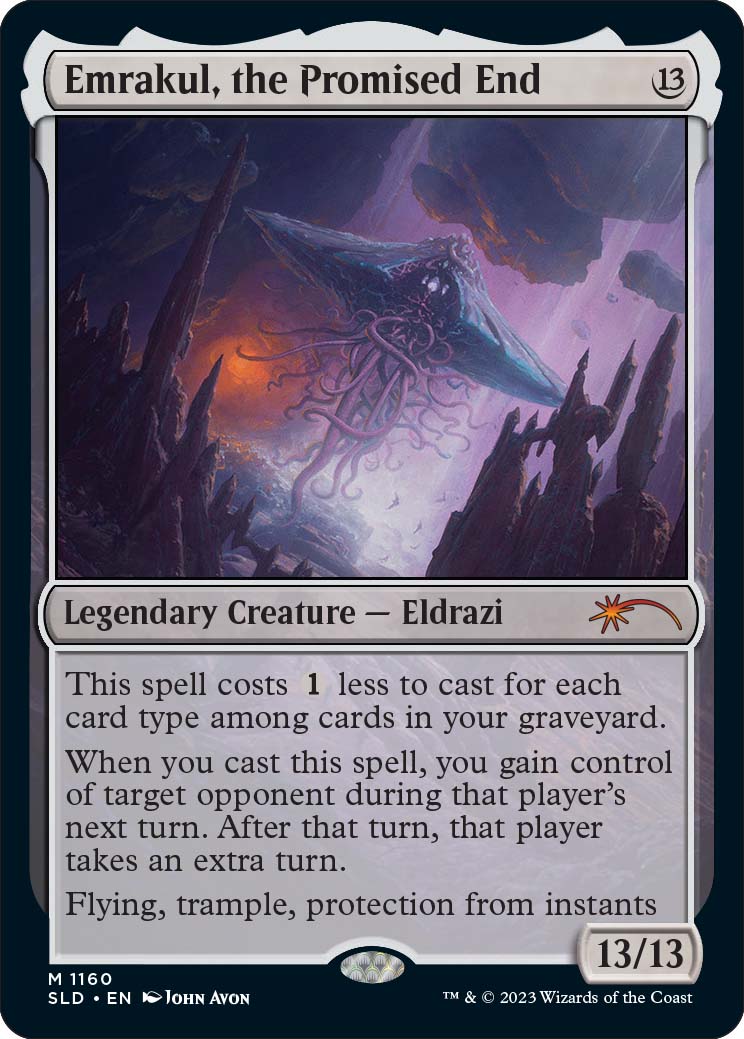 Emrakul, the Promised End
DC: Now that we know where you've come from, let's take a look at where you are now and your newest creations. We'll start with Emrakul, the Promised End! This is the card's first new artwork since Eldritch Moon—what went into reimagining this larger-than-life being and her specific setting we see here?
JA: The last painting of this dear beast was so great, it did not need me to do anything better. No one could. But as my Art Director Tom Jenkot literally said to do it my way, I went biblical. Huge, far away, massive and end-of-the-world. An image of destroying everything. I always wanted to say, "Hey Emrakul, now that you have ended everything, what next? Will you retire and take it easy? Put your feet up and relax a bit?" 
But seriously, I wanted to go huge but add in a nod to my lands. I also felt the colours and approach would be classic and it just turned out like this. I wanted to see "her" as just about to smash it all up. That moment of calm and "run like hell!"
DC: It's the "deep breath before the plunge" as I like to borrow from Tolkien. Very cool.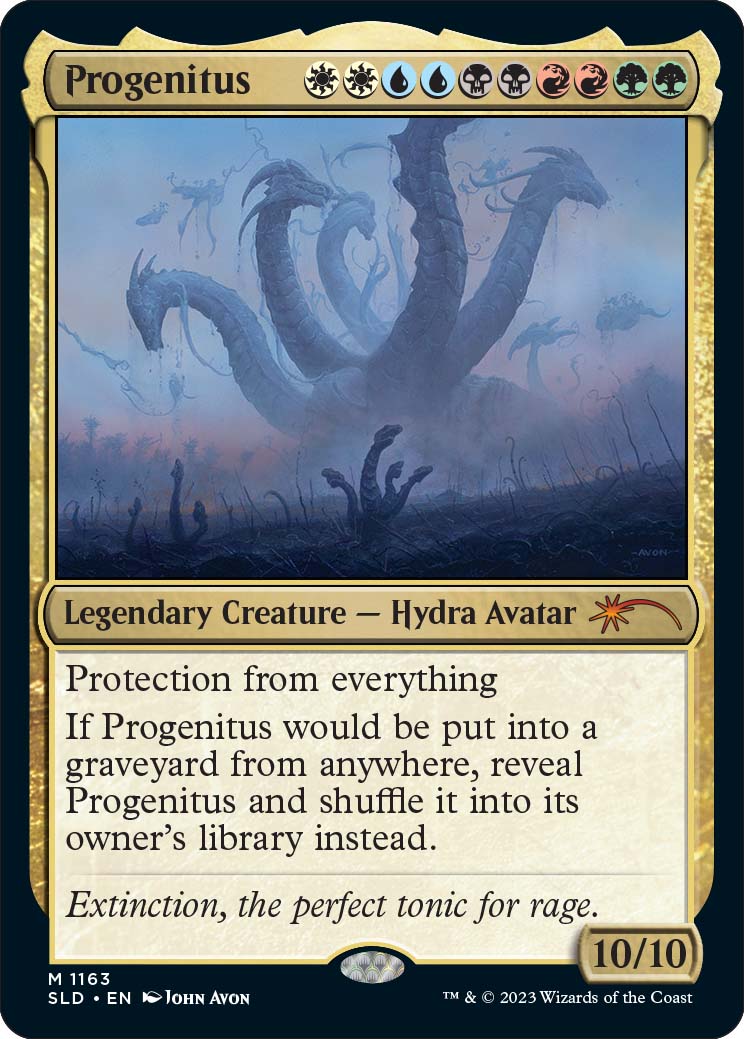 Progenitus
DC: Next is the equally larger-than-life Progenitus, and there is a very distinct narrative here. Can you tell us how you were able to develop the story and make it legible at card size?
JA: I looked at the earlier card art interpretations where the creature is miles away and massive. And as Emrakul was covering this, I went for just a mile away as mine needed to be relatable, and so that you can hear it growl (you hear the sounds it makes in my music). But as usual, I needed context, a story line. I looked at images of a recent tragic Australian land fire and there were these burnt-out twigs and trees in the front section. Immediately I thought "babies" growing and the subtitle to this was always "rise of the babies" like "rise of the machines" in the Terminator. This then gave me my much-needed foreground and tonal balance.
DC: Watching a card mechanic unfold in the artwork is literally one of my favorite things about looking at Magic art.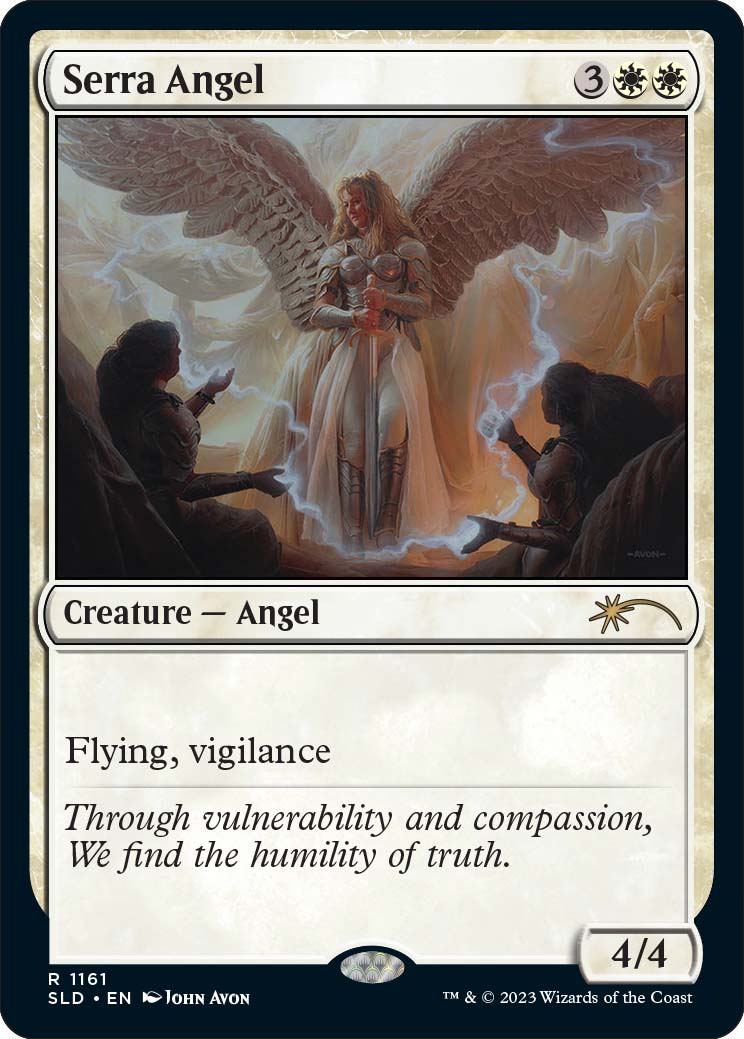 Serra Angel
DC: The third and penultimate card is the classic Serra Angel. This is one of Magic's most iconic cards—who has taken up the mantle of Serra and her attendants in this artwork?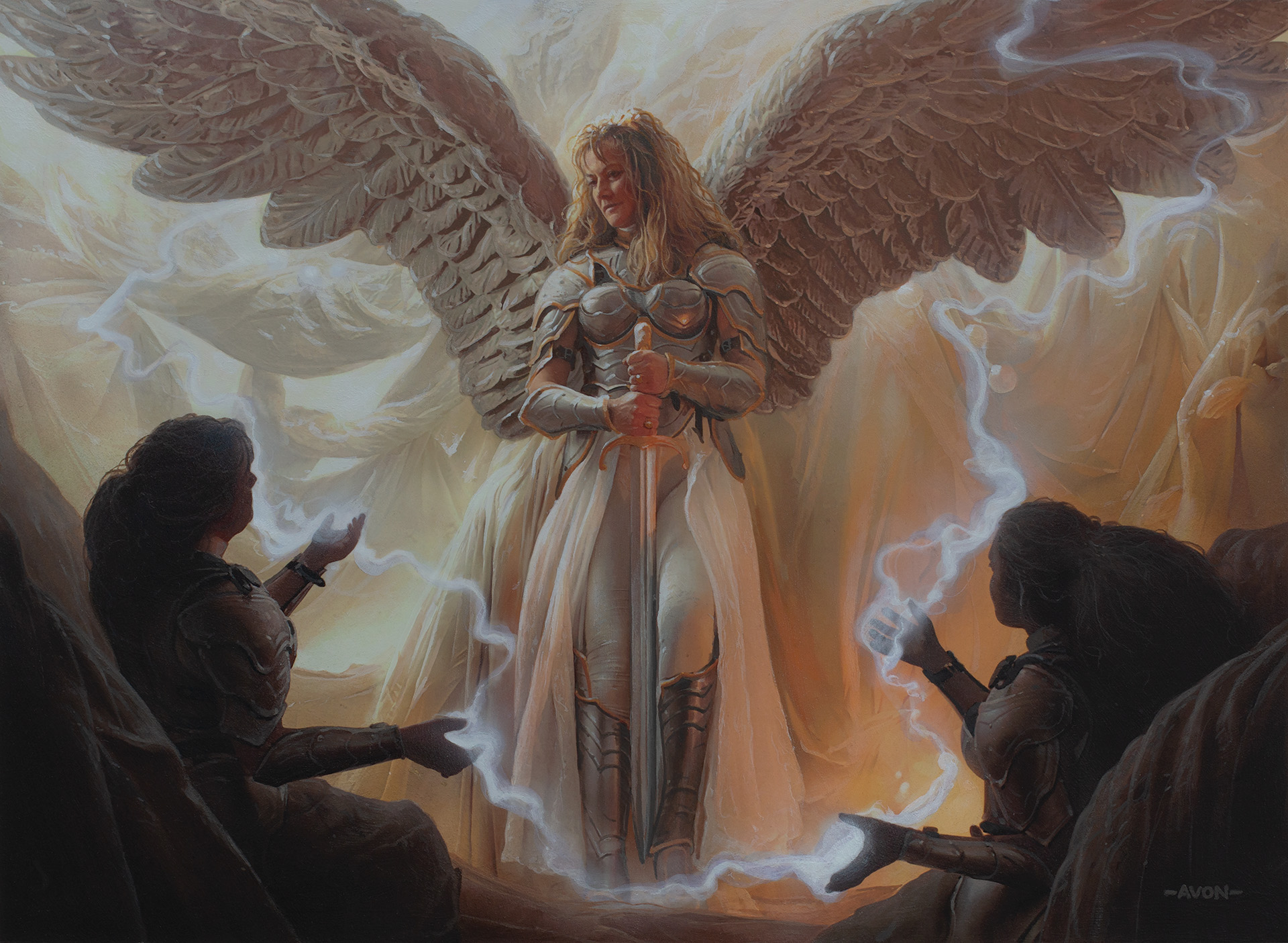 JA: My wife Pat is the single person who has kept me going and is literally my Angel. I wanted to honour her immense power and love, so it's her. I did not want to try and recreate the approach taken so well for the other versions. So, I chose a classical approach and very much a balanced left, middle, right design, much like Maxfield Parrish, the illustrator of old. I confess to loving very basic design, it's quiet and regal, so my Serra was going to be close, personal, and relatable. I achieved this with the two other figures who are open to interpretation. Maybe they are her assistants or other angels in training. But she's looking loving at one with a circle of healing light.
This is my most emotional painting ever as I was extremely unwell when painting it. I literally thought it might be my last, so its gravitas and weight are based on my rawness during its production. I did carry on working but Serra Angel was, at one point, my swan song.
DC: I think we're all very thankful this wasn't your last work, and equally so to Pat. She sounds like an absolutely amazing partner.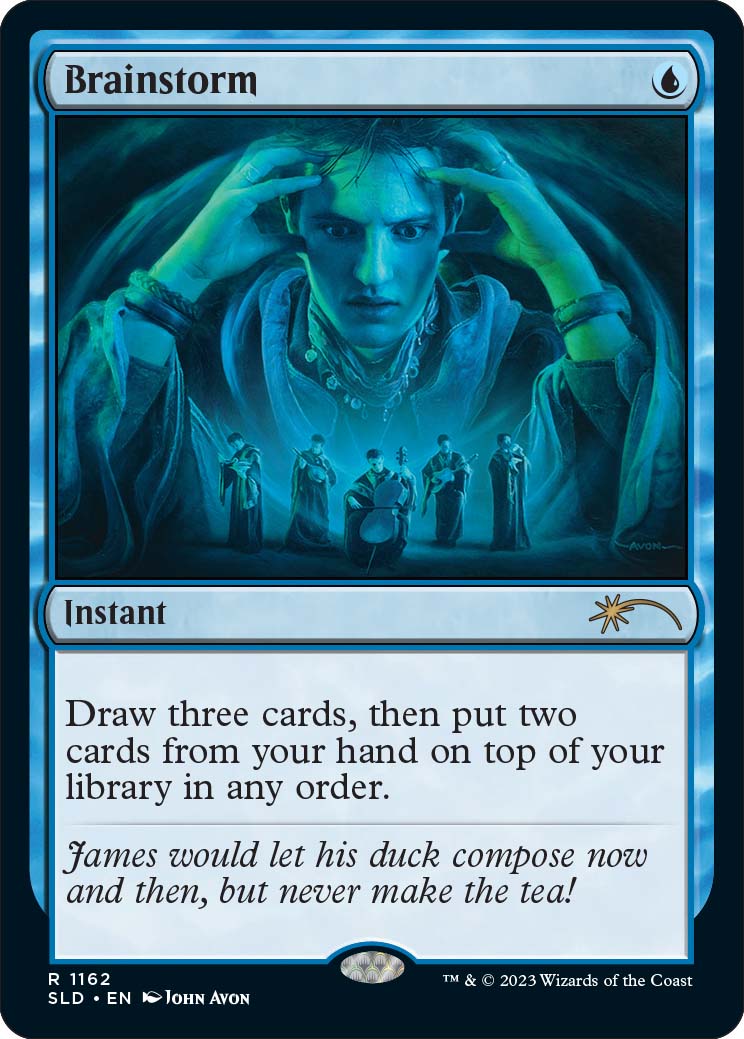 Brainstorm
DC: Our final card is the fan favorite Brainstorm. Who do we see in this card artwork? And I must know the story behind this flavor text—this entire scene seems very inspired!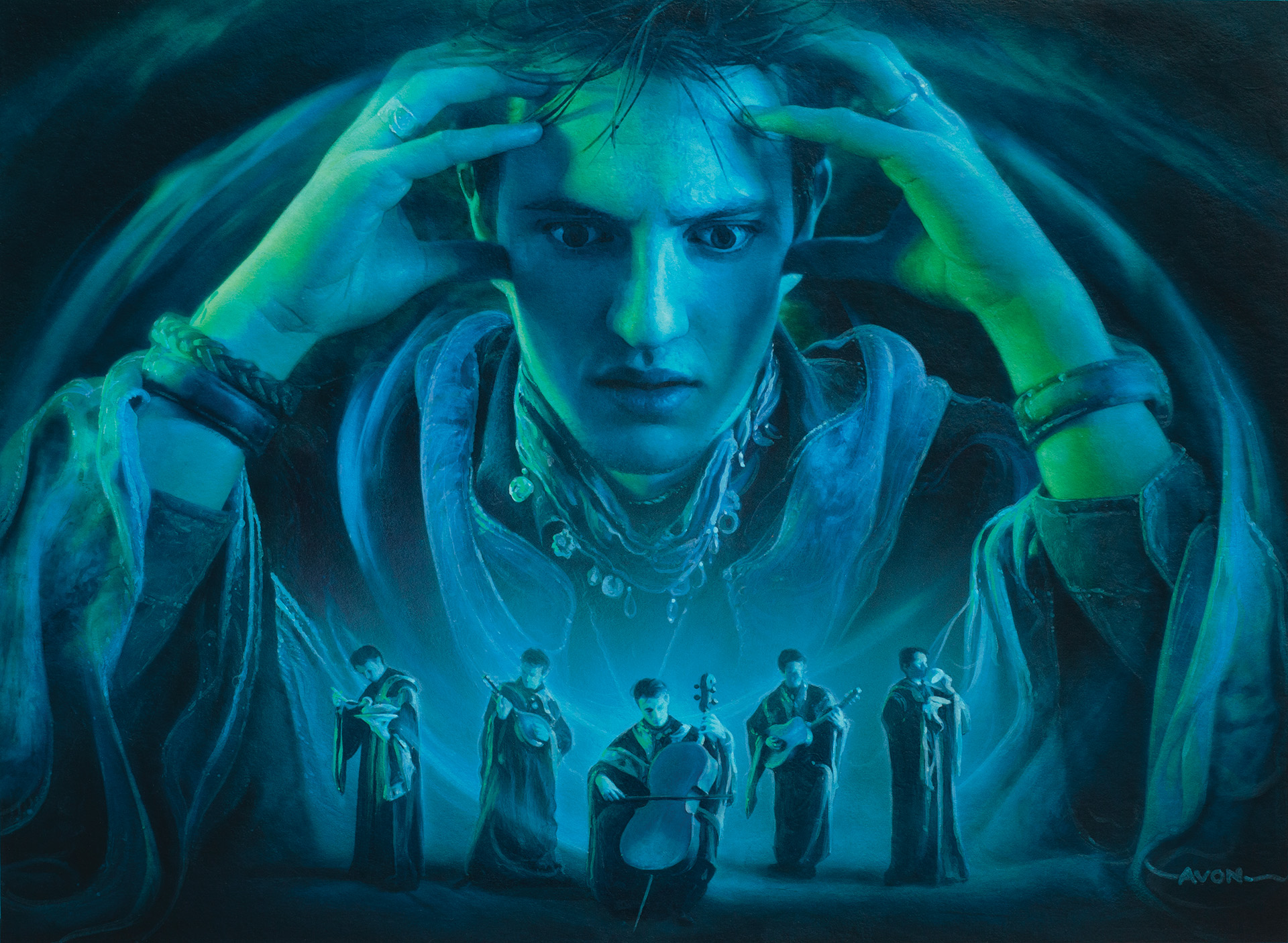 JA: We see my youngest son, James. He also is in the video that will be shown at MagicCon: Las Vegas. Laurie (our eldest) had been featured in another recent artwork and we wanted to paint James! He also shares my love for the surreal and our humour is very similar. I have been called crazy, mad, and unhinged (somewhat ironically) often in my life, and Brainstorm is a fun take on the surreal dreamlike state of how much the world often does not make sense. 
DC: And of the flavor text?
"James would let his duck compose now and then, but never make the tea!"
JA: In the video, we'll see normal James, then him going into a dream where he experiences a "Brainstorm" and cannot understand why he sees himself five different times dressed up in an odd band of crazy versions of himself. All instruments are backwards and on the left he's feeding a duck and on the right drinking tea, upside down. The "compose" part of the text is the musicians. In truth, after the huge heavy Monsters and the spiritual nature of the angel, I wanted to go fun and silly. It's just that my version of fun is probably rather odd?
DC: Oddly wonderful, I'd say—there is nothing wrong with a bit of fun!
Beyond the Art
DC: Speaking of, did the Art Director (Tom Jenkot) give any specific direction, or did he just want the most John Avon artwork and flavor text you could put on these cards?
JA: Tom was great; I was literally allowed to do my own thing. I did, for example, try posing Pat modeling the usual battle Serra Angel, but felt, no, this time I do it John's way. It felt like a huge risk and I did not do what was expected, like John Avon lands. Why?  I wanted to flex my muscles and do figures or monsters. Many of my earlier book covers were figurative and I literally wanted to do things differently with MTG, but almost in my ancient 1980s way. It's a step backwards but also a solid move forward. I'm too old to reinvent the wheel!
DC: What about something we wouldn't know just by looking at these cards?
JA: Firstly, I did them years ago. They were delayed and delayed, then pushed back to the MagicCon grand finale at Las Vegas. But, in the end, they turned out well as I was able to take time to do an audio experience, too, so you can hear my art, then do four videos to blend it all together! 
Again, I took a harder path. I could have done a new version of my most famous lands but did not. I chose the hard way with paint and airbrush, so they took 500% longer, meaning I earned much less at the time due to weeks of work. At the end of "doing it the long way with real paint" I always say NEVER AGAIN as it's so much easier to alter things digitally. But, already, I am thinking of doing the next art by hand again.
DC: There is just something special about traditional media, and I think that rings true here. Were there any particular challenges or triumphs you'd like to share?
JA: The fact that Serra Angel was not my last ever painting. I did find my way through, and, yet again, I am stronger than my demons tell me I am. I took a harder route but now feel proud that I did. That, and I am nervous of the expectations of others. This will never go away and it's a constant dance between following your own way and yet being commercial enough to still be accessible to the general public.
DC: Simply amazing, John, truly. You are one heck of a human. Before we go—with more than 300 illustrations for Magic since 1996, and now a Secret Lair Artist Series, what's left that you still want to accomplish in your artwork, both in Magic and otherwise?
JA: I try and keep going. I literally cannot paint five artworks a week anymore, more like five a year! But I want to work in Magic and connect with the fans at events. I want to continue to work with my dear friend and agent Guy Coulson in our new office. I also want to spend my "time off" working on my own personal art and continuing to develop my musical visions. Holistically though, I want to try and get more well physically and work on my stress and anxiety. I cannot help but give everything 100% and really need to ease back a bit!
Thank you, Donny, for the interview.  I'm really looking forward to MagicCon Las Vegas where I will deliver an audio-visual exploration of my Secret Lair, hopefully some of your readers will attend. The panel will be on the mainstage at 11 a.m. PT on Saturday, September 23rd.  
DC: John, thank YOU so much, for everything you do, and everything you've done for Magic all these years. I speak for more than myself when I say you have molded our collective experience with the game, and Magic would literally not be the same without your genius.
Wrapping Up
John has shaped the worlds of Magic, and my experience with the game was largely formed from the pictures he painted since I was a child. From the Krosan Forest on Dominaria, across the Razor Plains of Mirrodin, up the Sokenzan Mountains of Kamigawa, and across the sea to that Island as legendary as the man himself, Avon is the literal pilot of Magic's visual Multiverse. It's an absolute privilege to preview the works of someone I've admired since I started playing Magic; thank you to Wizards of the Coast for the opportunity, to John for this brilliant interview, and to his agent and my friend and mentor Guy Coulson for bringing it all together.
Artist Series: John Avon will be available to order exclusively on the Secret Lair site beginning October 2 at 9:00 AM Pacific Time  It will be available for both $29.99 (Non-Foil) and $39.99 (Foil) alongside a larger Secret Lair Superdrop, with more details available at MagicCon Las Vegas! And again, if you find yourself at MagicCon, make sure to catch John's panel, alongside Sam from Rhystic Studies, on Saturday, September 23rd at 11 AM PT for an exciting and immersive in-depth look at his artistic process.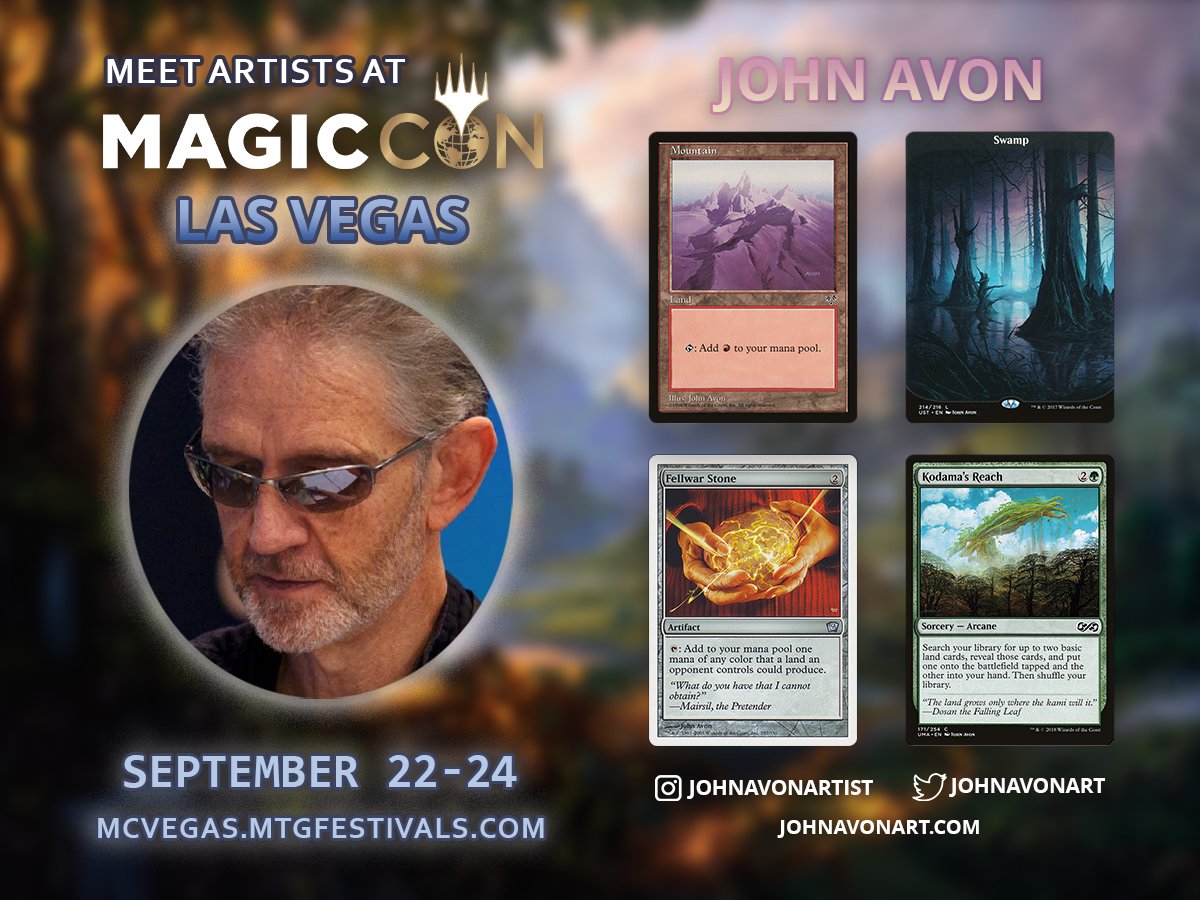 As always, thanks for reading, and we'll see you next time here in the Mirror Gallery on Hipster of the Coast.