At the beginning of last month, I wrote an article entitled Looking Forward & Looking Back about my experience at Magic30 in Las Vegas. My time there was made possible by the fine folks of this website. I'd like to turn that article's premise into a series. I'll reflect on the event that was and look forward to those coming down the road in 2023. The current pace of product (as you'll read about in tomorrow's regular Mirror Gallery) doesn't leave a whole lot of room for extra tangents outside new artwork. This means I'll be working these in as bonus Wednesday pieces, because I think they're important. As far as we can tell, MagicCons as they'll be called are the future of events.
This article will have two components. I was fortunate enough to connect with a handful of the Magic30 artists to get their thoughts on what the event meant to them, and their thoughts on Magic on this momentous occasion. I've shared them here.
I also wanted to, based on this collective experience, toss out a couple of recommendations for MagicCon Philadelphia and the events of 2023. This centers specifically around the Art of Magic section, which is essentially this show's Artist Alley.
But first, let's hear from the folks that made Magic30 particularly special to me, the artists.
Reflections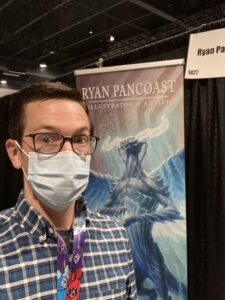 Ryan Pancoast
"Magic 30 was really a surreal experience, but surreal in a good way. Six years ago I hadn't yet illustrated a legendary character, and now at Magic 30 many people were coming up to my table to tell me that the card I illustrated was their first Commander, or favorite Commander. I was so honored that Wizards sponsored my appearance in Vegas and I'm looking forward to applying for a table in Philly." – Ryan Pancoast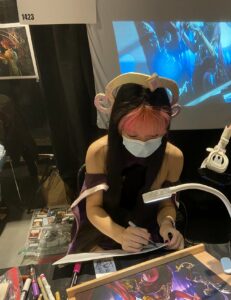 Evyn Fong
"Magic 30 was my first ever event, and I had such a great time with all the players and fans!  I came home excited to draw and build some more crazy EDH decks.' – Evyn Fong
Howard Lyon
"I felt like the Magic 30th anniversary event was clear evidence that the enthusiasm and appetite for both Magic and big events around it are alive and well and growing! Magic has never held still and I suspect that as it continues to evolve it will bring in even more players and collectors. I've been part of Magic for 16 of those 30 years and am grateful to be associated with a passionate and dedicated community that makes events like Magic's 30th-anniversary celebration possible and worthwhile." – Howard Lyon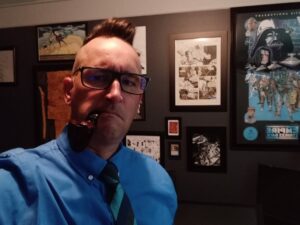 Phil Stone. 
"As an artist attending the MTG 30th anniversary event, it meant the world to me.  It validated my 28 year struggle to become the illustrator that I am today, I got the opportunity to connect with some wonderful human beings, and to be a part of something much greater than us all." – Phil Stone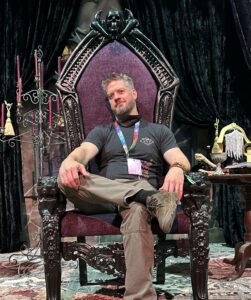 Tyler Walpole
"This was only my 3rd Magic event as an artist, and it absolutely blew me away. I've never had such a positive experience of continuous fan interactions in my career." – Tyler Walpole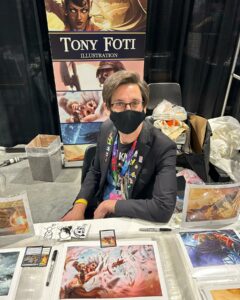 Tony Foti
"The whole convention was a blast, it was my first one and will always be a special memory for me. More than anything, I'll remember how great it felt to be out amongst so much of the Magic community. To be a part of a game that brings so many people together is very special." – Tony Foti
And I want to end with Victor Adame Minguez; he sums it up pretty well.
Victor Adame Minguez
"It was one hell of a weekend, Magic is more alive than ever." – Victor Adame Minguez
If those words don't get you excited for the future of Magic and its artwork, I sure don't know what will.
Recommendations
Looking back, Magic30 truly was an incredible weekend for the Vorthos attendee. There were overwhelmingly positive responses from the artists, regardless of if they were sponsored or attending on their own dime. There were a fair share of bumps, of course, being possibly the largest event Magic has ever held. This was also the first triple collaboration with ReedPop and Pastimes. I'd be remiss if I didn't make a few artist alley recommendations based on my experience, and while I know some of these are certainly underway, there are others that are easily missed unless you're on the inside.
Lines
This was maybe the wildest part of the Art of Magic section in Vegas; there were lines like I've never seen before, at any event, Magic or otherwise. Some folks waited for hours upon hours for artist proof sketches, signatures, to buy a print, or just to say hello. Even for me to say howdy to people I know, I had to B-line early to their booth.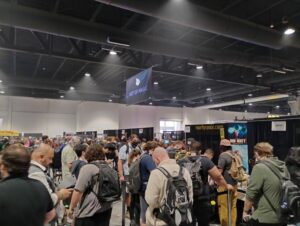 Art of Magic on Friday
The first day lines formed and snaked wherever they could fit. By Saturday, Reedpop had added tape and a handful of folks with signs, directing traffic and marking Line Caps and Ends. By Sunday there was almost one staff member at every other booth, corralling collectors and making sure things were straight, organized, and as efficient as they could be given the space constraints.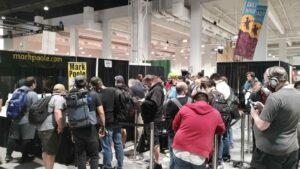 Art of Magic on Saturday
A bit of line management in artist alley is going to go a long way. While MagicCon Philadelphia is being held in a much larger space, it'll be critical to keep people comfortable when moving through lines. Folks are coming for artists, and that cannot be underestimated.
Line-Up
One of the most challenging things for art-loving folks attending these events, simple as it sounds, is knowing who is going to be there. By having a mostly finalized list of artists a few weeks in advance, lots of good, income-generating things can happen. Collectors can pull cards to be signed, and vendors can pull cards from those artists to sell. Folks can arrange commissions, on Artist Proofs or otherwise, or even just make dinner plans with their artist friends ahead of the busy con days. Nothing bad comes from advanced planning, and while there will always be last minute cancels and just-before additions, the earlier organizers get an artist list out, the better it is for everyone counting on the show.
Sponsorship
At Magic30 in Vegas, there were five sponsored artists, which meant they did not need to apply or pay for event space or lodging while exhibiting at Magic30. In talking with Vorthos Mike, but this time about Philadelphia, he had a great idea- what if Artist Alley was Sponsored by (enter brand here), and all of the artists had their way paid for and were treated like guests, like the days of the Grand Prix or CommandFests? More artists, less cost to them, less cost to the organizers, thousands of eyeballs on a product. Sure seems like a triple net win to me. 
Wrapping Up
I hope you all enjoyed this second dip Magic30. I'm sure you are looking forward to next year's event just as much as I am! I will be at MagicCon Philadelphia with Sponsored Artist Justine Jones as her agent, with Minneapolis and the Europe event still TBD but leaning towards "very likely." I can't recommend enough traveling to these things enough if you are able- it's an incredible way to meet like-minded folks and internet friends, jam some games, grab dinner, and just revel in all that Magic was, is and can be.
I'm back tomorrow, same Mirror Gallery time, same Mirror Gallery place with my regularly scheduled article, so I'll see you all in 24 hours, TTFN friends, and thanks for reading.
Donny Caltrider (he/him) is a Senior Writer at Hipsters of Coast writing about all things related to the art of Magic: The Gathering and the larger imaginative realism genre. He has an M.A. in Museum Studies from Johns Hopkins University and enjoys telling stories about art, objects, and the intersection of fantasy with real-life. When he's not writing for Hipsters, you can find him traveling with his wife, petting his two cats, and watching the Baltimore Orioles.