Not every Weekly MTG stream brings us this level of excitement, but with Brothers' War on the horizon, Magic 30 officially less than a month away, and Unfinity hitting shelves next week, there's a whole lot of hype to get into for the Magic community right now. And while sure, not every product is for everyone and there is a real mental health concern to be raised about the constant deluge of new products and the FOMO of not being able to collect/enjoy them all, it's an exciting time.
It's still a bit weird that Brothers' War comes out in less than two months. Dominaria United still feels so fresh, but the world is the way it is these days so here we are. Like any good announcement stream, Wizards updated us on when their next announcements will be. Make sure you tune in next Tuesday for the big 30th Anniversary announcements. Tuesday is also Hasbro Investor Day so that's not too surprising.
In Brothers' War we visit the battle between Urza and Mishra that was first depicted in the expansion Antiquities. The nostalgia is going to be big with this set and the Weekly MTG stream did not disappoint. Major characters will be everywhere, not just including the titular brothers but also their contemporaries Hurkyl, Ashnod, and Gix, as well as modern planeswalkers Saheeli and Teferi.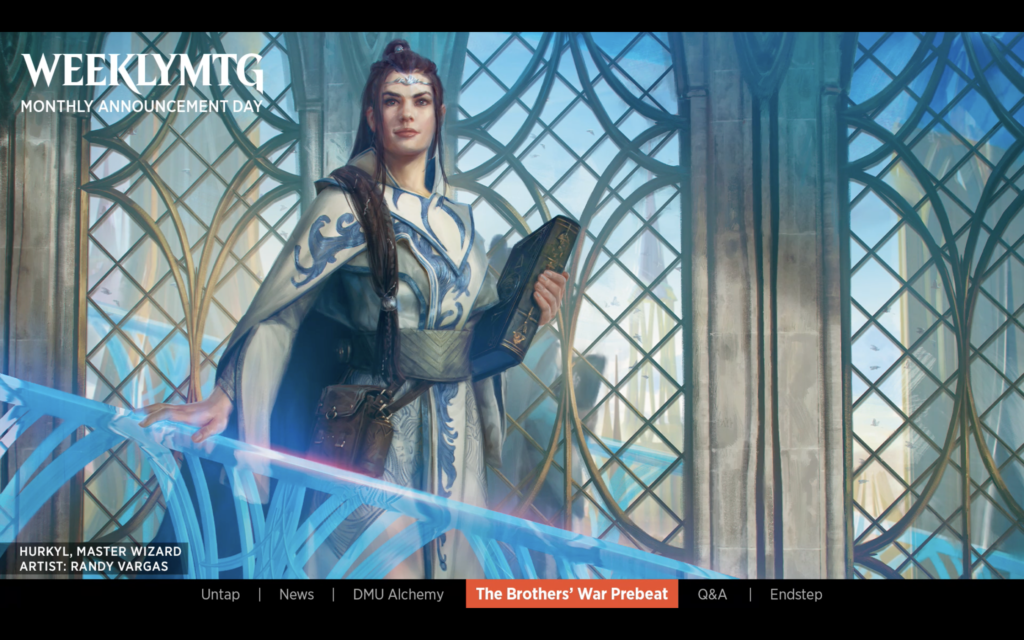 The stream previewed a half-dozen or so new cards including a few promos, some new commanders, Queen Kayla bin-Kroog (one of the main story characters to have yet seen print on a card) and an absolutely wild melded double-card Urza Planeswalker. I mean, this thing is really bonkers. It's got five abilities. Five. Count them. One, two, three, four, five. And you can activate two abilities a turn? Sign me up. Right now.
But first, let's talk about the Magic Story a bit, okay? This set is going to bring out a lot of "did you know" moments so I want to be clear, right off the bat. I am going to vomit my story information out at you more-or-less constantly for the next few months.
Did you know that Urza's spark isn't his own?
Did you know that Urza had a wife?
Did you know that Hurkly literally invented Magic?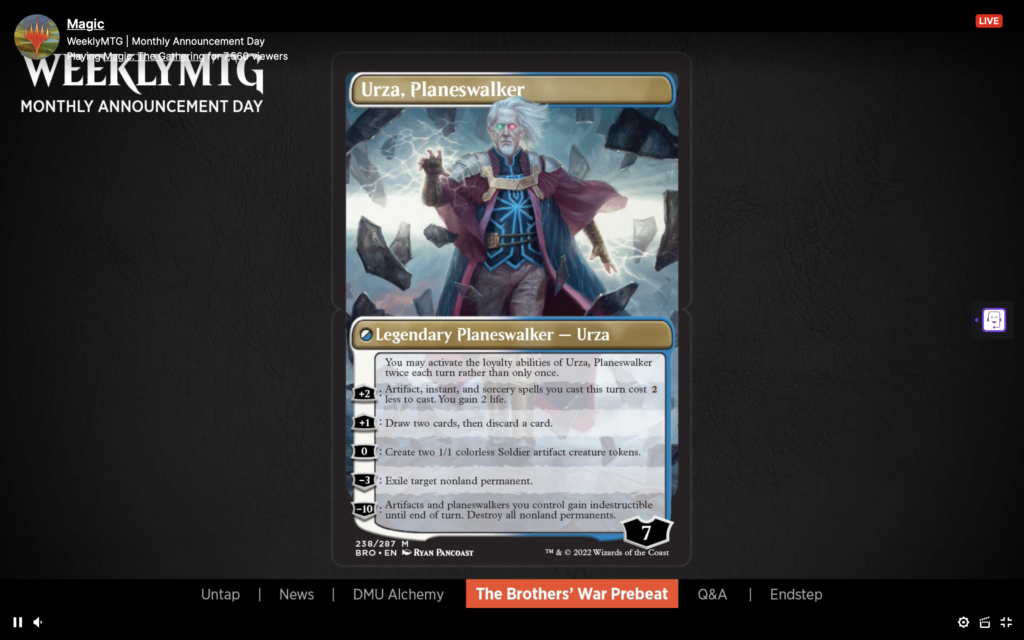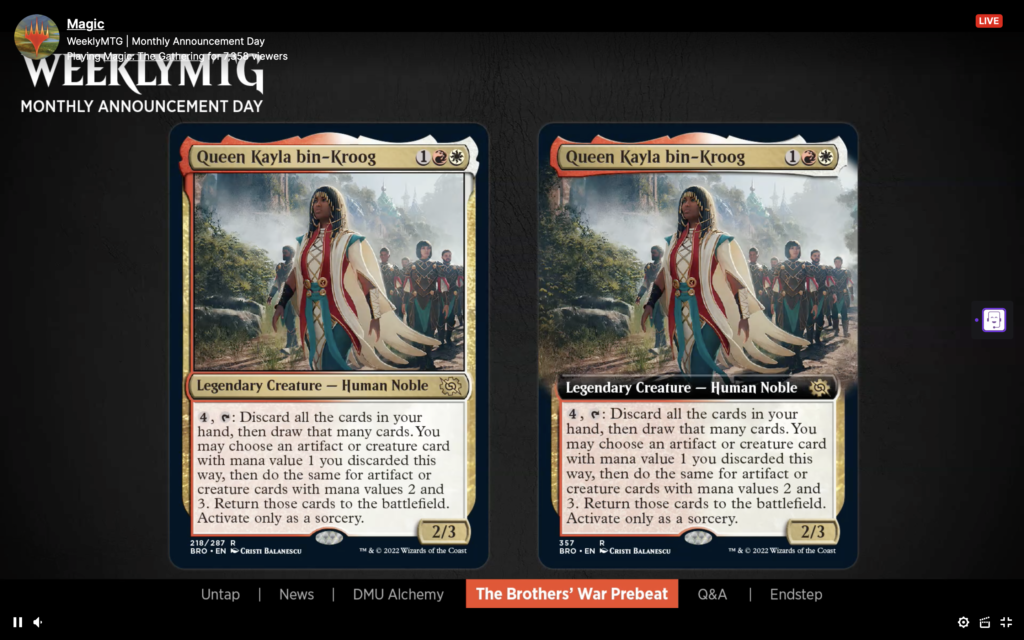 Queen Kayla is just one of many, many characters who haven't had their full stories given their day in the sun. I hope to learn a lot more about the woman Urza ignored for decades so he could build machines of war and plot his brother's demise while his brother Strip Mined the entire continent out of fear of what Urza was building. BROs right?
Hurkyl and Ashnod were also featured in the preview stream and it's about time they got their due. Strixhaven is cool but have you heard about the College of Lat-Nam? Phyrexian Compleation is cool but have you heard about Ashnod's transmogrification work? Marchesa is cool but did she get to tell Urza where he can shove his artifacts? Honestly I don't really care too much about what Teferi and Saheeli are up to. Give me Hurkyl, Ashnod, and Kayla plotting how to murder Urza and Mishra so that their dumb war can end.
Speaking of dumb…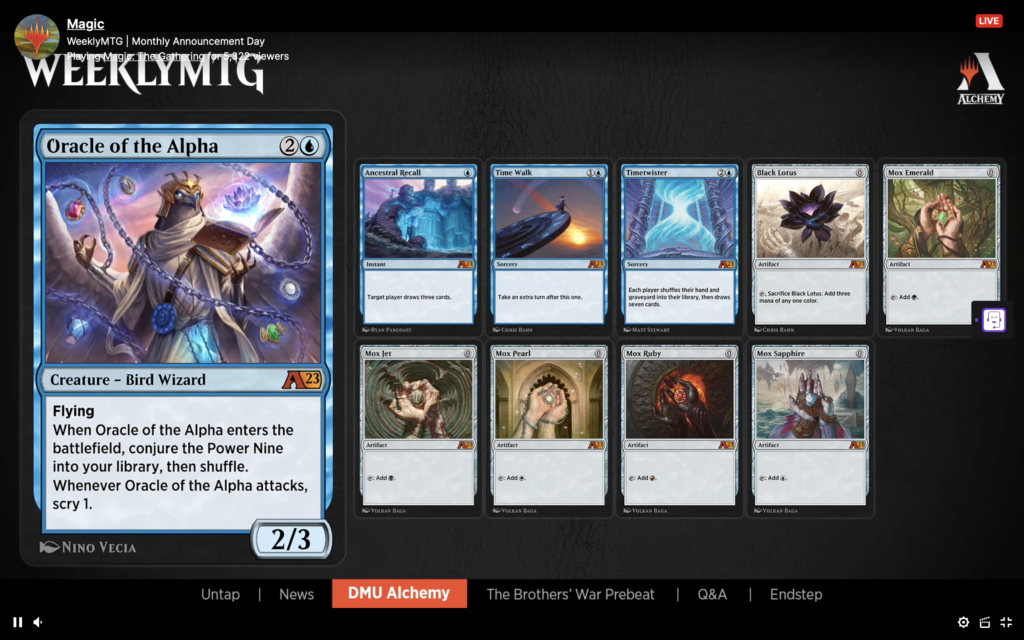 The Power Nine are coming to Magic Arena Alchemy 2023. So that's something. Regardless of how you feel about Alchemy, this is a weird way to create a digital nostalgia card. But more importantly what other Oracles could we get? Will there be an Oracle of the Arabian Nights that gives me Ali from Cairo and Aladdin? How about an Oracle of the Homelands that, you know what, nevermind.
Did you know Homelands has an actual story to go with the cards?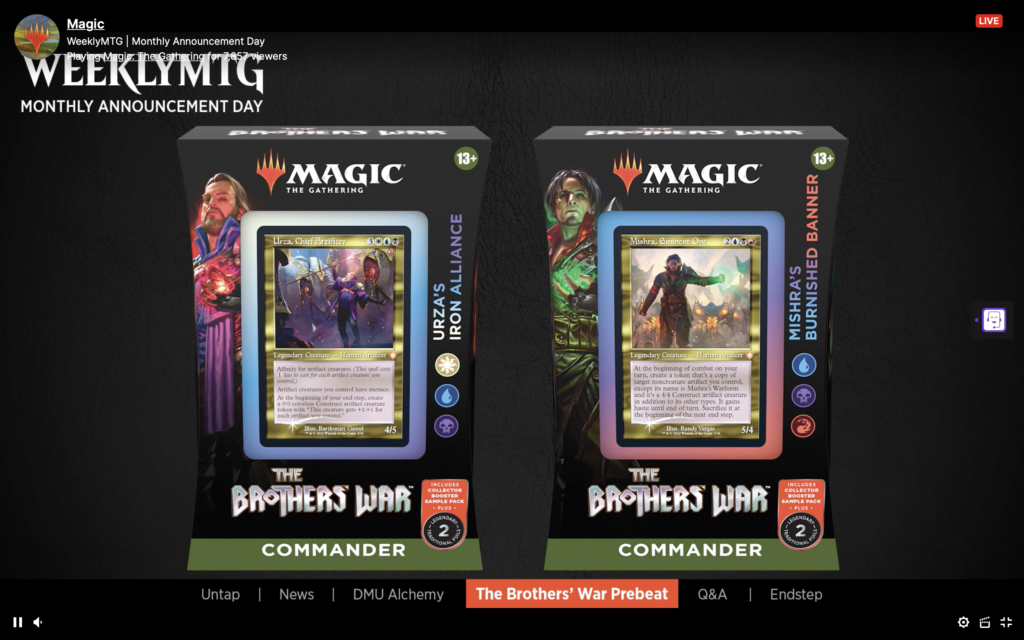 These Commander decks will use the old Magic card frame. That's an okay decision, but let's not forget that the new frame was created partly because of how hard it was to read huge walls of text on the old frame. So let's hope the new Commanders don't have huge walls of text. Really guys? Really?
That's all for now. Except for one thing. Which I'll talk about next week in a longer article. But here's a preview:
ARE YOU OUT OF YOUR MIND WIZARDS OF THE COAST? FIVE HUNDRED COPIES? LIMITED TO FIVE HUNDRED COPIES? WHO DO YOU THINK YOU ARE? DO YOU HAVE ANY IDEA WHAT THESE ARE GOING TO BE WORTH ON THE SECONDARY MARKET? HAVE YOU NO SHAME? WAS THE RESERVE LIST NOT ENOUGH? WERE SECRET LAIRS NOT ENOUGH? ARE YOU TRYING TO FIND NEW DEPTHS TO WHICH TO SINK?
See you next time!