On Sunday, June 5, 2022, the original artwork for Season of the Witch by Jesper Myrfors was sold on the MTG Art Market for $23,000
Season of the Witch by Jesper Myrfors is a work of acrylic on board measuring a small (but standard for the time 5.3 inches by just under 7 inches on a larger board. It was used for the August 1994 Magic: The Gathering expansion The Dark and is one of ten Myrfors cards to appear in the set. Myrfors is one of the original 25 Magic: The Gathering artists, was the game's first Art Director, as well as Set Director for The Dark.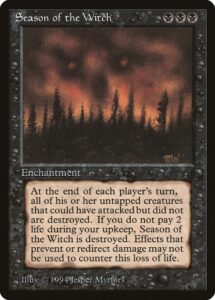 The auction was run on the MTG Art Market by Mark Aronowitz, selling the piece on consignment for a friend residing in Japan. The auction began at $2,500 but by the end of the first day, the price had already climbed to an even $10,000.
From here it would largely be a battle of private bidders in the waning hours, with only two folks chiming in in the comments. When the dust settled one private bidder stood alone at $23,000, and this classic early Magic artwork was headed to a new home.
This is yet another early work from Magic to be sold, following both Grim Monolith and Millstone. We've seen in the past strong results usually shake more artwork loose from longtime collections, and I'll be eager to see if the trend continues. Stay tuned to the Art Market Minute on Hipsters of the Coast for more breaking Magic Art news.