On Sunday, May 22, the original artwork for Millstone by Kaja Foglio from Magic: The Gathering sold publicly on the MTG Art Market on Facebook for $48,000.
Millstone by Kaja Foglio is a work of acrylic on illustration board, measuring 5 ½ inches by 6 ⅞ inches on 7 ¾ inch by 10 ⅝ inch board. It first appeared in the Antiquities expansion in March 1994, Magic's second major expansion beyond their initial base sets, and would go on to be reprinted in the subsequent Revised, Fourth, Fifth, and Sixth edition sets for the game.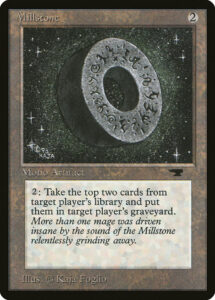 The auction was run on the MTG Art Market on Facebook by the work's current owner Nick Coss, who also owns Top Deck Games and Card Titan. Having been previously offered in February 2021 with an asking price of $75,000, the auction began in search of a $10,000 opening bid behind an unknown reserve price.
Bidding began immediately and the work moved to $20,000 within the hour and was at $25,000 from a public bidder by day's end. Bids continued through the week and weekend moving $5,000 at a time. At $40,000 it was noted the piece was close to meeting its reserve, and it would ultimately be a $3K advance, from $45,000 to $48,000 that would pass the reserve and win the day for Jeremy Chien bidding publicly in the comments.
Coss also noted in the auction that he would be sending 5% of the sale to Kaja directly, "as a way for thanking her for creating something so great so long ago." This was no doubt inspired by the 5% Group, a group of collectors that pledges to send 5% of proceeds of original Magic art to their creating artists upon contemporary sale.
As I've mentioned previously, these major auctions of early Magic: The Gathering pieces almost always bring more artwork out of hiding, so stay tuned to the Art Market Minute on Hipsters of the Coast for more breaking Magic Art Market news.