On Sunday, May 29, 2022, the original artwork for Kozilek, Butcher of Truth by Ian Miller sold for $21,000 on the MTG Art Market on Facebook.
Kozilek, Butcher of Truth by Ian Miller is a work of pen and ink on illustration board measuring approximately 15 inches by 19 inches. It was commissioned for Magic's upcoming summer Masters set, Double Masters 2022, as a new artwork for the Borderless version of the reprinted card.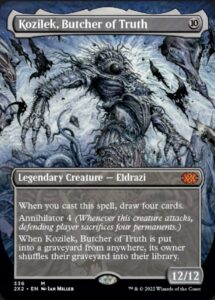 It is Ian Miller's second card since rejoining the game in 2021 with the Kaldheim expansion's Varragoth, Bloodsky Sire, which sold for $27,000 last January. He has illustrated 26 total cards for Magic.
The three day auction was run on the MTG Art Market by Guy Coulson acting as agent for the artist for a second time in the Magic sphere, and the sale sought an opening bid of $7,500.
The opening bid was met immediately by two bidders within seconds of one another, and bidding commenced quickly. In less than thirty minutes, the work climbed to $21,000 with a private bidder, and that would be the bid that captured the piece two days later. There was not further advance at the end, but an exceptional end result nonetheless.
Kozilek was here for a good time, not a long time, and fans will be able to open his card when the set officially releases on July 8th, 2022. Previews for Double Masters 2022 begin on June 16th, 2022, and if it's anything like its predecessor from 2020, there should be an unprecedented amount of traditional artwork from fan-favorite and legendary artists alike. Stay tuned.