Good morning everyone, and welcome back to the Mirror Gallery here on Hipsters of the Coast. As I was finishing up last week's article I wasn't entirely sure what I planned on writing about this week. This is a bit of a rare occurrence as I'm often working ahead, but once the bevy incredible art for Double Masters began to roll out, it didn't take long to figure things out. I had to write about this set.
There were 50 new pieces of card art in Double Masters spread across 20 different artists, and the set welcomed back more than a dozen artists from Magic's history. For some, it was their first time illustrating a Magic card in almost a decade. This recipe of old masters on fan favorites cardboard not only produced great art on great cards, but injected a serious dose of nostalgia for many players.
This article will be similar to my Art Grand Tour series as I pluck out some personal favorites from the extended art box topper series, and strip away the card frame to showcase the full artwork. Among these are some absolute artistic triumphs and perhaps some of the best pieces of illustrative storytelling I've gotten to talk about in quite a while  The reprints were great, but Double Masters was doubly special for another reason. Why? Because Here, There Be Masters.
Stoneforge Mystic by Dan Dos Santos
This is one of the pieces that, when I saw it, I knew I needed to write this article. Dan Dos Santos has illustrated more than 100 book covers, and knows what it takes to grab someone's attention in a crowded space, whether it's on the bookshelf or alongside 383 other cards in a trading card set. This is a beautiful rendering of this ever popular and age-old artificer, and a masterwork of both value and perspective that come together in one of the most striking images of the entire set. This slightly tilted viewpoint makes us feel as if we're witness something spectacular, something we might not get to see again. And we are: both the calling of the swords, and the reemergence into Magic of a fantastic artist.
With less than 20 cards before Double Masters, a single card in Throne of Eldraine was Dan's only Magic card in the last decade. I think that all changes now, and I hope he continues to bring his art and influence to the game moving forward.
Blood Moon by Jim Pavelec
This is the other work, entirely different than the aforementioned, that spurred me to begin writing this piece. It has a bit of everything an art nerd wants to see: vivid colors, a mood that goes on for days, and almost topographical texture throughout the entirety of the piece. These highs and lows make you feel the heaviness of a biomorphic Blood Moon, emphasizing the sheer weight of the sphere rising from the crater below. It evokes a duality of emotion, in essence it's both sides of the coin; all will be lost, or everything can be gained. And for folks that have played with or against this card, it turns out the feeling is usually exactly that.
Jim Pavelec has illustrated 34 for cards for Magic including his duo of Double Masters inclusions, and these are his first since 2011. Welcome back, Jim; I sure hope you're here to stay awhile.
Urzatron Lands by Mark Tedin
Mark Tedin has been around as long as there has been Magic, and is one of the original illustrators of the game who has pieces all the way back to Limited Edition Alpha. His recent role has been to reprise and re-imagine some for the most important cards in the game. First was last year's Sol Ring, and he's done it again in the Urza Lands alongside Karn Liberated. These three lands, separate as cards but in reality a singular panoramic artwork, have the feel of 90s Magic and yet are contemporary science fiction, modern but with a decided maturity. This is no easy feat, but Mark Tedin has become the master of balancing relevance with nostalgia, and giving a nod to the past while creating something brand new.
Sword of Body & Mind by Steve Prescott
This is one of the most breathtaking artworks of this set, and not just because you're headed over a waterfall. I wanted you all to see it sans card frame. There's a waterfall with tropical birds crossing the chasm behind the card title. There's a frothing whirlpool, with the glow of both sides of the sword emanating through the undercurrent (this is seriously incredible) below the text box. And beyond this is that compositional perspective, this sword, plunged into the rushing river, is the very last thing you have to hold onto before your go head over teacups and over the edge. Prescott pulls you through this artwork, and it's a monumental addition of artistic technical prowess to this set.
Sword of Feast and Famine by Thomas M. Baxa
The second Sword of today's trip through Double Masters is that of Feast and Famine, one of three pieces that marks Tom Baxa's return to Magic after an eight year absence. Again, do you notice something you perhaps missed at card size? How about the zombie slumped against the tree stump? Or the woodland friends drawing near to the sword, hearing the call of its power? There is so much going on here we don't get to see once this work is strapped into the card frame, but I love that Baxa incorporated it anyway. It's an entire fairytale distilled into one spectacular storybook image, and quite the comeback for this longtime Magic artist. Welcome back Tom!
Goblin Guide by Mark Zug
Mark Zug is obviously no stranger to Magic, and had cards as recently as this year's Theros Beyond Death and last summer's Modern Horizons. But of his 175 cards career, there is no greater group of commissions than his four for Double Masters, with Goblin Guide chief among them. A softened background brings our tour guide front and center, and we get several callbacks to a previous iteration of Goblin Guide with a handful of chuckle-worthy changes. Goblins are resourceful: she now uses her map as a hat to keep the sun off her head, and the flavor text  lets us know it will be intuition that runs this day. Goblin intuition: can you imagine? This bit of whimsy is a welcome addition to what is otherwise a rather serious group of artwork, and makes a strong piece of artwork even stronger.
Wurmcoil Engine by Carl Critchlow
This was Carl's 225th Magic card, and what an absolutely perfect commission for one of Magic's all-time legends, and one of my favorite people from the game's history. The WurmCarl engine, as I'm always going to call it, has been reborn in an aesthetic that looks back to the Onslaught block of my childhood and one of the artist's most prolific periods working for the game. Two bodies, metal and flesh, darkness and light, intertwine and terminate in a four-mawed head coursing with energy; it has the edginess of Phyrexia and at the same time a smoothness of ultimate compleation. Carl and I talk almost every week about art, antiques, and the general comings and goings of the world, and I'm so very glad to have him back working in Magic.
Thoughtseize by Chuck Lukacs
I'm not sure how much of this work was required in the art description and what came from the mastermind of Chuck Lukacs, but the incorporation of the head as puzzle and theft of the puzzle piece is simply brilliant. It's a subtle nod to Mark Tedin's Memory Lapse from Homelands, and at the same time involves a Kev Walker-inspired Blackguard fairy and the Lorwyn thematic that originally made this spell famous. Mix these together with dreamlike palette and Chuck's spectacular skill for rendering evocative imagery, and you get what will probably be the most popular version of this card going forward. Congrats Chuck—you crushed this one from every angle!
Wrapping Up
I hope you all enjoyed this card frame jailbreaking, and a look at some of the master artists responsible for this unprecedented amount of special artwork in one set. There was just no way to get all 50 pieces of art into one article, and I wish I could've featured every new piece here today. There are so many more artist stories to tell, like the return of Ron Spencer, rk Post, and Richard Kane Ferguson, to the big time commissions done by Martina Pilcerova and Franz Vohwinkel after considerable time away from illustrating new cards. Every single new artwork in this set has something great that could be said about it, and I'd love to hear about your favorite piece I might've missed here today. Give me a shout on Twitter!
Tom Jenkot was the art director for most if not all the new art in this set, and as far as I know, this was his first major project as an AD for Magic. He brought some of the best artists from near three decades of Magic all together into a single project, and that's really something special. If I had but one criticism, it's that of these 50 pieces of new art, less than a half dozen were completed by women or artists of color. Magic is the perhaps the biggest stage in fantasy art and imaginative realism, and a greater variety of voices being elevated means richer storytelling and a wider perspective communicated by the game itself. We've seen some folks announce their commissioning, and I know it's coming, and I want to see Magic continue to be the leader and banner carrier in this arena.
Looking ahead, you may have picked up on a particular artist absence from this article, and that's because next week we're going Behind the Brush with Scott M. Fischer!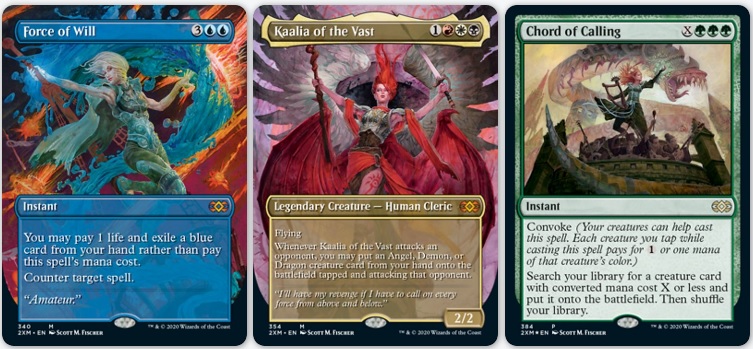 Scott had three pieces in Double Masters, and we're going to take a look at his Magic career that began way back in 1996, these brand new works from Double Masters, and some pretty exciting stuff he has coming on the horizon. You're not going to want to miss it. Stay safe everyone, be excellent to each other, and I'll see you back here again real soon.
Donny Caltrider has been playing Magic since 2002 and collecting original Magic art since 2017. He has an M.A. in Museum Studies from Johns Hopkins University and enjoys telling stories about art, objects, and the intersection of fantasy with real-life. You can find him on Twitter talking about #mtgart, museums, and other #vorthos related goodness. Follow along and continue the conversation!