On Monday January 11th, 2020, five original oil paintings, an entire cycle of Snow-Covered Basic Lands by Adam Paquette, were sold on the MTG Art Market. Four of the five works sold for a combined $26,100 via auction, and one work sold post-auction for an undisclosed amount after not receiving a bid.
This slideshow requires JavaScript.
Snow Covered Basic Lands by Adam Paquette, oil on top of paper mounted to 3mm aluminum dibond, 23.6 inches x 17.7 inches
These five works are all oil on top of paper mounted to 3mm aluminum dibond measuring approximately 23.6 inches x 17.7 inches. They were commissioned as a cycle for Magic's Norse-inspired upcoming set Kaldheim, and are one of two cycles of the "snow-covered" land variations that fit the theme of this world.
This slideshow requires JavaScript.
The paintings were sold on the MTG Art Market on Facebook, with collector Melanie Arndt acting as agent for the artist. Each was run in its own auction with a $6,000 opening bid, and ended 20 minutes apart beginning with the Snow-Covered Plains. Let's go through each painting and take a closer look and hear about the work from Paquette as posted in the auction, one by one.
First sold was the Snow-Covered Plains, realizing a $7,200 final price and recorded as the top lot of the five. This was the only work with living things present, and seems to have spurred the bidding.
This slideshow requires JavaScript.
Paquette: "I combined two sketches that each had elements I was excited about. The patterns of snowmelt in the foreground were inspired by plain-air painters like Jeremy Lipking and Richard Schmid who have such a great sense of design in their ground planes. I wanted to convey the sense that the plains are just beginning to thaw, and the snow is melting fastest on the exposed sun-facing slopes."
Following the Plains was perhaps my favorite of the five, the Snow-Covered Island, which sold for $6,700 to a private bidder.
This slideshow requires JavaScript.
Paquette: "Under a horizon darkened by storm heads, the tumult of waves and sea-ice bears down upon solitary sea stacks. I used the pillars as vertical anchors for the composition, allowing me to play with the dynamics of the crashing waves against the static bodies of ice along the horizontal."
Next was the Snow-Covered Swamp, which opened and closed via a public collector at $6,000.
This slideshow requires JavaScript.
Paquette: "This was a super fun composition inspired by the landscapes of Zdzisław Beksiński, playing with a first read of the foreground skull still-life vignette, echoed by the taller tower and its skulls emerging from the fog. My intent was to create a flattened space without much depth in the sky above the clouds, while emphasizing the depth of the receding darkness underneath. A moment of trepidation before entering this place of uncertain danger."
Penultimate was the Snow-Covered Mountain, where a small eruption at the end landed this work at a final price of $6,200.
This slideshow requires JavaScript.
Paquette: "Volcanic action in the snow and the remains of an unknown hero lost to the treacherous mountain slopes. I wanted to illustrate the vast and threatening wilderness of Kaldheim at the roof of the world, a place where even hardened warriors meet their match in natural forces."
The final sale was the Snow-Covered Forest, which failed to receive a bid during the auction period but was sold immediately after to an anonymous bidder for an undisclosed amount, per the auction agent.
This slideshow requires JavaScript.
Paquette: "It's rare to be allowed to play with such spare, open compositions and I'm really stoked WOTC approved this version. The fewer elements you have to play with in a composition, the more difficult it is and the more you have to rely on shape design and subtle color gradation. By taking everything else out, I wanted to achieve a sense of steepness in the slope and to convey the character of the lonely snow-covered tree poking out."
Something important to note is that each of these paintings have two associated oil studies to go along with them, and they'll be sold individually in the coming weeks on the MTG Art Market. In most cases, there is one that is very similar to the final and an alternate, or in some cases Adam blended the two sketches together to create a cohesive final work. They're quite lovely, and should present a fairly affordable opportunity to add a piece of Paquette artwork to any collection.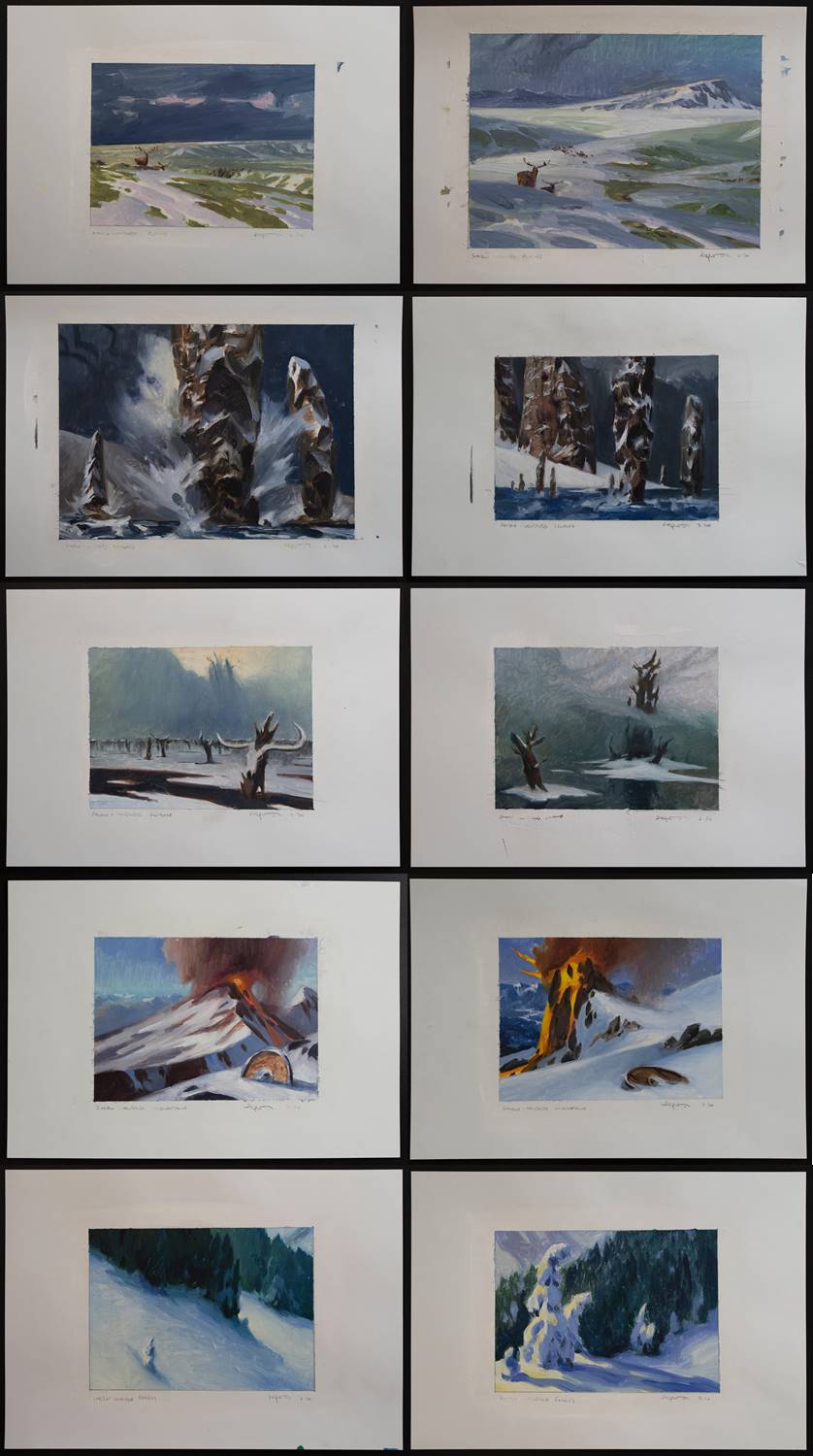 Wrapping Up
These lands do a lot of interesting things. They are the first to debut in this "snow frame," meaning they would look and feel different than the basic land and snow-covered basic lands that came before them. And as Adam has shared, no two are alike: they're inspired by master artists in the genre, combine visual elements from across a range of styles, and incorporate composition we're not often used to seeing in Magic. When I went Behind the Brush with him late last year to talk about his substantial landscape contribution to Zendikar Rising, I didn't think I'd be returning to his work so soon. These landscapes very possibly will present a turning point in basic land styles we'll see in Magic, and we'll have to keep waiting to see what comes next. Stay tuned.