Today, legendary Magic: the Gathering artist Rebecca Guay announced the final stretch goals for her current Kickstarter, including two exciting collaboration opportunities with current Magic artists Seb McKinnon and Alayna Danner.
The campaign ends on Sunday, December 20th, 2020 at 10 PM EST and has raised nearly $120,000 as of the writing of this article. These new announcements are sure to create a significant final push, and hopefully make this her most successful Kickstarter yet.
$150,000 Stretch Goal: Path to Exile Extended Narrative Playmat & Sketch Giveaway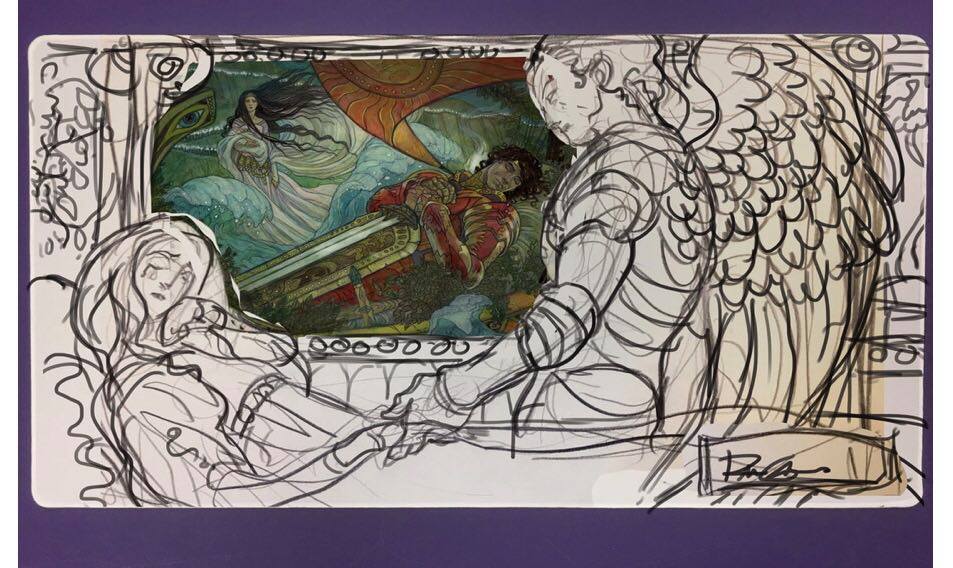 If the Kickstarter reaches $150,000, Guay is going to extend the art for her Path to Exile to create a new narrative.
"I'm painting out the sketched area seen [in the image above]," she said, "and printing an extended narrative-(never to be offered again) playmat."
This would be the seventh playmat design unlocked, following the extended versions of Hana Kami, Channel, Angelic Renewal, and Perish, as well as the unlocked narrative mats of Bitterblossom, and Elvish Piper.
Additionally, at $150,000 Rebecca will randomly choose a backer that pledged $60 or more and giveaway an original Magic sketch from one of her sketchbooks!
This is an incredible opportunity for someone to get a real piece of Magic history alongside their pledge.
$160,000 Stretch Goal: Seb McKinnon Collaboration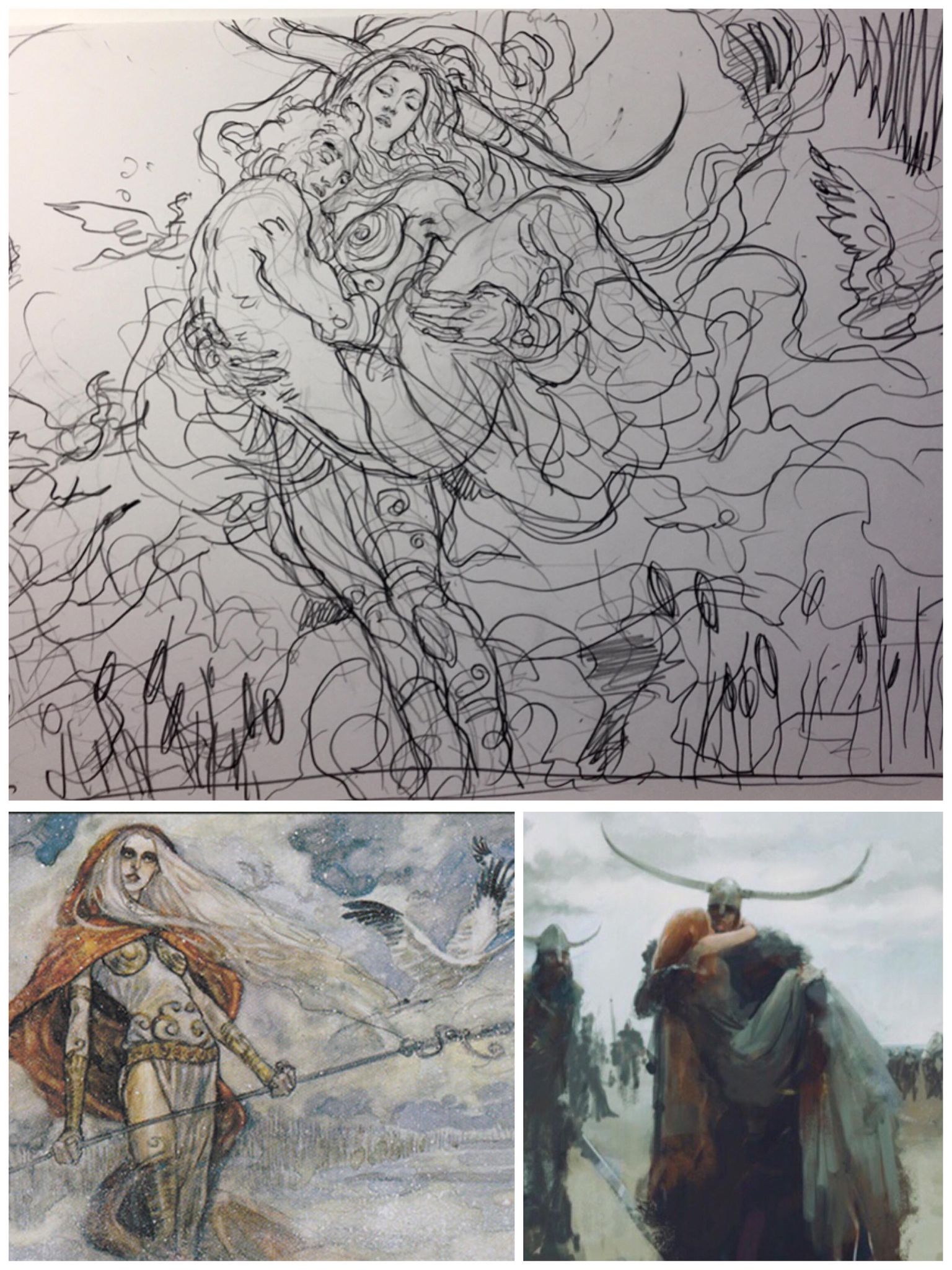 If the Kickstarter reaches $160,000, Guay will release a collaboration with fan-favorite artist Seb McKinnon.
"I'm leaping from one of his paintings to do a NEW version of Kaysa," she said, "a fully painted watercolor image that will be made into a never before (or again) released image for choice as a playmat."
Guay and McKinnon worked together earlier this year on a piece for McKinnon's Kickstarter campaign, and this reimagining of a Magic legend by two artistic titans is something to watch for. Their blending of artistic style is poetry in motion, and this collaboration looks to be just as exhilarating as the last.
$160,000 Stretch Goal: Alayna Danner Collaboration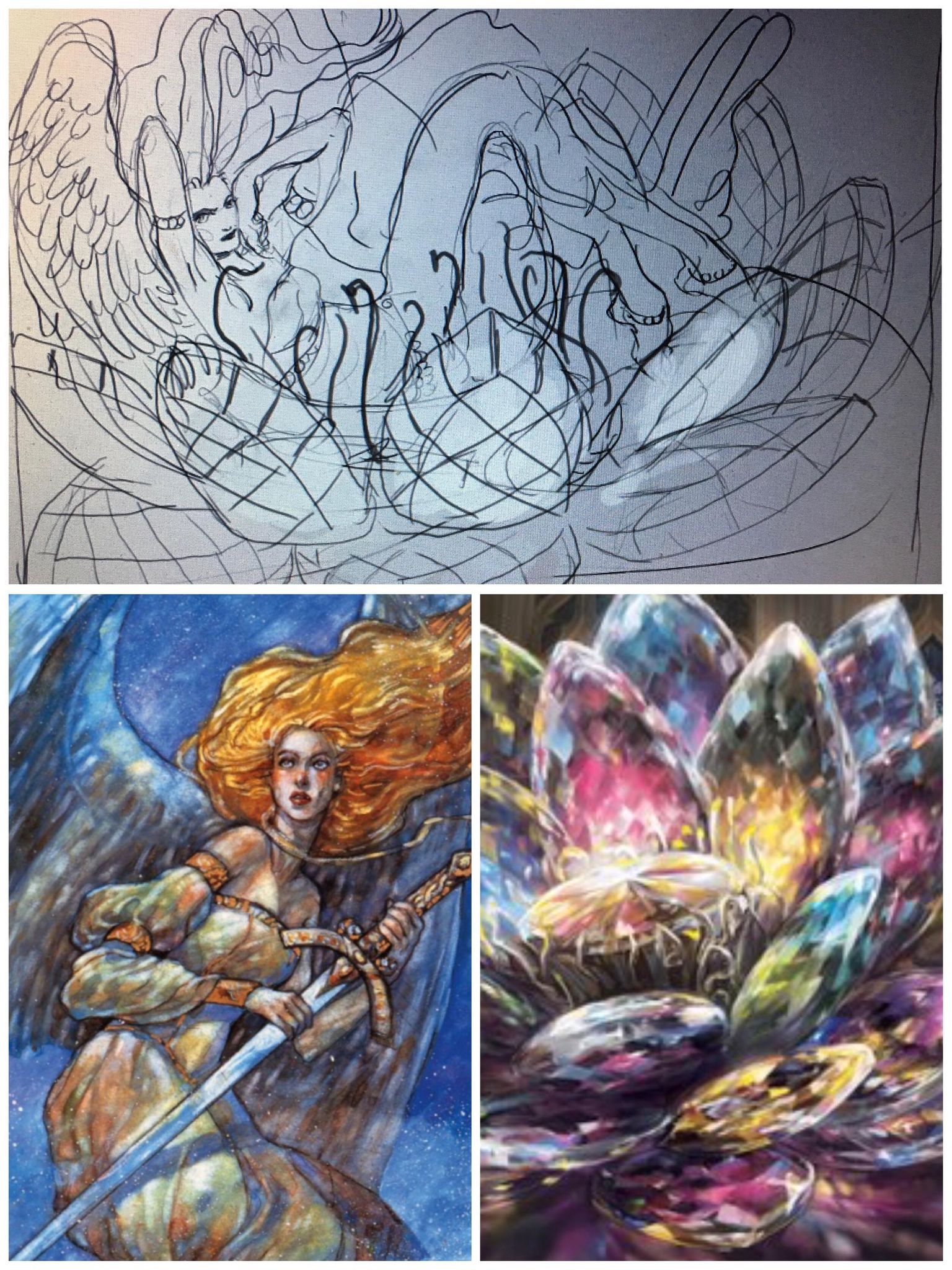 In addition to the McKinnon collaboration, if the Kickstarter reaches $160,000 Guay will release a second collaboration with another popular Magic artist, Alayna Danner.
"I'll be teaming up with one of my favorite young artists for MTG and we've worked back and forth to develop this idea together with two of our most iconic characters," Guay said. "I'll make a full watercolor painting of this Serra/Jeweled Lotus and unlock it as a choice for a special edition signed playmat."
Guay had a large part in creating the signature look of Magic during the 1990s, and Alayna Danner has picked up that banner as Magic entered a new era in the last few years. Having these two powerful women working together is nothing short of exciting; Serra Angel and a Jeweled Lotus, two signature pieces of Magic iconography, painted by the game's best artists.
Wrapping Up
There are only a few days left to back the campaign. Many of these items, including these proposed collaborations, are exclusive to this campaign and won't be available after it ends—if they happen to get unlocked, and I sure hope they do, they and the others will never be available again. You can see all currently unlocked artworks and items in the Gift Gallery.
If you're a fan of Rebecca Guay, especially of her Magic: the Gathering work this is your chance. You've got one shot. Don't miss it.