Throughout the month of September 2020, artist Chris Rahn sold six recently debuted original works from Magic's newest expansion Zendikar Rising, totaling an impressive $37,050.96. This group included three final paintings and three pencil sketches, and depicted two important legendary creatures from the set as well as a full-art basic land. Each work was sold individually on eBay by the artist himself.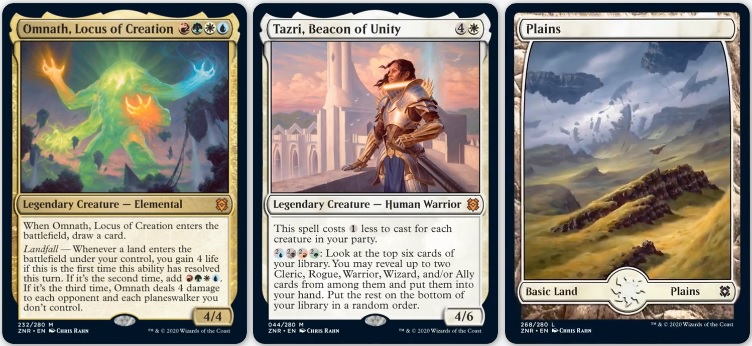 The auction began at the beginning of the month, and a brand new Omnath legendary creature painting being the first to hit the block.
Omnath, Locus of Creation by Chris Rahn is a work of oil on cradled board measuring 18 inches by 24 inches, an all but standard size for Rahn's staple legendary creatures. The auction started at a $699.99 opening bid, as basically all his eBay painting auctions do, and the bidding took off immediately. More than 30 bids were placed over the seven day auction, and it sold on September 9th for a final price of $11,700.
Next to the block was another Zendikari legend that Magic fans well remember, but now in the form of Tazri, Beacon of Unity.
Tazri, Beacon of Unity is also a work of oil on cradled board, sized the same 18 inches by 24 inches in accordance with Rahn's legendary tradition. Also beginning at $699.99, this auction was a bit quieter, hanging at $5,500 until the very end. Three bids in the closing seconds on September 12, 2020 would push it to a final price of $15,425.96 to become the top lot of the six pieces.
The final published work to be sold by Rahn was his "full art" basic Plains, only the second land the artist has created for Magic in his illustrious career.
This Plains is yet another oil painting on cradled board, and once again 18 inches by 24 inches, but this time oriented vertically to match its printing on the card. It too would start at $699.99, receiving 14 bids over the seven day sale and selling for a $7,900 advance placed in the closing time of the auction on September 16, 2020.
Something a bit new as of this year is Rahn's offering of his accompanying pencil sketches to the open market. Previously his sketches were sold privately to a single collector under an agreement made early in his career, but the rising tide of the market and considerable interest in both his Magic artwork and preliminary work in general prompted the new process. A sketch for each of these works was sold, also on eBay, and they achieved the following:
Omnath, Locus of Creation sold on September 20, 2020 for $870.00.
Tazri, Beacon of Unity sold on September 22, 2020 for $510.00.
And finally, the Full Art Plains sold on September 28, 2020 for $645.00.
These sketch prices seem quite reasonable considering their associated works, and are a boon to the collecting community. I love seeing Chris Rahn's pencil work out in the wild, and look forward to  hopefully one day being able to add a piece of his Magic illustration to my own collection.