Returning to a plane for a third time can mean a lot of different things to different players. Maybe you played the original Zendikar and had a love/hate relationship when Rise of the Eldrazi brought, well, the Eldrazi. Perhaps you remember the Gatewatch story being told on Zendikar during Battle for Zendikar and Oath of the Gatewatch. If you started playing less than five years ago, you may not have ever played cards from a Zendikar set or experienced the tribal themes and lands-matter synergies. Whatever reason you might have to relive or redeem, one thing is certain: many are excited for the return to the plane.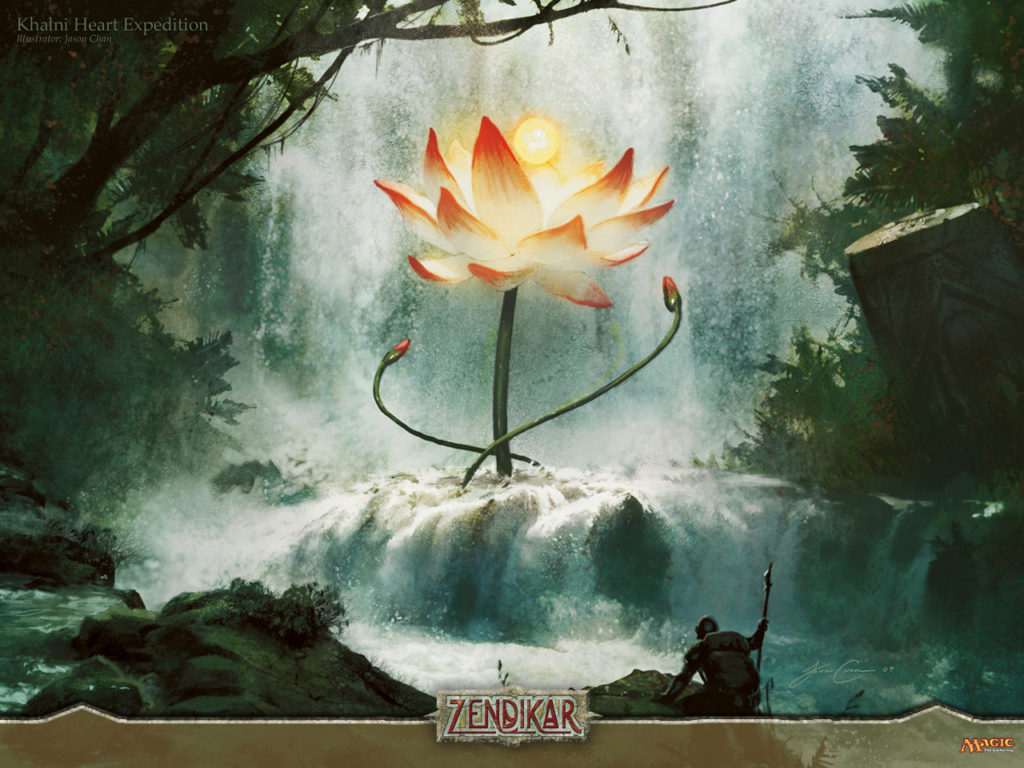 Can you imagine finding out you will get your first preview card in a land you adore anticipate return? I have always had a fondness for Zendikar as my favorite planeswalker, Nissa, is from there. I was hoping I would get a card that was either green, or cosplayable, and Wizards of the Coast certainly delivered: I got both.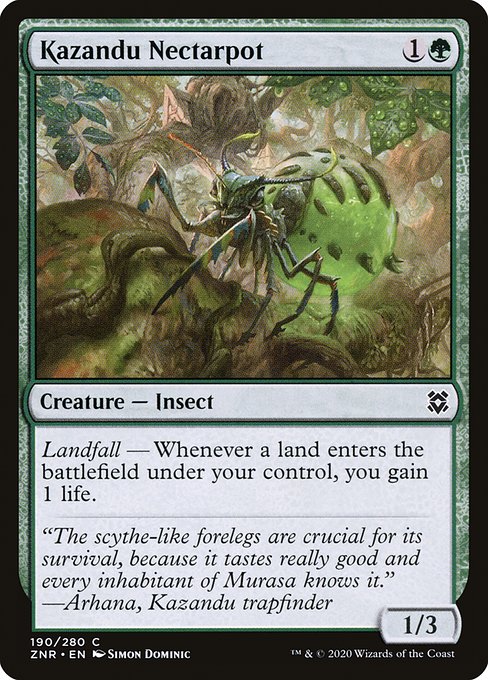 The full set is spoiled at this point, but if you haven't yet seen my preview card reveal I made a series of three videos; 1 longer video for YouTube explaining a little history, and two short 15-second TikTok videos. If you only watch one, the second TikTok was the most popular!
Here's my #MTGZendikar #FreePreview card!!! [Video 1 of 2] #mtgcosplay #landfall@wizards_magic pic.twitter.com/5iKCZ4ideP

— Zenaide Beckham (@ZBexx) September 5, 2020
Here's my #MTGZendikar #FreePreview card!!! [Video 2 of 2] #mtgcosplay #landfall#babygotback #mtgtiktok

TY @wizards_magic pic.twitter.com/DxGf3fbEJK

— Zenaide Beckham (@ZBexx) September 5, 2020
First off, thank you everyone for the outburst of reaction across social media; whether cheering or cringing, you made me smile. I got a lot of the same questions about my cosplay for the video: How long did I have to prepare for the preview card? Did I have anything made in advance? How did I make the scythe arms?
From the date of receiving my card there were twelve days until my preview date, which really meant eleven days before I needed to film, edit, and upload to be ready for my preview date. Of course this fell during a busy work week, but I managed to make the complete cosplay in about eight hours, spanning two days. I'm very excited to share my process with you as making this cosplay covered many topics we've brushed on in the column; such as closet cosplay and working with thermoplastics.
Key Elements
Knowing my time was limited, even though my card was just a common, I wanted to make it special and memorable. I needed to exaggerate the most prominent features of the Kazandu Nectarpot card to best make use of my time. The creature is based on the real-life honey ant species, which will gorge itself to provide nutrients for its colony. The flavor text even references the stand-out qualities including the juicy-behind and "scythe-like forelegs." This guided me to focus on the arms and the behind, to truly transform from human to Nectarpot.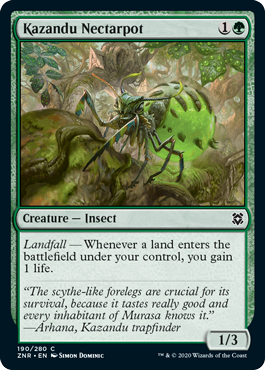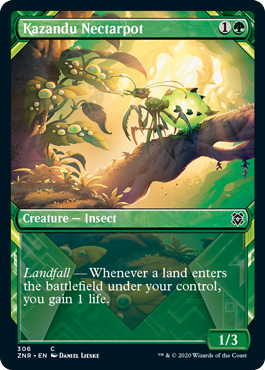 The scythe-like forelegs are crucial for its survival, because it tastes really good and every inhabitant of Murasa knows it. —Arhana, Kazandu trapfinder
The next key was to emphasize my backside while still following the code of conduct guidelines: enter humor. The first to came to mind was a giant toy bouncy ball strapped on the rear. After stopping by a few local stores finding only basketball-sized green toys, I turned to the internet for a green exercise ball instead. Looking at these small balls helped me determine I wanted a minimum diameter of 24 inches to overly emphasize the unrealistic behind. By using something so unlike a real booty, along with the lyrics I made up, I was able to achieve my look and clear my ideas with Wizards of the Coast in advance.
From the Closet
To keep the emphasis on the key elements I focused on making a sleek silhouette. Having preached in the column several times how fun and easy it is to closet cosplay, I took my own advice using things directly from my wardrobe. The black leotard is from my dance performing days and the black over-the-knee boots are the same I wear for Thalia. I also wore a tan tight to help make my legs look good on camera. No matter what your body looks like, base clothing similar to make-up can help remove unwanted light reflections or shadows and smooth the overall look.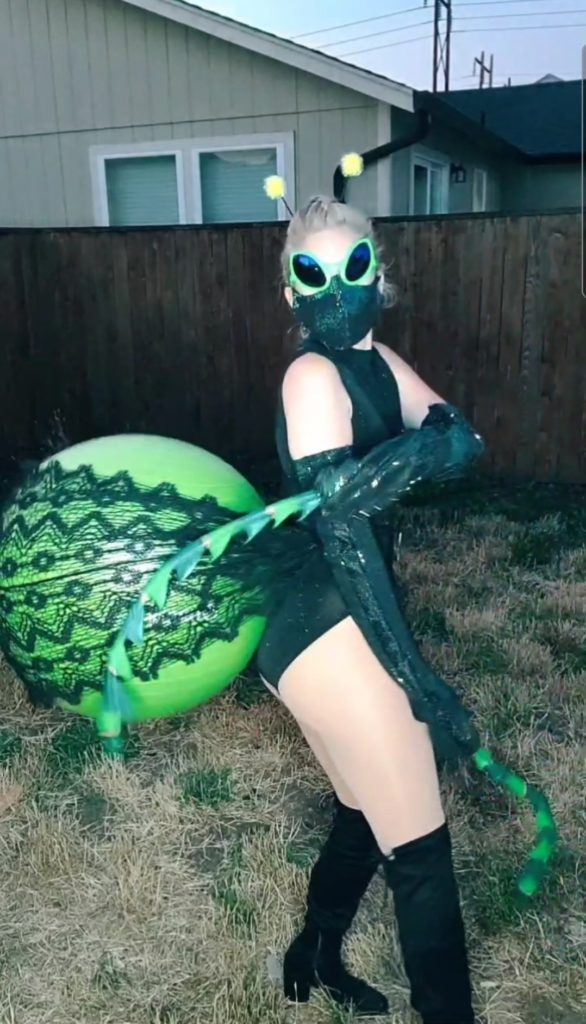 Making Moves
I needed to disguise my arthropodal arms to fully become a bug. If you admire either artwork you will find there are three bends in the arms, the first bend the same direction as a human's elbow and another on top. The top sticks out of a little bug socket, which is even a different pattern than the rest of the arm. It was obvious to me to make the scythes as extensions with handles to hold on to, and a cover for my hands.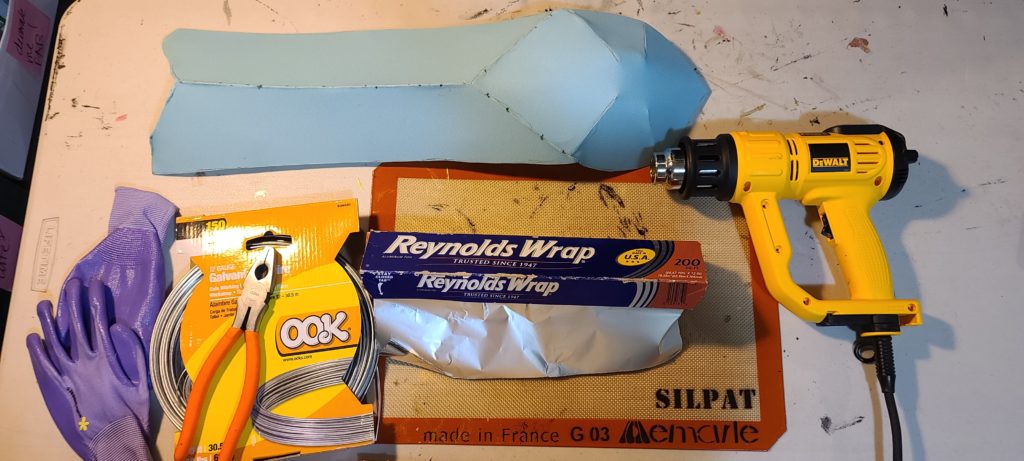 Making the scythe arm extensions was both my favorite part and the longest part. I love recycling and reusing and didn't need to purchase anything for this portion. For the base I used thick galvanized wire and sticks from my backyard. As silly as it sounds, using sticks was not only cheaper than purchasing wooden dowel rods, but gave a bit more natural curve which I wanted as a grip for my handle. I bent the wire to the desired length of my arms, and secured the wire to the sticks by using a thinner wire to wrap them locked together. From there I reused scraps from a failed leg armor piece, heated and folded it on top creating a solid base. The best part about thermoplastics like the Thibra I used, is once they are cooled and hardened, the shape is not going to change.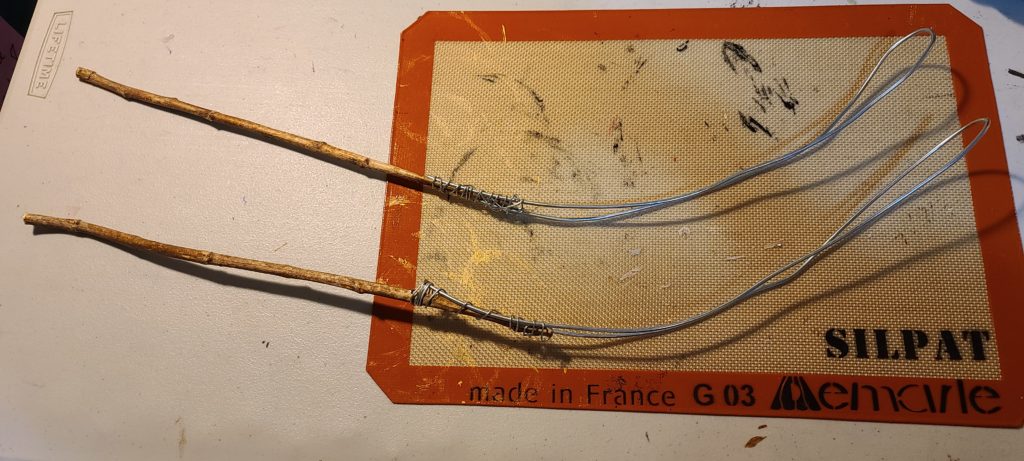 To make the scythe arms look deathly deterrent, I needed to add the sharp pointed edges to the underside of the arm. After a few trials and errors of triangle shaped pieces, I found two obtuse triangles hinged together on their hypotenuses worked best. More simply, a kite shape folded in half and placed to the underside of the arm. To cover the opening a third isosceles triangle was required thus creating a 3D shape.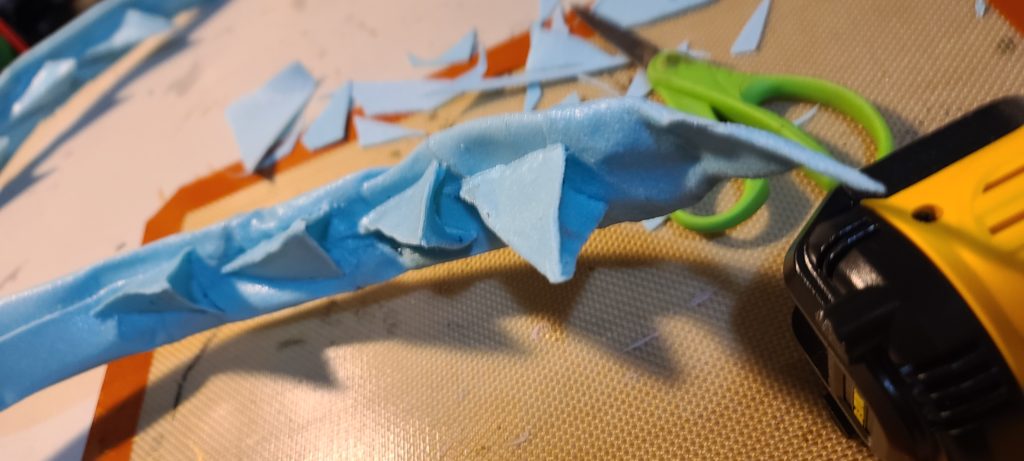 Making many miniature triangles and attaching them takes more time than one might realize, as it's important to not overheat the thermoplastic and let it cool long enough to hold it's shape. Once completely cooled and connected I was able to reheat each 3D triangle and work the thermoplastic by hand to a point to resemble the natural defense mechanism of the creature. This entire process was the most time consuming part of the project totaling roughly 4-5 hours.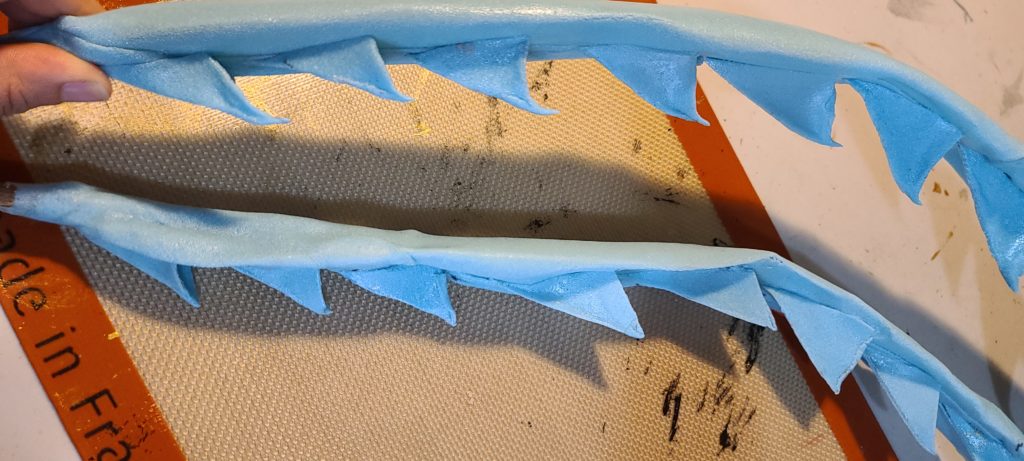 To finish the scythe arms, paint was essential to transform the look from paper to real life. I started with a black acrylic base coat mixed 1:1 with a plastic hardener to promote a bond to my surface. By doing this in the first step the following layers of acrylic paint will stay nicely. From there I alternated spaces with a dark green and a light green to match the coloring, which is most visible in the artwork by Simon Dominic. There is also a distinct golden-tan line following every dark green section which I made sure to include. To make that additional non-green color pop a little extra, I added a thin silver highlight and thin black shadow, above and below respectively.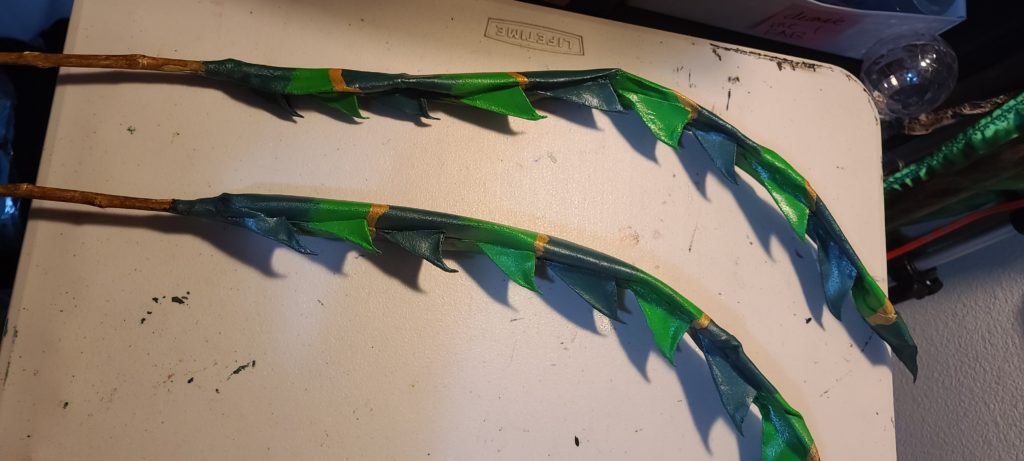 Now that my scythe arms were complete I needed to sew the arm covers, which would be oversized sleeves. I found two awesome costume fabrics, one that matched my black leotard and another with printed-on metallic dots in a green color that reflects everything from blue to orange. I created my own fabric by sewing together long strips of alternating pieces of each material to help tie-in existing black pieces with the green exercise ball. Not having to sew fingers for gloves was an added time-saving shortcut (trace your hand, now imagine stitching along the line versus a single straight line). Instead of fingers I made a simple cinch closure, like the top of a drawstring bag. Lastly I attached elastic to the top-underside along my bicep to ensure my glove-covers would stay in place.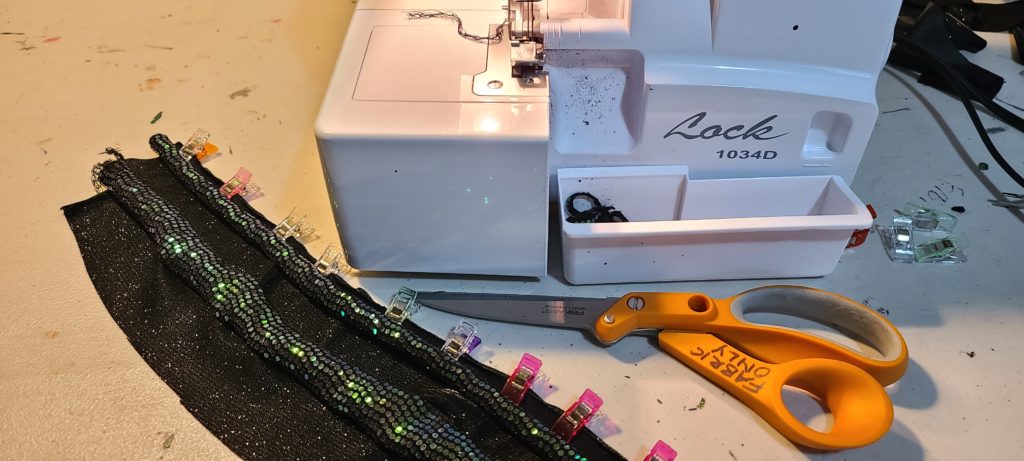 Putting it All Together
The final step to turn into an insect was to get rid of my human head. In my online search for a green exercise ball I stumbled across insect glasses—an immediate impulse buy. While I was waiting for those to arrive in the mail a photographer friend inquired if I had any masked cosplay photos to share for his COVID-friendly cosplay collage. I had in fact made a "Chain Veil" mask for Liliana to casually cosplay during the Core Set 2021 prerelease. What better way to spoil a card during 2020 than by embracing the mask theme and simultaneously helping lose my facial features? I made a matching facemask out of the green metallic fabric.
Last but not least were the antennas, where I continued my theme of recycling materials. I had two tiny wooden dowels (intended for cuticles from a beauty supply store) which I painted black. After the paint dried I stuffed the only matching puffballs left from a package on top, no glue required. I was able to place them in my hair bun just like one uses hair sticks without any additional fixing needed.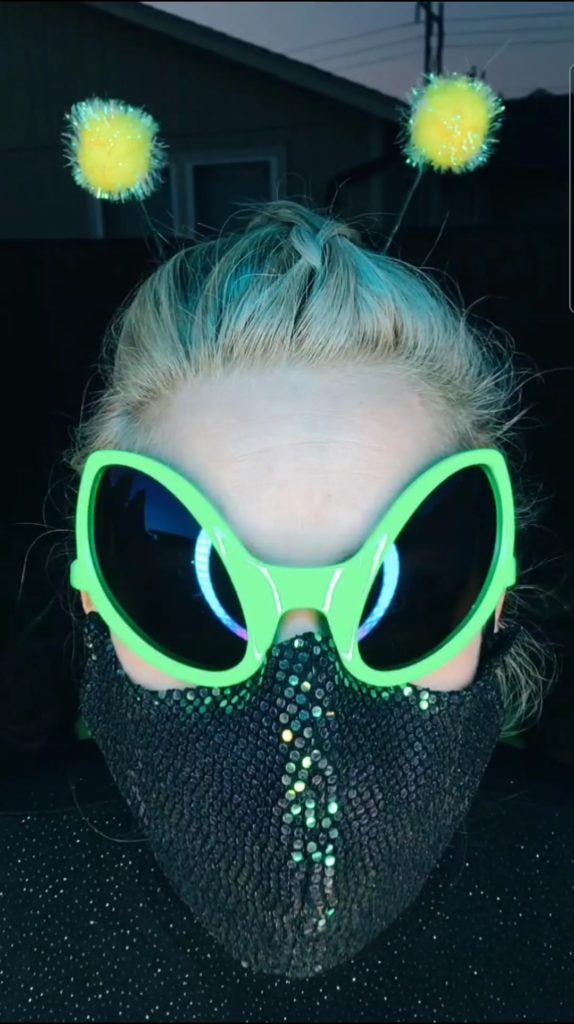 It sounds like everything has gone exactly as I imagined thus far, right? Wrong—not everything went as planned.
Originally I had intended on attaching the exercise ball to a belt around my waist by sewing a diaper-like shape to support the sides and underside of the exercise ball. In theory, it worked, as I tried it beforehand with some fabric scraps. What I did not account for was the material I purchased was a spandex blend, meaning it had a lot of stretch and was not giving the same support cotton blends did. I tried making a "web" of strands, like spokes on a bike wheel going from front to black but the material was just too stretchy. In the end, and a last resort, all I needed was a black scarf pulled wide around the exercise ball and tucked into my belt on both sides!
Landfall and All
I had a lot of fun tackling this cosplay project and hope you enjoyed experiencing my creative process. I embraced themes I frequently write about such as closet cosplay, reusing your scraps, and having fun with it!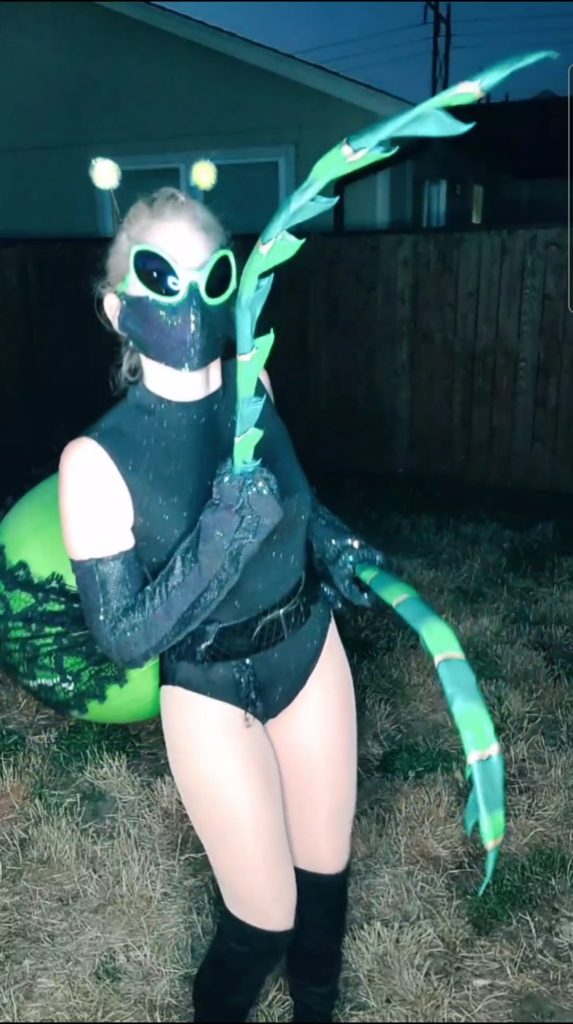 Zendikar spoiler season has come and passed. That means the world gets its first peek of new Standard and Limited play when Wizards of the Coast hosts the Early Access Event on Arena later today. Many MTG creators including myself will be streaming play, so make sure to catch some of the action. I will be streaming in a Zendikar themed cosplay—tune into twitch.tv/zbexx to find out which one!
Following on Thursday, MTG Arena play with Zendikar Rising will be available for all. Paper prereleases start Friday, whether you are in a part of the world hosting events or just getting the product for webcam prereleases at home. I hope every time you see Kazandu Nectarpot on a stream, in your hand, or on the battlefield a little tune and a giant green exercise ball pop into your head and make you smile.
Zenaide "ZBexx" Beckham is an Oregon-based cosplayer, gamer, and MTG judge. Her favorite format is Legacy, because just like performing in dance or cosplay she gets to Show and Tell.