Welcome to the Mirror Gallery. Occasionally on Hipsters of the Coast our writers like to venture outside of their usual column to cover something special. This bonus edition of Mirror Gallery sees Kristen interview Sanjin Halimic, whose Magic artwork continues to impress. 
This week I've got something a little different for you. You might remember that I interviewed artist Justyna Gil last year about her Aurelia fan art that made waves, and got to have a fun and enlightening conversation about the artistic process. I enjoyed that interview so much that I decided to give the format another go! This week, let's sit down with Sanjin Halimic, another great artist hoping to make his mark on the Multiverse with the debut of his newest piece, Tamiyo.
Introduction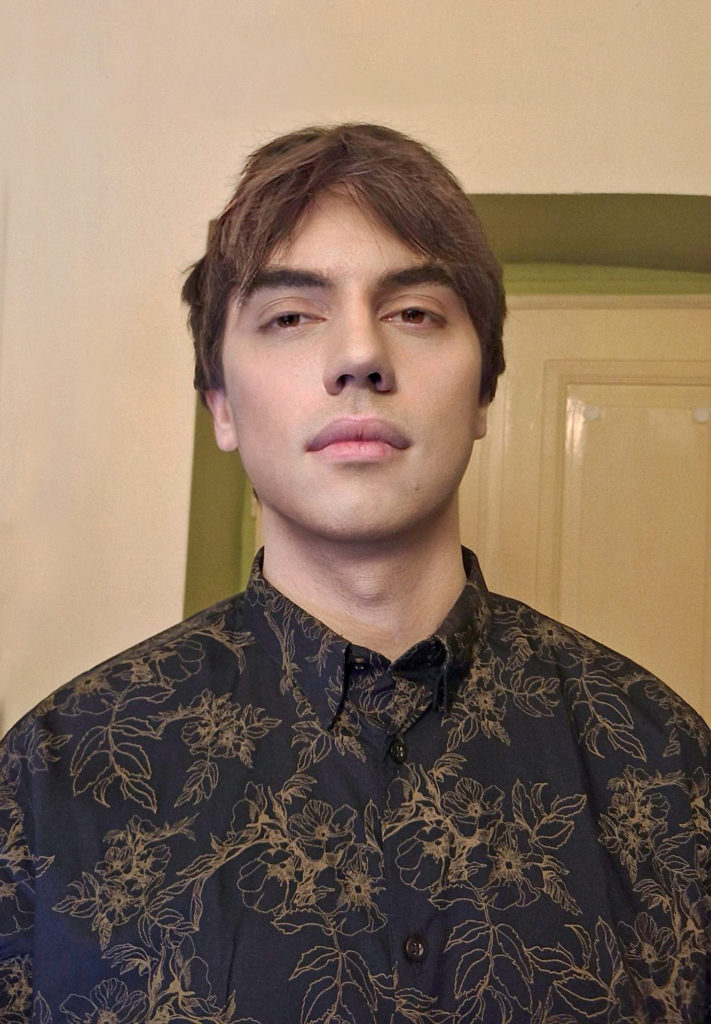 Good morning Sanjin! Welcome to the Mirror Gallery here on Hipsters of the Coast. Let's stick to tradition with Donny's usual opener: Who are you, where are you from, and what do you do?
Morning Kristen! 
Glad to be here, thank you so much for having me. I'm a concept artist and illustrator living in Bosnia. I come from a family background of artists; my father is a prominent conservator & painter, and my mother is an architect & painter. 
When I was younger, my plan was to become a designer, or a director of photography (which I followed through with after graduating university). Eventually, I discovered that I am way more passionate about painting than any of the other jobs I had in mind. I'd drawn and painted for fun since I was a kid, but I never lent it too much significance, as my parents always found a way to bore me with talk about classical and fine art: do this, do that, while I just loved music and playing games instead! And now here I am, painting my days away and admiring the fine art that was once boring for me. A little Ironic isn't it?
Life finds ways to surprise us to be sure. You mentioned your father was an art conservator; essentially, he'd take a hand in restoration and preservation of old art and artifacts, right?
Yup! Over the years, many old masters and significant paintings have passed through my father's conservation studio, so I was lucky to have the opportunity to see all of those works in person. 
Oh wow, that sounds like it was an exciting place to be. Any works we might be familiar with pass through?
There were so many. It's hard to remember everything, but I believe amongst the most notable works were by renaissance master Tiziano Vecelli; Titian and Raphael (Three Graces). Here are a few old progress photographs I found of my dad working on a Titian piece.
That's crazy to think about. Another thing that's crazy right now is the pandemic; I'm not sure anyone could have predicted 2020 going like this. I'm a little tired of living in the city—there isn't much green space, and it's still oddly busy. How are you doing?
I think I'm in the same situation. I live in the main city of Sarajevo, and we basically don't have a single park here! Being an artist makes it worse, since I'm just kinda gravitating towards being home all of the time anyway. We don't ever go hiking or anything since leftover landmines from the war still haven't been fully cleared up to this day. Basically, I think I have been in quarantine way before all of this started, and so it's starting to get to me. 
Not even having the opportunity to go hiking right now sounds rough. Hopefully it'll be over soon. You live in Bosnia & Herzegovina. Did you grow up there? 
My parents immigrated to the Canary Isles—in Spain—when I was two years old, and then the war broke out. I had a wonderful childhood there, enjoying the beaches and sun. We moved back to Bosnia when I was twelve, and I had to get a little accustomed to the culture and language—I mostly spoke Spanish at home because my parents wanted me to learn quicker for school.
What was it like growing up in a post-conflict country? Are there any other echoes of conflict that persisted, like the landmines you mentioned?
Even though it had been years since the war ended, it was a topic which could be heard all the time. The suffering that many endured, the hostilities that each ethnic group had towards each other, you know? Having grown up on a tourist Island, where I had friends of all races and ethnicity, I simply could not understand or accept this divide. For me, people were just people, and I loved everyone equally. It just didn't make sense. Eventually, this led to me being ostracized by some friends for hanging out with others, and vice versa. I often stood up for others and got backlash for it. The economy here had always been bad too, currently at its lowest ever. Which is what led me to seek opportunities in other countries and online, in order to support myself and my family.
Thanks for sharing that Sanjin, it sounds like the kind of upbringing that molds a person. What interested you in pursuing art? Do you remember any moment you thought 'oh, this is for me!'?
Though art had always been present throughout my life, the vast majority of different disciplines I was exposed to when I was younger kept my focus from being as refined as it could have been. I drew characters from TV, videogames, and all sorts of things which my parents weren't so fond of. They wanted me to be more studious and academical about my art. Fantasy and SciFi art had a stigma attached that many people didn't really want to talk about back then, too. Generally it's still looked down upon in the art world, which I believe is really sad. It took years for them to really approve of what I was doing, but eventually they got to love and accept what I do. Times change, and sitting in front on an easel all day and night isn't the only option now.
After you graduated, you spent some time in South Korea, right? What was it like, immersing yourself in another culture? 
Yes, I worked as an Art director for almost five years. I got scouted by an SM Entertainment creative director after winning a prestigious design competition during University. I accidentally stumbled upon Korean music in it's very early days—2007 I believe?—and had been listening to the genre for a very long time, so I immediately accepted the offer. I am very passionate about languages—I speak five foreign languages—so when I moved, I already spoke some Korean and things were okay, but getting adjusted was still difficult.
Five languages is super impressive, Sanjin. What was the work like?
For a time I was working as Concept Director, working on Idol concepts and their general image. I worked closely alongside some legendary figures in the industry in order to create the main concepts for f(x), EXO and NCT. I also did some collaboration work for Infinite when the company acquired Woollim Ent and some other side projects. I met some wonderful coworkers, artists and idols. It's a time that I will forever cherish.
That sounds like it was a real experience for sure. It's funny—the last artist I talked to here, Justyna Gil, also spent some time in South Korea! Working in that industry must have been tiring. Were there any days you felt like it was too much?
At times, the work hours and crunch were insane; almost 14 hours per day! Due to the difficult nature of the industry, some of my friends passed away due to various difficulties that come with this job, leaving me heartbroken. I left the industry due to these reasons, among some others. I still love everyone and follow the music genre up to this day. I learned so much about patience, friendship and music as an art form.
The Process
Your main body of work looks to be fantasy based. What drew you to fantasy art? What are you really nerdy about?
When I was a kid, I stumbled onto a store which sold Magic cards. I was fascinated, I still remember this moment very vividly. I had no clue how to play but I loved the art.  Later on, I found myself reading every book by Tolkien, Pratchett, Jordan, Martin, and many other fantasy writers. Then I really got into games; Warcraft 3 and Diablo 2, mostly blizzard games. I played World of Warcraft for many years on and off. God, I love everything MtG and Warcraft!
Was there a piece of art that was a turning point for you during this time?
Oh Yes! That would be a tribute piece to Jaina Proudmoore, a character from Warcraft. 
What makes this one so special is the fact that it is the only piece on which I had worked on for multiple months; so much time spent in fact, that the file name has the number 28 in it, representing its file version. It's also the one piece which made me step into illustration more seriously: originally, I mostly painted concept art and worked as an art director. I explored so many things artistically and made many attempts at stepping out of my comfort zone doing different techniques. It was a war zone for brush techniques, edge control and exploration. The execution was really important to me, so it isn't an overly complex piece in terms of composition or story, but it helped me move forward tremendously.
I've met some of my best friends while playing World of Warcraft who have stuck with me ever since. It might sound a little corny, but I'm grateful and happy for those experiences and memories. This piece honors the memories built from years of playing Blizzard's games, but also the effort that goes into producing them for us to enjoy.
I think we can't talk today and not talk about your Aminatou piece. Tell us about the process. How do you create a piece of art?
I basically do a lot of research on the subject matter before I start sketching or painting. It can also be anything from staring at a wall and thinking about a final result, up to staring at another piece of art and trying to take visual notes. I gather a bunch of references that I believe would be helpful and I start a few loose sketches. Sometimes I do clean lines, sometimes pure paint and wide strokes, and sometimes I go past the stage of a sketch and go all in for black and white.  I also use things like maquettes or super poseable action figures and light them with a usb light. Whenever possible I take my own references too.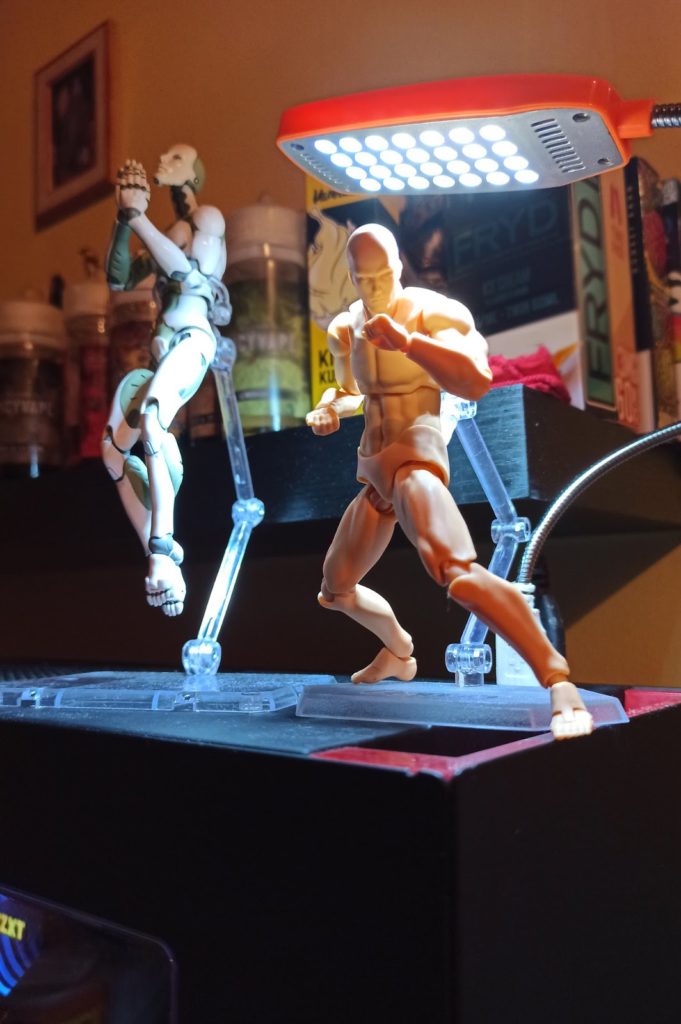 Aminatou can alter anyone's fate, including her own. For this reason, I wanted to do something a little different. Using an abstract setting and colors that aren't necessarily represented in her usual color scheme, I could show Aminatou as able to shape her own fate and identity—why not a pyromancer for example? She could be one of the first Planeswalkers with colors that adapt to her card's state of identity.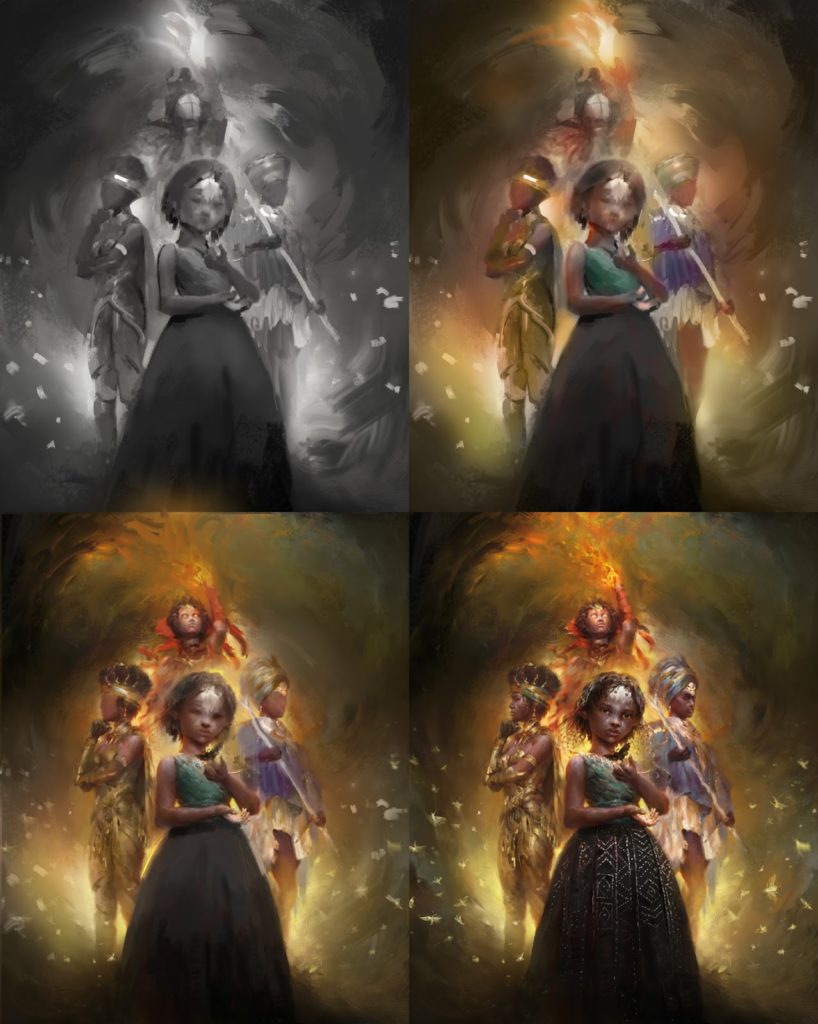 The background was a little distracting so I had to tone it down, and eventually I was concerned that Aminatou or the fates would come off looking too gloomy, so I tried to add a bit of a calm to Aminatou's expression, changing it a few times before getting the final result. I didn't focus on too many details as much as I do with my usual pieces; because there are so many things going on that can distract the eye from Aminatou herself, I needed to find a balance, especially after adding the moths towards the end.
Magic: the Gathering
You managed to capture the personality that Seb imbued into Aminatou for sure. Was there anything you did differently with your newest piece, Tamiyo?
Firstly, thank you.
I believe I have focused a lot more on details in general when it comes to Tamiyo, at least for certain focal points on the character and scene. Mostly because we are dealing with one full character here, and there are objects in the foreground and background which can provide a sense of depth and space. I still try to keep the relationship between soft and hard edges where it makes sense, and include rest areas for the eye, so that one doesn't get overwhelmed by some of the details.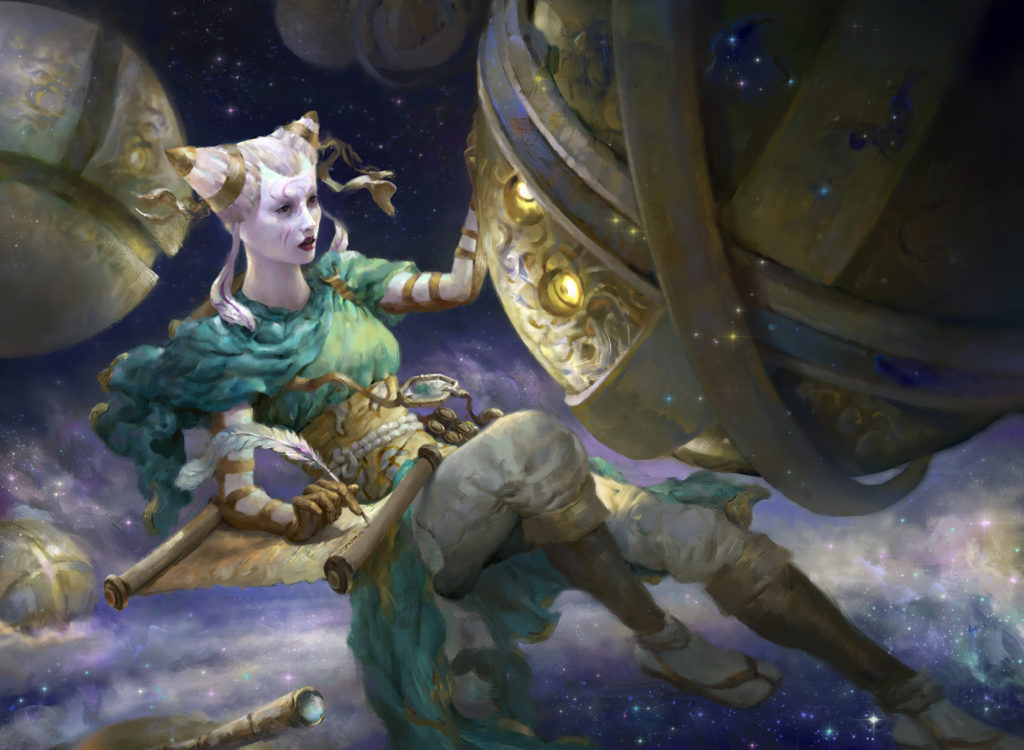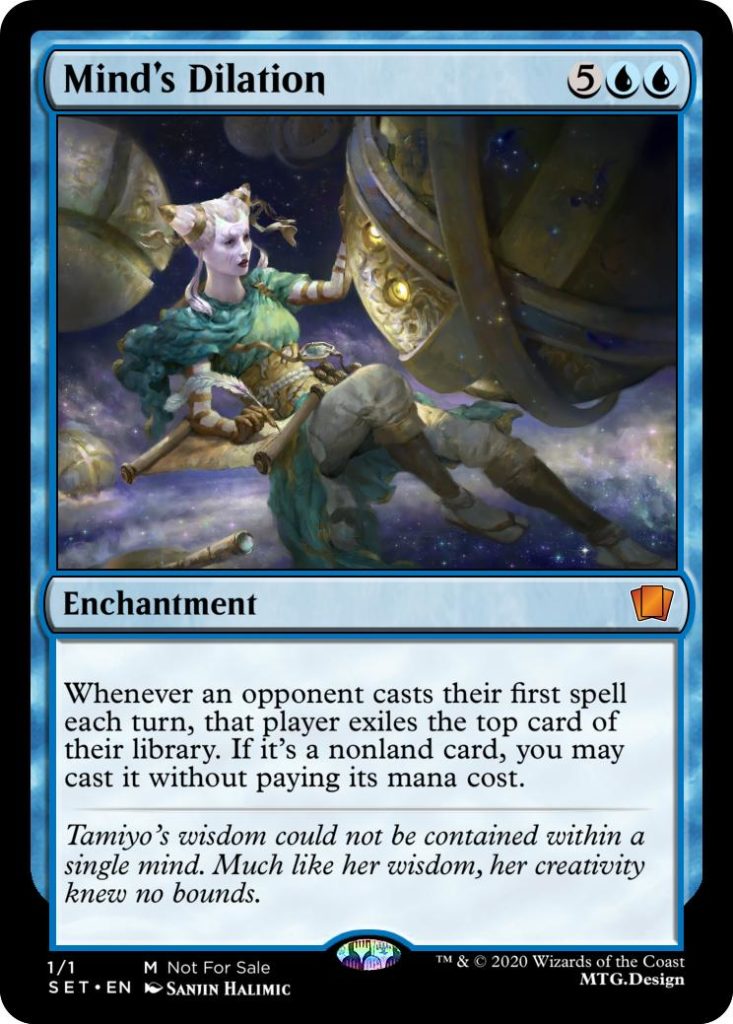 I really love what you did here. The starlight is a subtle touch that adds to the sense of wonder. What drew you to creating MtG fanart? 
I believe that Magic is so much more than just a great card game. Magic art is so diverse due to how many artists have worked on the game throughout the years. You can illustrate the same subject, but each artist will interpret that subject in their own way, through their own techniques and views. There is a huge community who appreciates and acknowledges this form of art. I want to be a part of that world! I honestly don't know what would happen to fantasy illustration if Magic were to somehow perish, it's a scary thought. 
How long have you been playing Magic? Do you get to play often?
Not as often as I'd like. Ever since I arrived in Bosnia, I couldn't get a hold of MtG cards, so I stopped collecting them. I believe that up until a few years ago you weren't able to purchase MtG cards in Bosnia at all, and it's still difficult, so I had no one to play with or access to cards. When MTG Arena was launched recently, I immediately installed it and have been playing in my spare time. I have a very obsessive personality so if I spend too much time on a game off a schedule, I'll try and become super competitive which leads to playing non-stop, so I have to control how much I initially play and stop playing once time's up.
That's a shame. I know you're hoping to move once the pandemic is over—maybe that'll give you more of a local scene! What have you been working on most recently outside of your great Magic fan art?
I'm a co-founder of an RTS renaissance project called Edge of Chaos. It's a real-time strategy medieval fantasy game project that I have been developing for the past two years with some friends in the industry. It takes inspiration from classics like Age of Empires 2, Warcraft 3, and Company of Heroes. I'm taking care of the artistic direction and concept art for the project. If any of the folks reading like strategy games, they can find more info about it here.

Sounds like it'll be a sweet game—I'll be sure to keep an eye out. Thanks for taking the time to talk to us, Sanjin. It was a pleasure listening to your stories, and I wish you the best for the future. Where can people find you?
It's an honor and a pleasure. Thank you so much!
I'm very active on Twitter, and I post regularly on Artstation & other social media. 
Folks can find simple links to my profiles, print store and portfolio here: https://sanjinhalimic.com/links
---
And so concludes another great interview. Sanjin's Tamiyo piece is truly breathtaking, and I can imagine it gracing an enchantment or artifact that embodies Tamiyo's studious story telling.
For more artists we'd love to see make it onto Magic cards, check out Donny's Wishlist series.