Beginning May 31, 2020, an entire suite of original artwork by Allen Douglas was sold on the MTG Art Market, each piece a component of the newly announced Magic: the Gathering Ornithological Studies Secret Lair Drop. Douglas illustrated three of the five cards in the set, which was available as a one-day drop on June 9, 2020 and as a part of the larger Secret Lair Summer Drop from June 1-15, 2020. Including two original paintings and three sketches, the group achieved a final sale price of more than $10,000.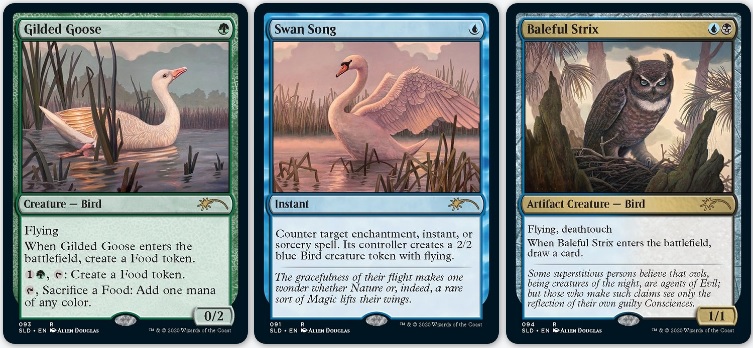 The auctions were run by Vorthos Mike acting as agent for the artist, and the total of five pieces would be sold over a two week period. Here's how these beautiful birds finished up:
The auctions started with Gilded Goose, and the Throne of Eldraine first-time reprint would set the stage for the remainder of the works. Consistent action through the seven-day auction would escalate to a bidding battle in the closing hour, and the Goose was sold for $4,225 to a collector bidding in the comments.
The auction for his second work, Swan Song, was a five-day auction scheduled so that the two pieces could end together. A late bid by the Gilded Goose buyer would win the day, and send both of these works into the same collection. The final hammer price was $3,525.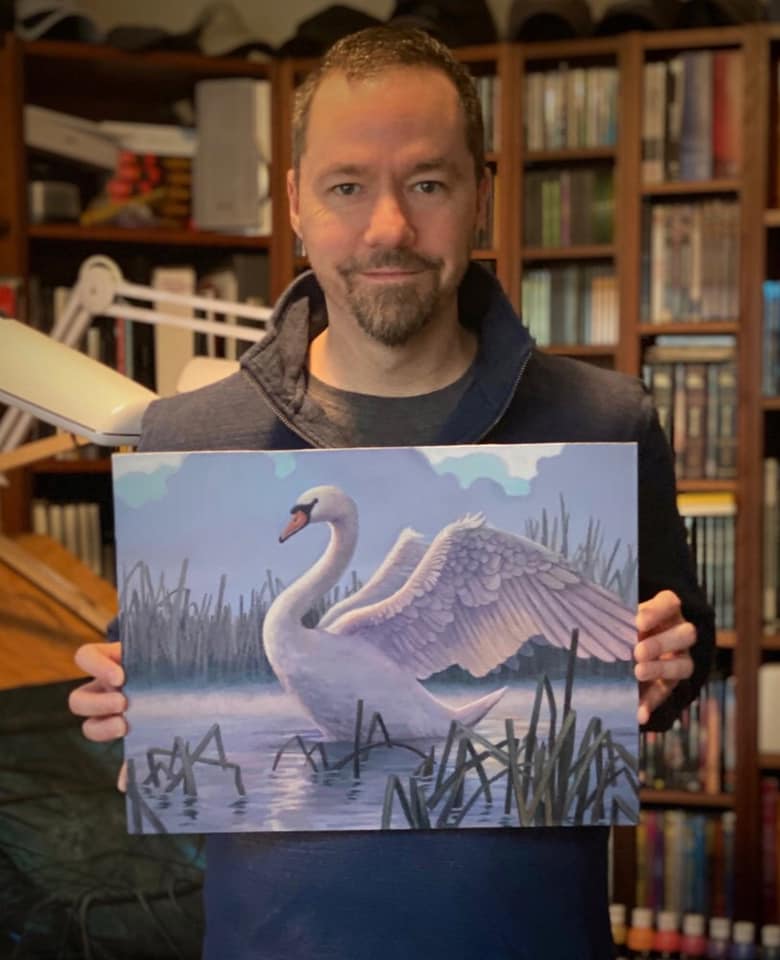 The third painting did not come to the auction block. Douglas is keeping Baleful Strix for his own collection, both to hold onto one of his debut paintings and because he likes owls best among the three.
The next week, the associated sketches for each of the three works were offered via auction as well. Each is a work of pencil on paper, 5.375 inches by 4 inches on 6.375 inch by 4.25 inch paper.
This slideshow requires JavaScript.
With no opportunity to purchase the original painting, the sketch for Baleful Strix led off with a bang, selling for $1,800! The Goose followed an hour later, selling to the aforementioned buyer of both the Goose and Swan painting, for $560. The swan sketch ended the next night, Monday June 8th, selling for $610 to a private bidder.
Allen Douglas is a veteran of fantasy art, and was almost certainly tapped for this assignment because of his personal work known as Cryptid Visions. These works are rooted in realism but each imaginative and fantastical:
This slideshow requires JavaScript.
The Jabberwock, oil on panel, 18" x 24", The Knotted Sawbill, oil on panel 12" x 16", The Jeweled Razorshell, oil on panel, 5" x 7"
He is regularly included in Spectrum: The Best in Contemporary Fantastic Art, as well as a regular exhibitor in the Main Show at Illuxcon. I've been fortunate to see his work up close at IX, and I love seeing an artist get the call from Magic to do what they do best. Here's hoping we see him again!