Good morning everyone, and welcome to the Mirror Gallery on this fabulous March morning. Today is the third installment of a recurring series that fellow Hipsters writer Ryan Sainio and I embarked on last year looking at the basic lands of each color. For those of you returning to the column you already know this, but for anyone new; I like basic lands a whole lot. They are one of my favorite parts about deckbuilding, and I think they are one of the strongest storytelling components in the entire game.
This article, like the Plains and Island editions before it, came about after Ryan and I wrote an article about our favorite Planeswalker art (his is here and mine is here). It was also inspired by John Dale Beety's 2018 article On Swamps. JDB's article is particularly relevant this go around, so if you haven't read it, make sure you click through and check it out.
Our goal is to highlight our favorites of each basic land type and give our audiences a little insight as to why. And as an extra special treat, this time I even have special guest, Hipsters own Modern writer Urchin Colley, joining us for the first time, to tell us about one of her favorite Swamps!
After pouring through Scryfall and the hundreds of different artworks and printings, I've found my twelve favorite Swamps. You'll see some undeniable recurring themes, and this is why this exercise is so exciting. Basic land choices reveal a lot about a player and a person, and this does just that. Having been around the game for the last fifteen years I've seen lots of lands come and go, and I'm very excited to tell you about those I enjoy most. With Theros in the rearview mirror and Ikoria still off in the distance, it's another great chance to shake down the next basic land type. Without further ado, I invite you to join me for this third installment in the Mirror Gallery Curator's Choice: Selecting Swamps.
At a Glance: Basic Swamp
Taking a look at Scryfall, there have been 210 unique illustrations of Basic Swamp as of Unsanctioned. They have been printed and incredible 579 different times between paper, promos, Magic Online, and Magic Arena.
Much like the words "plains" and "island" the utterance of "swamp" brings a particular feeling to the front of mind. Whether darkness, dampness, mystery or murk, there are so many different things that can represent a Swamp, and it's within this basic land type I think we see the greatest diversity in landscape elements. There could be fog, flowers, or fauna, and at the same time dead trees, setting suns, or the various ways in which Mother Nature reclaims what was originally hers. The Swamps of Magic are equal parts resplendent and repulsive, majestic and macabre, and what follows here is a curated cross-section of each of these, because it's that very breadth that makes swamps so enchanting. Make sure you've got your boots on, and let's begin:
Swamp #258 (Throne of Eldraine) by Paul Scott Canavan
When I saw this land for the first time during Eldraine preview season, I said "Damn!" loud enough the next desk over looked at me strange. As you'll see I absolutely love when pinks and purples are added to the Swamp color palette, and Canavan outdid himself on his very first basic land for Magic, which was included in my Throne of Eldraine Grand Art Tour: Volume I. A serene scene that looks fabulous in foil, a closer look reveals some disgusting bits beyond the beauty: the muckiest of mud, dead things in the water, and an ominous raven of whose presence is unknown. It's perfect.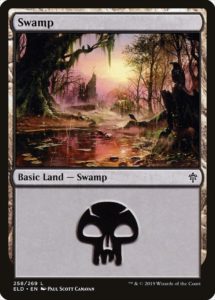 Swamp #341 (Onslaught) by Dan Frazier
In staying with the elements featuring pink and purple, this swamp holds a particular place of nostalgia for me: just look at that flower. I began playing Magic during Onslaught in 2002 and some of my earliest decks used this very swamp; I can't really remember any other land quite as resonant. Perhaps it's the foreground flower that pulls the eye though the painting, down the canal and up to the setting sun? This is my OG, the classic depiction of how I see a Swamp in Magic.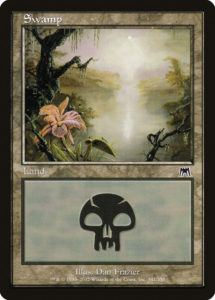 Swamp #261 (Magic Origins) by Larry Elmore
The second recurring theme you'll see today in my choices is trees, alive or dead, and in many different depictions. This is also a swamp from my early days of playing, but I didn't become enamored with the artwork until I discovered it in black-bordered foil some time later. This art once again pulls the viewer through the scene, as if a sculler is ferrying you through the fog to destination unknown. Larry Elmore only illustrated eleven cards for Magic, but the game is only a footnote in his storied career of fantasy art and imaginative realism illustration. Check out some of his other classic work here, and keep your eye out for his classic contributions to the card box.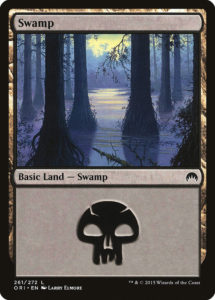 Swamp #256 (Kaladesh) by James Paick
As if I planned it our third Swamp is representative of the third and final subtheme of our journey today: swamps that show the underbelly of a particular place. This swamp by James Paick leads us underneath Kaladesh, and the twinkling lights of the tunnels are absolutely astounding in foil finish. It's the perfect fit for your Gonti or Yahenni Commander deck or your Tezzeret Oathbreaker deck.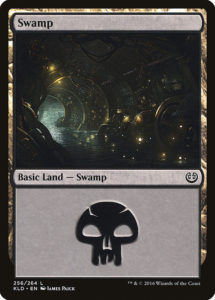 Swamp #261 (Throne of Eldraine) by Svetlin Velinov
Another reasonably new swamp, this weeping willow tree full of will-o'-the-wisps is a bright spot in what is usually a very dark color palette found throughout the land type. I also wrote about this one in my Throne of Eldraine Grand Art Tour: Volume 1, and it's storybook style instantly vaulted this work into my top twelve of Swamps I want t play with, The balls of fire absolutely flicker in foil. Next time at your LGS see if they have one and give it a try yourself. It's going to make you want a set of your very own.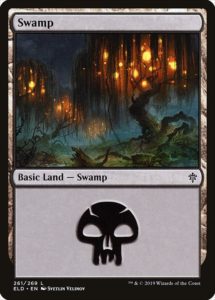 Swamp #271 (Ixalan) by Min Yum
Min Yum has done 61 cards for Magic over their career (though none since 2017's Dominaria), but their only basic lands came in cycle of 5 for Ixalan that included this Swamp. Yet another pink flower, the abstract and exotic nature of this plant is unlike any other Swamp, extremely simple and yet very much unique.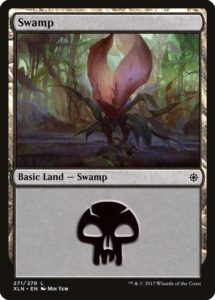 Swamp #339 (Onslaught) by Tony Szczudlo
Another tree! This Swamp slots in right after the aforementioned one by Dan Frazier as an early card I found myself playing a lot, and therefore has been locked into my memory bank among my favorites. A simple scene, the viewer is drawn into that dark hole in the center. Sure, it might lead into the center of the tree—but what if it doesn't?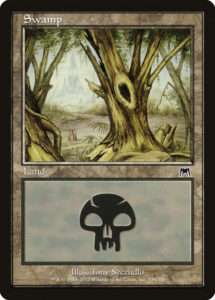 Swamp #B04 (RNA Ravinca Weekend) by Jenn Ravenna
This is the territory of the Orzhov, the guild of business comprised of an ostentatious hierarchy of priests, enforcers, and ghostly councilors that rule over a congregation of guilt-bound loyalists and indebted ghosts. Although they appear as a religious order, underneath they are now only profit and power, and the sheer weight of its people's obligation can be felt as the building rise from the city streets. Mists of mystery and immeasurable scale to make its followers feel infinitesimal evokes an emotional response that makes this one exceptional urban landscape by the one and only Jenn Ravenna.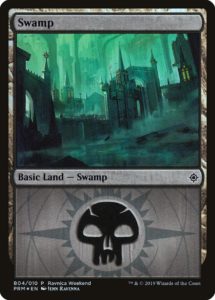 Swamp #MIR-103 (Mirage/Arena) by Bob Eggleton
Bob Eggleton is another legend of fantasy illustration who illustrated two dozen cards early in the game's history. I had a tough decision between two of his works—this and the "Dagobah Swamp"—but this has always been one of my favorites. This artwork has seen three paper printings in Mirage, 8th Edition and 9th edition, and was also added to Magic Arena in July of 2019, bringing it back for old fans and introducing it to new players just the same.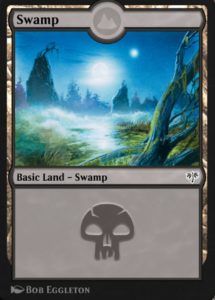 Swamp #A05 (GRN Ravnica Weekend) by Florian de Gesincourt
Similar to the Orzhov land we looked at earlier, this Swamp is a perfect representation of the Golgari Swarm, a guild of necromancers, plants, zombies, elves, and anyone else who ventures down to where they dwell. They inhabit and control the Undercity, the sewers, tunnels, and area below the main streets of the city of Ravnica, and what we see here is the remnants of a pipe that joins the two places, above and below. Brilliant lighting invites us to see where it might go. Up to the sun and hustle and bustle of the city? Or further down, to more darkness and death? Let me know which it might be, if you so choose.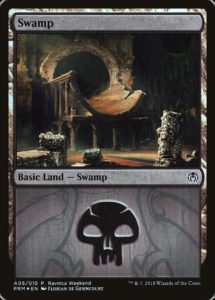 Swamp #92 (Unsanctioned) by Adam Paquette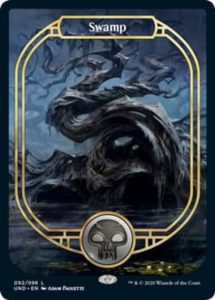 This is Magic's newest Swamp. Even though I've yet to get any, it is my favorite of  the new Unsanctioned basic lands, and one I'm going to play with for a long time to come. Adam Paquette has illustrated over 50 lands for Magic, and he's truly created something special with this last cycle and this one in particular. The gnarled tree fills the card frame and works within the new design elements to traverse the tree in the painting, whether from mana symbol up to the name or vice-versa.
Urchin Colley's "I LIke It"
As I mentioned earlier, this episode of basic land exploration has a special guest, Hipsters own Modern aficionado Urchin Colley! She loves a good basic land, so she's joined me today to tell us about her favorite!
Swamp #375 (Ice Age) by Douglas Shuler
UC: I love carefully-chosen basics, and my favorite swamp is Ice Age #375. I'm partial to narrow color palates in general, but the whole mood of this swamp resonates with me. It evokes silence and stillness. The tree is lifeless and its roots are vaguely menacing. There's no warmth in the light. The stagnant water shows only muddy reflections, obscuring its depth along with anything that might lurk below. This art captures the eerie, secretive aspects of Black for me, and while all of the Ice Age swamps do, this one is my absolute favorite.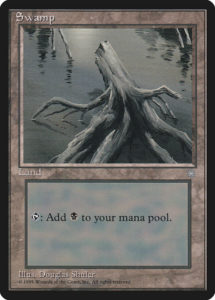 Wrapping Up
I hope you enjoyed this little dive through just a fraction of the Swamps in Magic's history. The vast array of Island illustrations show the sheer breadth and diversity of Magic illustration, and illuminate why Magic has some of the very best artwork in the entire genre. Ryan Sainio has an article of his favorites coming out today as well, so make sure to keep on the lookout for that this morning as well As always there is only so much I can say in one article, so if we missed one of your favorites, jump on over to Twitter to tell me or Ryan which Swamp you like best, and make sure you share an image of the art!
Remember, to peruse all the basic lands of Magic, I must recommend two places. Scryfall is fantastic for sorting by set and artist, and Basic Land Art is perfect for themes and planes. Once a Tumblr and now a website, Rachel keeps Basic Land Art up to date with each new basic land and lots of different ways to search and group them. Check it out!
Next time in the Mirror Gallery we're looking at my Magic Artist Wishlist; a handful of artists whose work I've seen over this past year that I think would work wonderfully on a card and find a fitting home within the multiverse. It's the first time I've ever written about non-Magic art as it would fit in the game, so make sure to stop by to have a look.
Remember, to see original #mtgart and other #vorthos related things, follow me on Twitter. Feel free to ask questions or retweet to continue the conversation. Thanks and see you next time!
Donny Caltrider has been playing Magic since 2002 and collecting original Magic art since 2017. He has an M.A. in Museum Studies from Johns Hopkins University and enjoys telling stories about art, objects, and the intersection of fantasy with real-life. You can find him on Twitter talking about #mtgart, museums, and other #vorthos related goodness. Follow along and continue the conversation!