FNM @ Home, the temporary online replacement for Friday Night Magic at your Local Game Store, launches today, March 27. FNM @ Home seeks to plug the gap in community events by moving the regular weekly experience online. The current schedule is for three weeks of events, subject to change as things progress.
The full schedule is as follows:
March 27—Challenger Decks
Choose between the four preconstructed 2020 Challenger Decks and jump in to challenge others.
April 3—All Access
Build a deck with any cards in Standard, whether they're in your collection or not. Play others, build more decks, play again. Rinse. Repeat.
April 10—Historic Brawl
Build a 60-card Brawl deck with your Standard and Historic cards, and battle!
The first event – posted here, on the official site – is playable on Magic Arena, free of charge. Players will take the 2020 Challenger Decks into a pre-constructed deck rental event.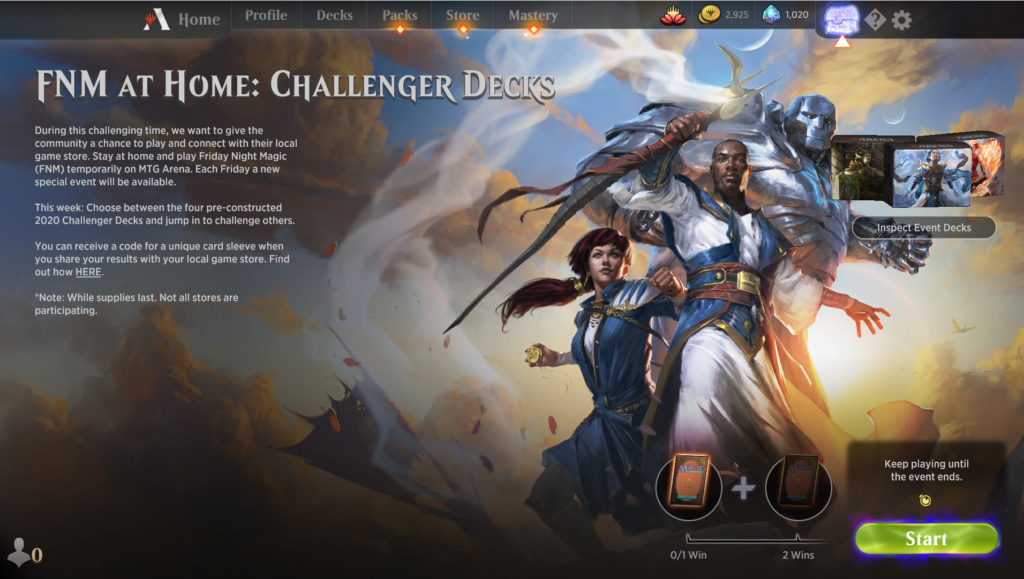 Though players don't have to be affiliated to an LGS to play in the FNM @ Home events, there are bonuses to doing so. WPN stores have been given codes to unlock unique sleeves for playing in the events. To receive these codes, players need to post a screenshot of their event page with wins/losses to the social media page or discord server of their LGS. Full details about code redemption and availability are accessible in the article here.
Wizards is also encouraging stores to facilitate prize support and run events over discord. In addition to the FNM @ Home Arena events, stores are encouraged to run Standard & Historic events through Magic Arena, with the option to have these be paid-in events with prize support like store credit or sealed product to be collected when it is safe to do so.
All entry and prize support should be determined at the discretion of local stores, and it is hoped that the option to run events like this with prize support will help to keep stores afloat through the next period of economic instability. This comes alongside a reprint run of Mystery Booster product that Wizards is sending free of charge to WPN stores as a relief initiative, and a promise that more support is being rolled out.
Based in the UK, Kristen is a lover of both Limited and Commander, and can most often be found championing the Boros Legion when called upon to sit down and shuffle up.