Ultimate Guard's latest addition to their product lineup, the Ultimate Guard 2020 Exclusive range, released worldwide on January 31st. The collection features a Boulder 100+ deck box, Sidewinder 80+ & 100+ deck boxes, the Superhive 550+ storage case and an Ammonite Anti-theft backpack, all in a red and black limited edition finish. Ultimate Guard were kind enough to send us some of these products free of charge for review.
Today, we'll be reviewing the Superhive storage case, alongside the full range of deck boxes.
2020 Exclusive Collection
The first thing that jumps out about this collection is that red and black finish—a classic color combination that comes across quite fetchingly. There are a number of other small improvements to the products aside from the color swap, though, which we'll cover in the review below.
2020 Exclusive Boulder
The Boulder deck box has long been a favorite of mine. It's a pretty simple design, but with that simplicity comes durability in a compact size. Grabbing a few of these to throw into my bag has always been a process without a second thought; they've never broken open in my bag, and unlike other more traditional deckboxes, don't need to be kept strictly upright. The translucent frosted finish looks great, too.
Thanks to the modular design of other products in the Ultimate Guard range, they are also designed to slot in to the larger storage solutions like the Superhive or Arkhive boxes with ease. There's a lot to be said about having such a strong family of products, and it makes buying in to Ultimate Guard products even easier with that in mind.
Boulders fit 100 double-sleeved cards, or 120 single-sleeved cards. As a primarily Commander player, these are the perfect size for my decks; I'll often use the extra space after putting in my deck to store the relevant tokens I might need throughout the game. One thing I've been doing for a while, too, is mixing and matching the Boulder cases to better reflect my decks. This has so far been a project I've taken on myself, by buying different color Boulders and swapping the halves around. It's great for two color decks, and it's been a great talking point at tables when people have caught on to the way I like to store my decks.
With the 2020 Exclusive Boulder, Ultimate Guard are dipping their toes into potentially exciting territory: dual color deckboxes. Though their products are usable for most card games, it's hard to ignore the potential this kind of product has for a Magic audience.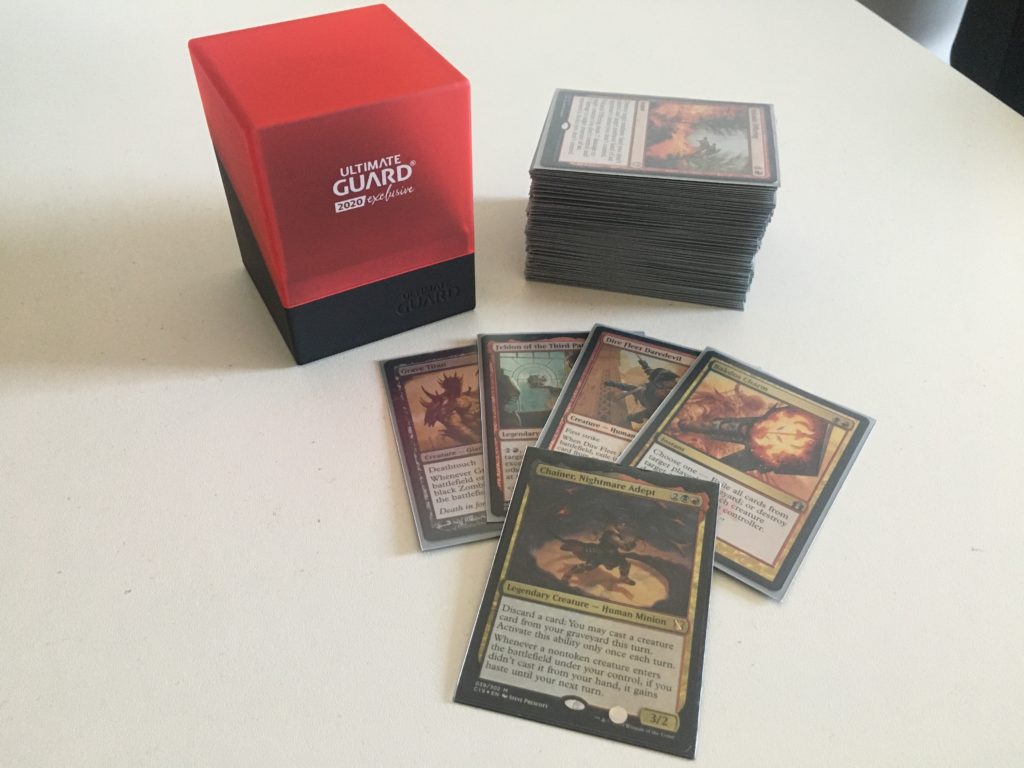 The red and black design is perfect for a Rakdos-themed Commander deck, giving some extra flavor and customization to how you can express yourself with Magic. In addition to the dual-color approach, the bottom black half enjoys a more muted matte opaque finish. It compliments the translucent frosted finish of the upper half well, and is another mix-up when it comes to the design of these products that I think has potential.
One downside to the Boulder is that it won't quite fit a Commander deck that has been sleeved in the Dragonshield Perfect Fit Sealable Inner sleeves, though thankfully this isn't an issue with the Sidewinder 120+ box, which we'll look at next. Of note, is that the packaging around the Boulder this time around felt a little more lightweight than previous Boulders I've purchased, whilst still retaining enough robustness to protect the product. This seems like a welcome reduction in carbon footprint given the material is identified as 7- Other, a more difficult type of plastic to recycle.
Overall, I can't recommend the Boulder case enough. They are great protection for a Commander deck, are hard wearing and durable, and ultimately a flagship design. The new dual-color design is a promising development, and one I hope they capitalize on going forward.
2020 Exclusive Sidewinder
The 2020 Exclusive Sidewinder comes in two flavors: 80+, ideal for a constructed deck with sideboard, or a single-sleeved Commander deck; or 100+, ideal for a double sleeved Commander deck, or a single-sleeved Commander deck with a bunch of tokens. The Sidewinder has a resistant Xenoskin outer material, which feels great to the touch and provides strong protection and anti-slip. The microfiber inner lining is super soft and looks great in such a rich and vibrant red, and the magnetic closing system snaps shut confidently. The recesses in the sides of the box provide a comfortable gap for your fingers to remove your deck from the box, and the experience of storing a deck in a Sidewinder is definitely a pleasant one.
To demonstrate the versatility of these deck boxes, I've tried them with a variety of configurations. My Aurelia deck, pictured above left, is my pride and joy. As such, it has the Dragonshield Sealable Inner Sleeves, making it one of the thicker decks I own. It fits comfortably in the Sidewinder 100+, with enough breathing room not to worry. Pictured on the right is a single-sleeved Commander deck, situated in a Sidewinder 80+. Between the two products, you should be able to pick one that's just right for your deck.
In addition, I've tested the capacity for tokens with the Sidewinder 100+. This deck box can comfortably house 20 additional tokens in single sleeves, or 30 unsleeved tokens. A deck like Edgar Markov usually uses a lot of tokens, so this is great to know. After performing the classic "shake" test, I can confidently say that you'll have no issue with a deck accidentally coming loose or forcing its way out. These are some strong magnets.
Compared to the Boulder, though, I'd be a little more wary of how I packed my bag if I was using these deckboxes. Though the magnet coming apart might be extremely unlikely, it's a different story for it sliding out of place. A reasonable amount of pressure would need to be applied for this to happen, so this shouldn't matter in most instances; but be careful that you pack your bag densely enough to reduce the slim chance of this happening.
Overall, the Sidewinder is a great deckbox, and one I would also recommend. My preference as a Commander player would be for the Boulder in most instances as I prefer the aesthetic and design, but I'm also very very satisfied with the Sidewinder as a product too. I think I'll use the 80+ to keep all of my tokens in.
2020 Exclusive Superhive
The Superhive 550+ is probably one of the more versatile products Ultimate Guard have to offer. The large compartment can fit a wide variety of configurations of item—from a 550+ double sleeved cube, to five Boulder cases, a mixture of Sidewinders & Boulders, or even two Flip'n'Tray deck boxes. The only thing it won't fit is the Twin Flip'n'Tray, a favorite of mine for storing a draft kit. It's entirely possible to store your draft kit within the Superhive anyway, however, given the extensive space inside, so it's not much of an issue.
The newer edition of the Superhive features "Znapclaw" technology. This is an improvement on the original magnetic locking mechanism, ensuring that the case remains closed with even more certainty. I know this was one of the only downsides to the previous design, and the updated solution is great—that thing's not busting open at all.
The 2020 exclusive version shares the same styling as the other products in the range, with the black Xenoskin outer and the rich red microfiber inner. Inside, there's also room for up to two playmats (rolled together), and a dice/accessory tray. The dice tray will just about fit a Commander life total tracker (pictured below), which, while slightly too tall for the compartment, fits fine as there's a little give.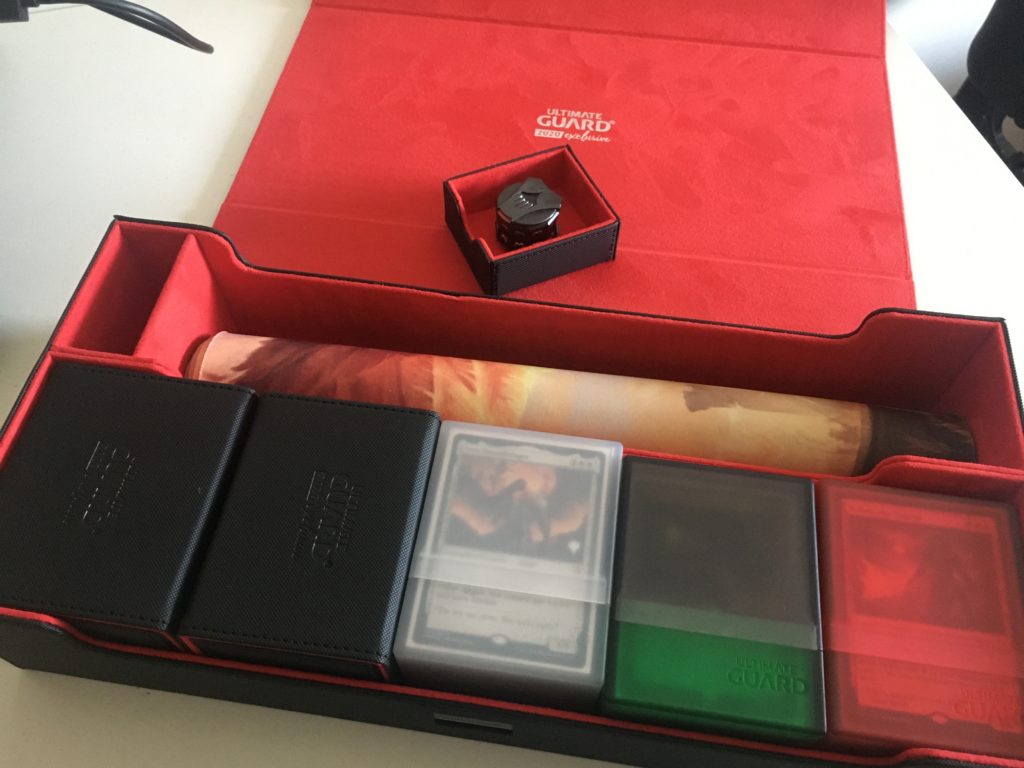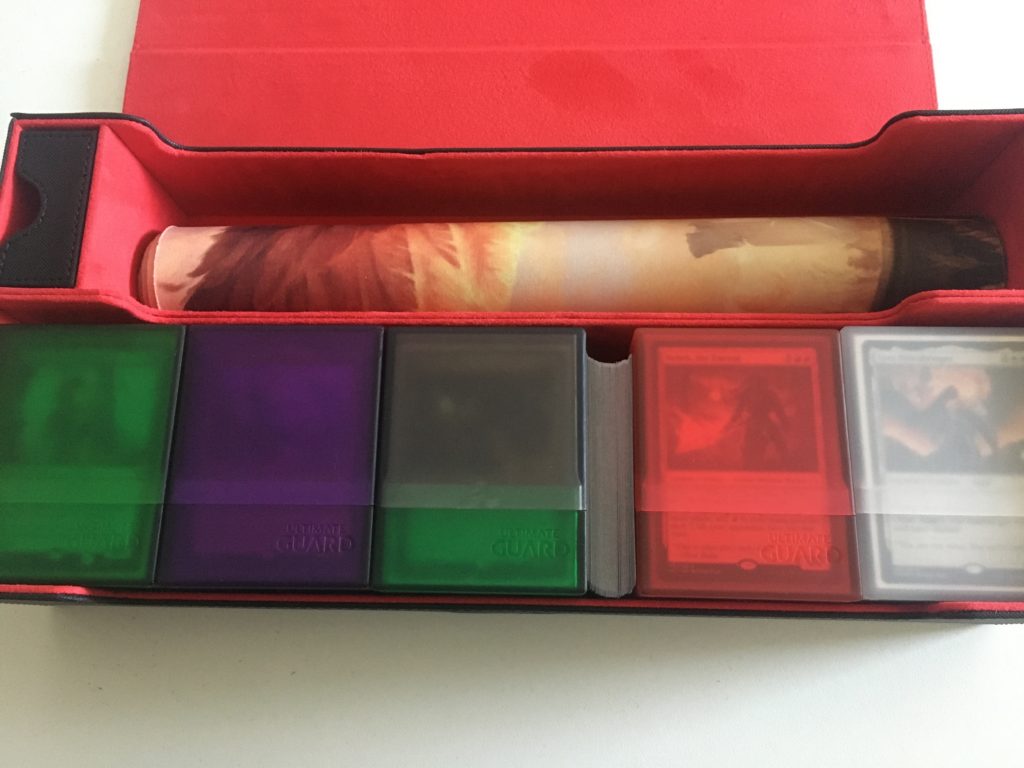 When using the Superhive solely to store Boulders, there's a little room left over, around enough for fifty unsleeved cards, which could potentially be used to store the tokens you'd need for your game night—or even some cards for trade.
I'd recommend the Superhive for those wanting to take a variety of Magic out with them. Maybe you're playing Standard and want to take some Commander decks, maybe you're just wanting to bring a selection of different Commander decks out with you. The potential to use this product to store a cube is perhaps the most exciting part, though. Cubing is one of the best Magic experiences, and having such a great box to store one in is a goal for any budding Cube designer.
The only downside for me with this product is the dimensions. At 407 x 200 x 90 mm, the box will fit fine in a larger bag, or a messenger-style bag, but will struggle with some backpacks. I own a great anti-theft backpack I take to events, and sadly this storage case is just a little too tall for my bag. If that's the case, you might be better with the Smarthive 400+ instead, which holds less, but measures in at 281 x 190 x 102 mm, which is much more portable in a smaller bag.
Overall, the Superhive sets the bar for storage when it comes to trading cards, and is definitely worth a look if you end up transporting a lot of stuff with you from place to place. It's a sturdy and safe solution, and the black and red finish of the 2020 version looks great too.
In Closing
Ultimate Guard have established themselves rapidly as a mainstay of the accessory game since entering the market. Their products are robust, hard wearing, and satisfying to use. Before today, I'd not yet considered investing in a SuperHive, but after seeing how versatile it is—and realizing that I'd need to store my cube-in-construction someplace!—I should really think about getting hold of one.
The Exclusive 2020 range offers a stylish and, in some cases, needed update to their products—in particular the addition of the Znapclaw locking mechanism, which solves one of the only real issues with the previous range of larger storage cases. I'm excited to see if the twin-color Boulder cases are here to stay.
Stay tuned on Twitter, where I'll be doing a giveaway of some Ultimate Guard products soon to celebrate the launch of the 2020 Collection.