Good morning everyone, and welcome to the Mirror Gallery on this (presumably) crisp Fall Thursday. Today is all about the upcoming Magic Art Show exhibition Whimsy, Wonder & War on October 23-27, 2019. I will take you behind the scenes for a sneak peek of what will be hanging in gallery, as well as a preview of the first annual 4x4s for a Cause to benefit Big Wizzard and the Imaginative Realism Foundation.
For the last six months, Vorthos Mike, Brian Scott Walters, and I have been putting together this exhibition: talking to artists, securing works for display, talking with Wizards of the Coast for clearance on the 4×4 project—and writing. Lots and lots of writing.
Whimsy, Wonder & War follows in the footsteps of the first Magic Art Show of Grand Prix Las Vegas 2017 and the Tokyo 25th Anniversary MTG Art Show from last year. The show now moves to Reading, a city in Eastern Pennsylvania (like the Monopoly railroad) to be the first Magic Art Show on the East Coast. It is hosted in partnership with IX 12, the largest gathering of Imaginative Realism art and artists in the world. It's only an hour from Philly and a few hour drive from New York City, Baltimore, and Washington, DC.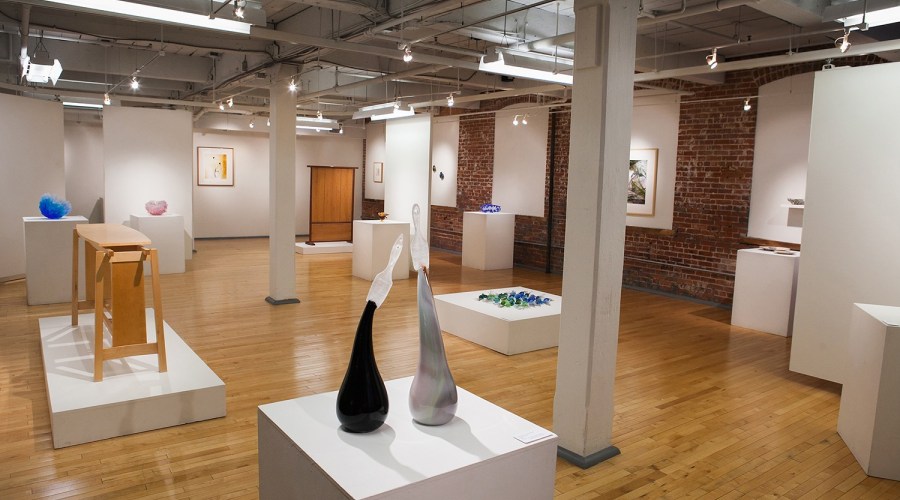 Housed in the Schmidt Gallery of the Goggleworks Center for the Arts, this 1,500 square foot gallery will transform into Whimsy, Wonder & War: A Magic Art Show. Let's take a look at what will be inside.
Whimsy, Wonder & War: A Magic Art Show
Now, I certainly don't want to give away everything that's going to be at the show. We'll have nearly 75 pieces of original Magic art, and there must be some surprises. But a few highlights never hurt anyone, right?
Whimsy
Here we explore the lighter side of Magic art, from the 'Un' in fun to things that are so fantastical they can only exist in this game's Multiverse.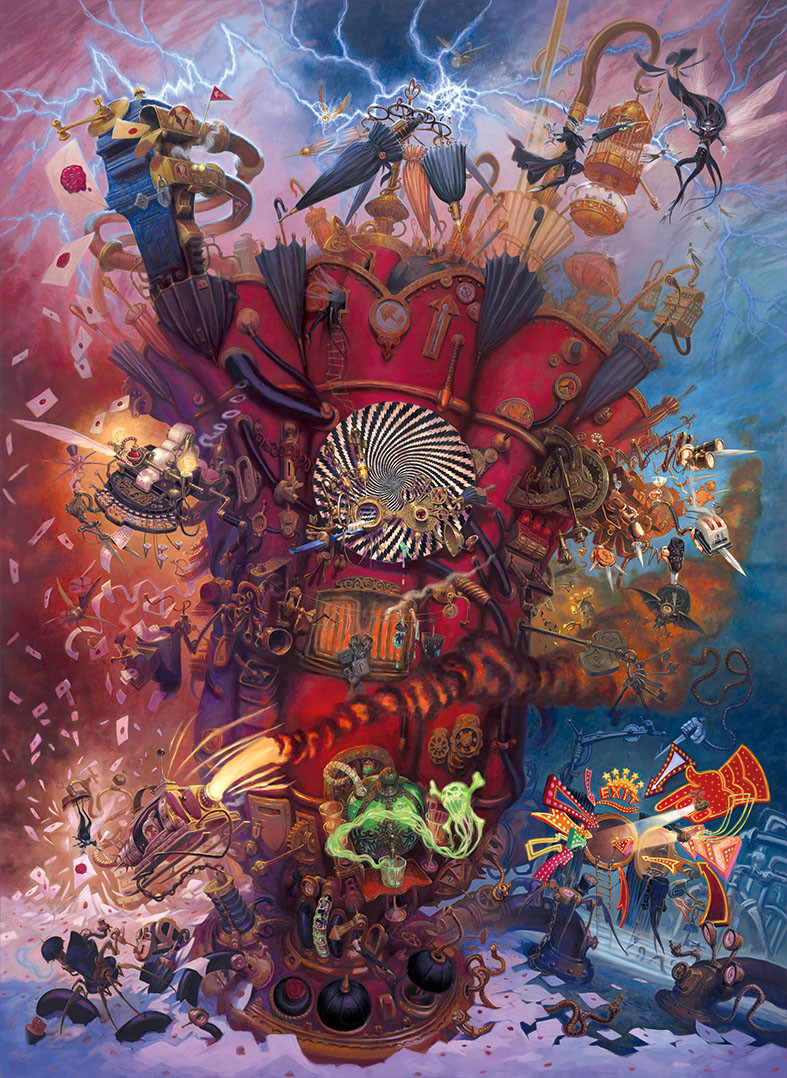 If you remember my article from earlier this year, you know that this is actually nine separate paintings by Ralph Horsley. And guess what: they'll be here, and hung as you see them assembled above! Seven of them will be available for purchase, and this is probably the only time all the different pieces will hang together. It's a one-time shot to see the entire Contraption assembled.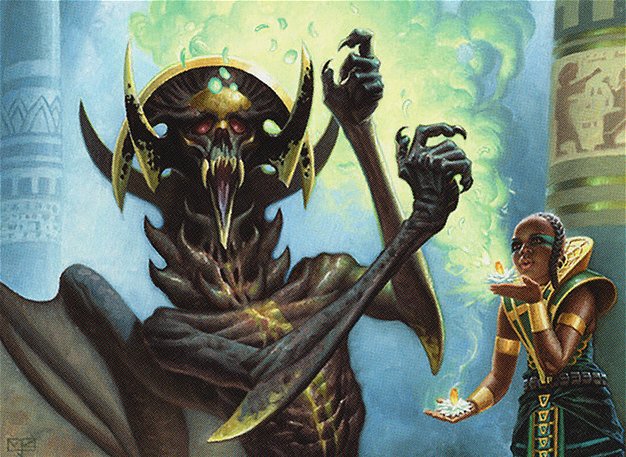 Even in the most serious of settings, amidst death and tyrant takeover, there can be a touch of fancy. We will have several works from master Mark Zug, like his Haze of Pollen, and each will be available to purchase directly from Zug himself.
Wonder
From paintings that make you pick your jaw up off the floor to those that transport you elsewhere entirely, these artworks evoke nothing short of Wonder: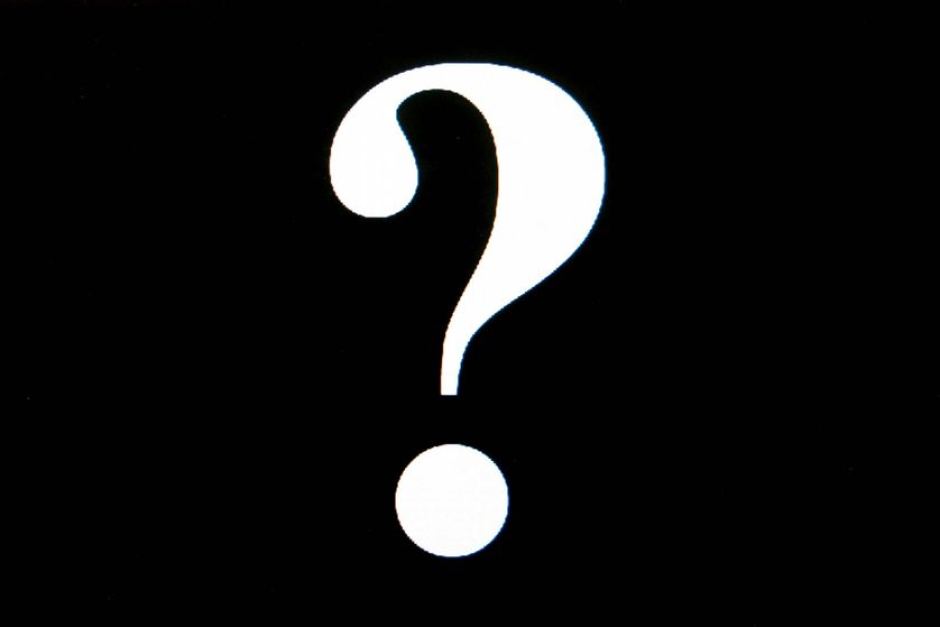 We will have an original Alpha painting and sketch on view, but I don't want to spoil exactly which yet. These works are exceedingly rare, and we are privileged to have one of Magic's first paintings and its original sketch at this show. It will be surely be a highlight of what's on view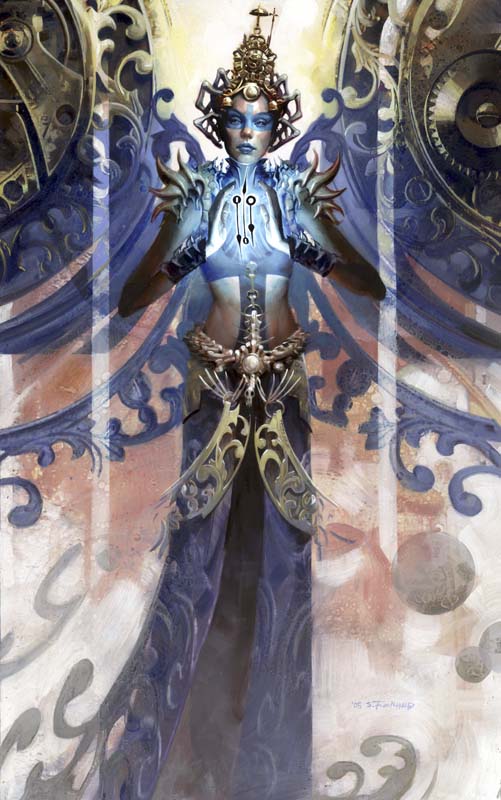 Some artworks never leave an artist's home, and Telling Time by Scott M. Fischer is one of these. He and his wife Teresa love this painting, and it's intended to stay in their family forever. They have graciously agreed to bring it to IX for the sole purpose of exhibiting it as a part of this show, and it may be the only chance in the foreseeable future to view this magnificent piece.
War
War exists in our fantasy and fiction, and plays a unique part in all worlds in which it's found. Here we will explore both the beauty and the beastly side of the subject as seen in Magic.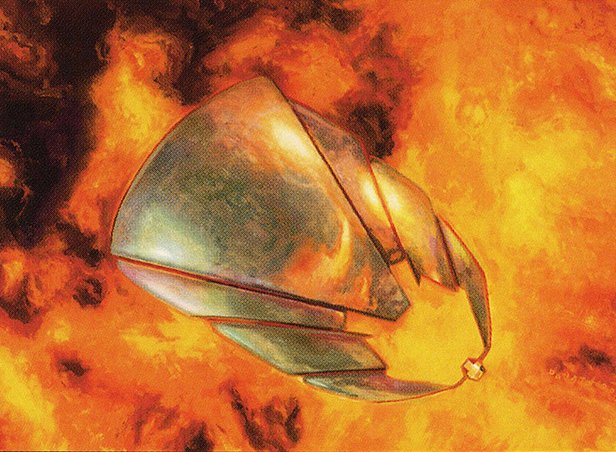 The three pieces of Kaldra would become the set symbols for Magic's first artifact block. We will have the original painting for Shield of Kaldra by Donato Giancola hanging within our War section. Donato does not often exhibit his past Magic work, and this exhibition will have no fewer than four pieces from the artist's archive. It will be available for purchase, and is a stunning example of the serenity of an implement of war.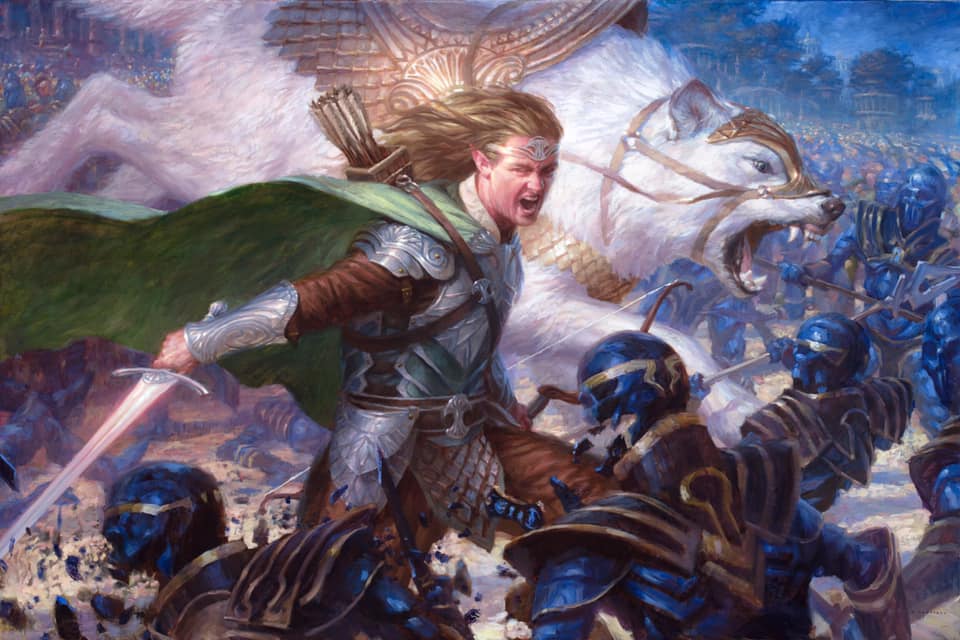 One of the highlight artworks from this year's War of the Spark, and perhaps in the history of Magic, is Tolsimir, Friend to Wolves by Ryan Pancoast. This painting has already been sold and is destined for a private collection outside the United States; this is your one opportunity to see it before it heads to its new home.
Thematic Triple Threat
Several paintings we have slated for the show fit universally across all three subjects, and these will have special exhibition labels to highlight their diversity of theme: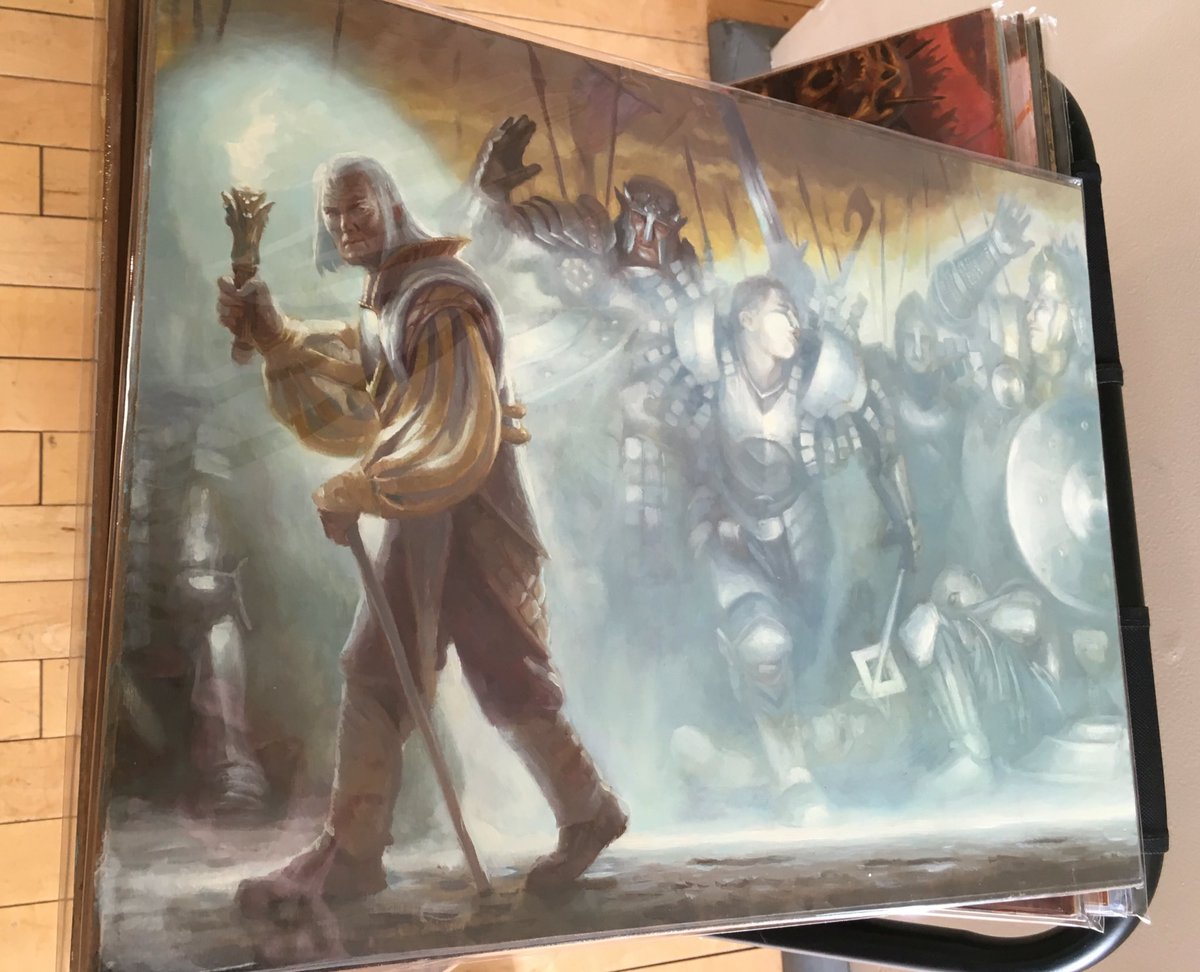 A smooshed face, an otherworldly wall, and an incredible battle, all in one scene? There are a handful of paintings like this one by Matt Stewart that have bits and pieces of each major theme wrapped up neatly into one artistic package; these will be especially exciting to talk about. Make sure you take special care to find them mixed within the gallery.
More than 75% of the paintings will be available to purchase directly from the artist, and each will have its own interpretive exhibition label highlighting its place within the theme and the larger game of Magic.
The 4x4s for a Cause
This project, inspired by the team's ongoing group chat and old blog post by Greg Manchess on Muddy Colors, is the first of its kind. The goal was to find past and present Magic artists willing to paint a four inch by four inch canvas of a Planeswalker of their choosing, and to then sell those canvases at IX to benefit the current and future artists of the industry.
Each canvas will be on display from Thursday to Sunday at the show, but bidding will begin the previous Sunday on the MTG Art Market in order to allow the most participation and maximize money raised to our cause. Each auction will begin at $50, and auctions will be run by Vorthos Mike, as he does. Bids will be accepted publicly in each Facebook auction thread or in-person at IX. Thirty auctions at once is a lot to manage, but Mike has the experience to ensure that these go off smoothly.
All proceeds will go directly to the newly-formed Imaginative Realism Foundation's first program called "Big Wizzard." Big Wizzard seeks to close the artist accessibility gap, providing everything from stipends and scholarships to workshops and ateliers to Gumroad and other online subscriptions for artist's who otherwise could not participate. And this is just the beginning.
The canvases are slowly being completed and mailed back to me, and I have just a tiny preview of these as well. These are truly stunning works in miniature, and will all be available very soon:
These six, along with approximately two dozen others, will all have their own panel and hang together for just a few days before heading off to their new homes after IX. We've mailed canvases around the world for this endeavor, and I can't wait to see them all together. These artists have shown us a great generosity, and we're privileged to be able to maximize the impact of their effort.
Wrapping Up
Whimsy, Wonder & War: A Magic Art Show and the 4x4s for a Cause are primed and ready to change the game on how the Magic community can experience the art of the game. If you are anywhere in the vicinity or Reading, PA, or can take some time off to visit, you must try and get there. This is the only time some of these works will be on display, and perhaps the last time many of them will hang together.
Tickets for IX 12 are on sale now for October 23-27, 2019. A 5 Day Pass is $190, a Student 5 Day Pass is $90, and a Weekend Pass is $70. Single day tickets are limited and available at the door for Saturday and Sunday only at $30 each. Children under 16 admitted free with accompanying adult.
If you have any questions about the show, please feel free to give me a yell on Twitter, or shoot me an email at mirrorgallerymtg at gmail dot com. We're very excited for what we've put together, and hope to see you in Reading next month!
Remember, to see original #mtgart and other #vorthos related things, follow me on Twitter. Feel free to ask questions or retweet to continue the conversation. Thanks and see you next time!
Donny Caltrider has been playing Magic since 2002 and collecting original Magic art since 2017. He has an M.A. in Museum Studies from Johns Hopkins University and enjoys telling stories about art, objects, and the intersection of fantasy with real-life. You can find him on Twitter talking about #mtgart, museums, and other #vorthos related goodness. Follow along and continue the conversation!